Believe it or not, eCommerce is a young industry and still growing quickly! It's hard to remember that just 20 years ago, Amazon was a small online book seller. ECommerce predictions may be overtaken by new developments before the year ends. But it's still useful to look forward to eCommerce predictions for 2019.
Social media will continue to evolve into direct a sales platform. Watch for Facebook and Instagram to grow into sales funnels for online retail.
ECommerce is driven by the pace of technology. Look for cutting-edge innovations to change eCommerce. Chatbots and virtual reality will become common marketing tools in 2019.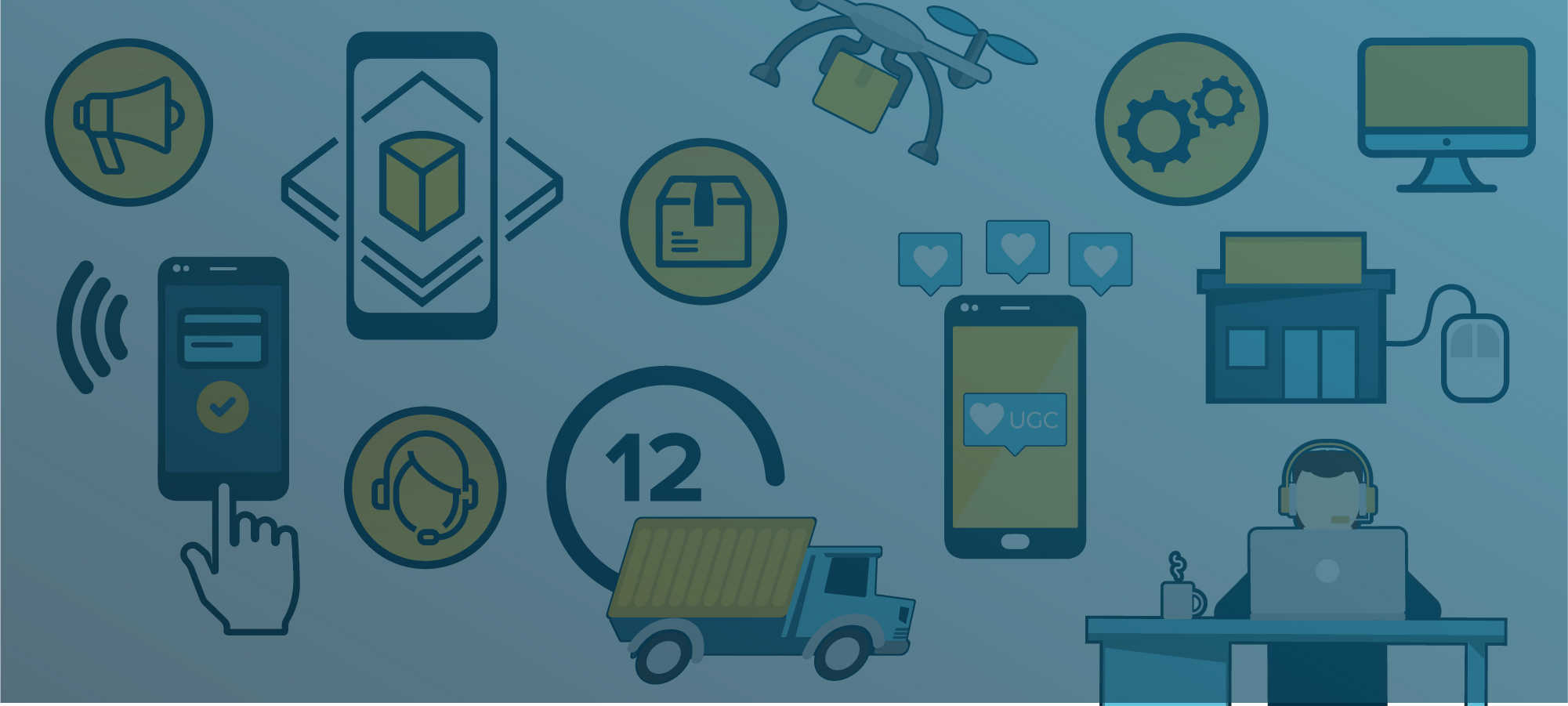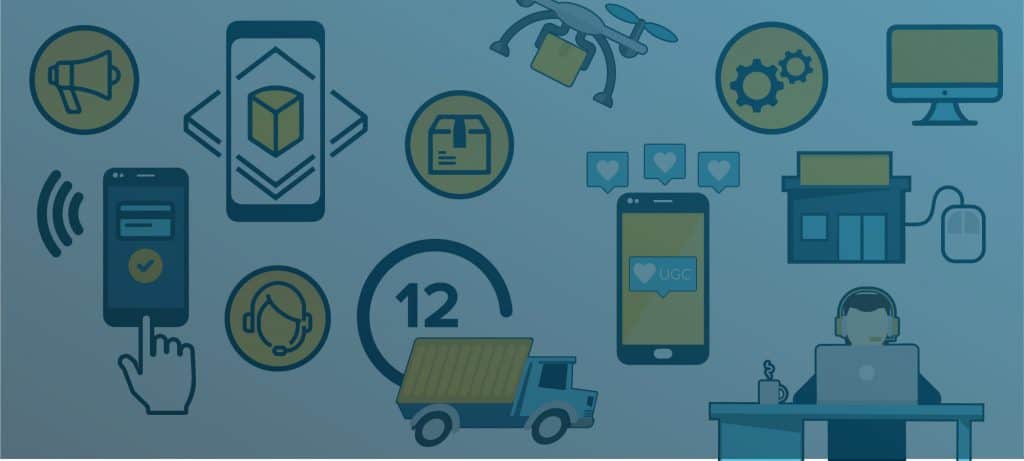 You need to keep your eCommerce business ahead of the curve. Therefore, it's important to anticipate online retail trends. Here are 12 eCommerce predictions for 2019.
The Rise of Green ECommerce
One overarching trend to watch in 2019 is the increasing importance of green business. The past year saw a parade of ever more dire predictions on climate change from scientists. A historical number of Americans believe that climate change is real and that it will affect their lives.
Your sustainable business practices are more than just the right thing to do. If you communicate green practices to your customers, they can improve consumer trust and brand image.
You can increase your sales by telling a compelling brand story. Consumers want to know that you care about your community and your carbon footprint.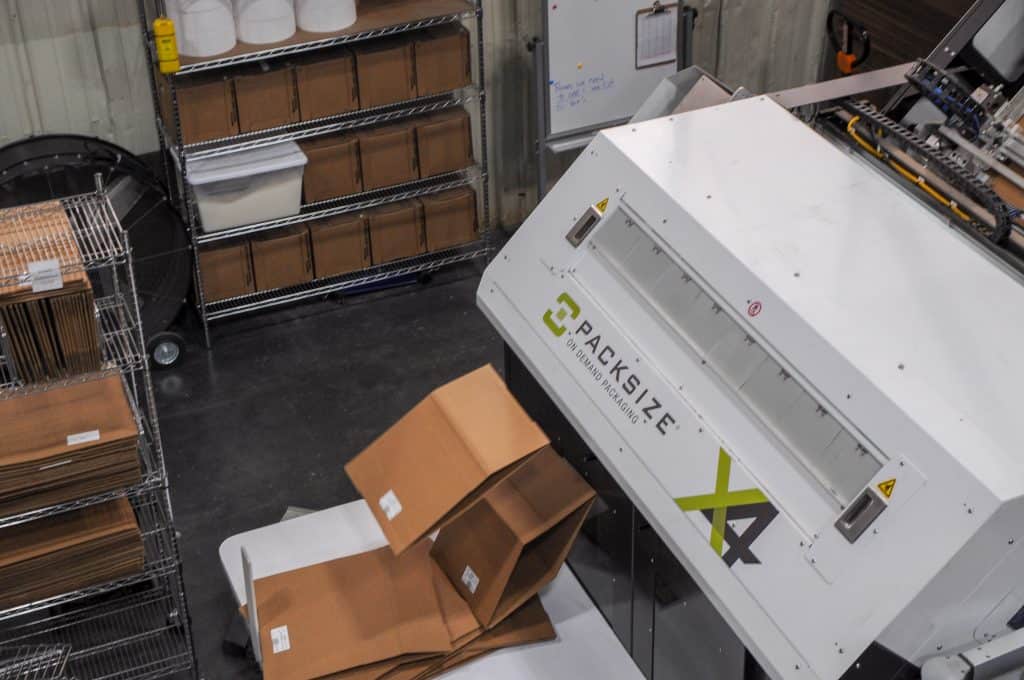 Using less packaging is simple way to communicate your green commitment. Ship your orders in smaller boxes. As an added benefit, smaller boxes will save you money on shipping. See the fulfillment section below for more on the importance of appropriate packaging.
ECommerce Customer Service Predictions for 2019
Customer service is a vital component of online retail. Customers want quick answers to their questions. Therefore, online retailers who provide this will see their sales grow. Fortunately, new technology has provided tools that make great customer service easy.
You don't have to be a big business to offer 24/7 support for your customers. With a little investment, your can have big business customer service in 2019.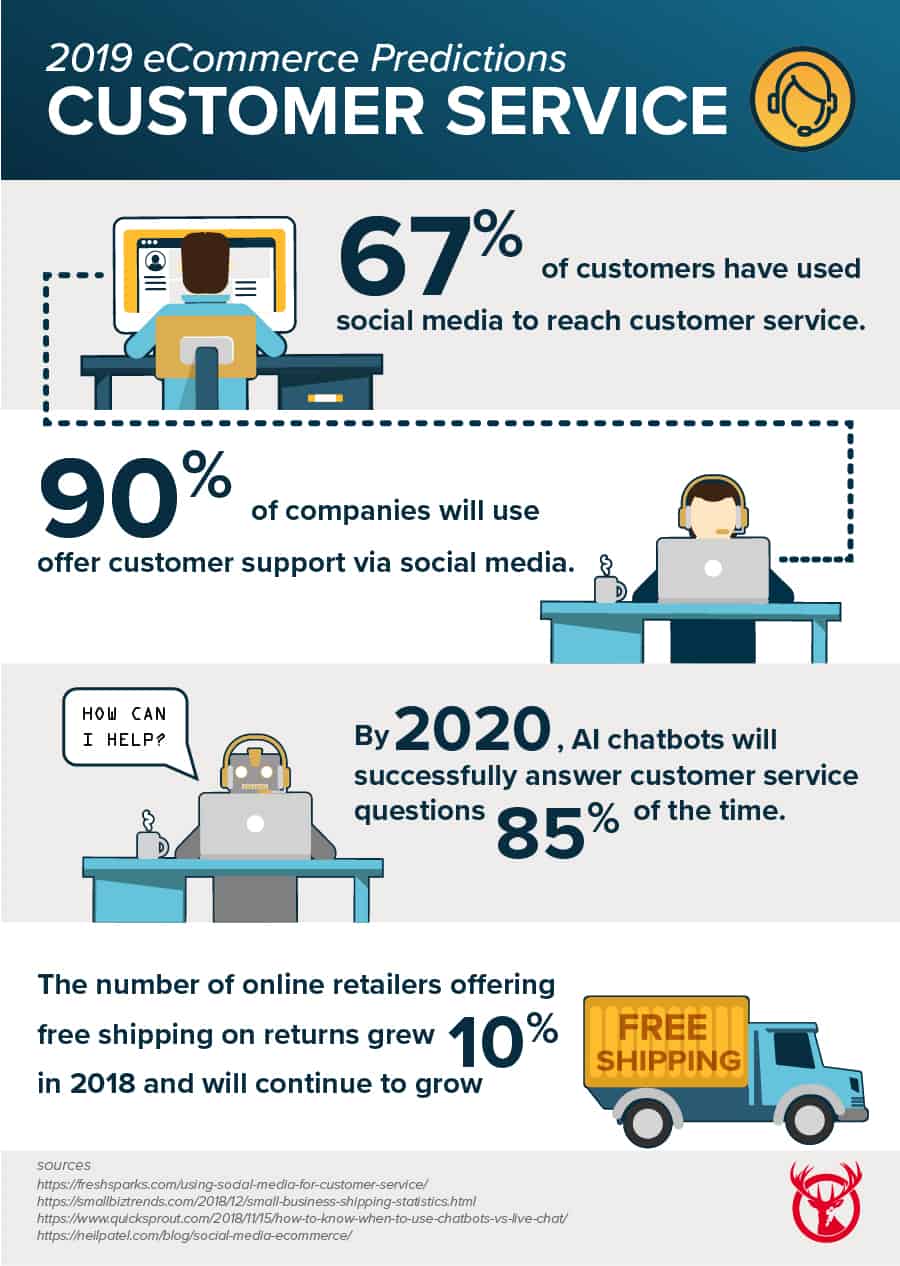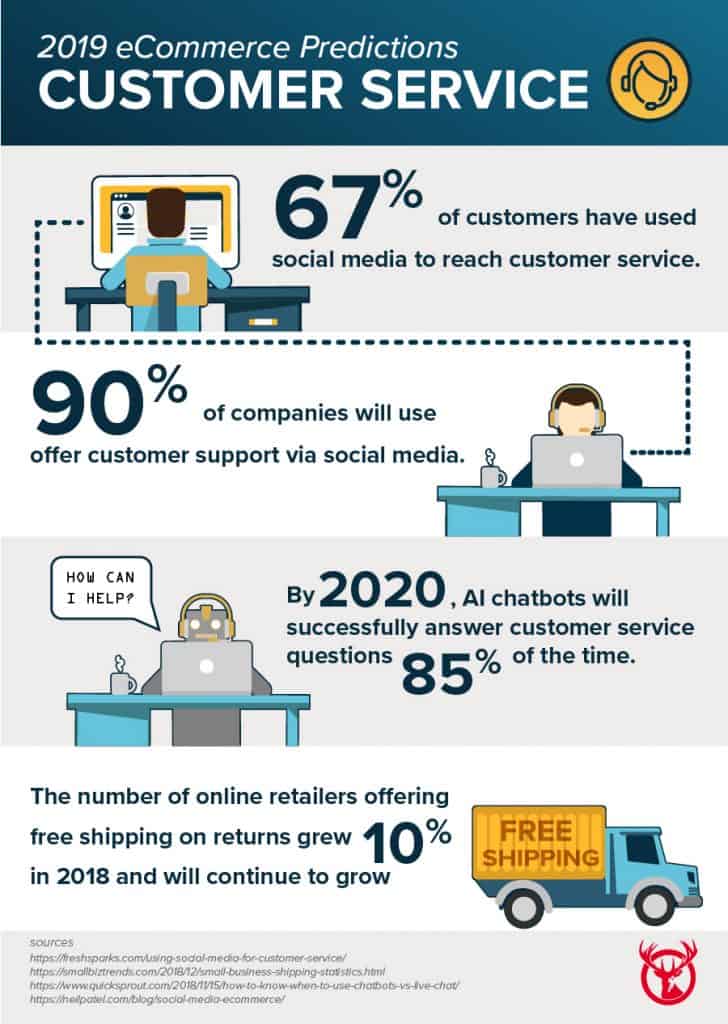 The Rise of Chatbots
Chatbots have gone from being a fancy add-on to a common feature on all sorts of websites. Artificial intelligence (AI) can now answer basic customer service questions. Online retailers can benefit from this huge advance in AI technology.
Chatbots help provide a better experience for visitors to your eCommerce store. Chatbots tell your customers that help is just a click away. In addition, the improved AI makes it hard to tell who's giving the answers – bot or human.
Adding a chatbot to your site is an investment. It will take staff time and you might need to pay an outside developer. However, you can expect the cost to implement a chatbot to go down in 2019.
Look for more out-of-the-box chatbot templates to come on the market. These automated customer service popups will become affordable for even small online retailers in 2019.
Customer Service Will Be Social
There are lots of ways for eCommerce companies to use Facebook, Instagram, and Twitter to connect with customers. You can follow, repost, thank, and reply.
When a customer posts something about your brand –good or bad – you can engage and gain both goodwill and exposure. Netflix famously joked with viewers who couldn't stop watching a Christmas movie. That led to this hilarious and widely-shared Twitter thread.
More and more, however, online retailers are using social media to resolve customer service complaints. Consumers are eager to connect on social platforms. Sliding into a customer's DMs can mean that the problem gets addressed quickly.
It's estimated that 90 percent of brands will use social media for customer service by 2020. Customers are turning to social channels as the quickest way to reach companies. Is your business is ready to respond to eCommerce predictions about this trend in customer service?
ECommerce Predictions for Return Policies
Customers love generous return policies. They are more likely to buy online if they know they can return it, especially if you offer free return shipping.
The number of eCommerce stores that offered free return shipping increased by 10 percent in 2018. That trend is likely to continue into the foreseeable future.
Return shipping isn't free, but it's a cost that most eCommerce sellers need to build into their business models. For online clothing and shoe retailers, a high rate of returns is simply a fact of life.
Other types of online businesses may be able to reduce this cost by minimizing returns. Some technology eCommerce predictions can help you educate customers before they buy (see AR and VR, below).
You can reduce returns without going high-tech, too. A well-written product description and good photos can give your customers an excellent preview of your products. That can reduce your returns and improve your bottom line.
ECommerce Predictions in Marketing and Advertising for 2019
If there's one theme for eCommerce predictions for 2019, it's social media. Facebook faced criticism in 2018 for its handling of private data. Nevertheless, users and advertisers continue to flock to the platform and other social media sites.
ECommerce predictions for the future are never 100 percent certain. But this one is close: Marketing via social media will be hard for eCommerce brands to avoid in 2019.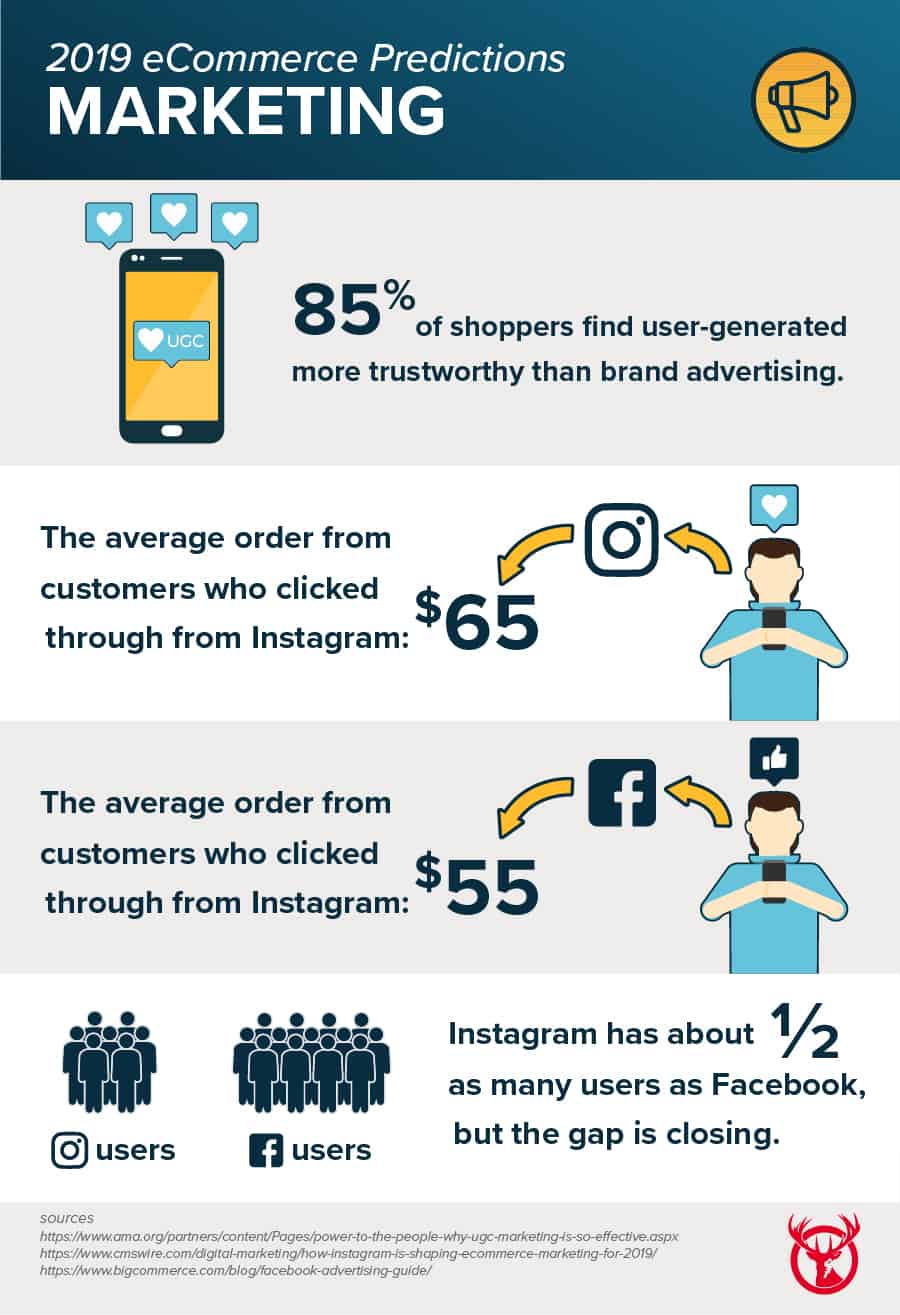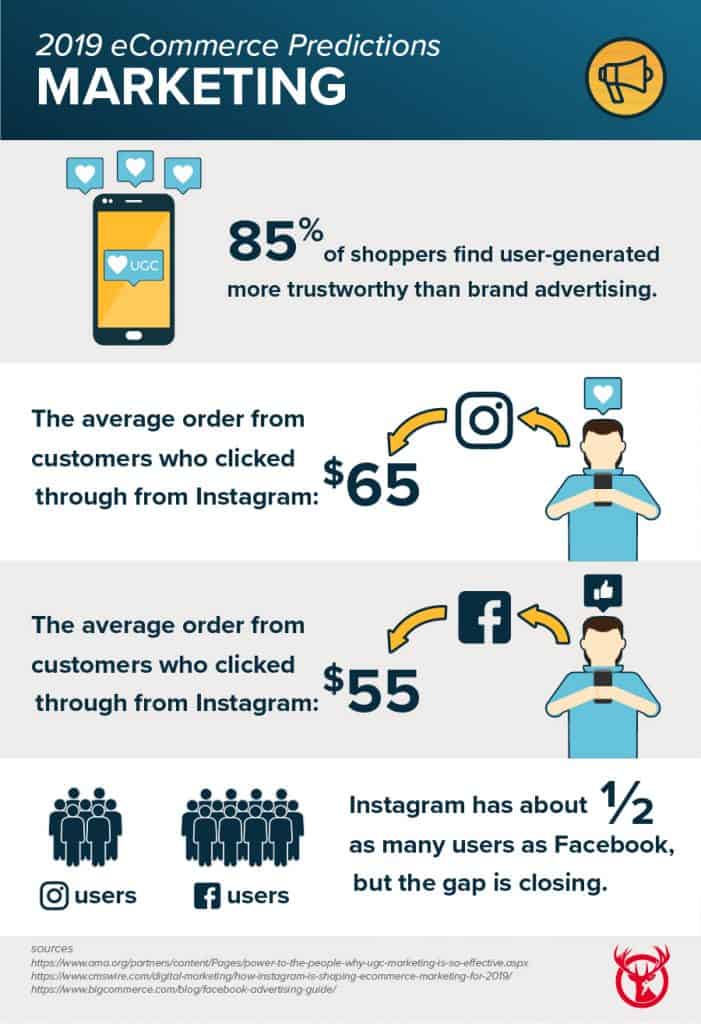 User-Generated Content Will Go Front and Center
There is nothing that says authentic like user-generated content (UGC) on social media. In fact, three quarters of consumers trust UGC more than content created by brands.
Another benefit of UGC is the price tag. Big brands may splash out on advertising to promote UGC. Still, your small eCommerce company could have a big impact with little or no budget.
Consider social media management platform Buffer. It raises brand awareness with gorgeous, shareable user photos on Instagram. The photos don't directly relate to Buffer's services. Nevertheless, they raise brand awareness and generate positive feelings about the company.
Another example of successful UGC marketing comes from the ALS Association. The nonprofit raised $115 million with the Ice Bucket Challenge in 2014. Participants uploaded videos where they doused themselves with a bucket of ice water. The videos raised awareness and funds to fight ALS. The UGC campaign made a difference in the lives of people with ALS. The huge influx of donations funded research that led to a breakthrough in fighting this incurable disease.
How will you leverage UGC to build your brand in 2019?
Instagram Will Continue Its Growth as an ECommerce Powerhouse
Instagram's visual focus makes it an ideal place for online retailers to get noticed. The platform already lets you set up a storefront and add shopping to Instagram Stories. Look for the release of a new Instagram app, IG Shopping. This should make social retail through Instagram an even bigger lure for eCommerce companies. Some eCommerce predictions even have Instagram nipping at Amazon's heels. (But don't hold your breath while you wait for anyone to overtake Amazon).
Brands like eclectic shoe designer John Fluevog use fan photos from Instagram for UGC marketing. The phot to populate product pages with enticing UGC images. Even fundraising platforms like Mightycause leverage the power of users' Instagram feeds to help woo donors.
Instagram users are more likely to interact with brands they like than other social media users. On Instagram, 68 percent will connect with brands. However, just 32 percent of users on other social media say they engage with retailers. Look fo ways to leverage Instagram to tell your brand story and fuel eCommerce sales in 2019.
Facebook Is Still a Key Driver of ECommerce Sales
Millennials have moved on from Facebook to Snapchat and whatever new social platform will emerge next. For younger social media users, Facebook is where your mom and your weird uncle hang out. But those moms and uncles have buying power, and Facebook remains the most used social network.
Facebook is responsible for twice as many visits to Shopify stores as all other social media platforms combined. Almost 90 percent of social media users are on Facebook. On the other hand, less than half are on Instagram (but the gap is closing). Facebook ads will continue to be a great way to drive sales to your online store in 2019.
ECommerce Fulfillment Predictions for 2019
Fulfillment policies and procedures can make or break an eCommerce business. Some of the most important eCommerce predictions for 2019 are innovations in fulfillment.
Every advance in fulfillment increases the market share of online retail. Look for shorter turnaround and delivery times, technology that streamlines shipping, and more drone delivery in 2019.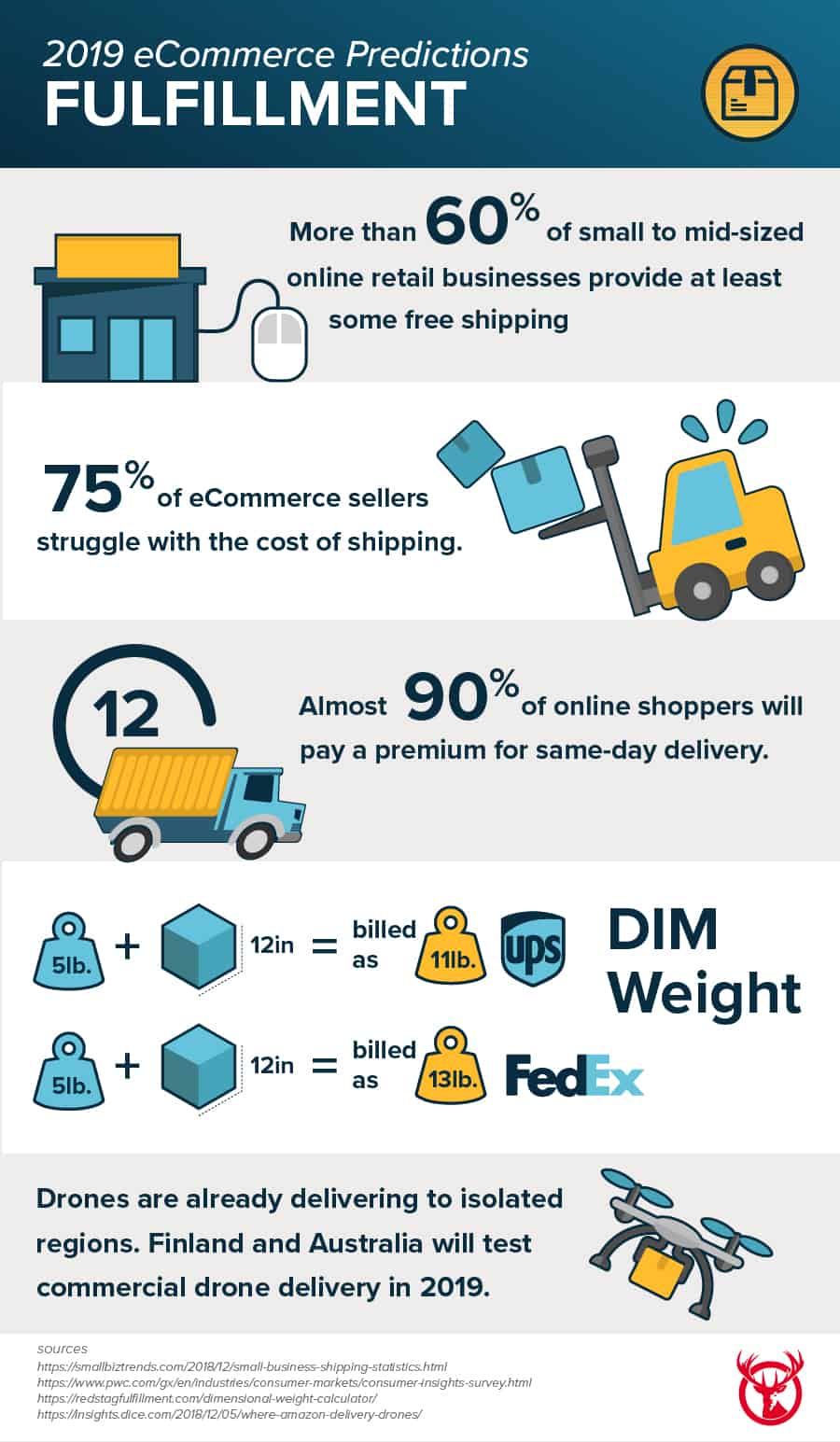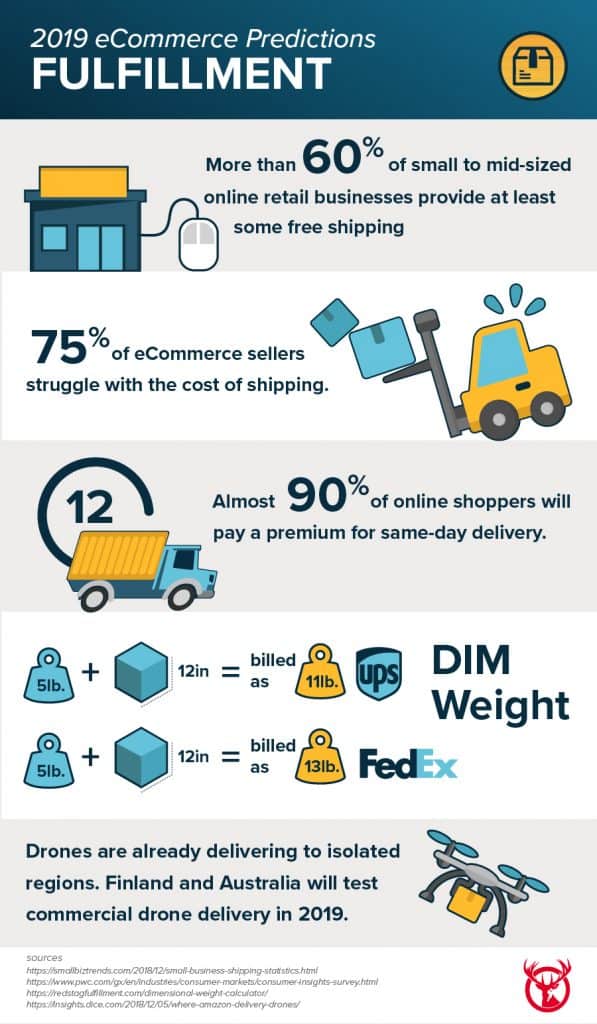 More Retailers Will Offer Same-Day Shipping and Delivery
ECommerce predictions suggest that almost two-thirds of online retailers will have an option for same-day delivery in 2019. Amazon, of course, started the same-day delivery trend. But disruptive forces in the delivery industry may help keep your eCommerce business ahead of this trend.
Independent delivery services are creating new ways to get eCommerce packages and other deliveries from warehouses to homes. Big names in retail, such as Walmart, Costco, and Kroger, have teamed up with innovators like Instacart. These disruptors may soon break Amazon's lock on same-day shipping.
You don't have to be Walmart to work with a great order fulfillment partner. In 2019, the best 3PL providers will offer same-day shipping to your customers. In addition, they will provide two-day delivery to most domestic customers.
3PL providers will offer same-day shipping to your customers. In addition, they will provide two-day delivery to most domestic customers.
Custom Boxes Will Reduce Shipping and Warehousing Costs
The economics of dimensional weight pricing will change how orders are packed and shipped. Small eCommerce orders that arrive in giant boxes full of padding are on their way out. Dimensional weight, or DIM weight, is a formula that factors in the size of the box. Size in addition to weight determines the cost to ship a package. UPS, FedEx, and USPS each have their own DIM weight formula.
To keep your shipping costs down in 2019, use custom packaging. In addition, make sure your 3PL provider has processes and procedures in place to ship your orders in the smallest possible boxes. A well-packed box will keep products safe during shipping without a thick layer of padding.
Drone Delivery Will Take Off–Slowly
The shock of high shipping costs was the top reason for shopping cart abandonment in a 2016 survey. Drone delivery has the potential to change that by greatly reducing delivery costs.
At least one company is working on drones that can take deliveries 100 miles from their source. However, most commercial drones only fly for short distances. They solve the last mile delivery problem. In addition, drones have the potential to travel that last mile more cheaply than delivery trucks.
Drones are already in flight, delivering medical supplies in Rwanda and vaccines in Vanuatu. Chinese eCommerce retailer JD.com delivered orders by drone in 2018.
There were more tests of drone delivery in 2018. However, this new fulfillment technology is not yet common in the US. Strict FAA regulations to keep airways safe may have slowed progress. In addition, drones had a setback after rogue drones shut down London airports.
Quickly or slowly, however, drone delivery will wing its way into your neighborhood. Look for an expansion of drone delivery for eCommerce in 2019.
ECommerce Predictions for Technology Innovations in 2019
New technologies continue to drive eCommerce predictions. Brands will used augmented reality to make eCommerce shopping 3-D. Mobile wallets will offer new avenues for easy online payments. Mobile shopping, a fast-growing piece of the eCommerce market, will get easier with mobile-first technology.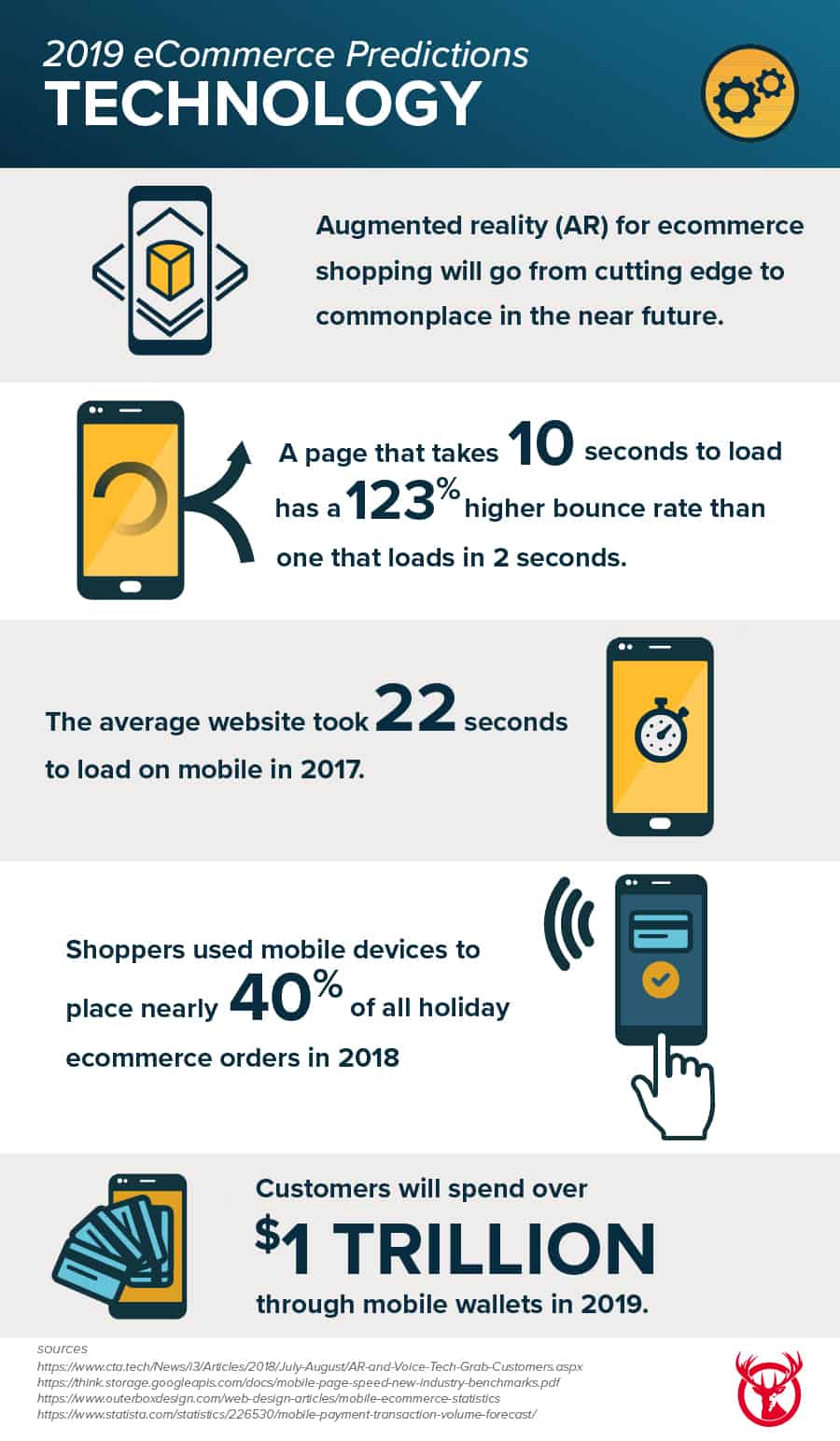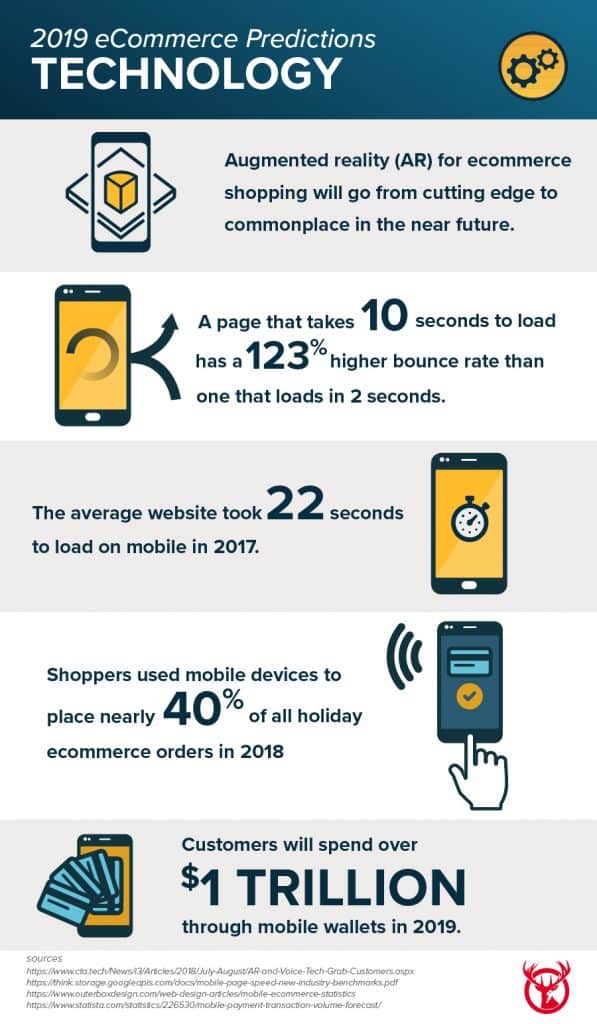 Augmented and Virtual Reality Brings Online Shopping Off the Screen
IKEA Place allows customers to place furniture using augmented reality (AR). The Swedish furniture retailer adds life-sized images of pieces from IKEA's catalog to the room using AR. Shoppers can see the furniture in place before they order it.
AR and virtual reality (VR) technology has become less expensive. VR headsets are in more homes than ever. This technology can allow customers to "try on" items remotely. AR and VR can't give your customers the smell or feel of your products (yet). But the augmented experience is the next best thing.
Developing your own AR app will continue to get easier in 2019. Expect platforms to refine their AR development tools. Look for evolution in Apple's ARKit and Google's ARCore.
ECommerce Sites Go Mobile with PWAs and AMPs
Google currently ranks sites, at least in part, on the speed of loading in mobile. And most websites fail to load fast enough, according to Google's research.
The solution: progressive web apps (PWAs) and accelerated mobile pages (AMPs).
PWAs are essentially a hybrid between web pages and apps. Users don't have to download an app. Still, the page loads quickly. Plus, it can send push notifications and work offline, like an app.
AMPs are webpages that use a simplified version of HTML. This allows them to load at lightning speed on mobile devices. You won't be able to use all the bells and whistles of regular HTML. On the other hand, your pages will load faster. Therefore, potential customers won't bounce before they see your products.
These new technologies will be crucial to your success in 2019. Mobile is becoming the dominant shopping platform. Nearly 80 percent of smartphone owners placed a mobile eCommerce order within the last six months. Consider using PWAs or AMPs to optimize your site for mobile. Otherwise, your sales opportunities could be bouncing out the window.
Mobile Payments Get Easier
Smartphone users like to browse on their phones. But more than three quarters of shoppers turn to computers to make purchases.
One big reason for this is security. It is fun to look at products on your phone during the evening commute. Shoppers don't want to pull out a credit card on a crowded subway car, however.
Mobile wallets such as Apple Pay, Google Pay, and Samsung Pay solve this problem. They give smartphone users a secure way to pay on their phones. Your eCommerce store should accept one or more of these payment methods. Otherwise, you may be losing sales to your competitors.
Mobile payments totaled $450 billion worldwide in 2015. They are expected to top $1 trillion in 2019. Open your eCommerce site to more sales by accepting mobile payments in 2019.
2019 Will Be Another Big Year for ECommerce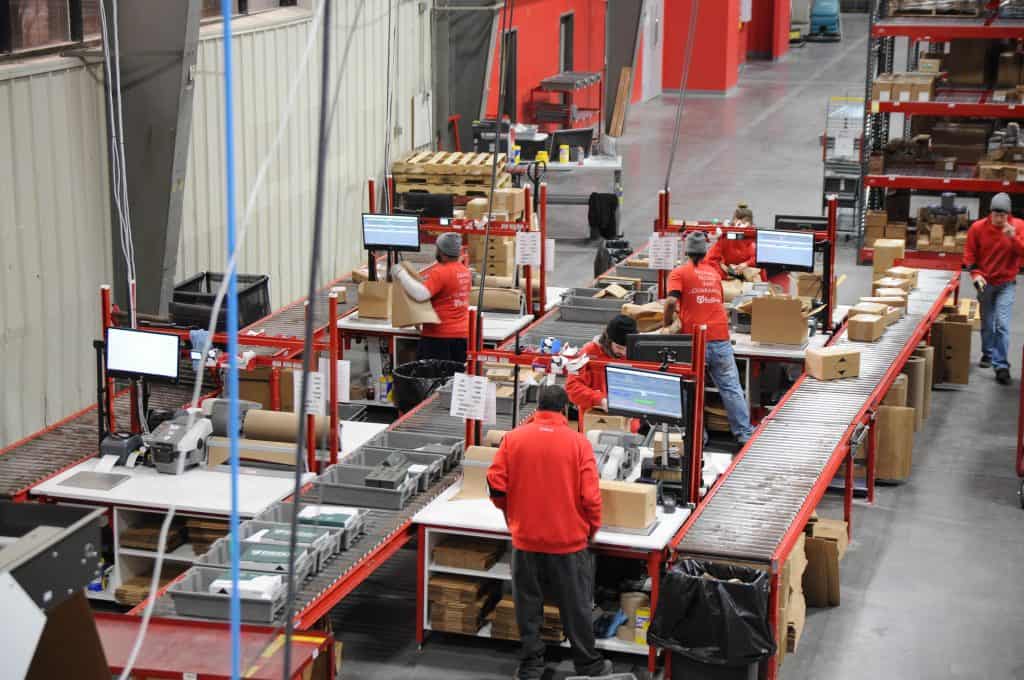 One eCommerce prediction won't surprise you. Online sales will continue to grow in 2019. ECommerce sales predictions are for $3.45 billion in total online retail globally. By 2021, eCommerce is expected to be 17.5 percent of all retail sales.
Stay ahead of the curve in eCommerce in 2019. Keep your eye on eCommerce predictions for the coming year. Click below to download this blog as an eBook to pass along to your team members.