ECommerce shipping is a central element of your eCommerce business. The choices you make about shipping will affect your profit margin, your ability to offer free shipping, and how fast your orders are delivered, among other things.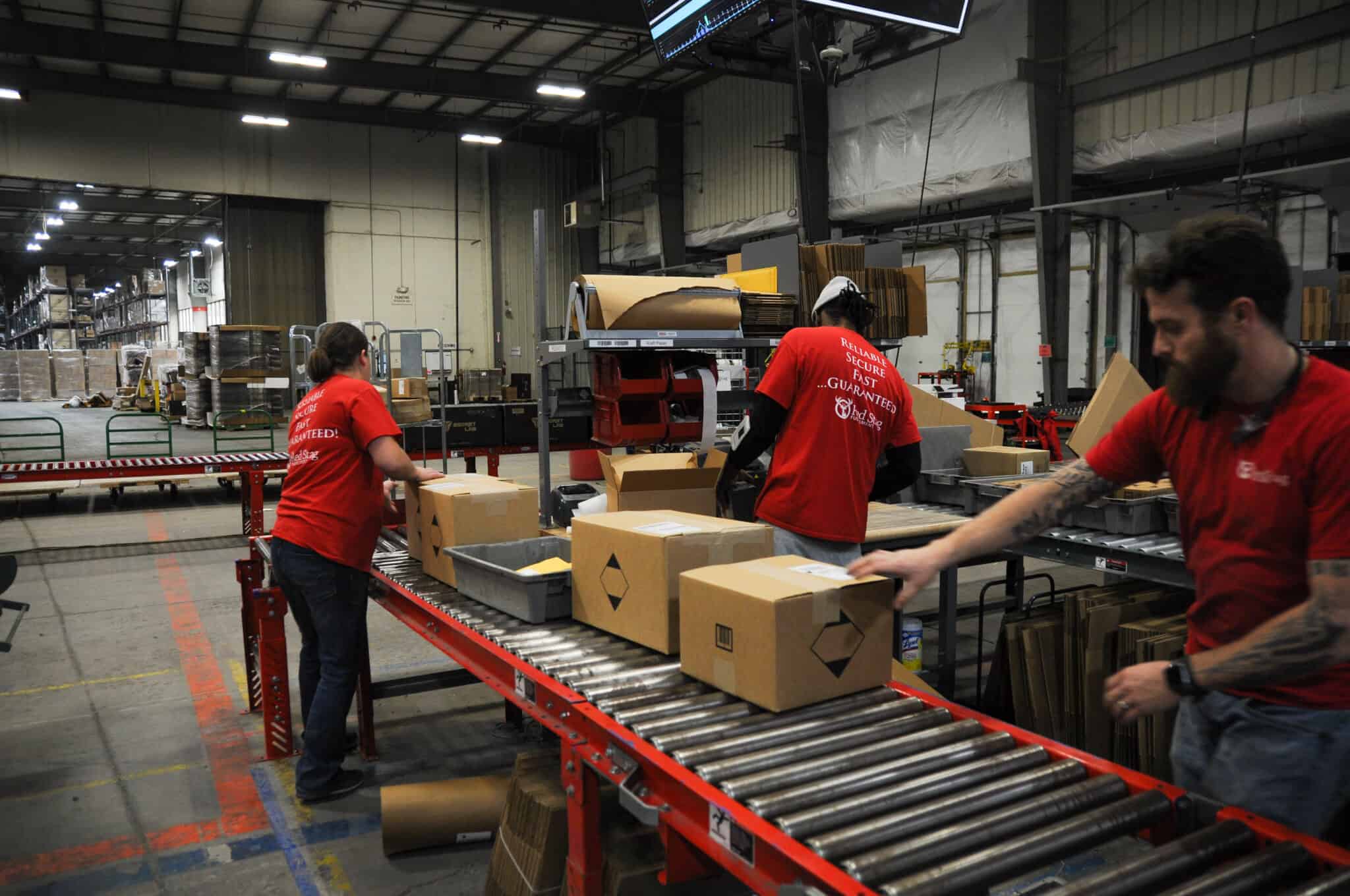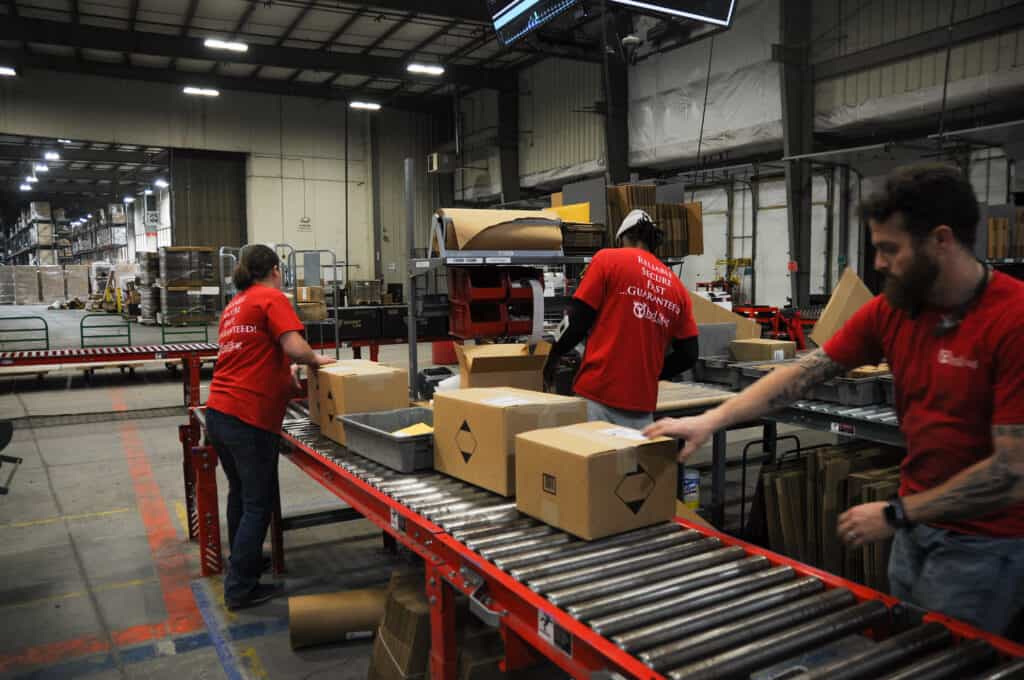 The terms eCommerce fulfillment and eCommerce shipping are sometimes used interchangeably. However, they don't refer to the same thing. ECommerce shipping is part of fulfillment. However, fulfillment includes much more. Your order fulfillment company will receive inventory, provide warehousing services, and package your orders. The last service your fulfillment company will provide for each order is to hand it to an eCommerce shipping carrier.
Here's our guide to help you make good choices about eCommerce shipping.
Why do I need to worry about shipping for eCommerce?
Every order a customer places with your eCommerce business needs two services: packing and shipping. Someone has to put the order in a box or mailing envelope. And the order needs to be delivered to the customer.
ECommerce shipping can win or lose customers. Reliable, flexible, and affordable eCommerce shipping is essential to your success.
Here are just a few of the eCommerce shipping issues that can hurt your business:
Slow shipping. If you can't get it there quickly enough, shoppers may look for other options.
Expensive shipping. High shipping costs are one of the biggest turn-offs for eCommerce shoppers.
Lack of shipping options. When customers need something fast, they are often willing to pay for expedited shipping. Offering several shipping options gives your customers choices.
Expensive return shipping. Online shoppers want to know that it will be easy to make returns before they make a purchase. If you charge too much (or at all) for return shipping, you may lose sales.
Shipping errors. Orders that go to the wrong address are a hassle for you and your customers. Mis-picked orders and packages that arrive damaged cost you money. Shipping errors take a toll on your bottom line and erode customer trust.
Now that you know why you need to worry about eCommerce shipping, here's all the information you need to stay on top of it. When your shipping operations are well-managed, you can focus on more important business management tasks.
What carriers can I use?
There are three main eCommerce shipping carriers in the US: UPS, USPS, and FedEx. There are pros and cons to each. Which one is best for your business will depend on what types of products you sell and where you ship.
UPS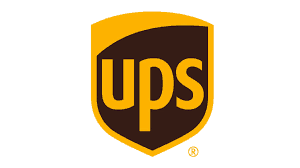 Pros:
Reliable service.
Date-certain delivery options.
Reasonable prices.
Cons:
Ground delivery can take several days, depending on the distance.
Limited weekend delivery options.
USPS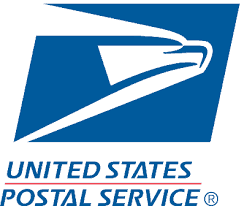 Pros:
Least expensive option for certain packages.
Flat-rate Priority Mail shipping.
The fastest carrier for cross-country packages without express charges.
Delivers to every address in the US, no matter how remote.
Delivers six days a week with no weekend surcharge.
Cons:
More expensive than FedEx and UPS for some deliveries.
Range of services is limited, especially for larger packages.
FedEx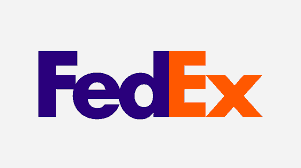 Pros:
Wide range of service options, including several for eCommerce shipping to residential addresses.
Express options.
Delivers on Saturday and Sunday.
Offers same-day delivery in some locations.
Cons:
Ground shipping can take several days, depending on the distance.
May charge extra fees for services that other carriers include at no charge.
We've got more resources about eCommerce shipping. Compare the services of the different eCommerce shipping carriers. Get updated shipping rates for FedEx, UPS, and USPS. Compare delivery times for major carriers.
Other carriers
If you ship internationally, DHL is the biggest international shipping company. If most of your deliveries are local, you might want to go with a local delivery service or hire an employee to deliver for you. This is particularly true if your products need special handling.
For eCommerce businesses that tend to ship bulk orders to business or wholesale customers, a freight company can be a cheaper option. Full truckload or less than truckload shipping is a money-saver when you measure orders by the pallet rather than by the package.
What options do I have for shipping?
Consumers want eCommerce shipping to be reliable, cheap or free, and fast. The options you offer need to work for your business and meet your customers' expectations. Here are some shipping options to consider.
Free shipping
Free shipping is the gold standard of eCommerce. Here are some of the ways to offer free shipping without losing money.
Give free shipping on orders over a certain amount.
Provide a coupon code for free shipping or limited-time free shipping offers.
Increase your prices to cover the cost of shipping. This avoids sticker shock at checkout that can lead to shopping cart abandonment.
Same day shipping
Same day shipping means your orders leave the fulfillment warehouse the same day they are placed. Same-day shipping services usually have a cutoff time. For example, Red Stag Fulfillment offers same day shipping with a cutoff of 3 pm or 5 pm.
Same day shipping is different from same-day delivery, which gets an order to the customer the same day they buy it. However, same-day shipping is valuable because it reduces the time it takes to get an order to your customer without increasing your shipping costs.
Two day shipping
Two day shipping is a guarantee that your customer will receive the order within two days after clicking the Buy button. This is an appealing option because it puts your products in your customers' hands quickly.
To offer two-day shipping, you may need to use an expedited service. If your products ship from warehouse locations close to your customers, packages can be delivered in two days. Two-day delivery is usually paired with same-day shipping, to get orders into the hands of the carrier quickly.
Insured shipping
The major carriers include $50 to $100 of insurance free with each package. For high-value or fragile products, it may be worthwhile to pay extra for insured shipping. This protects you in case the item is stolen, lost, or damaged in transit.
Expedited shipping
Expedited shipping is any type of shipping service that gets an order to the customer faster. These faster shipping services can include overnight, express, and two-day shipping. If the customer needs an order to arrive faster than standard shipping, they need an expedited shipping option.
Special handling in eCommerce shipping
Today, there is almost no consumer product too bulky, heavy, or fragile for eCommerce shipping. However, the majority of eCommerce orders weigh less than 1 pound. If your products are oversized, you have some special shipping considerations.
Dimensional weight pricing
For most packages, your shipping cost is based on the weight of the box. However, some oversized packages are subject to an extra charge because of their size. Dimensional weight pricing, also called DIM weight, uses a calculation to determine the weight of oversized packages.
The shipping charge for large packages is based on the larger of either the actual weight or the DIM weight. You can use Red Stag Fulfillment's dimensional weight calculator to determine the DIM weight of a package with all three major carriers.
Shipping fragile products
Fragile items need special care from the warehouse to the customer's doorstep. You can safely ship fragile products if you follow a few guidelines.
Use a heavy-duty corrugated cardboard box for extra protection.
Make sure you include enough infill to protect each item. Pack the infill tightly so the products won't shift during shipping.
Include a "fragile" label on the outside of the box.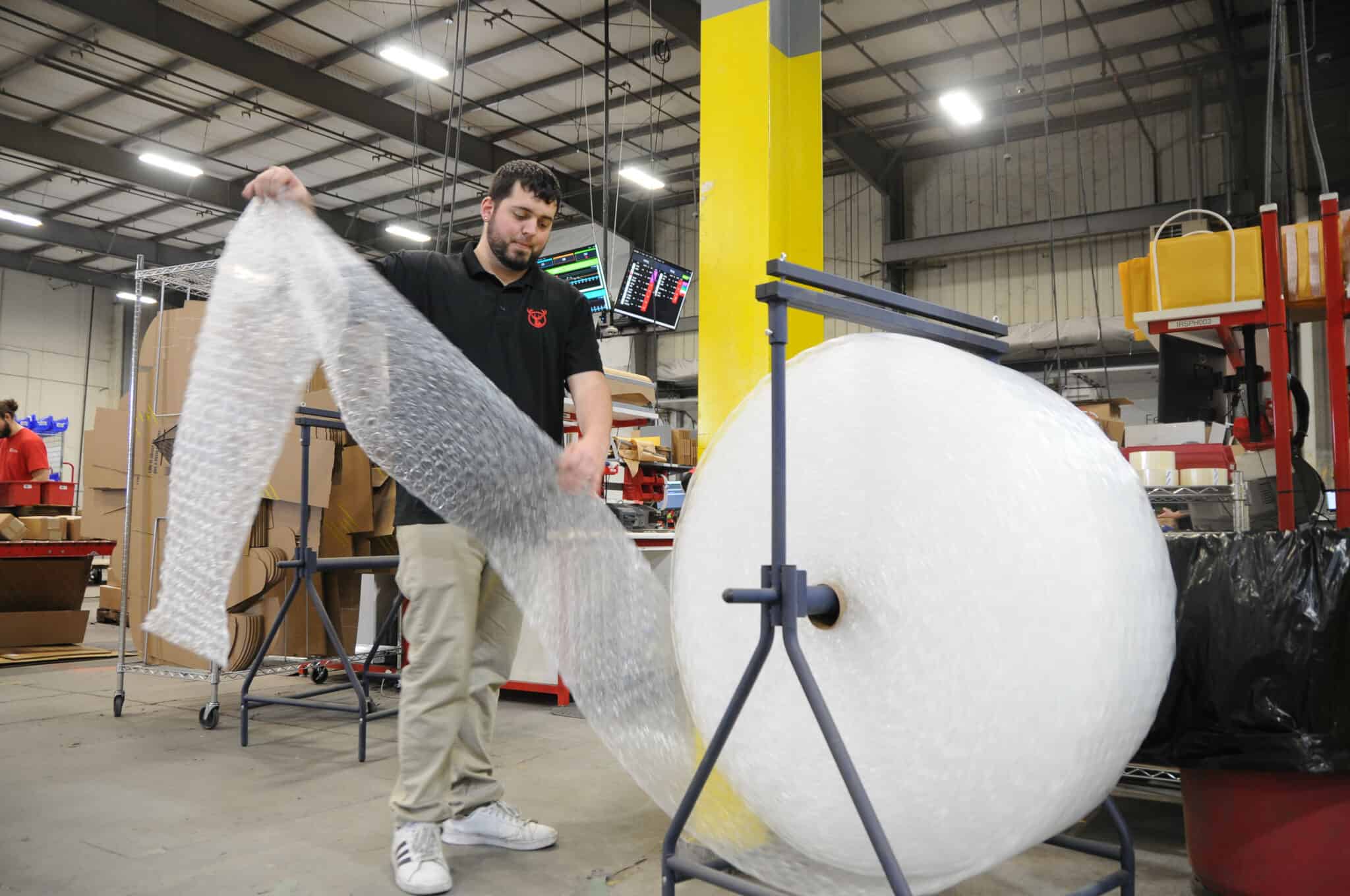 ECommerce shipping for bulky and heavy products
Heavy products need special handling in eCommerce shipping as well. This can include heavy-duty packaging and sturdy infill. Also, you'll want to use the smallest box possible to reduce DIM weight charges.
Red Stag Fulfillment is an award-winning fulfillment company for fragile and bulky items. Working with a 3PL company that understands how to safely ship products like yours will ensure safe eCommerce shipping.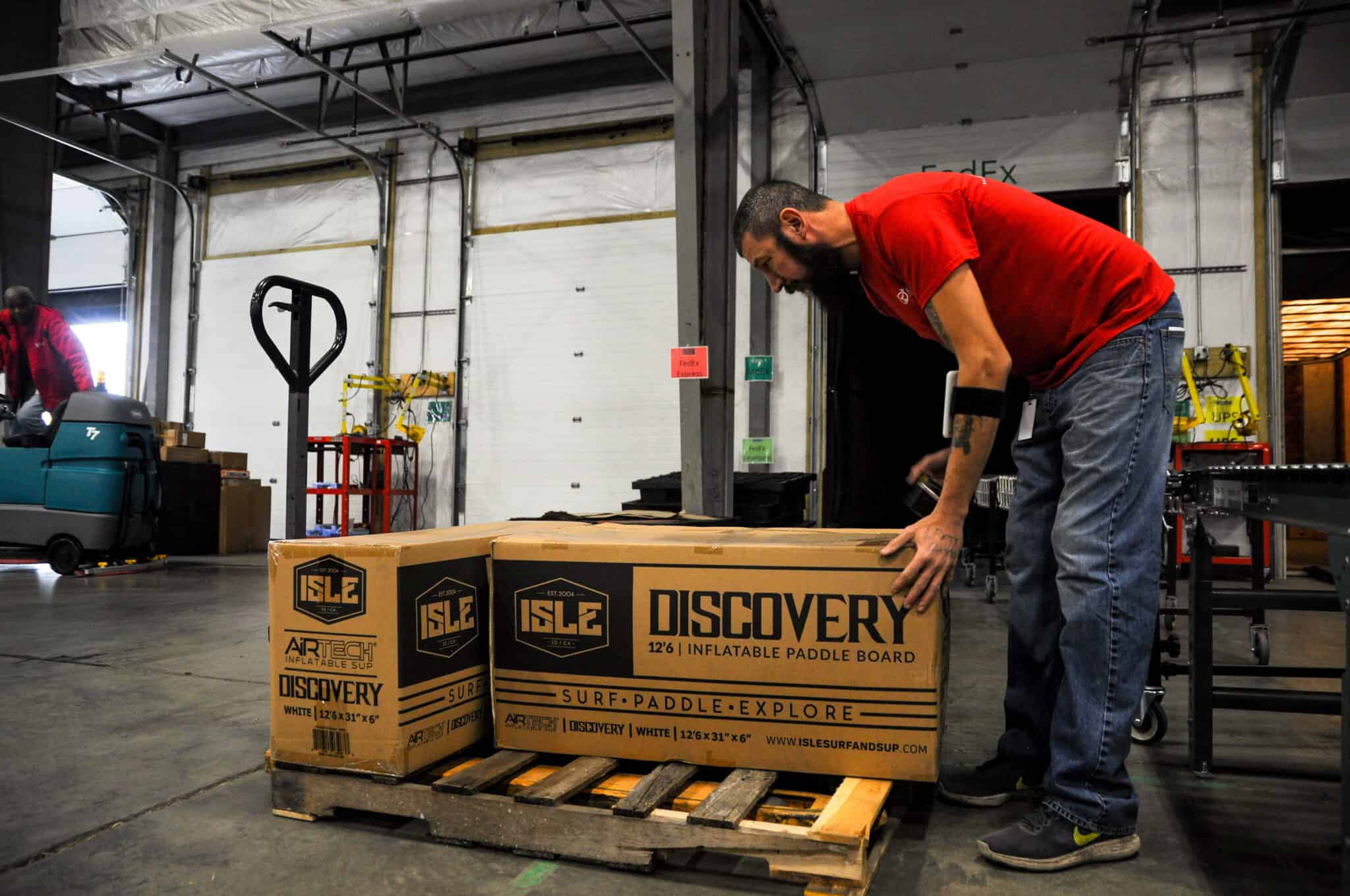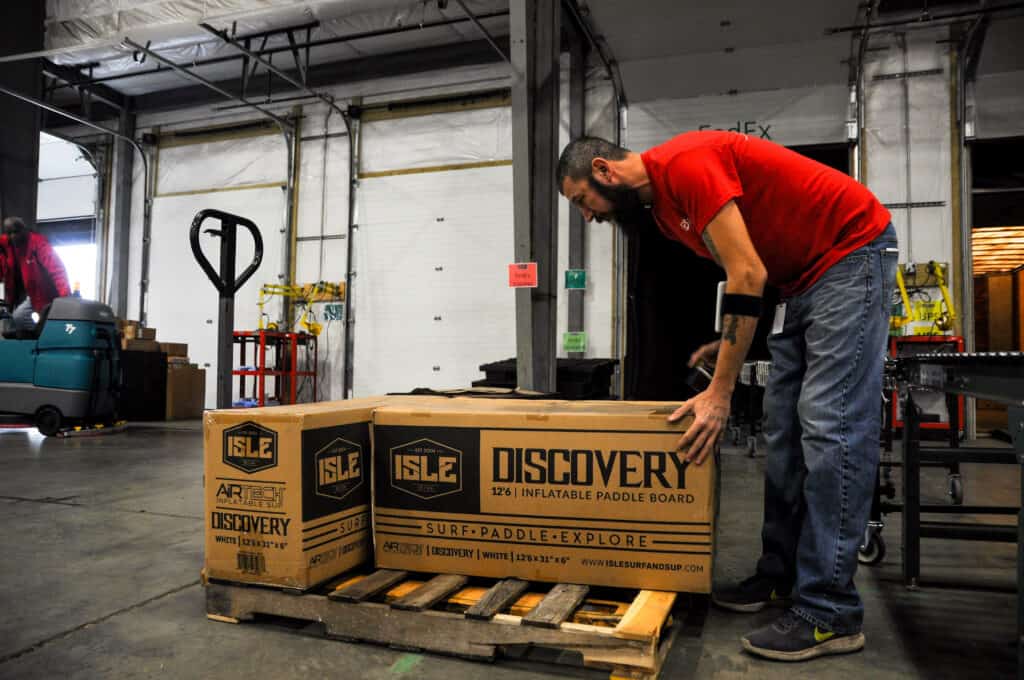 Hazardous materials shipping
You can sell and ship products that are considered hazardous, but it requires extra care. Hazardous products may need special labeling. In addition, it's important to understand local regulations governing the shipping of hazardous products, since laws can vary in different states or counties. Working with a fulfillment center that understands the complex regulations can take some of the weight off your shoulders.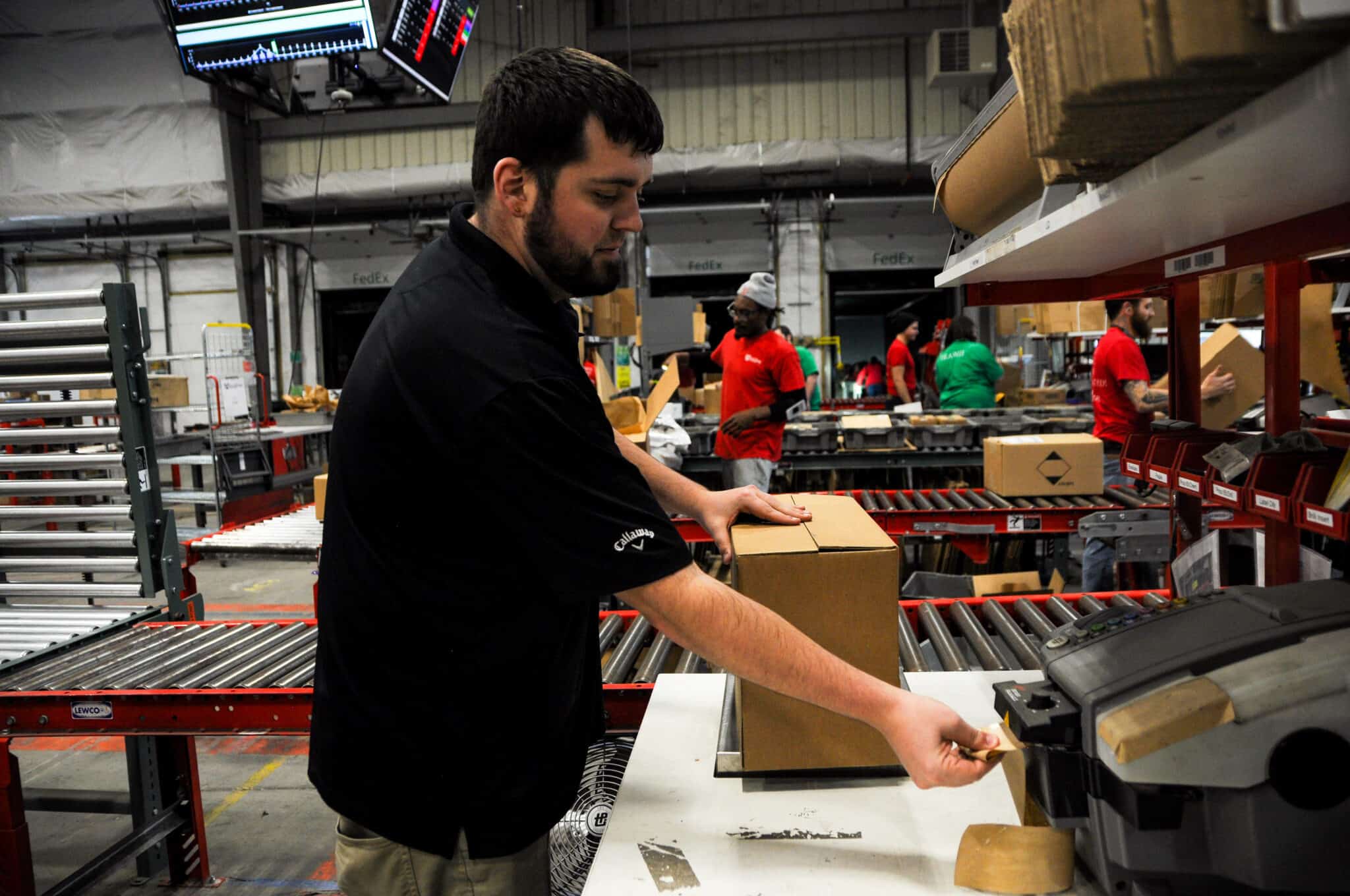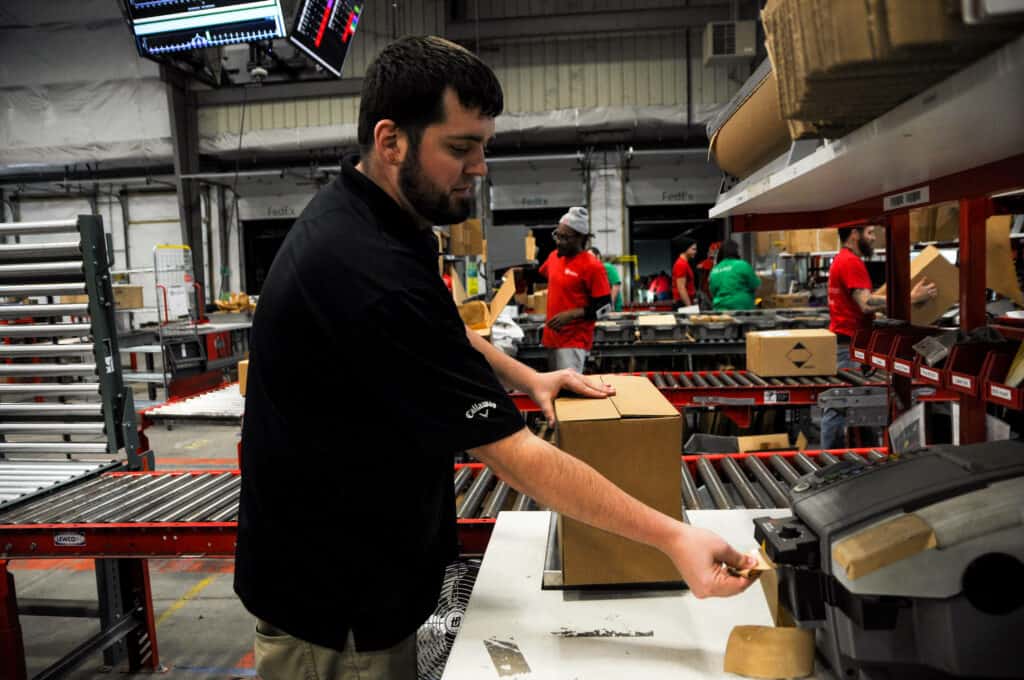 Cold shipping
Food items that need to be kept cold require cold shipping. Cold shipping starts with a warehouse that is equipped and certified for cold storage. Perishable products should be shipped with ice packs or dry ice inside insulated envelopes. Even with these measures, eCommerce orders that must be kept cold usually need expedited shipping.
Packaging options for eCommerce shipping
Packaging is an important part of your eCommerce shipping. Your packaging choices can save you money and keep your products safe during shipping.
Here are some tips for a winning packaging strategy:
Use the right packaging for your product. Clothing travels well in a shipping envelope—no need for a box or infill. A computer or a bicycle needs a box made of heavy-duty cardboard and sturdy infill to protect it on its journey.
Speak to your customers with your packaging. Let your brand voice shine through with branded packaging. Add a human touch with notes inside the box. Create a delightful unboxing experience.
Ship your products in packaging your customers can reuse. Make it easy to send back returns in the same packaging.
Here are three types of packaging to consider for your eCommerce shipping.
Self-boxed shipping
Some products can be shipped in the product packaging. For example, a kitchen appliance that comes in a sturdy cardboard box could ship without an overbox. Simply put a label on the product package and ship it out.
Self-boxing saves money on packaging and lowers your fulfillment costs. On the other hand, returns may be harder to re-sell if the product box is dented or damaged during shipping. And it's easy for potential thieves to tell what's in the box. When you're shipping high-value products, discreet shipping may be a better option.
Discreet shipping
Discreet shipping is more than using a plain, brown box to ship an order. Even the label can obscure the identity of the sender.
Discreet shipping protects high-value products from porch pirates. It also protects the privacy of customers making sensitive purchases, such as medical devices.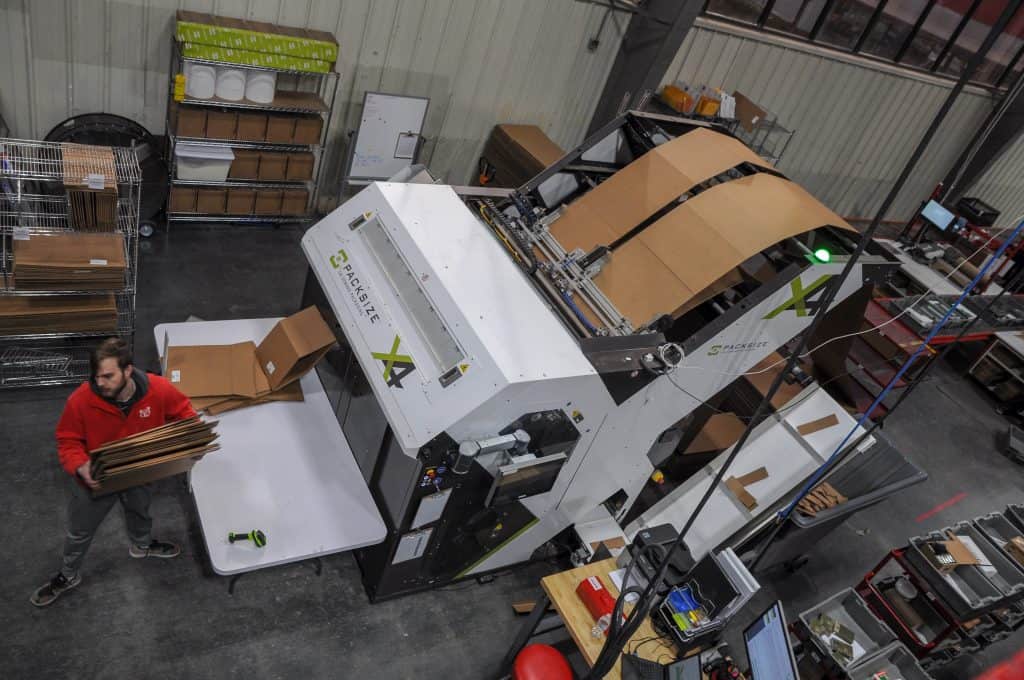 Custom packaging
In the past, custom packaging was reserved for large companies that shipped hundreds or thousands of orders a day. With today's technology, even smaller eCommerce companies can take advantage of custom packaging to get exactly the right size of box for every order.
At Red Stag Fulfillment, we use a packaging machine that calculates the perfect box size for each order, then creates that box. This saves money on packaging. It also ensures that each order ships safely in a box that is optimized to hold the products inside.
What methods are there for handling shipping for eCommerce?
The best eCommerce shipping method isn't the same for all eCommerce businesses. You may change how you handle your shipping operations as your business grows. In the beginning, self-shipping may make sense. As you grow, you might want to work with Fulfillment by Amazon (FBA) or a 3PL company. There are pros and cons to each approach.
Self-shipping
Self-shipping is eCommerce shipping handled in-house. You warehouse your products, keep track of inventory, and pack and ship every order.
Pros:
You have total control over your fulfillment and shipping logistics. You do the quality control yourself.
Self-shipping allows you to add a personal touch, such as a handwritten note, to your orders. This works best when a business is very small.
Cons:
Fulfillment and eCommerce shipping can eat into time that you and your employees should be spending on other aspects of the business. This is particularly true if your staff doesn't include any experienced fulfillment staff.
Your warehousing space isn't flexible. You may be tied to a long commercial lease. Plus, it's expensive and time-consuming to expand your space when business is good. In addition, your warehouse shelves may sit empty during slow periods, but you still have to pay for the space.
You might not be shipping from the ideal location. Unless you lease or build your own fulfillment warehouses, you're probably shipping from in or near your business location. If your business is on one of the coasts, eCommerce shipping to customers across the country can be expensive and slow.
FBA
Fulfillment by Amazon, or FBA, is a service that allows sellers to take advantage of Amazon's huge shipping and logistics networks. However, FBA also has some serious downsides.
Pros:
Sellers who use FBA are eligible for Prime shipping. This can give a huge boost to your sales.
You benefit from Amazon's extensive network of warehouses across the US. The company uses sophisticated software to store your products in warehouses close to your customers.
Cons:
Amazon limits warehouse space for sellers during the holidays. This can make it harder to fill holiday orders.
You may be subject to unexpected sales tax obligations based on the locations of the Amazon warehouses where your products are stored. It's not always easy to tell where your products are, and you don't have control over where Amazon puts your items.
Amazon has been known to substitute one seller's product for another that's in a warehouse closer to the customer. If the quality isn't the same, this could hurt your reputation.
You don't have control. FBA is an out-of-the-box eCommerce shipping option. There is little you can do to tailor the service to your needs.
FBA charges can add up. You can also expect extra surcharges during the holidays.
3PL
A third-party logistics company, or 3PL, is an eCommerce fulfillment company. The company will warehouse your products, package your orders, and handle your eCommerce shipping and returns. And, with Seller-Fulfilled Prime, you can get many of the benefits of FBA without the downside.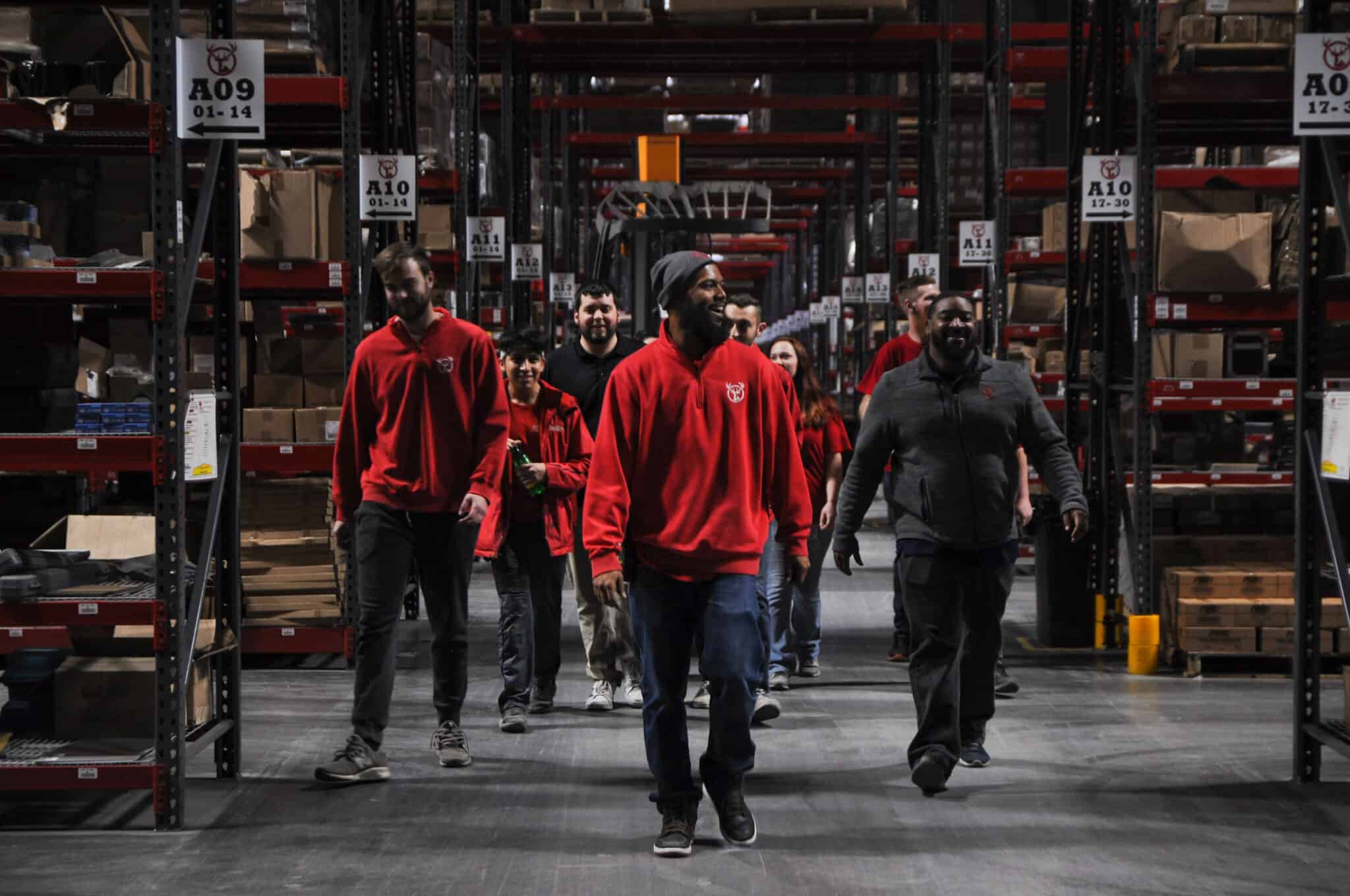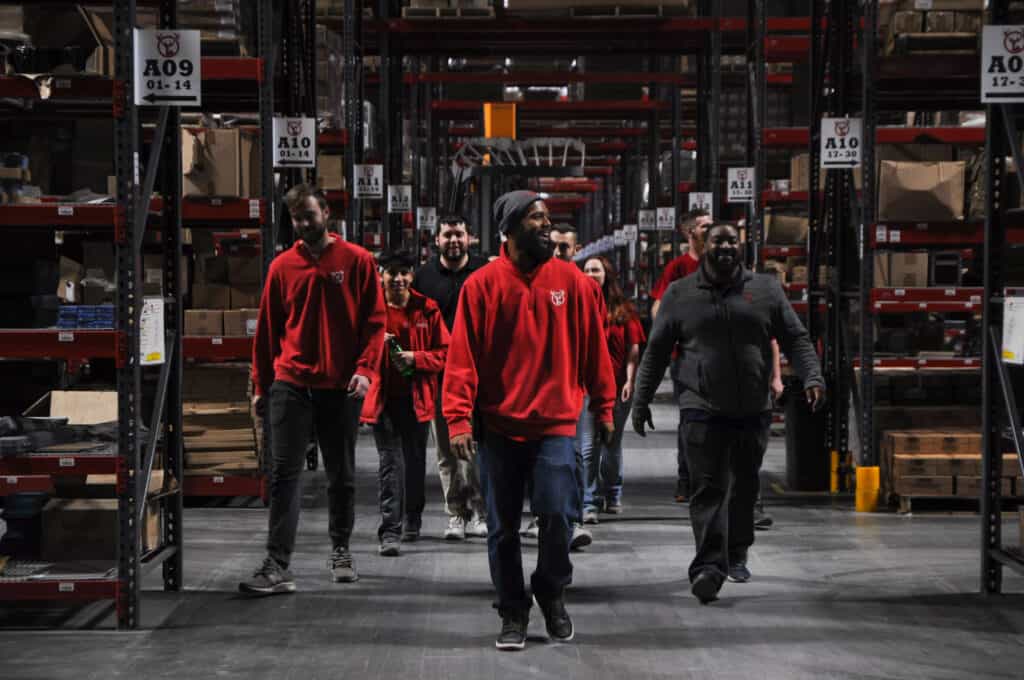 Pros:
Flexible warehouse space. You can easily bulk up or thin down your inventory. Your storage fees will reflect the space you truly need.
Your fulfillment warehouse locations can reach most of the US in two days or less. These national fulfillment services will save you money and shipping time.
Get professional-quality packing, shipping, and inventory handling. That means less breakage, fewer errors, and fewer returns.
You'll have more options to customize your eCommerce shipping. You can choose the services that are right for you from the menu of services offered by your 3PL company.
Cons:
Professional fulfillment will save your business money in the long run. However, there is an up-front cost for third-party logistics.
You aren't in control of your shipping operations. However, when you partner with a top-notch 3PL company, you gain an expert shipping department without needing to hire employees.
How do I manage shipping with Shopify?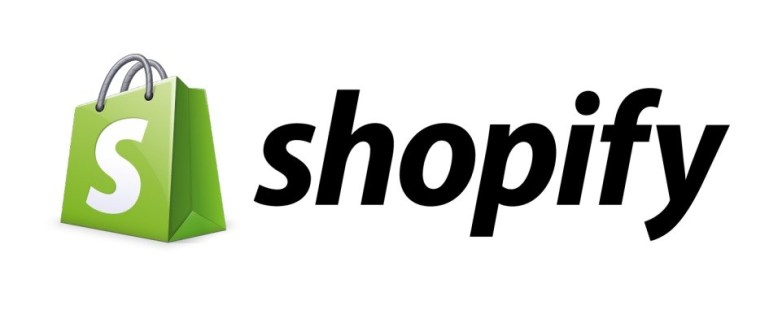 When you sell on eCommerce platforms such as Shopify, there are tools to make shipping easier. For example, Shopify Shipping gives you discounted rates and helps you accurately price shipping at checkout. Shopify Shipping is aimed at sellers who handle eCommerce shipping in-house. More about Shopify shipping.
Are there special Shopify plugins or apps for eCommerce shipping?
The Shopify app store has over 1,500 apps that help you with shipping your Shopify orders. These range from inventory management to dropshipping, to apps that help with the returns process.
How do I manage shipping with BigCommerce?


BigCommerce makes it easy to set up shipping for your online store. You can even print USPS shipping labels right from the control panel.
Are there special BigCommerce integrations or plugins for shipping?
You can get apps to optimize your BigCommerce shipping operations and integrate with third-party fulfillment companies.
You don't need an app to integrate with most order fulfillment warehouses, however. ECommerce fulfillment companies like Red Stag Fulfillment offer dashboards that integrate with BigCommerce and other sales platforms. That makes multichannel sales easy. More about BigCommerce shipping.
How do I manage shipping with WooCommerce?

Like BigCommerce, WooCommerce shipping integrates with USPS. You can print USPS shipping labels from your dashboard and benefit from the platform's low shipping rates.
Are there special WooCommerce extensions or plugins for shipping?
The WooCommerce extensions store has lots of apps for eCommerce shipping. These cover everything from shipping rates in your shopping cart to fulfillment and shipping integrations. More about WooCommerce shipping.
How do I manage shipping with Magento?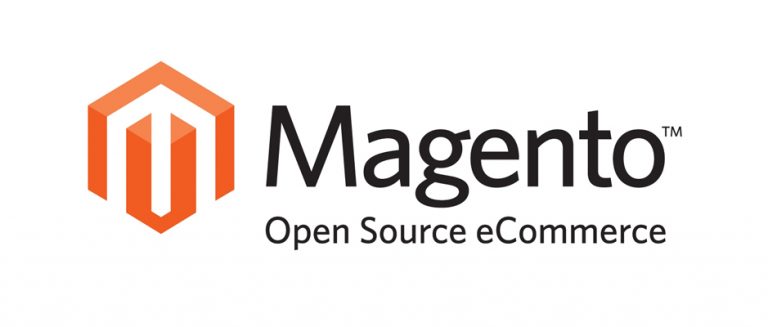 The Magento platform supports integrations for shipping with USPS, UPS, FedEx, and DHL. Magento's Partner Directory helps you find providers to help you with Magento shipping.
Are there special Magento integrations or extensions for shipping?
The Magento Marketplace includes extensions that help you ship with major carriers, including UPS and DHL. More about Magento shipping.
What about shipping for other platforms?
Almost every eCommerce platform includes plugins to make it easy for you to deal with shipping in your online store. Here are some additional eCommerce shipping options.
Opencart
Opencart's shipping extension lets you easily set up your shipping integrations. More about Opencart shipping.
Ecwid
Ecwid offers information to help you make good choices about your eCommerce shipping. The platform also has a detailed guide for setting up Ecwid shipping.
3dcart
3dcart supports real-time shipping rate calculations and offers a step-by-step guide to setup. Read more about 3dcart shipping.
Volusion
Volusion has a video tutorial to walk you through the shipping setup process. Read more about Volusion shipping.
Prestashop
The Prestashop Addons Marketplace has more than 300 modules to help you optimize your shipping. Read more about Prestashop shipping.
How to choose the best eCommerce shipping options for your business
Your eCommerce shipping strategy will depend on your business. If you have the resources, self-fulfillment may be a good option. If you're in a growth phase, partnering with a 3PL company is a great way to add to your capacity without adding to your payroll.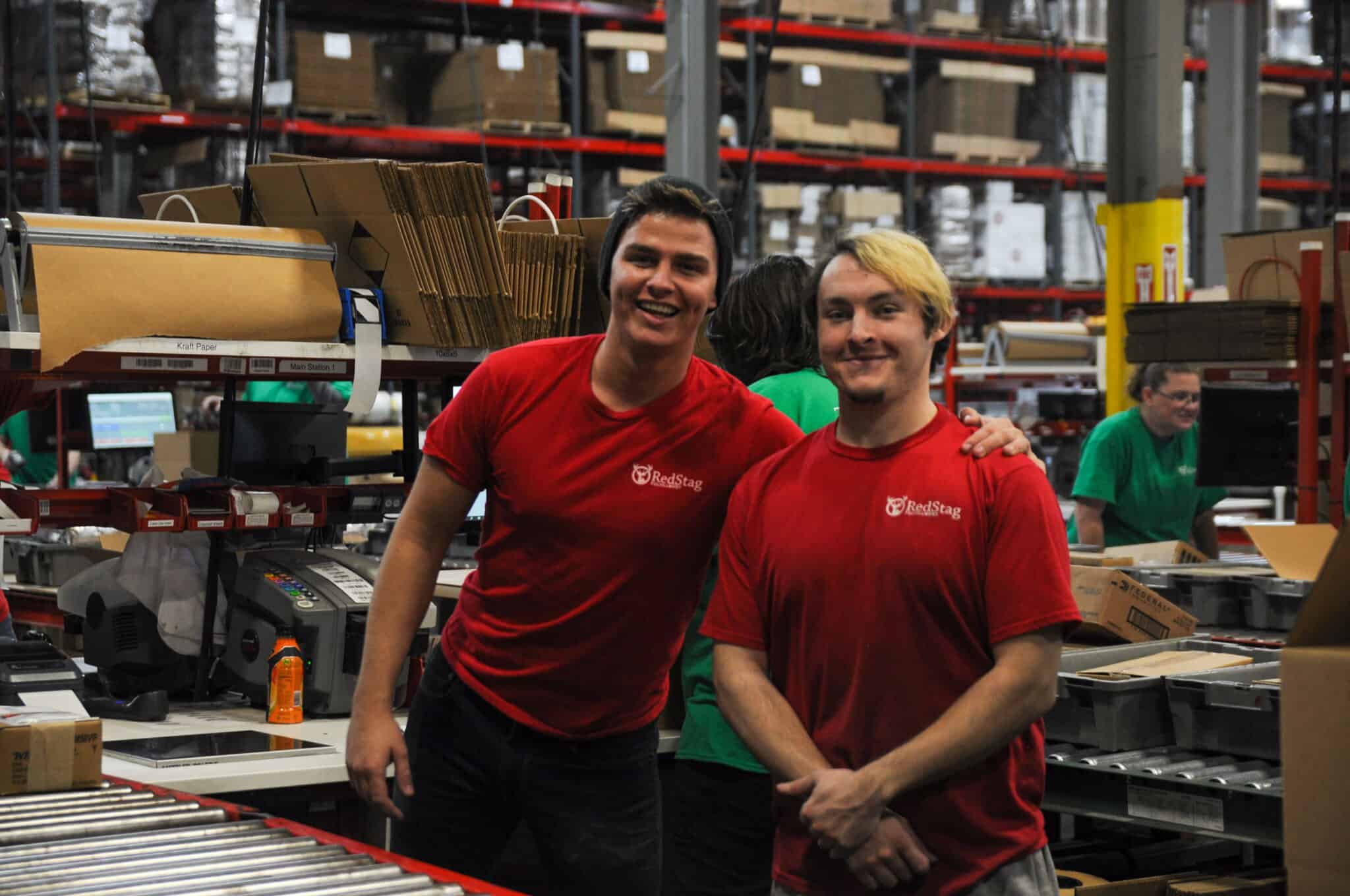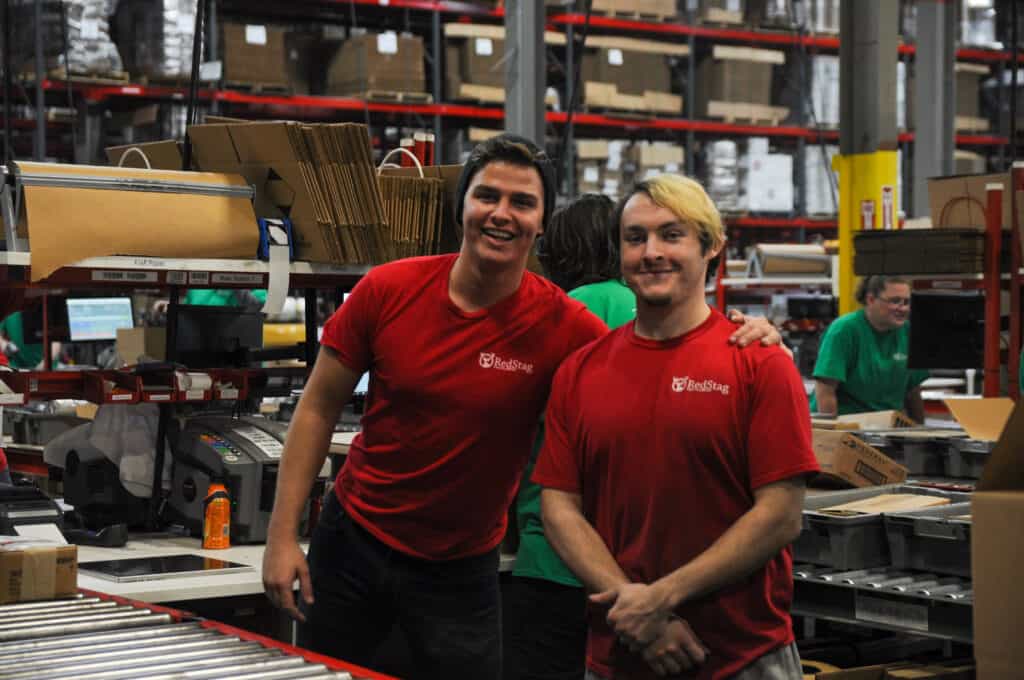 At the end of the day, the best eCommerce shipping option for your business is the one that keeps your customers happy. Excellent shipping and logistics is the cornerstone of every successful eCommerce business.