After the past couple of years, company owners and leaders are looking for every opportunity to simplify your eCommerce business. Taking some stress and worry out of daily operations can give you the bandwidth to adapt to shifting consumer demands and supply chain uncertainty. That should be the goal of any partner you use, especially when outsourcing something as crucial as fulfillment.
Red Stag Fulfillment wants to make it easy for eCommerce decision-makers. Together, we work to ensure your fulfillment is the right fit, helping you grow by getting orders out on time and accurately. That way, you can prioritize delighting your customers, building your brand, and seeking new opportunities. Here's what that can look like today with five ways to simplify your eCommerce operations.
Optimizing for your specific SKUs
In logistics, simplicity requires significant understanding and expertise. The best path to improving and simplifying elements of your supply chain is to have knowledgeable partners. Find those that have been through similar challenges and take proactive steps to help you avoid pitfalls.
"While we work with products of all sizes, one area of our expertise is being one of the only 3PL partners in the U.S. that handles large volumes of big, bulky products," says Spencer Moore, VP of Business Development for Red Stag. "You'll find other 3PLs that may take some of this volume if it helps them win smaller-item fulfillment business. But if big and bulky is your core, they'll often turn you down. That's where we specialize, and it's exactly what our partners need." 
Tell us about your products, and we'll show you a proven process to handle them.
Avoiding the lease trap
Reducing costs and headaches is a core part of efforts simplify your eCommerce business. 3PL partners can help achieve both by reducing your dependency on physical locations, especially in today's marketing of extraordinarily high leases. One report notes that getting a five-year lease today will cost you 25% more than leases that expired in 2021.
"That's important because the five-year lease is standard for warehouse and distribution space," says Moore. "The danger is if you invest in that lease and put a lot of assets and capital into the warehouse, but then outgrow the space in the year. Next thing you know, you're stuck with a big investment that doesn't meet your needs."
He notes that 3PLs directly address this concern by building out new locations and performing ongoing space planning to be ahead of future growth. Red Stag Fulfillment has already broken ground on new warehousing space to accommodate client growth in 2023.
Reducing zones while improving delivery
Physical space plays a role in a 3PL's value even beyond square footage. No matter your size or how established your operations are, there can be significant improvements when you can be closer to customers.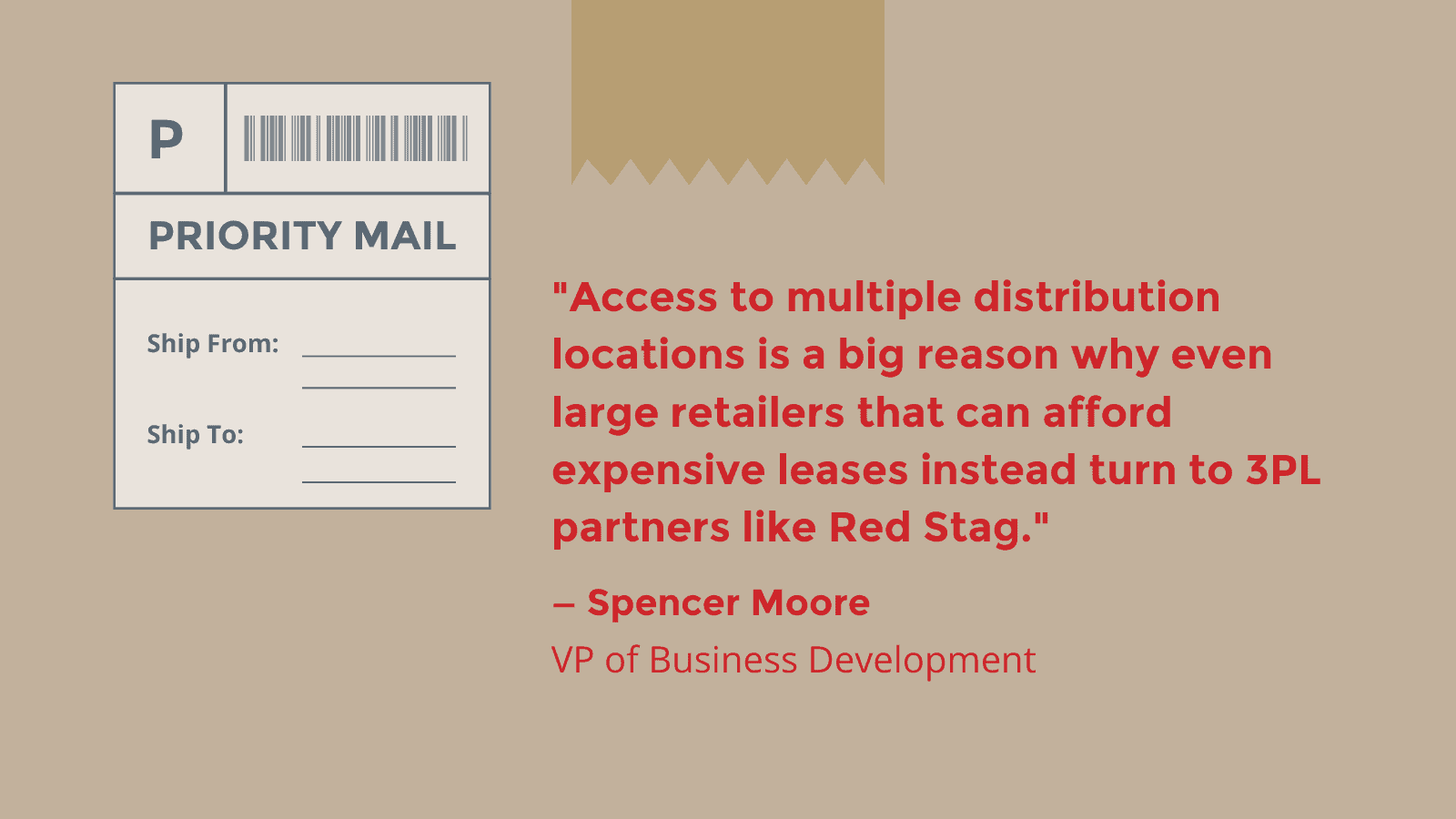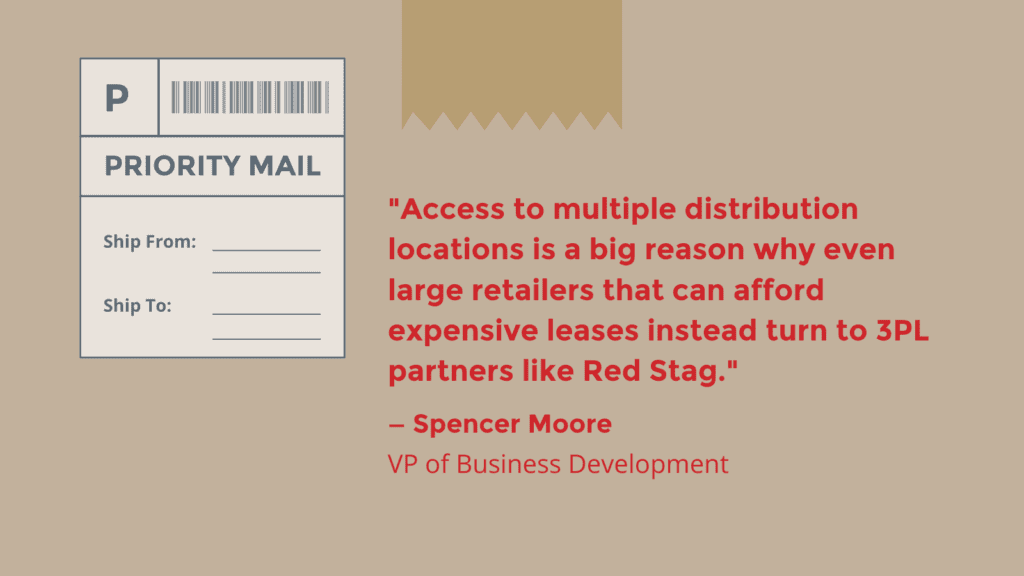 "These locations can justify outsourcing even for large marketplaces because reducing the distance from the warehouse to the customer's door speeds up fulfillment while reducing the cost of each parcel," says Moore. "Most people are Amazon shoppers, so we're all used to two-day free shipping or faster options. You're not going to be able to offer that from a single location — especially on more expensive heavier shipments — unless you're willing to spend four to five times the normal shipping cost to expedite orders to far-away customer doors."
Red Stag Fulfillment helps companies reduce those last-mile costs. We offer two fulfillment locations that can reach more than 96% of American homes within two days. Staging inventory and filling from the warehouse closest to the customer means we offer zone skipping that dramatically reduces costs even beyond our existing carrier rate discounts for big, bulky goods. It's a dramatic but easy way to simplify your eCommerce efforts.
Without the correct number of locations and enough room, you're putting extra stress on customer support and service teams. That's what drives repeat business. When it fails, you're at risk.
Eliminating seasonal labor worries
The pain of high-cost fulfillment only gets worse when your business does well. If you're overpaying or underperforming right now, then a seasonal or surprise spike can harm your long-term profitability. Why would a shopper come back a second time if their first holiday, birthday, or immediate-need purchase was late?
Reduce that risk by simplifying what it takes to scale. 3PLs have everything in-house to handle the influx without you experiencing a disruption. That means every order makes it out accurately and on time, whether it's an ordinary day or you hit 10x volume out of nowhere.
"Most eCommerce companies have volume spikes and seasonality, but most aren't equipped to handle a surge that comes as a surprise," says Moore. "Sometimes even predictable seasonality is an issue if you can't get the right people or technology support. It can be hard for any eCommerce brand to scale in today's labor market, especially if it requires increasing your warehouse workforce 2-4 times to accommodate spikes."
Red Stag and some other 3PLs can easily absorb that growth because we work with many partners with different seasonality. So, growth in one area will often correspond with slowdowns in another. That allows us to keep a robust and reliable workforce on hand and adjust teams as needed. We can smoothly transition resources and people between partners and warehouses to meet changing demands.
It's easy to simplify your eCommerce business and prioritize growth when you manage fewer people and eliminate the need to hire a seasonal labor force.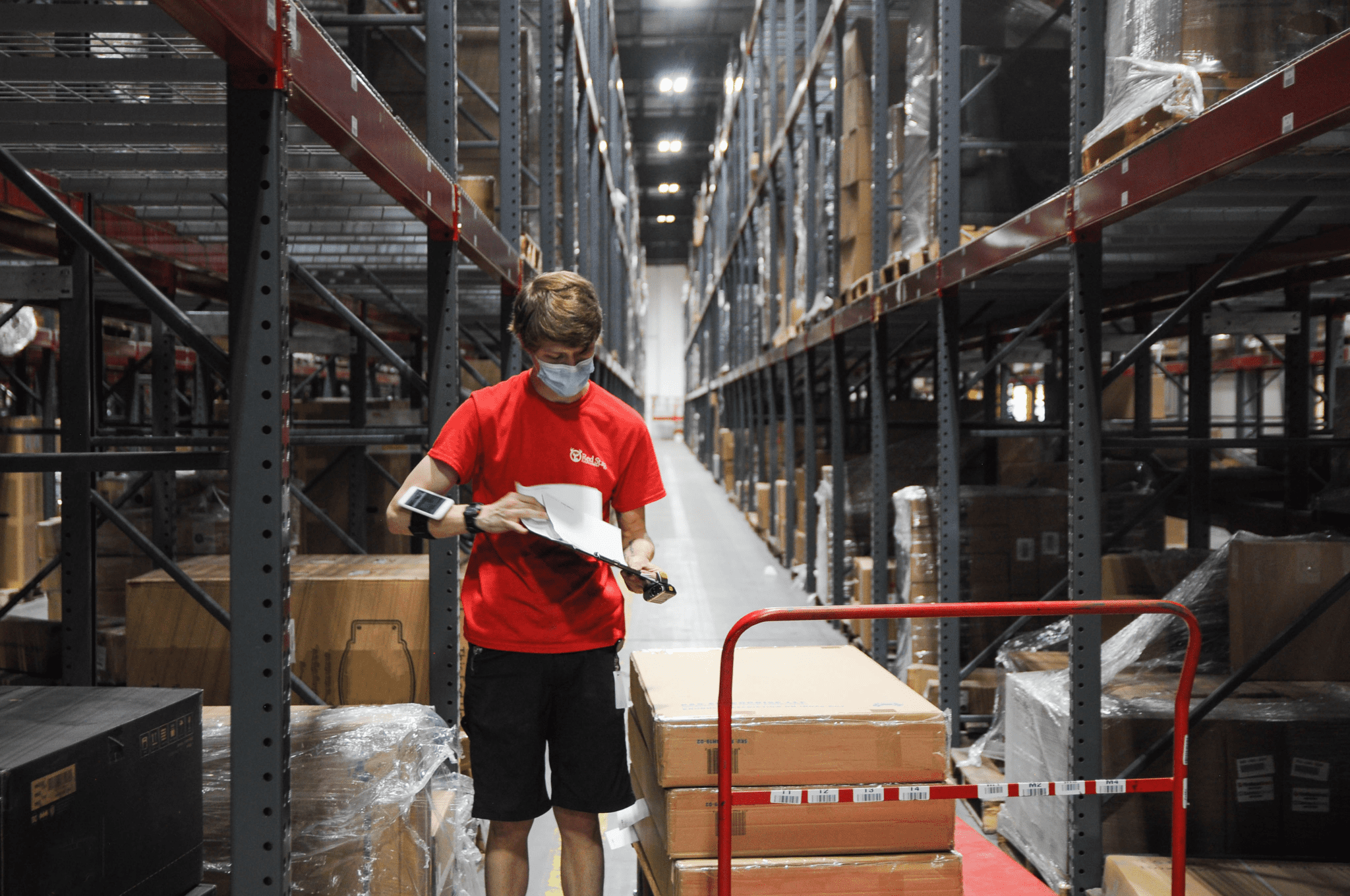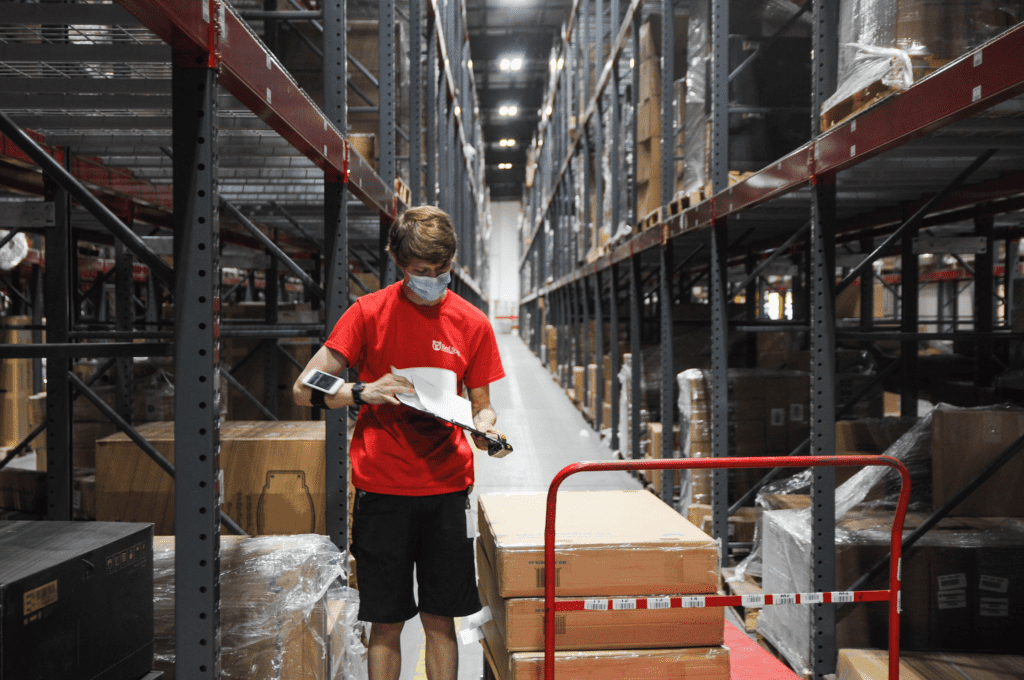 Ensuring success after past struggles
There are many elements specific to your company that make in-house fulfillment complex. An expert partner can simplify these because of their experience and access to multiple warehouses, leading order management technology, inventory support, and more. The critical thread is that the 3PL knows your business, product types, and customers so they can apply these tools correctly.
The Red Stag story starts with our founders' eCommerce company not being able to get the service they needed from a 3PL. The partner couldn't track inventory or perform well during crunch time. That led our founders to create Red Stag, offering the service quality they demanded based.
"So, we've learned long ago about what it takes to deliver the service we demand. Now, we're the experts at what we do, and a big focus is minimizing your issues so that you don't have to worry about order reliability or customer satisfaction with fulfillment," says Moore.
To help simplify your eCommerce operations, Red Stag makes our experts available to our partners. We discuss warehouse and inventory best practices, ensure data flows to your dashboards for analytics, and can help when you're looking for freight forwarding or other support. Let us put together a plan that helps you tackle your biggest fulfillment worry based on our experience.


Guaranteeing quality of service for you
The most significant way that a reliable partner can simplify your eCommerce fulfillment and business operations is by relieving stress and worry through guaranteed service levels. This goes beyond the typical SLA, ensuring there are teeth in the agreement to protect you and ensure mutual growth. That's the approach we take with our guarantees of on-time, accurate delivery and zero shrinkage.
"It's hard to get eCommerce operations right all the time for every order," says Moore. "So, many of our partners find value in Red Stag's quality of service and the guarantees we provide. It sets us apart. Most other 3PLs will have a 0.5% shrinkage rate in their SLA, for instance. People like that we not only refund the shipping but replace that item cost. We put our money where our mouth is, making it a lot easier for leaders and executives to trust our guarantees."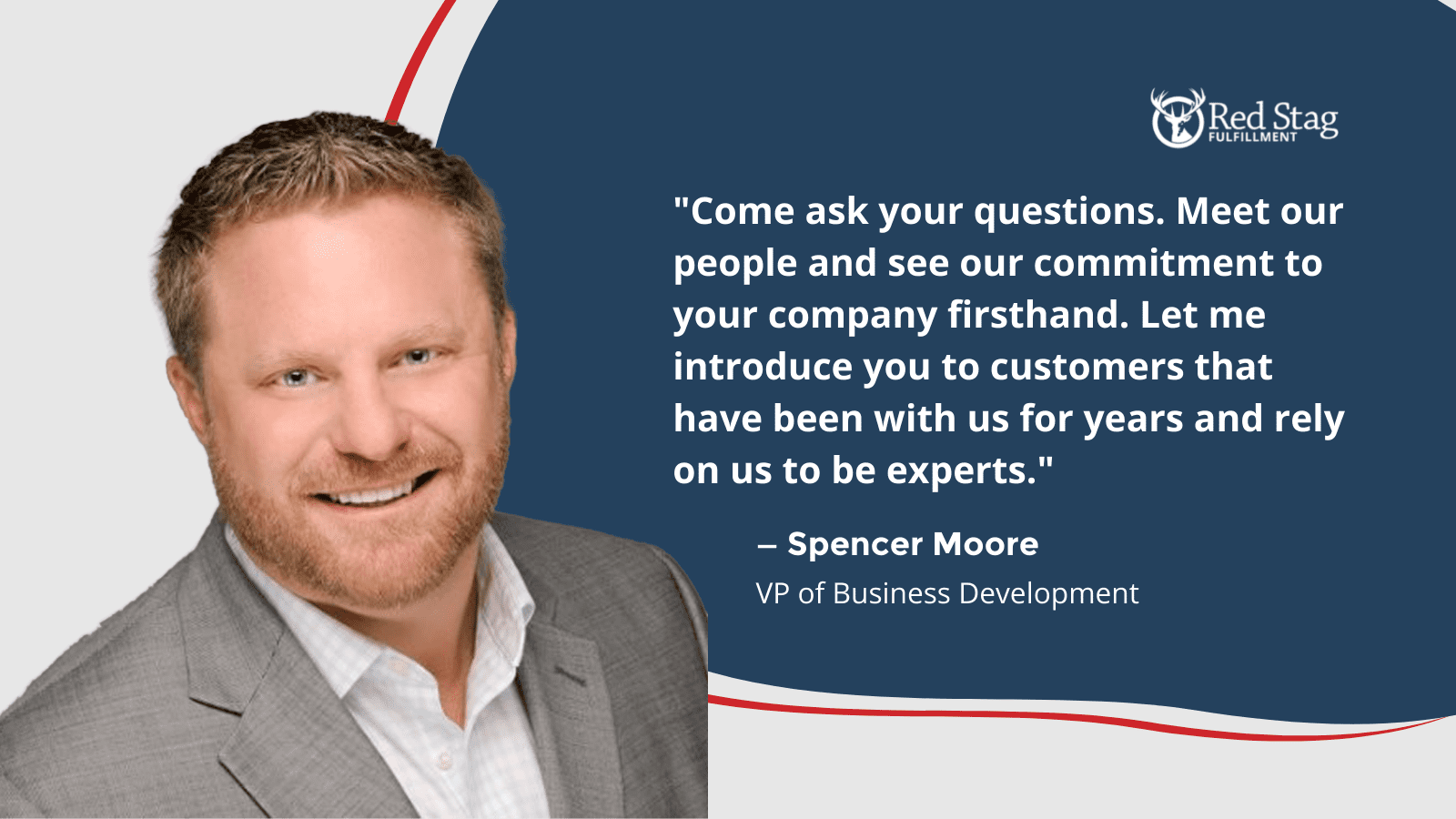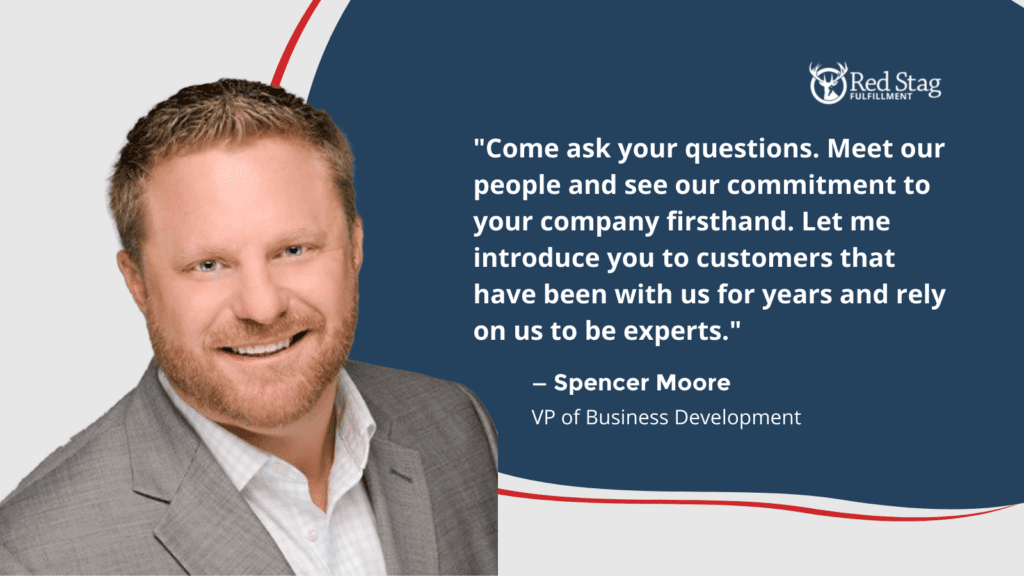 We'll talk about our better technology, processes, people, and operational capabilities. They'll tell you how we make it simple and get the work done day after day.