The weeks between Thanksgiving and Christmas account for 20% of all retail sales, on average, so holiday 3PL fulfillment company performance can make or break your eCommerce business. If your products make good gifts, the holidays might be even more important to your annual revenue. Great eCommerce fulfillment performance is the key to great holiday sales.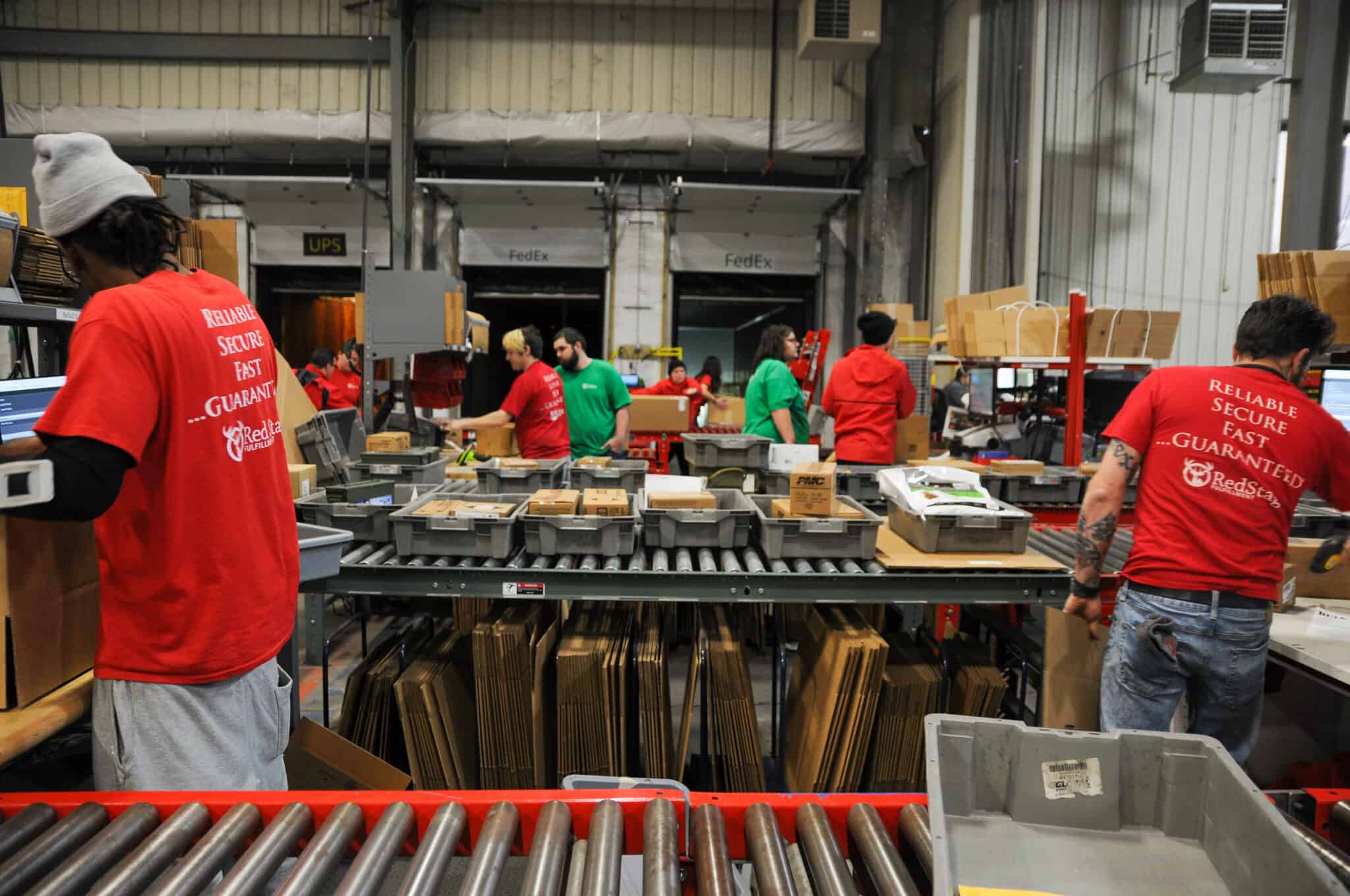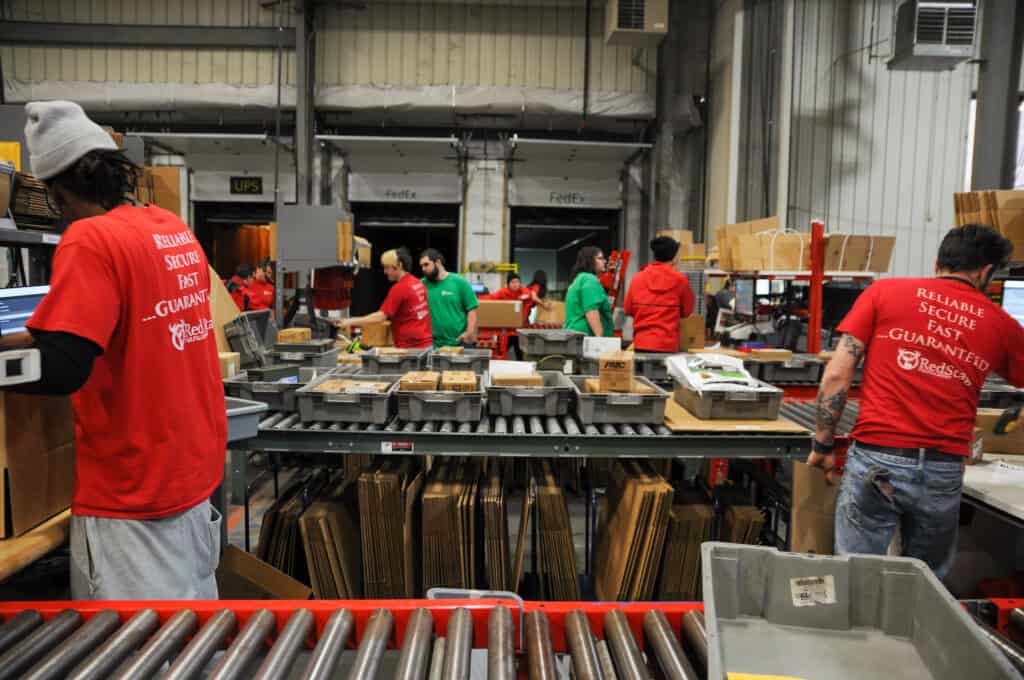 With supply chains still backed up, too few containers to distribute products, and labor shortages affecting transportation and logistics services, this holiday season will be challenging for eCommerce businesses. It's crucial to work with your 3PL to develop strategies for dealing with backorders and carrier capacity limitations. But it's essential to look beyond the big crises to evaluate 3PL fulfillment company performance.
In 2020, Red Stag Fulfillment used innovative strategies to nearly eliminate shipping delays for our clients.
If your order fulfillment gets backed up or there's a major snafu in your supply chain, that's easy to spot. However, glitches in 3PL fulfillment company performance are often subtle. A series of small issues can pile up. By the end of the season, these small errors may have taken a big bite out of your bottom line. But these financial hits can fly under the radar, so it's critical to evaluate how your order fulfillment warehouse performed during the holidays.
To understand how your 3PL fulfillment company performance affects your bottom line, you need measuring tools. KPIs are a great way to assess your fulfillment operations.
What Are 3PL Fulfillment KPIs?
KPI stands for key performance indicator. KPIs track your progress toward defined business goals. For example, you might have the goal of selling your eCommerce products in a new market. A marketing KPI for this goal might be your level of social engagement with consumers in the new market. Social engagement can be a leading indicator of awareness of your brand among your new potential customers. This awareness can precede sales, and it might be a good indicator that you can expect your sales to grow in that area.
The best way to measure your 3PL fulfillment company performance during the holidays is through relevant and quantifiable fulfillment KPIs. For example, you might set a goal of 97% of orders shipped on time. After the holidays, compare your 3PL fulfillment performance on this KPI against your goal.
Red Stag Fulfillment's goal is to ship 100% of orders accurately and on time. That's one of our fulfillment guarantees.
KPIs to Measure 3PL Fulfillment Company Performance
Here are some general fulfillment KPIs that every eCommerce business can use.

Customer service response time
Customer service success is less about eliminating problems than solving them quickly. A fulfillment problem doesn't have to become a big issue, as long as you can resolve it quickly.
Track the time it takes your 3PL company to respond when you have a question or issue. How long does it take to fully resolve the problem? For example, at Red Stag Fulfillment, we try to respond to every query from a client in three hours or less. Each of our clients has a dedicated customer service representative they can call who will work to resolve their issue quickly.
Time from dock to stock
The time it takes to move your products from the loading dock to warehouse shelves is a crucial fulfillment KPI all year long, but it is even more important during the holiday rush. When orders may be flying out of the warehouse as fast as your products go on the shelf, you can't afford to lose time with inbound shipments lost on the loading dock.
When your products linger on a pallet without being logged into inventory, they produce no return. You may lose sales and customers because an item is marked as out of stock. You do your best to get your products to the fulfillment center on time; your fulfillment partner must step up and put them on the shelves quickly. At Red Stag Fulfillment, we offer a two-business day dock-to-stock guarantee.
To evaluate your 3PL fulfillment company performance, find out how quickly they handling inbound inventory, and then compare that to what actually happened during the holidays.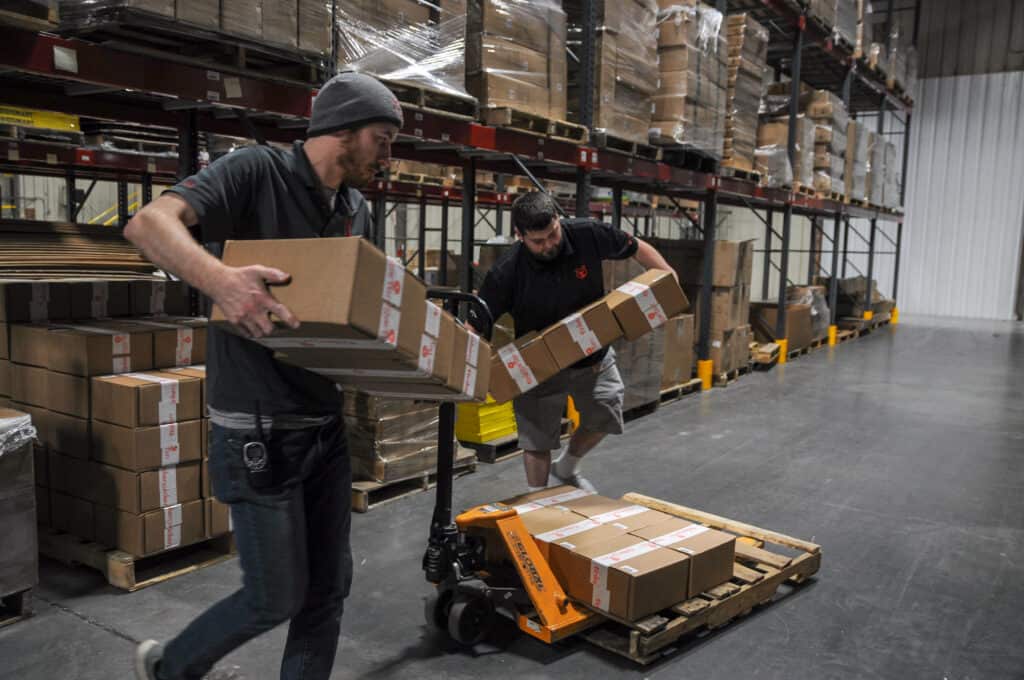 Same-day shipping
A crucial metric for fulfillment center performance, particularly during the holiday season, is on-time shipping. How many of your orders were shipped on time? Did late shipments lead to customer service problems? Your order fulfillment company should have a holiday plan in place. This will facilitate uninterrupted service during the extra volume of the holidays.
If your order fulfillment center offers same-day fulfillment, that will reduce your cycle time to deliver orders, which can boost sales. Measure actual service against the promise and make sure that your same-day fulfillment didn't turn into next-day fulfillment over the holidays.
Red Stag Fulfillment offers two levels of same-day fulfillment services, with cutoffs at 3:00 pm and 5:00 pm Eastern Time. If you don't get your order out the same day, we pay you $50.
Pick, pack, and ship accuracy
Pick, pack and ship errors can cost you money. While most 3PLs will boast of a near-perfect accuracy record, the reality is not always so rosy. Use your own customer service inquiries and returns data to fact-check this important KPI. You want the percentage of mis-packs and mis-ships to be as close to zero as possible. Human error does happen, however. An error rate under 3% is above the industry standard.
Red Stag Fulfillment has taken steps to protect our clients from human error. We pay you $50 for every order that is packed or shipped incorrectly. That puts the pressure on us to make sure we do it right the first time, every time. As a result, Red Stag has one of the lowest error rates in the fulfillment industry.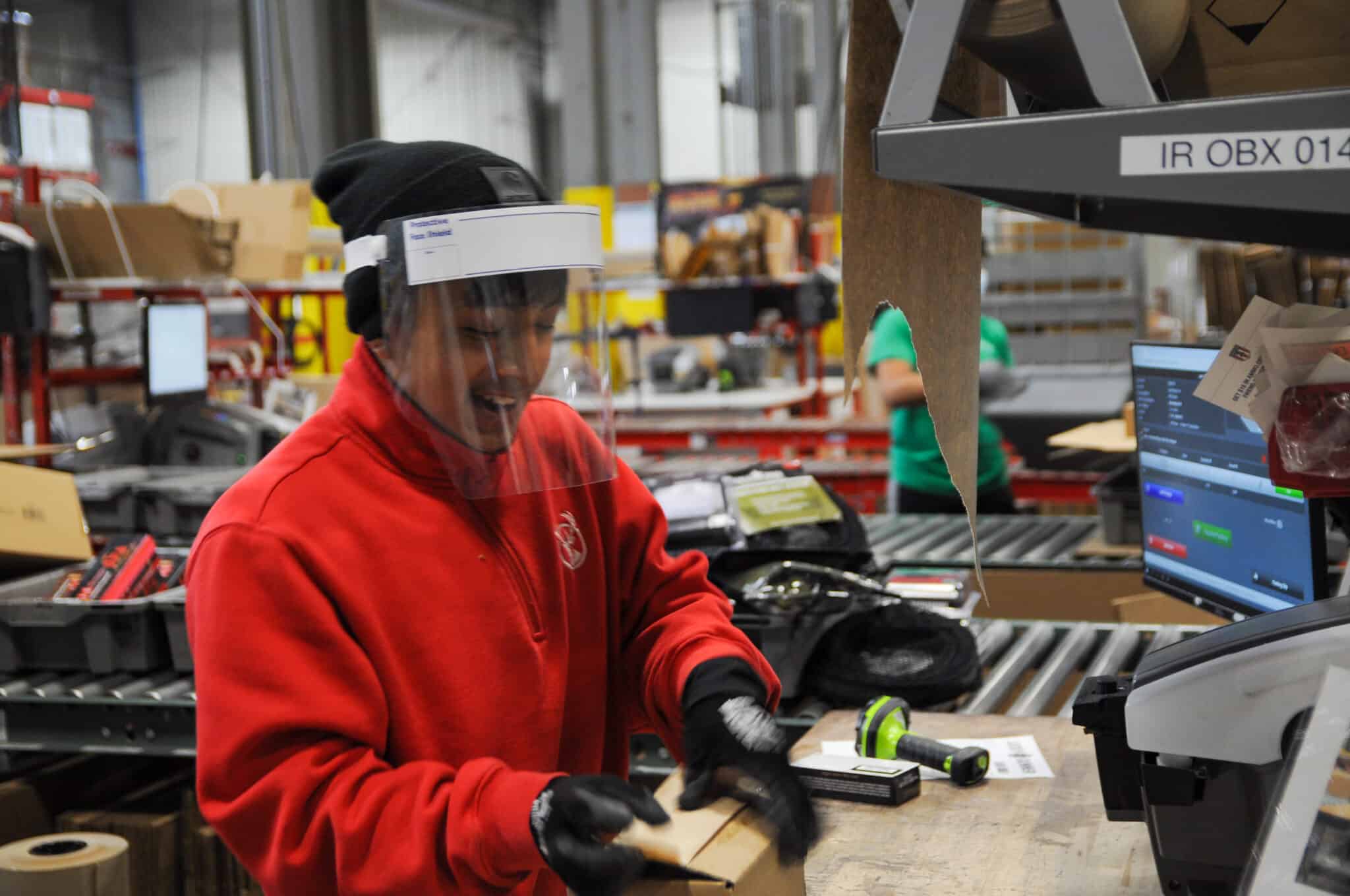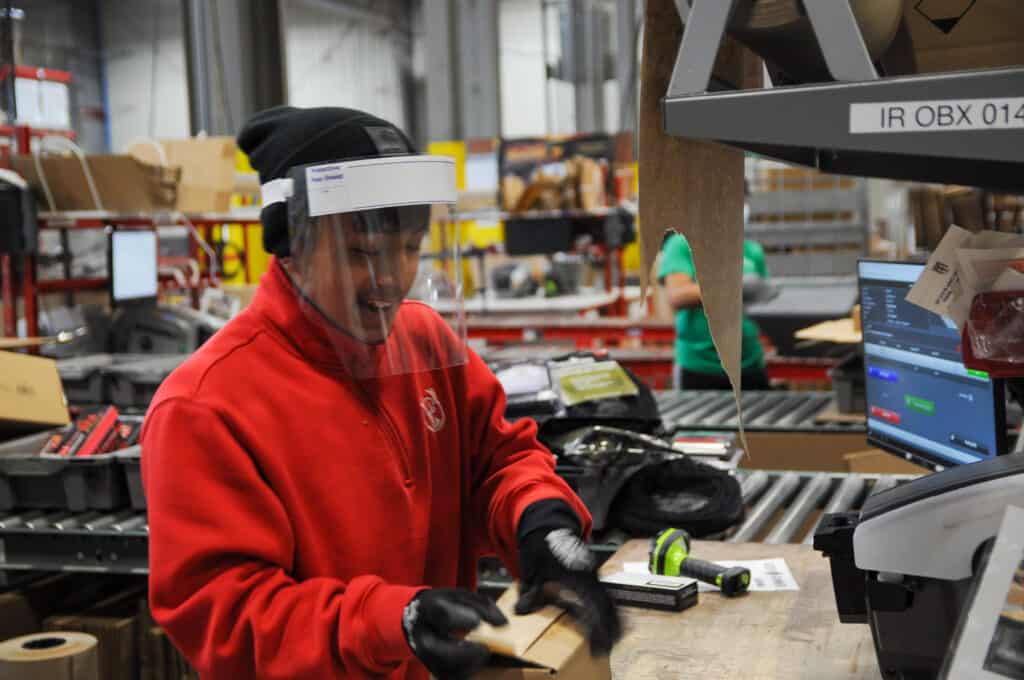 Return rate
For this 3PL fulfillment company performance KPI, it's essential to separate different types of returns. Returns caused by products that didn't meet your customers' expectations give you insights for future product development or highlight quality control issues in manufacturing. However, returns due to late shipments, broken and damaged goods, and mis-packs are third-party fulfillment mistakes. Track the rate of this second type of return to get a clear picture of your 3PL fulfillment company's performance and its hidden costs.
Inventory shrinkage
Shrinkage is the industry term for client inventory lost or broken in the fulfillment center. Most fulfillment companies have a shrinkage allowance written into their contracts, which means that they aren't responsible for a certain percentage of your lost inventory. This allowance can be as high as 10%.
It's vital to track the amount of shrinkage at your third-party fulfillment service. Lost or damaged inventory can lead to inventory errors and backorders, and it reduces your profit margin.
Red Stag Fulfillment has a zero shrinkage allowance. If one of your products is damaged or lost in one of our warehouses, we reimburse you for the wholesale cost.
3PL fulfillment cost
What was your average cost to fulfill and ship an order? This 3PL fulfillment company performance KPI measures the fulfillment charges plus any shipping charges that you pay. It can help you set prices to cover your real fulfillment costs. It can also tell you whether you've set your prices to cover your true fulfillment costs.
It's important to look at this KPI in the context of several other KPIs. For example, your fulfillment services company has very low inventory shrinkage and error rates, you should factor in the cost savings. You need to balance that out against fulfillment cost to understand your total fulfillment value. Sometimes the cheapest provider can actually cost you more money.
How To Choose the Best 3PL Service Company for the Holidays
Now that you know what 3PL fulfillment company performance metrics to track, how do you choose a 3PL services company that will excel at these KPIs during your busiest selling season? When you're looking for outsourced fulfillment, you can use KPIs to decide on the best fulfillment service company for your business.

Verified error rates
Many third-party fulfillment companies will advertise accurate pick, pack, and ship services, but their performance might not match their advertised rates. Look for a company that provides transparent accuracy data.
Inventory policies
If a fulfillment warehouse has a high shrinkage allowance, find out why. It could be that the company has a problem with damage and theft. Look for a fulfillment company with a low or no shrinkage allowance. Red Stag Fulfillment's shrinkage allowance is zero — we pay for everything we break or lose (it's not much).
Order fulfillment turnaround
Understanding your customers' expectations is key to your choices for order processing. If they expect fast shipping, choose a 3PL fulfillment company that offers same-day order fulfillment. At the same time, ask how often orders are shipped late. A company that offers same-day fulfillment but routinely misses deadlines isn't providing the service you pay for. Make sure you get the fulfillment services you pay for.
The remaining 3PL fulfillment company performance metrics are not KPIs. Instead, they address practical and physical characteristics. These can help you find the best 3PL company for your fulfillment needs.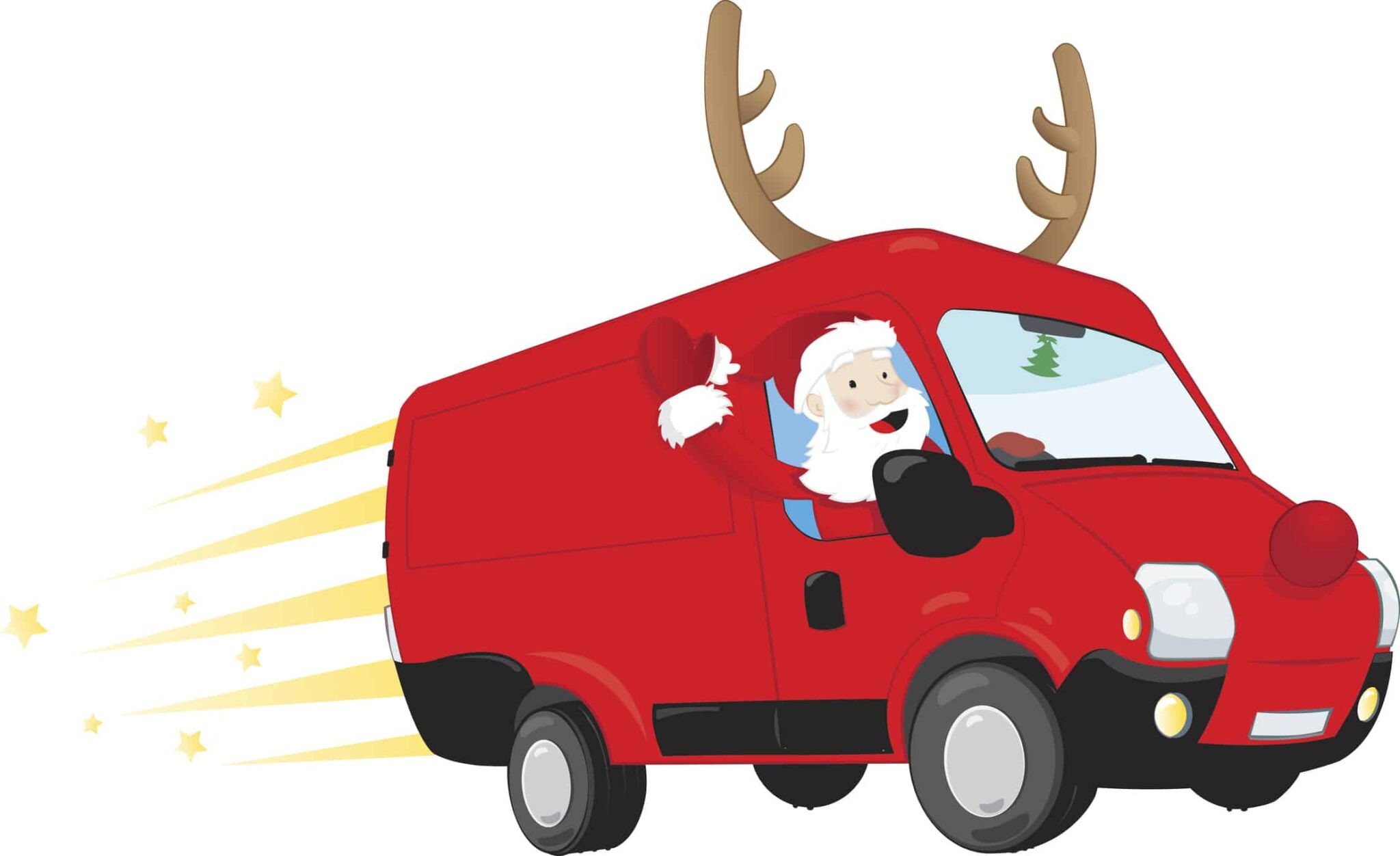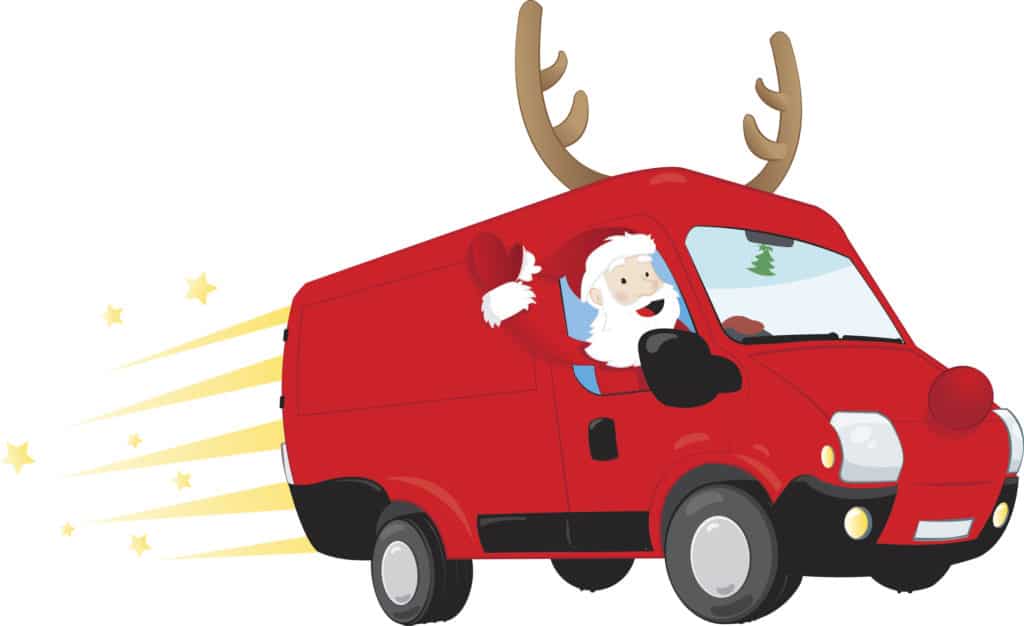 Delivery time
Your fulfillment warehouse location determines how many shipping zones your packages will travel through to reach U.S. delivery addresses. If your sales are purely regional, a fulfillment center in the middle of your sales region will work best. However, if your customers are distributed across the country, centrally located warehouses will reduce your shipping costs and delivery times. Choose a 3PL that has warehouse locations that provide optimal coverage for your customer base.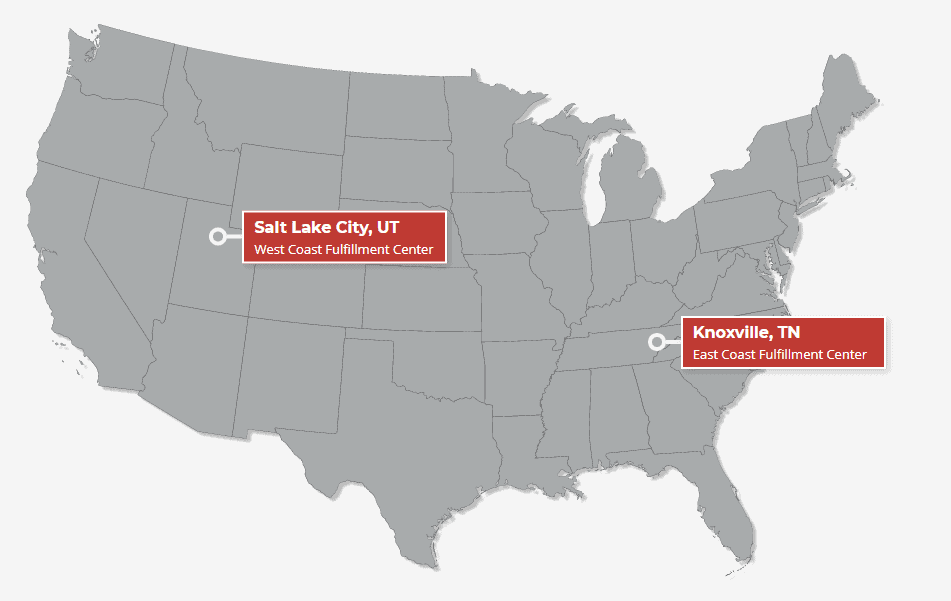 Red Stag Fulfillment has fulfillment warehouse locations in Knoxville, TN, and Salt Lake City, UT. These two locations can reach 97% of U.S. addresses in two days or less.
Capacity
The holidays are crunch time for everyone involved in eCommerce. You've planned for months to prepare your supply chain to meet the holiday demand—your fulfillment operations shouldn't become a bottleneck. Make sure the 3PL services company you choose can scale up for the holidays. Will there be enough staff to meet the demand? Will there be extra shelf space for you to expand your inventory?
Specialization
Not all fulfillment companies are alike. Some specialize in shipping small and light products, while others ship large and fragile items. Many order fulfillment services handle a range of products, but that doesn't mean they are equipped to provide expert fulfillment for your merchandise. Make sure that the provider you choose has experience working with the types of products you sell. For example, Red Stag Fulfillment specializes in shipping heavy, oversized, high-value, and fragile products.
3PL fulfillment company performance reviews
Don't take the word of your potential 3PL partner; find out about 3PL fulfillment company performance from other customers. Ask for customer satisfaction survey data and references from other customers.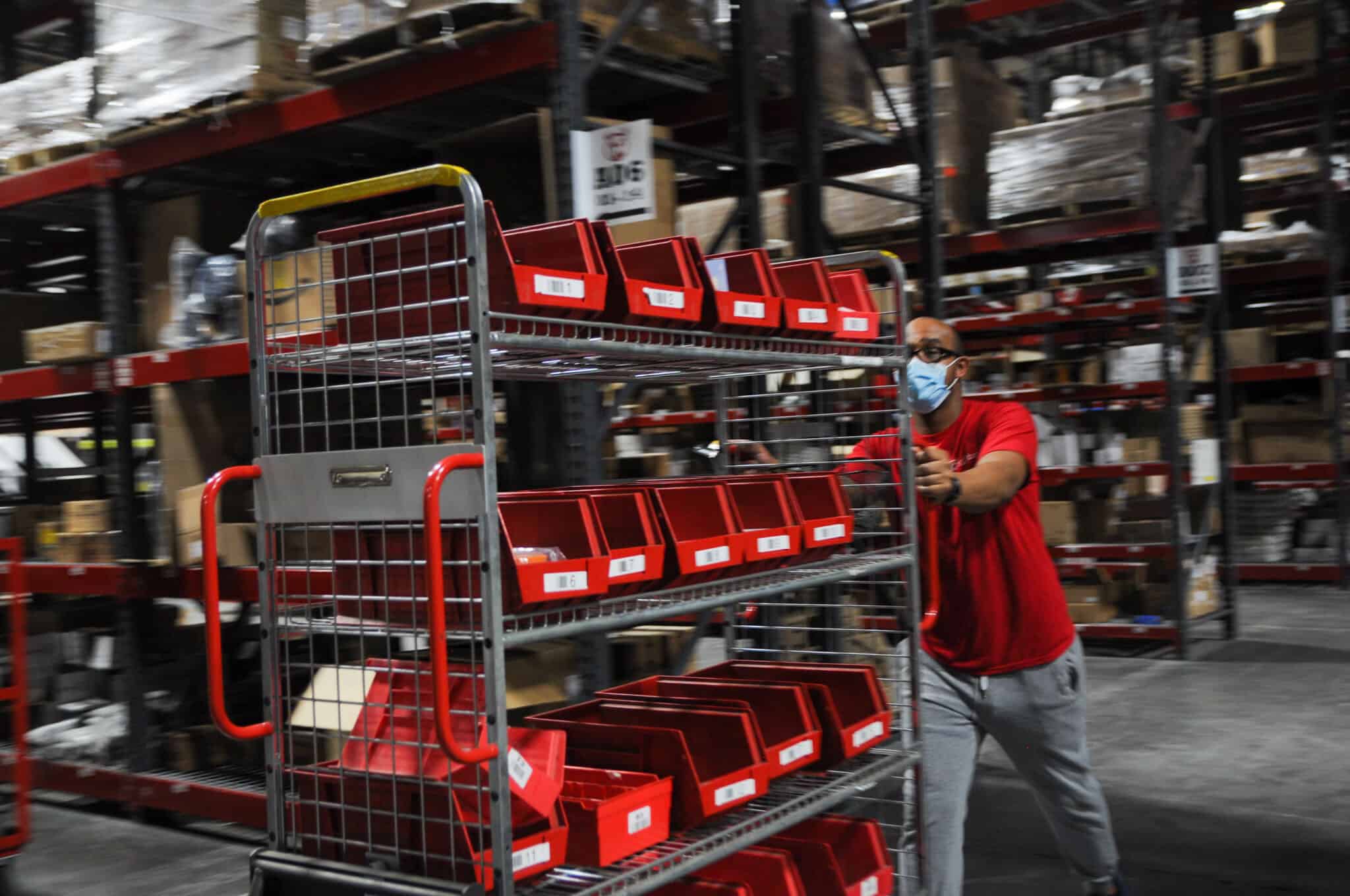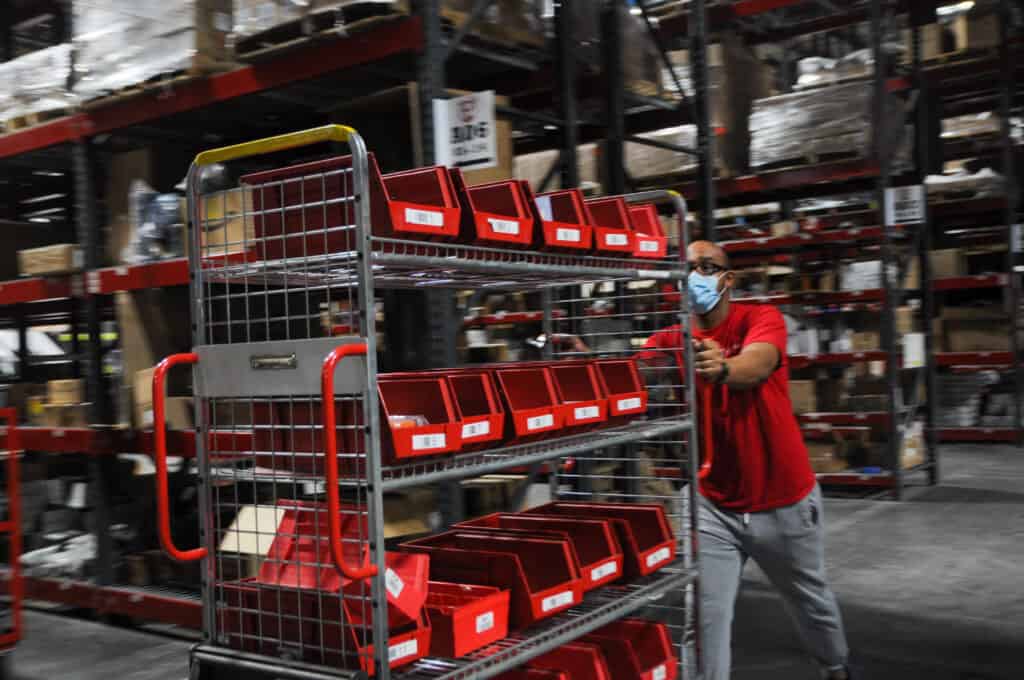 3PL Fulfillment Center Performance During the Holidays is Crucial
The holidays are the time of year when your eCommerce business has the most opportunity to make sales, and you need to be ready to take full advantage of the peak season. To ensure that your orders flow smoothly, it's important to choose the right fulfillment company to best serve your eCommerce customers.
Collect data to monitor 3PL fulfillment company performance throughout the holidays and use those KPIs to make changes to your fulfillment operations or to guide you to a better third-party fulfillment partner.
If you're looking for industry-leading fulfillment from a 3PL that treats your products with the same care that we would our own, talk to Red Stag Fulfillment. We might just be able to help you out.
More about 3PL fulfillment company performance: