Order fulfillment becomes a significant challenge when you outgrow the garage-as-a-warehouse stage and need to start considering how to balance inventory control against customer and warehouse locations. There are ways to save money and speed up fulfillment, but how do you achieve these without harming sales?
3PLs like Red Stag Fulfillment can help you optimize this inventory control and management question. Not by making decisions for you but by offering smarter options that let you find a balance based on your bottom line. Instead of worrying about stockouts and obsolete inventory, the right partner focuses on solving customer concerns and improving their experience.
Inventory optimization is a partnership, and taking it seriously with a reliable partner helps you ensure this work is profitable too.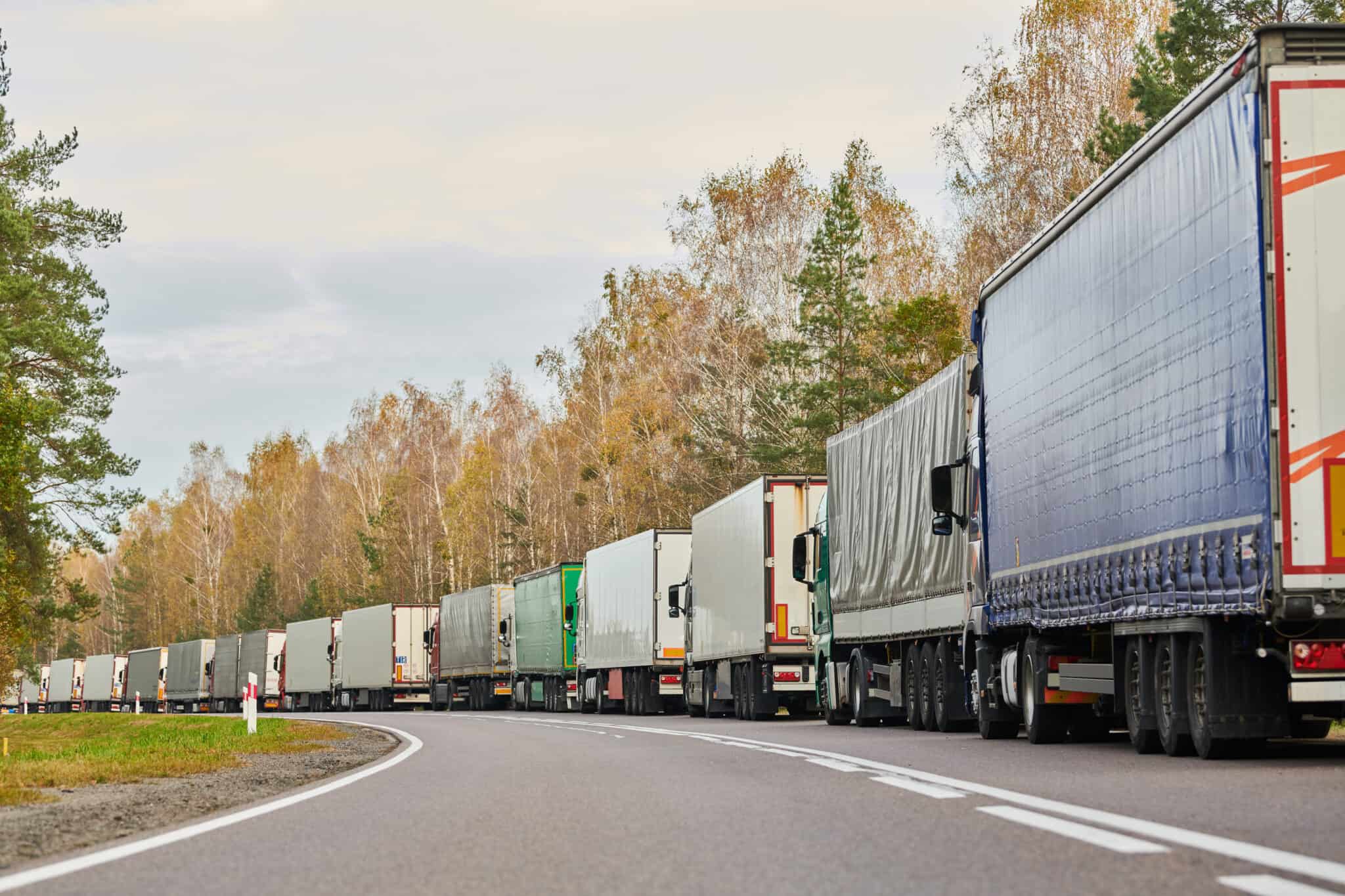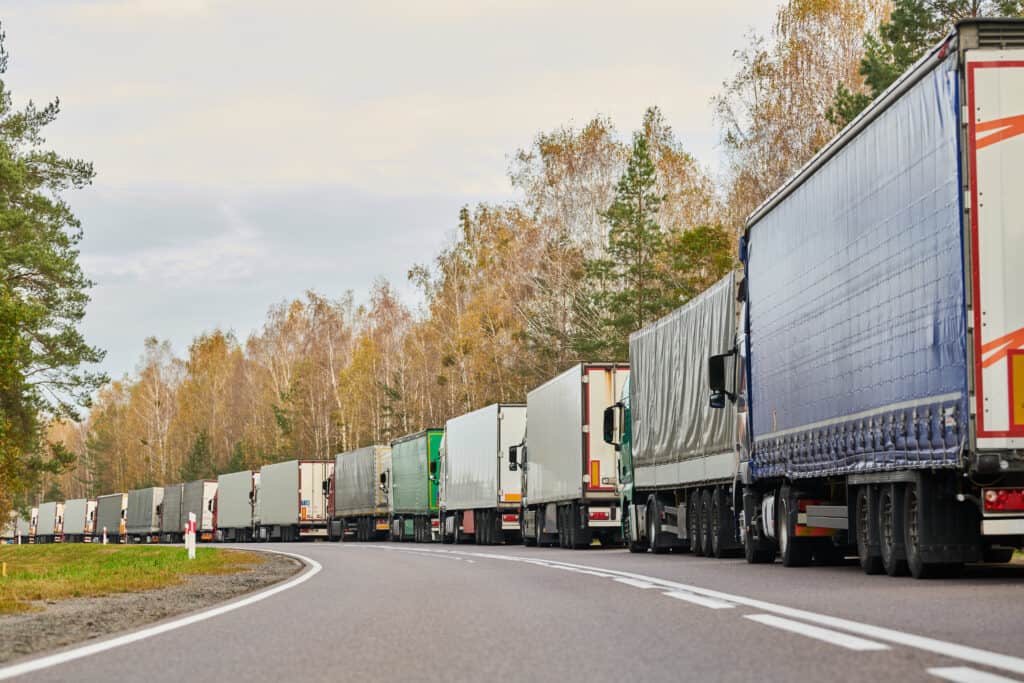 Quick insights into why we balance inventory control and facilities
There are options to optimize inventory across single or multiple warehouse locations based on your budget, sales, and customers.
Inventory balancing makes it easy to control last-mile costs and may reduce your storage costs too
Data-driven insights and partnerships eliminate your need for expensive in-house logistics infrastructure and programs
You deserve to make the final decision while your 3PL serves as a guide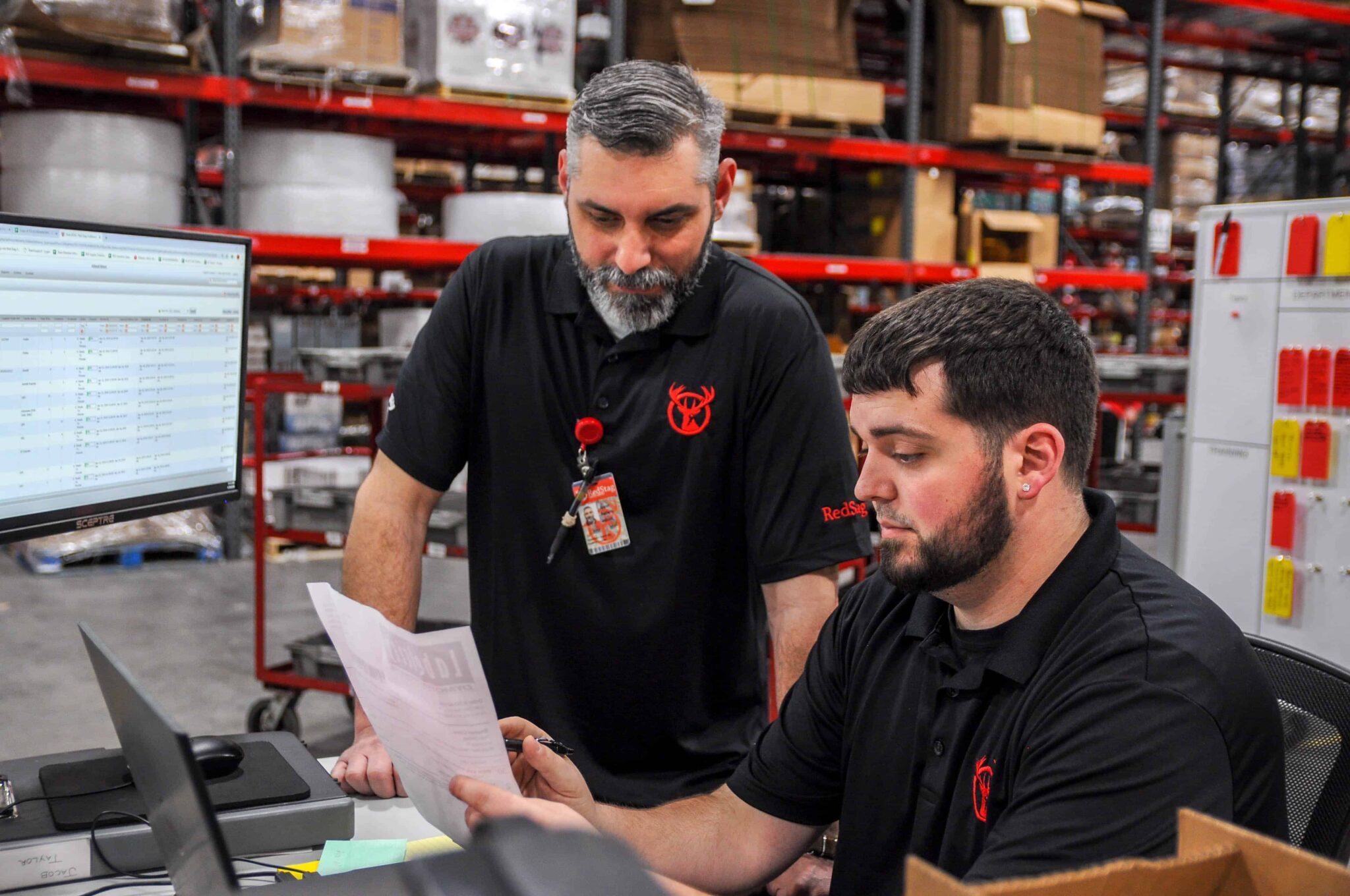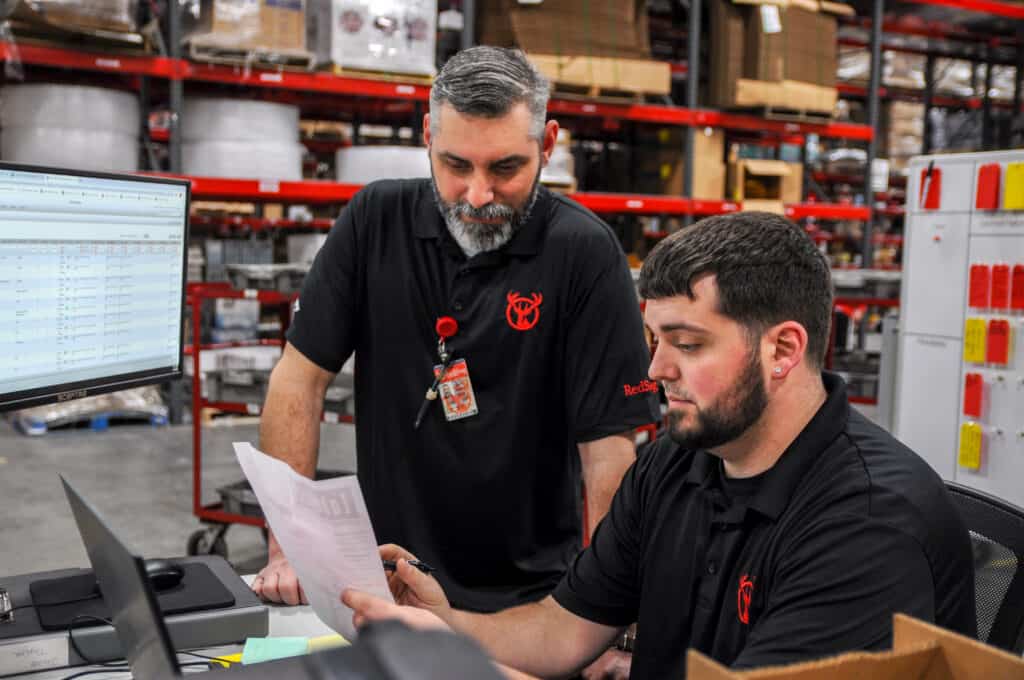 How 3PLs optimize and balance inventory control across warehouses
When you turn your inventory and order fulfillment operations over to a 3PL, you're putting your success in their hands. You need the 3PL to work hard to reduce your inbound and outbound shipping costs while protecting inventory and maintaining accurate orders. All of that happens while you also need to look at consumer habits to determine how much inventory you can afford and where to put it.
Tackling the safety stock issue can be challenging, depending on warehouses and distribution costs. The more you invest in inventory, the less budget is available to move, store, and use these goods. 3PLs look to balance inventory control concerns and protect your bottom line by finding ways to store the right amount of goods in the right locations. Eventually, this also includes changing that "right amount" based on time and shopping habits.
There are a few ways 3PLs tackle this balancing act and inventory availability makes some options a stronger fit.
Read how our guarantees tackle these challenges and more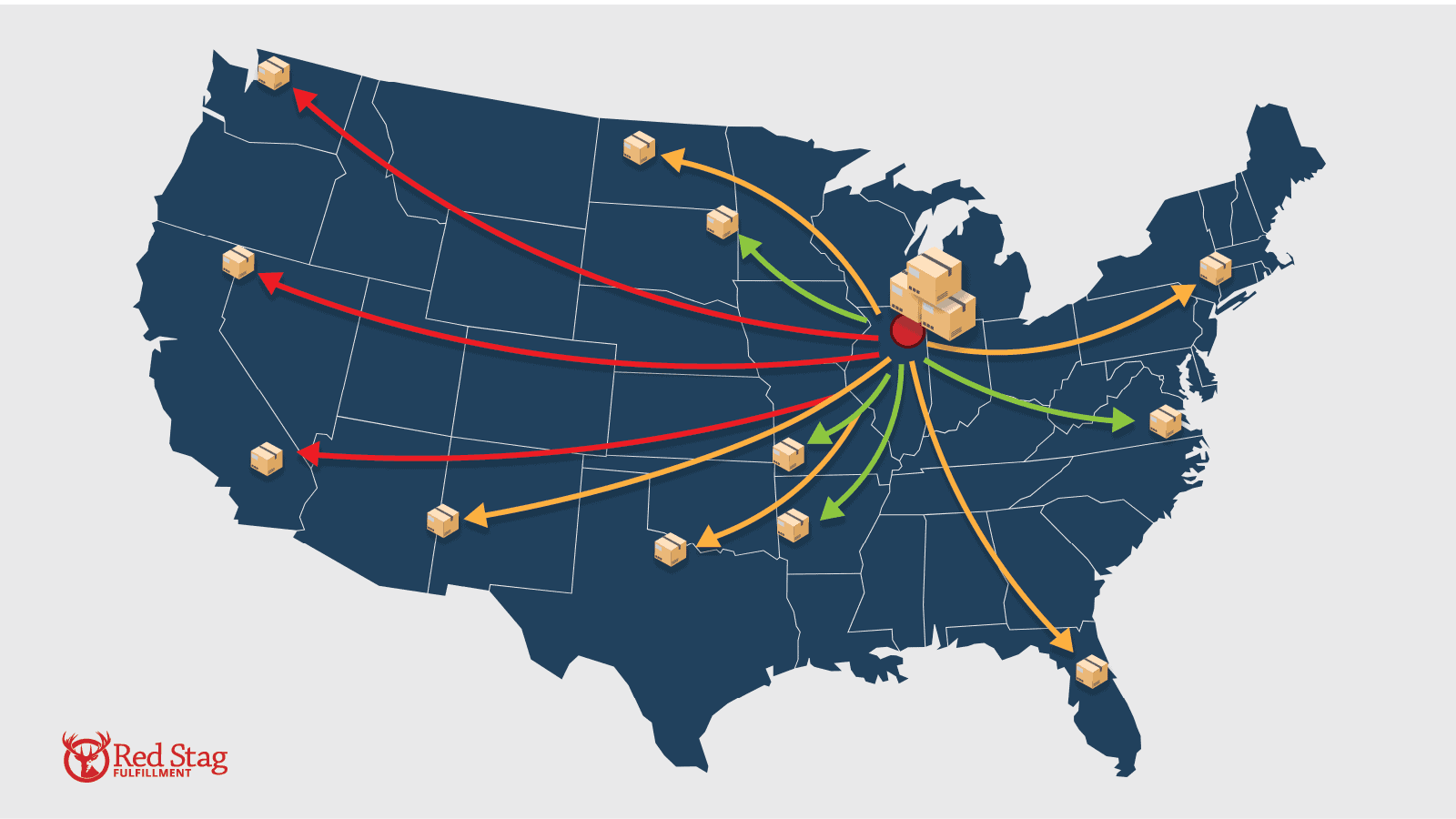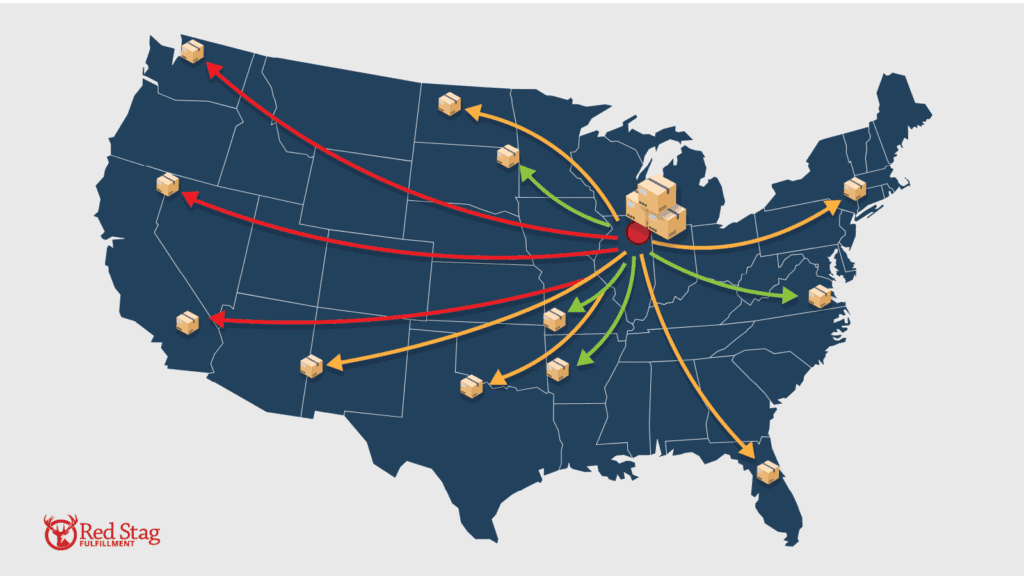 Option 1: Single-location management
The simplest way a 3PL can control your inventory is to put that inventory in a single location. This reduces the need to move goods between locations or split inbound shipments. Your entire inventory lives in one place, and you are only tracking in that spot. Shipping is simpler because you never need to calculate which location is closest to customers or potentially split orders across two shipments to get some items delivered on time.
While it is easier to predict costs for the long term here, the tradeoff is that these costs might be higher than you need to have. Using a single location means you're paying last-mile costs based on that one location, but it's also more likely that you'll ship to zones 5 and above.
Here at Red Stag Fulfillment, if you use only our Knoxville, TN, location, you can reach about 69% of U.S. homes in two days. It's incredibly easy and might be right for your business if customers aren't that demanding when it comes to shipping speeds. However, adding our Salt Lake City, UT, warehouse will get you to 96% of homes in that two-day window.
That's why it might be more beneficial to consider using multiple locations, but there are options here too.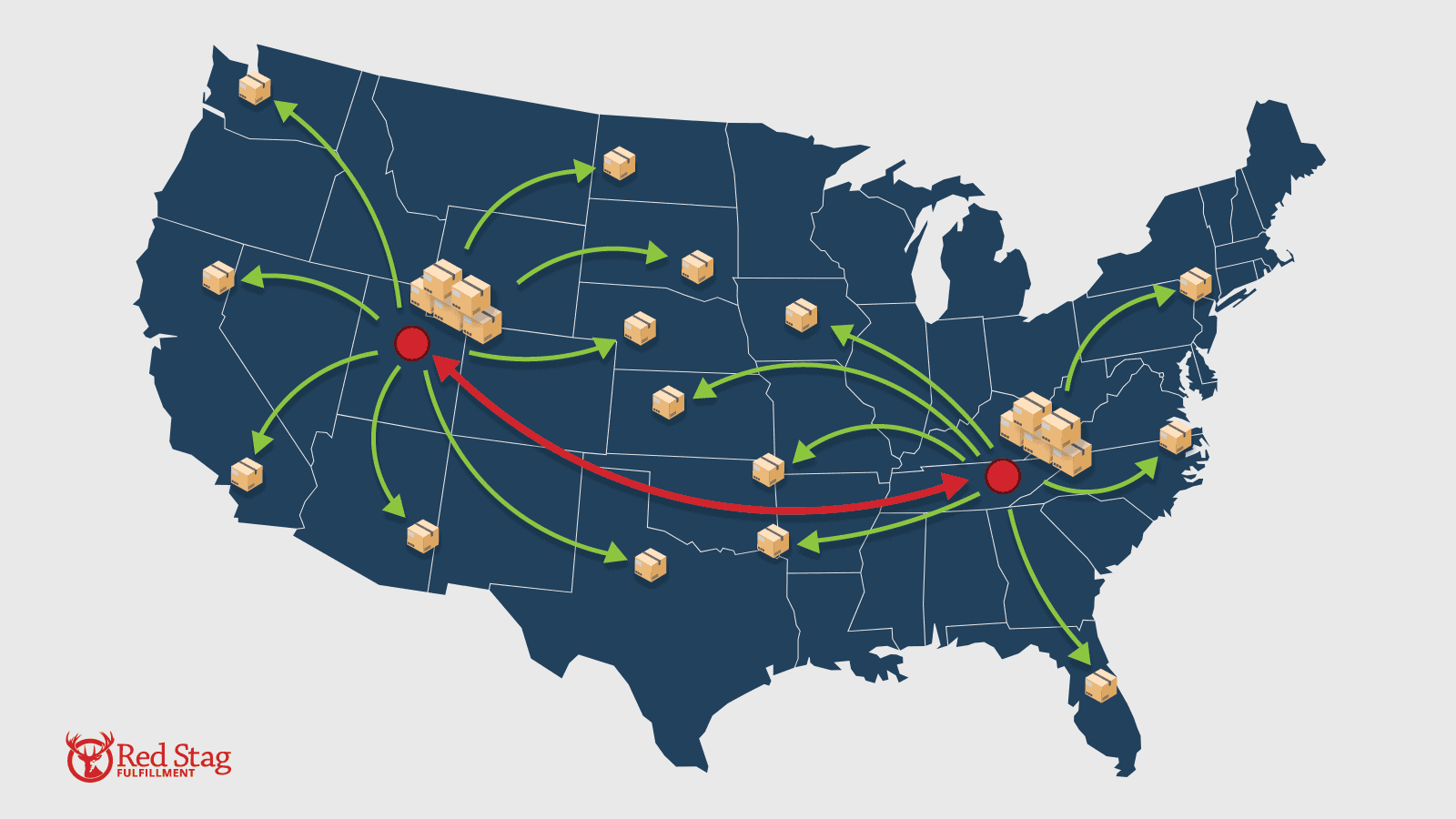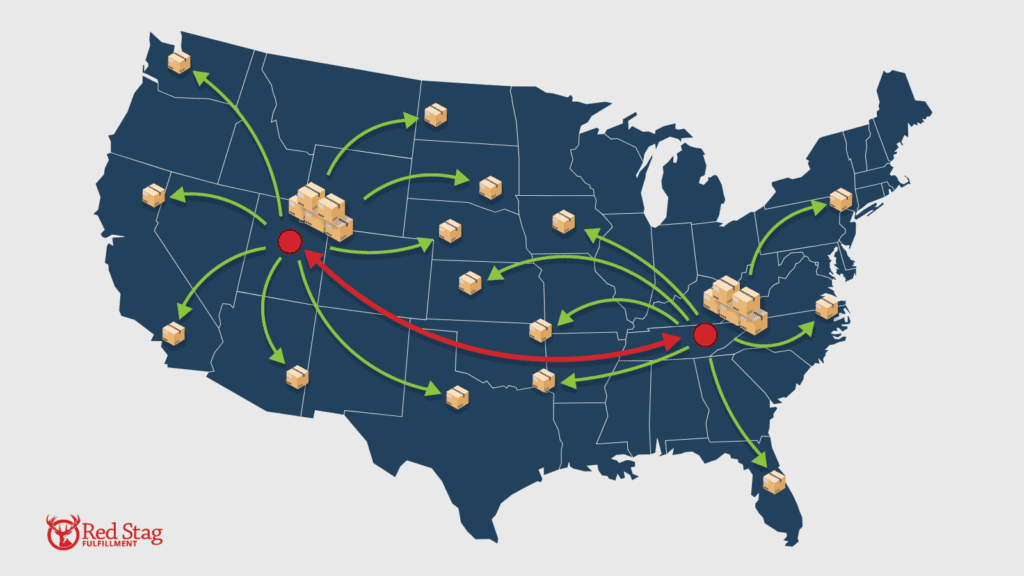 Option 2: Even distribution across locations
The most direct way to split inventory across multiple locations is to distribute it evenly. This balanced inventory control approach ensures every warehouse or distribution point has all your products. That way, you can fill any order from every location. Each location gets its own restock orders and has safety stock levels, with minimal movement of goods between locations.
This requires a little more work than your standard single-location effort but doesn't need a massive data approach or deep order management integration. It's a good stepping stone to advanced inventory distribution.
In this scenario, you may hold more inventory longer at one location if customers are closer to a second facility. Your total costs to deliver and ship are typically lower than if you use a single location — even when you are paying inbound freight to multiple locations. In general, it requires a larger initial investment in your inventory spending. Still, last-mile savings per order have the potential to more than make up for any increase as long as inventory isn't sitting. So, the balance to strike here is your savings compared to any risk of long-term storage.

Option 3: Shifting inventory to common customer areas
Turning to a premier 3PL like Red Stag Fulfillment helps unlock a more advanced way to balance inventory control and locations. You can now shift inventory to specific regions and locations based on your customers' locations. You've got some advanced options here:
Put larger quantities of inventory closer to where customers order it
Shift SKU quantities for seasonal and variable demand throughout the year so that Warehouse A may have more of Product A for just 3 months out of the year and a lower safety stock level for 9 months
Your most-ordered products should live everywhere to minimize stockout risks
You may have options to shift inventory between locations to keep freight costs low while optimizing inventory utilization
The concept here is relatively simple, but the execution requires you and your 3PL to track historical and current sales data and adjust inventory accordingly. You need a strong relationship with a partner that is willing to work behind the scenes to get your inventory properly positioned and ready for shoppers.
How we balance inventory control and location
Red Stag Fulfillment works with our partners to balance inventory control and locations based on their needs. Our goal is inventory optimization that benefits their ability to inbound freight and deliver orders to customers. We collaborate with them based on products, customers, and budgets to find the right solution.
There's no single solution that's right for every business. You have unique stock and inventory needs, a specific mix of customers, and potential growth in many different areas. Together, we can discuss your options and how to take advantage of your opportunities while protecting revenue streams and budgets.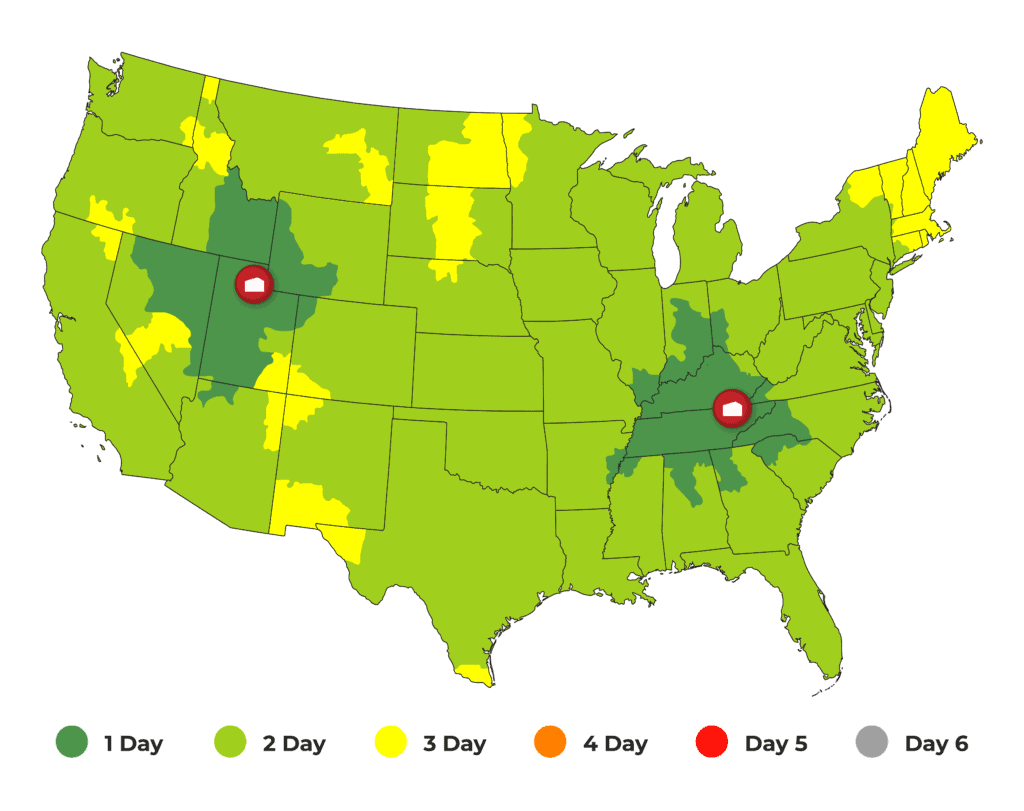 If your business is seasonal, we might want to focus on minimizing storage costs and excess inventory. For high-volume sellers, your top priority might be getting products as close to customers as possible for the fastest and most affordable carrier services on each order. And companies that find themselves in the middle may want to balance total expense with risk mitigation of stockouts and overstocking.
It can feel a bit like a Goldilocks situation. But that means there is an opportunity for you to improve your operations. Take some time to review your sales and then ask us about how we can:
Create a holistic picture of inventory and orders
Optimize storage and fulfillment based on customer locations
Safeguard you with LTL or FTL services between facilities
Address orders from all channels
Give you dashboards and data support to make informed decisions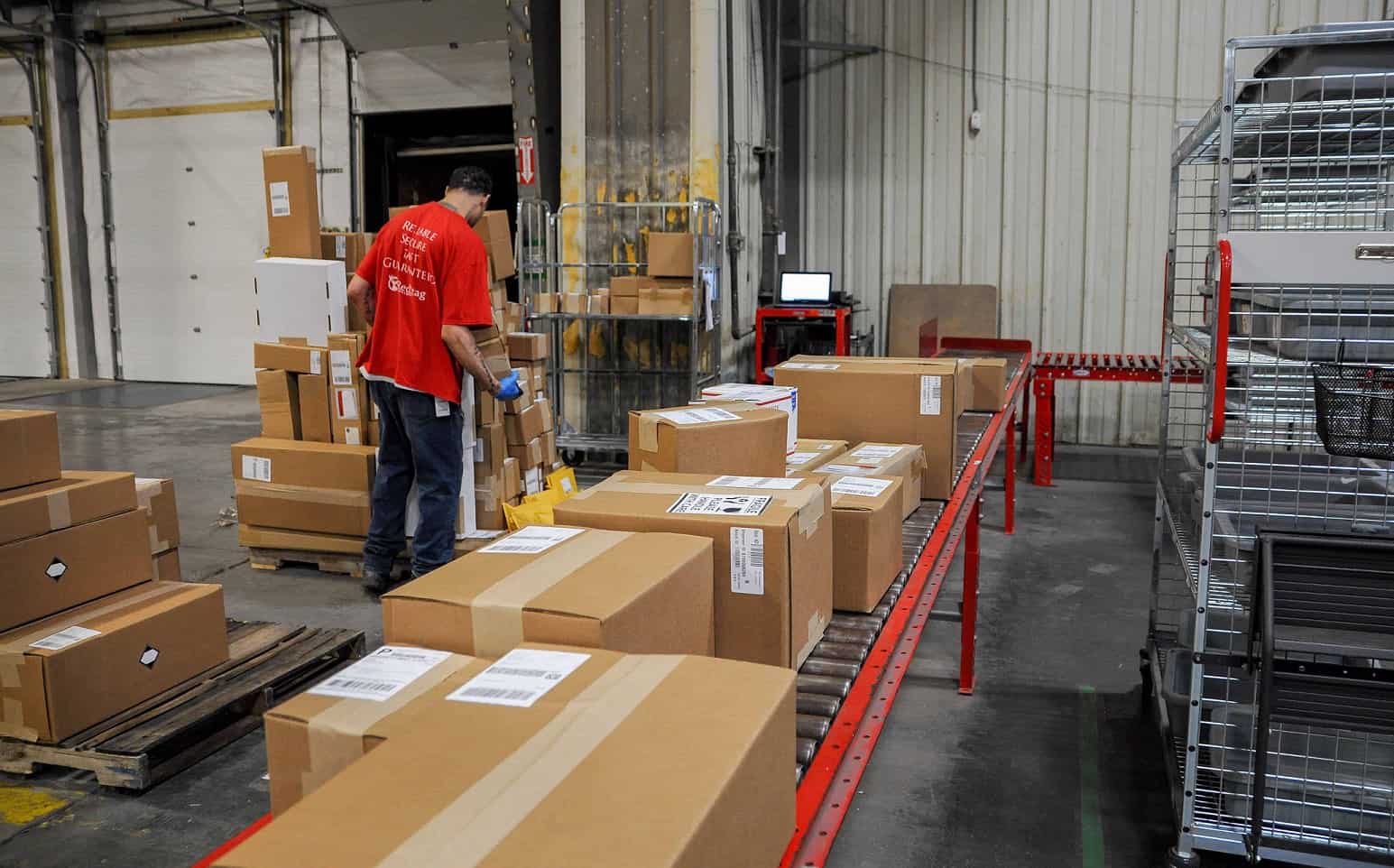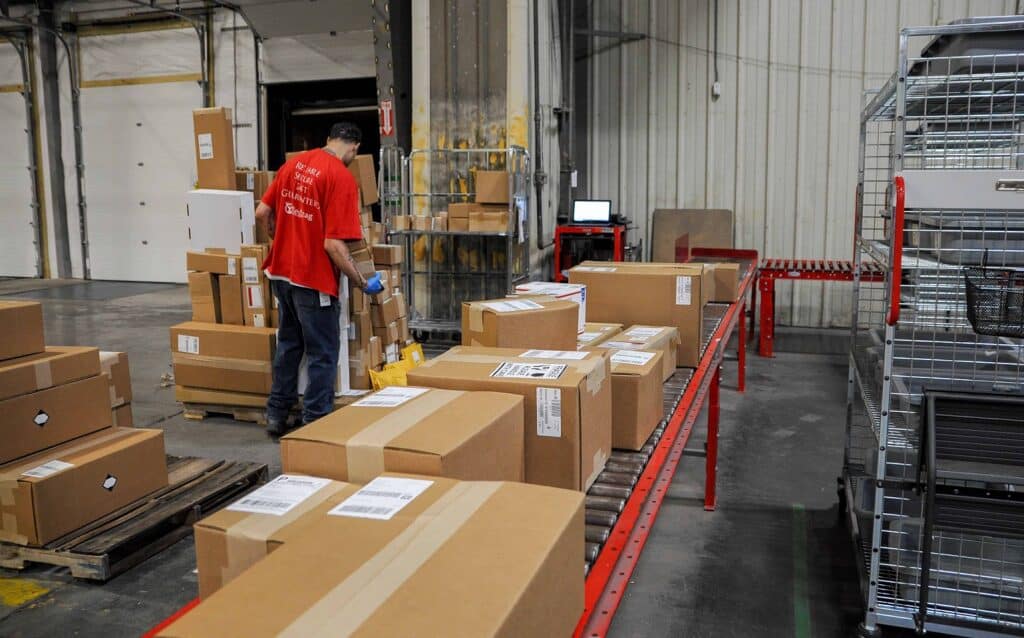 You control the final balance
While we're focused on how 3PLs balance inventory control and warehouse locations, the decision should always rest on your shoulders. A good partner is a guide to help you, not one that takes complete control and does what works best for them instead of what works best for you.
That's why Red Stag experts are available to new and prospective partners. We'll explain our network, show the different routes by which goods can arrive from overseas or domestic manufacturing, and highlight how each carrier option can get orders to people quickly. Our role is to optimize processes and ensure those orders are accurate.
You can benefit today from a smarter way to balance inventory control and warehouse locations. And don't worry, we've got the available racking in newly constructed facilities to help you store more inventory when you experience a sales boom next year.