If you have an eCommerce business selling gift-worthy products (and even if you don't), the holidays are like running a marathon. Your holiday fulfillment operations are the key to success during this busy time. Holiday fulfillment can make all your wishes come true – or turn your holiday selling season into a nightmare.
To make sure your holiday fulfillment is merry and bright, here's your complete guide to fulfillment during the gift-giving season. It's chock full of tips and tricks to fill you with holiday fulfillment cheer!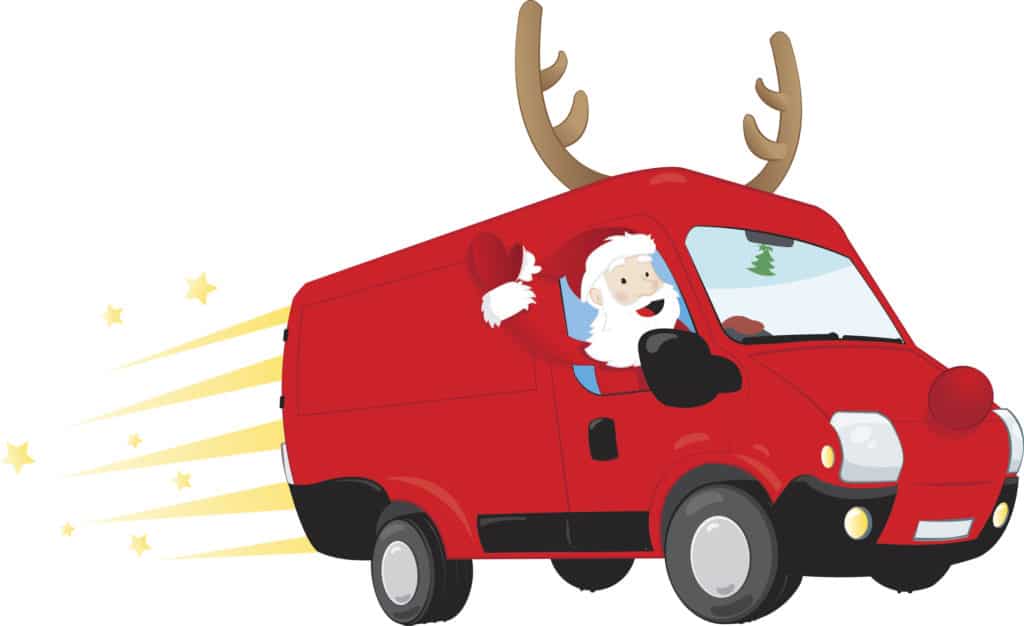 In the sections below, we will cover all the essentials:
DIM weight. Understanding DIM weight pricing to save money on holiday fulfillment.
Amazon FBA. What FBA sellers need to know during the holidays.
Return policies. Returns are a big factor in eCommerce holiday sales. We provide tips and best practices to help you set return policies that work for your customers and you, too.
Measure your holiday fulfillment. How can you tell if your holiday fulfillment is a success? Fulfillment KPIs help you measure performance and improve your holiday fulfillment operations.
Choose the right fulfillment company. This section includes tips on what to look for to find the holiday 3PL service that's the best fit for your business.
Take care of yourself. We end with self care tips to help you and your eCommerce business survive the holidays with good cheer.
Watch Your DIM Weight During the Holidays
FedEx and UPS use a formula to calculate shipping costs that can cost you a lot. Dimensional or DIM weight pricing uses a formula to calculate shipping charges. The formula uses the weight of the parcel plus the size of the box to come up with the weight you'll be charged for. UPS, FedEx, and USPS all use DIM weight pricing.
If your package is heavy and small, the DIM weight will be the same as the parcel weight. If you're shipping something light and large, DIM weight pricing could mean you have to a higher shipping charge because of the size of your box.
Understanding DIM weight pricing
To understand the effect of DIM weight pricing on your holiday fulfillment, it's helpful to look at an example. Let's say you ship a bicycle helmet in a 12" x 12" x 12" box. Between the helmet, box, and packing filler, the total actual weight of the parcel is 5 pounds.
Because of DIM weight pricing, however, your parcel may be billed at more than 5 pounds. To calculate your DIM weight, multiply the box dimensions and divide that by the DIM factor. Each carrier sets its own DIM factor. DIM factors are adjusted annually.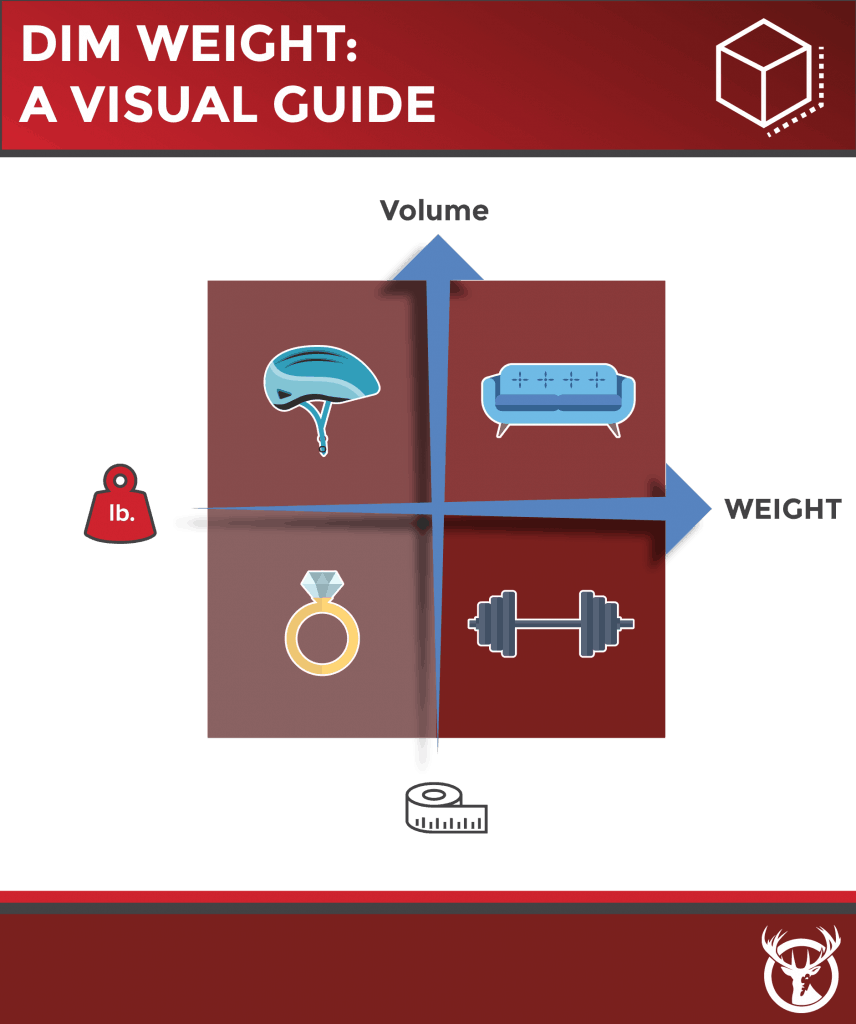 If you ship that bicycle helmet via UPS, this is the DIM weight formula:
(12 x 12 x 12) = 1,728
1,728/166 = DIM weight of 11 pounds
In this example, you're paying a higher shipping price to ship a product that is light but large. DIM weight pricing has the greatest effect on businesses that sell lightweight but bulky items. However, any eCommerce business can face increased shipping costs if you ship a product in a box that's bigger than it needs to be.
Holiday fulfillment tip: Stock boxes in a range of sizes. Pack each order in the smallest box that can get it safely to its destination. Also, shop around for the carrier with the highest DIM factor (which translates to lower DIM weight).
3 Things that Amazon FBA Sellers Need to Know About Holiday Fulfillment
About half of all eCommerce sales happen on the Amazon platform. If you're an Amazon seller and you use Fulfillment by Amazon (FBA), you have a special set of issues to manage during the holidays. Despite Amazon's huge network of warehouses, however, the holiday crush at that volume can squeeze Amazon FBA sellers.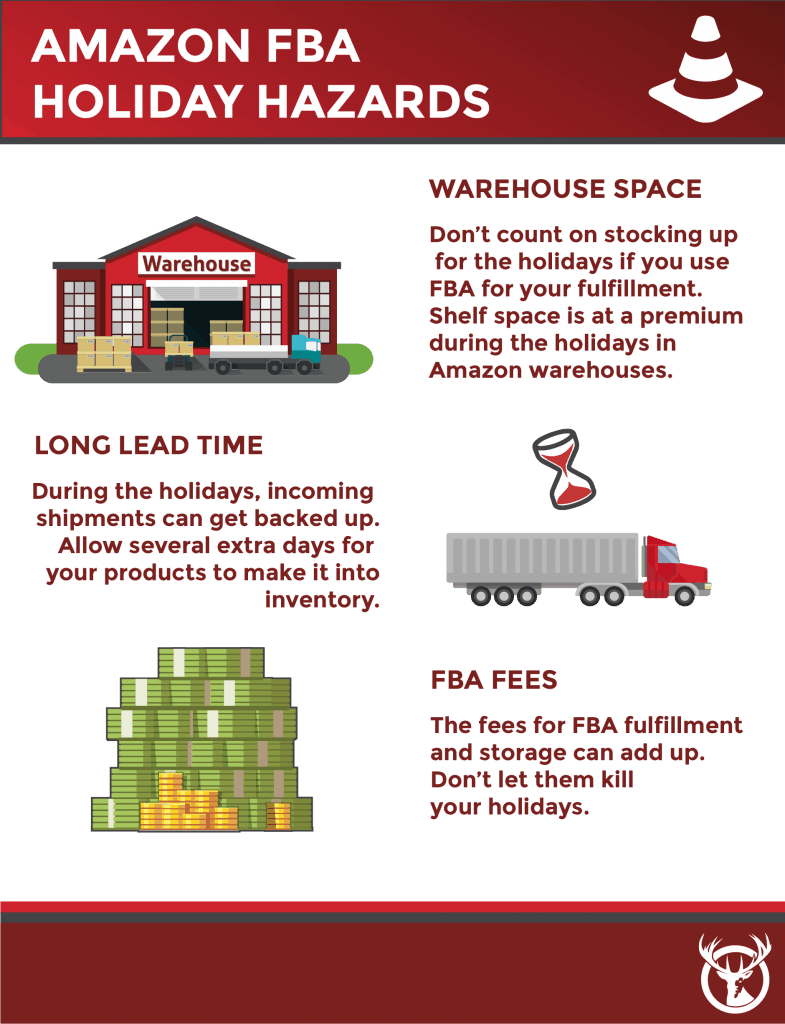 Warehouse overload in FBA
It makes sense to stock up during the holidays, so you never miss a sale. But Amazon doesn't have room in its warehouses for all its Marketplace sellers to stock up at once. Don't count on being able to expand your FBA storage space during the holidays.
To get around this without losing sales, raise your restock levels for holiday fulfillment. Send new stock to Amazon as soon as you hit those restock levels. This is particularly important for your most popular items.
Long lead time for inventory logging
Even if you ship replacement stock on time, it still might not make it to the shelves. Sellers report delays in getting their inventory from dock to shelf with FBA. This is particularly true during the holidays.
You can't control Amazon's holiday fulfillment operations. Your best protection against slow stocking times may be multichannel selling. That way, even if you aren't able to sell an item on Amazon, you have other sales channels for steady income during the holidays.
Higher costs during the holidays
If this is your first holiday season using Amazon FBA, prepare for sticker shock. Amazon's service fees can add up. Some sellers find the price of holiday fulfillment through FBA puts a big dent in their year-end profits.
Analyze your profit margins to make sure FBA makes sense for your products. Access to Prime buyers can give your sales a huge boost during the holidays. Do the benefits of FBA holiday fulfillment outweigh the costs for your eCommerce business?
6 Ways to Reduce Your Return Rate
Returns happen. It's just the cost of doing business in eCommerce. Post-holiday season, unwanted gifts get sent back at a higher rate than the rest of the year. The average eCommerce returs rate is 30%. Categories such as clothing and other highly subjective types of gifts tend to be returned at even higher instances.
Just because they're inevitable doesn't mean that holiday fulfillment costs such as returns have to hurt your profits. As a quick measure of how they impact your bottom line, take the average eCommerce return rate of 30% and multiply that by your expected sales volume this holiday season. It's important to remember that other variables need to be included in this calculation, such as damaged goods, restocking fees, return shipping (if you pay for it), and kit assembly. It's simple, but not easy — so let's review some best practices for reducing eCommerce returns (and increasing customer loyalty as a result).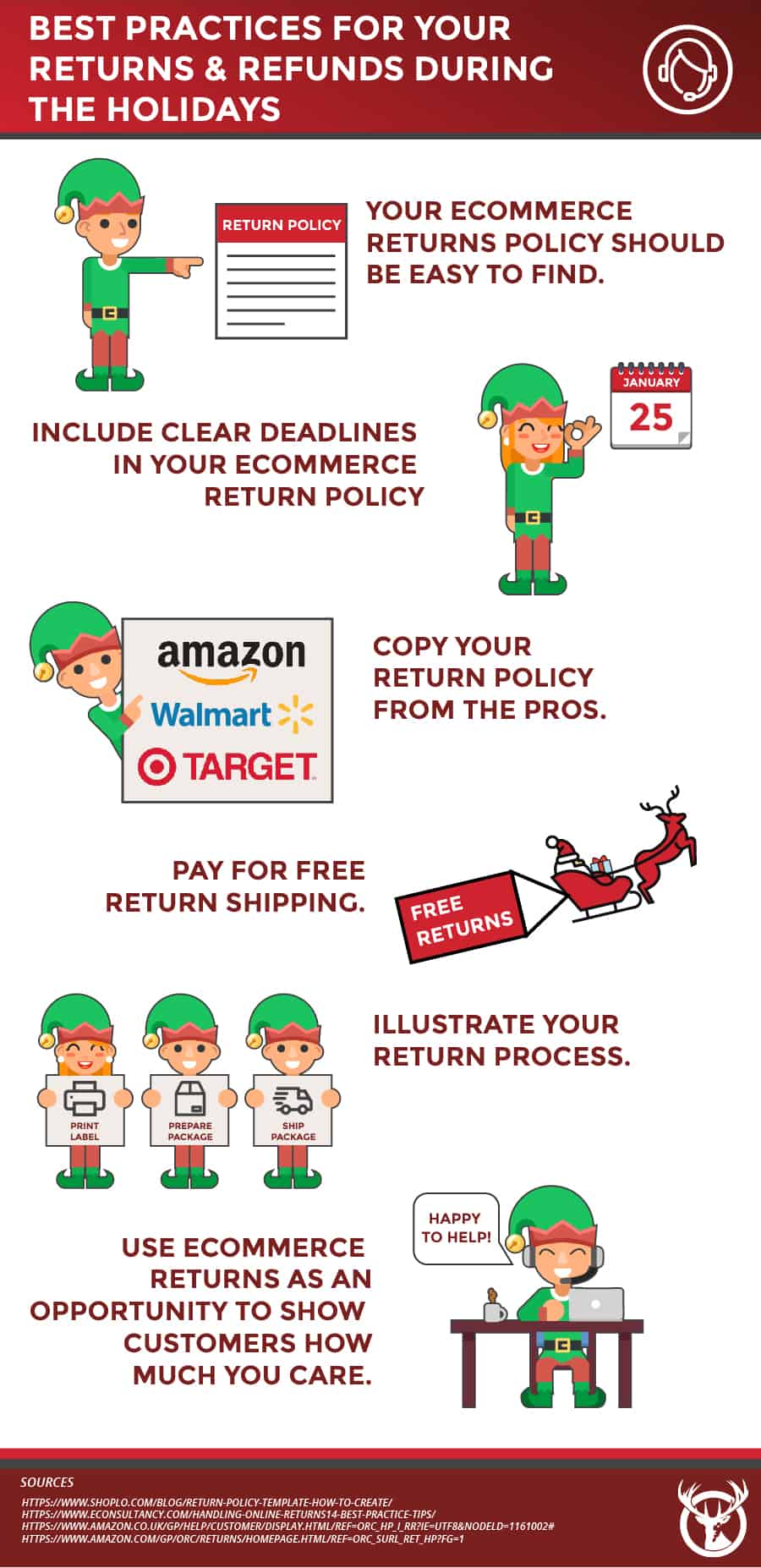 Your eCommerce returns policy should be easy to find
Don't make your return policy as hard to find as a needle in a haystack. Web retailers who bury their return policies are only making things worse for themselves in the long run. Here's a pretty simple way to look at it: you should make your store's return policy as simple to search for as your products themselves. If AI-augmented search bars are how customers navigate your website, your return policy should pop up there. If you use breadcrumbs or have a big FAQs tab in your menu or include product descriptions, there's no reason you can't make room for a returns section. And for goodness' sake, make sure it's easy to find on both desktop and mobile!
Why should you go to this much effort? In a word, trust. A clear return policy that's easy to find makes customers feel more at ease with your brand. If for whatever reason they decide they're not happy with your product, giving them a seamless return experience starts with them understanding what they have to do to make the return in the first place. You're less likely to upset them if you make it straightforward for them to return a product — and if you can at least accomplish that, you're more likely to keep their trust despite a substandard product experience (or whatever the reason for the return) and have a chance at them returning to you in the future.
Include clear deadlines in your holiday returns policy
Another reason why your returns policy should be clear: setting reasonable expectations. A returns policy that sets clear expectations allows customers to understand what's required of them in the returns process. They will be less likely to point the finger of blame at you for a return that goes wrong if they know your return deadline in advance.
Lastly, an adequate returns policy enables you to predict revenue with greater accuracy. If you have a rigid deadline for returns of say, 15 days after purchase, you can mark the profit from sales that happened 15 days prior without having to worry about issuing a refund.
Copy your return policy from the pros
Borrow some returns best practices experience from the experts – other eCommerce retailers. This will certainly involve some tweaking, since your own policy is bound to be different. But you can stand on the shoulders of retail giants to craft your eCommerce store's policy and give yourself a head start. Pay a visit to some of your favorite eCommerce sites — or maybe your competitors — and study their return policies.
Grab what you like from sites that do it right. Then create your own return policies. Bigcommerce has compiled some great tips and examples to give you a head start.
Pay for free return shipping
Returns are one of the biggest pitfalls for eCommerce businesses. The expense can add up and take a bite out of your bottom line. But free shipping on returns is something most consumers expect. Online shoppers note that free return shipping is important to their purchase decisions. Charging for return shipping might save you some cash, but it could cost you customers.
If your business can't offer free return shipping on every order, consider offering it for qualifying orders. For example, you could pay for return shipping on orders over $50 (or $100, or $250). This policy might have the added benefit of encouraging your customers to purchase a few extra items.
Illustrate your returns process
Reminder: some people are visual learners! It's one thing to ask customers to read something exciting, like a list of product benefits (but never features). It's another to bury your return policy on a page of dense fine print. Make your policy easy to understand with graphics, icons, and images. You can even use the graphics to inject a little humor into an otherwise dry subject. Consider making a YouTube tutorial on returns as Wish has done.
Visual media will help your customers easily understand how returns work.
Make your returns policy user-friendly
An additional benefit that comes from having a well-designed returns page is that it increases the goodwill your (probably slightly annoyed) customer feels towards your brand. Every part of the customer experience should make people feel good about your brand; there should be no exception to this rule at what is usually a low point in a customer's relationship to your business.
Here are suggestions for raising a customer's floor of disappointment a level or two:
Restrained graphics (probably not a good idea to use bright cheerful colors on a returns page)
Empathetic copy ("we're sorry this didn't work out for you")
Seamless functionality (enclosing a return label in every package you send out is a major plus)
Your positive attitude and terrific customer service will be a big factor in converting returns into future sales and winning loyal customers.
Use eCommerce returns as an opportunity to show customers how much you care
You might find returns frustrating and demoralizing, but you should never let your customers see this. Thank your customers for doing their part in completing the returns process. Show empathy when a customer expresses frustration. You may be able to turn an irritated customer a grateful one.
Your positive attitude and terrific customer service will be a big factor in converting returns into future sales and winning loyal customers.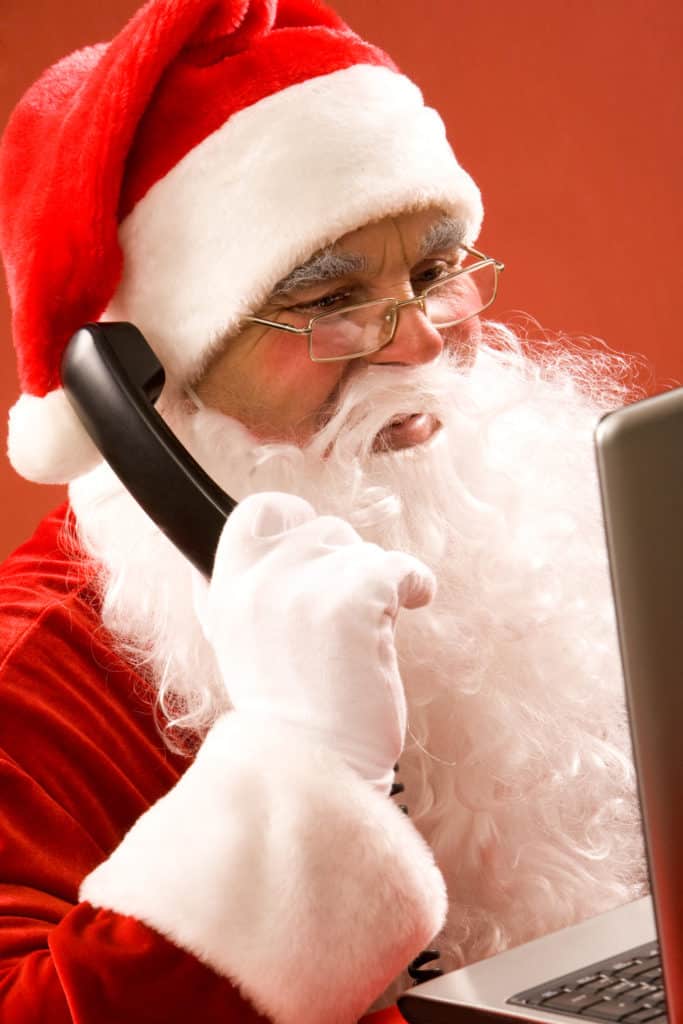 Bonus: 4 return policies that will make your customers happy — and you, too.
It's not a stretch to say that you can leverage your return policy as part of the sales pitch for your eCommerce store. Your holiday returns policy can be a key factor for customers choosing a gift. Here are four more ways to make the returns process a happy one for your customers.
Be as straightforward as possible. Don't be that site that hides customer support contact info. Keep your site's return policy in a prominent location where it's easy to spot. Include a link to customer service at the footer of every webpage. Make tracking numbers for returned goods easily findable in the confirmation emails you send out for every refund. The bottom line is that transparency will win you a lot of good will.
State the form of the refund in your policy. Is it a cash refund? Are you giving store credit? Customers should be completely informed on what kind of refund they're getting before they make the purchase.
Keep it positive. It's a return policy, not a breakup letter! Keep things as upbeat as possible while you give customers the info they need.
Be flexible. If a customer wants to return an item the day after the coverage of a 30-day return policy expires, what do you do? It might be worth giving your employees the discretion to honor slightly late returns. Factors such as whether or not this was a customer's first purchase or if they are a returning buyer who has been loyal to your brand should definitely be considered here.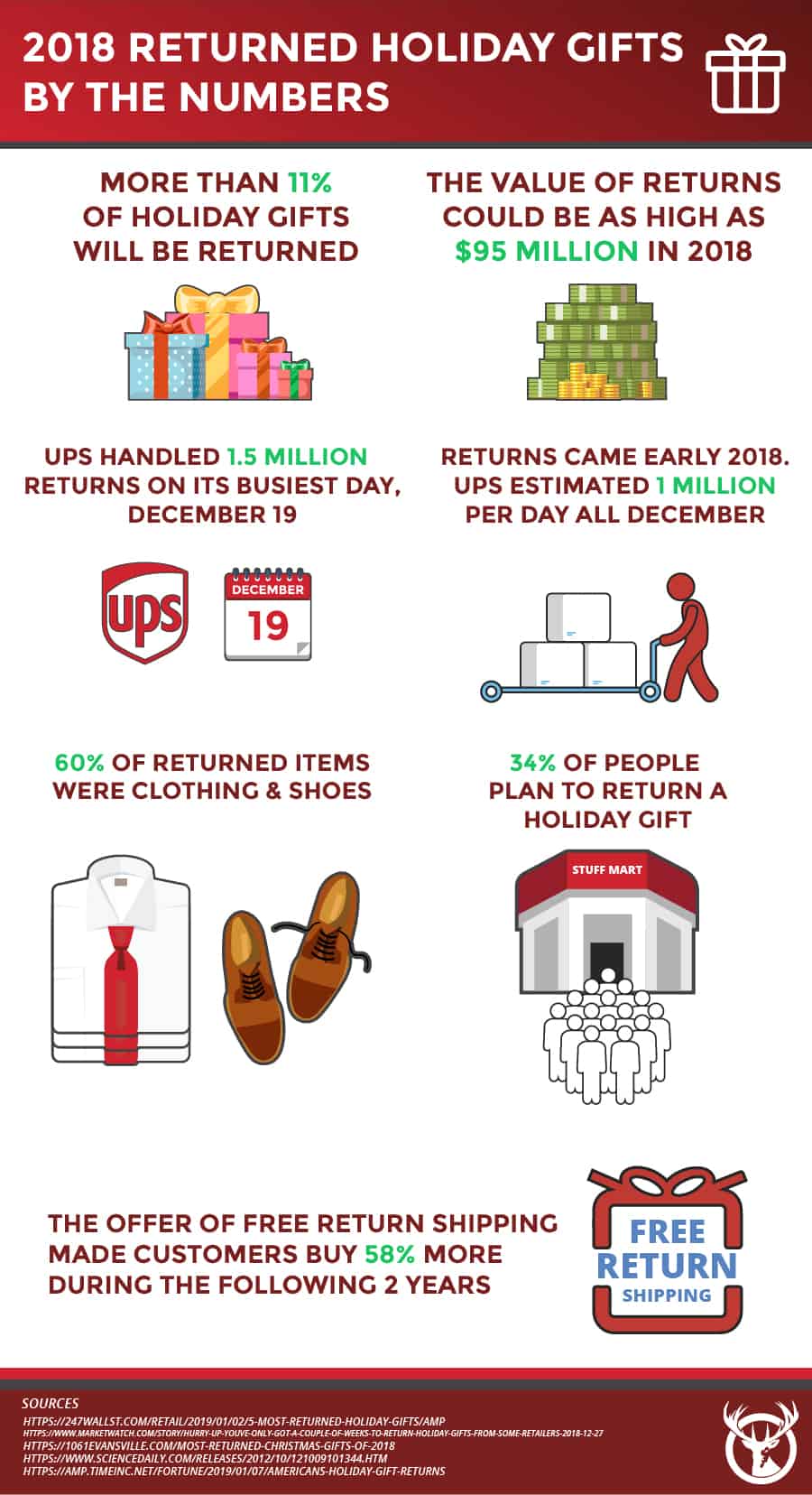 5 Tips for Making Your 3PL Company Your Holiday Fulfillment Partner
If you are an eCommerce seller, your holiday season is probably hectic as well as full of good cheer. Substandard holiday fulfillment will curdle your good cheer like bad eggnog.
It's one thing for a fulfillment center to serve clients well during the slow season. What's more challenging is finding a reliable and accurate holiday fulfillment partner. Here are five variables that you should consider when choosing a holiday fulfillment center.
Holiday fulfillment center staffing
ECommerce tends to operate in cycles. For example, Black Friday and the months either side of it usually represent a peak in sales for most B2C brands, with the summer months usually slower. A quick check of your company's sales history should give you an idea how much inventory you need to have on hand to cover holiday demand. Plan to have just the right amount of product. The Goldilocks number is meant to be more inventory than you'll ultimately sell, but not so much that you waste valuable space storing excess products.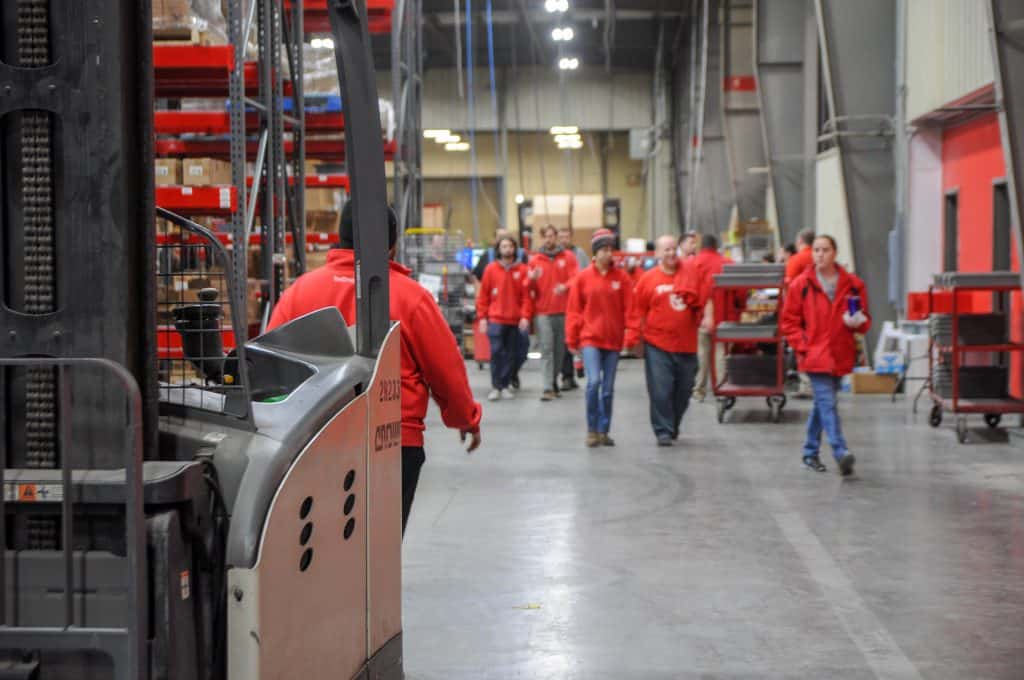 Is your fulfillment center ready to handle an unexpected surge in orders? If not, your perfect planning could go to waste. Your insights will help things run more smoothly. A top-notch holiday fulfillment center will take what they learn from your sales history and plan to have enough staff on hand to anticipate the peaks and troughs of seasonal demand, particularly during the winter holidays.
Ask your fulfillment center how they plan for surge events. It can't help to have an order processing guarantee to ensure they will always pack and ship holiday orders quickly. There's nothing merrier than orders flying out the door as fast as they come in — and nothing Grinch-ier than orders showing up late.
Holiday fulfillment warehouse shelf space
As more inventory piles up in the fourth quarter, some fulfillment centers have issues with space — as in, less of it than they need. To prevent this from happening, some of them, like Amazon, will restrict how much storage space is available; this is usually accompanied with an increase in storage rates during the holiday season.A shelving shortage during peak demand season is a worst-case scenario for many eCommerce sellers. Not enough shelving could mean your products are stranded on a loading dock or sent off to a different facility for storage. The potential downside is pretty clear: if your fulfillment partner falls behind in dock-to-stock time, the warehouse stocking backlog can kill your business.
A shelf space shortage at your holiday fulfillment center could leave your products stranded on a loading dock instead of picked, packed, and shipped. Ask your fulfillment center for a dock-to-stock time guarantee to make sure not a single order is delayed because of warehouse stocking backlogs.
Holiday inventory accuracy
While your products may go from dock to stock in a timely manner, it's equally important that your inventory is accurate. There's nothing worse than a customer being misled into thinking you're out of an item when in reality there's a pallet full of that product in your order fulfillment warehouse. Any products you have that don't get registered into the WMS or inventory management software upon arrival are basically lost. Talk to your fulfillment center rep about their inventory accuracy guarantee so that you know every piece of merchandise will be properly accounted for.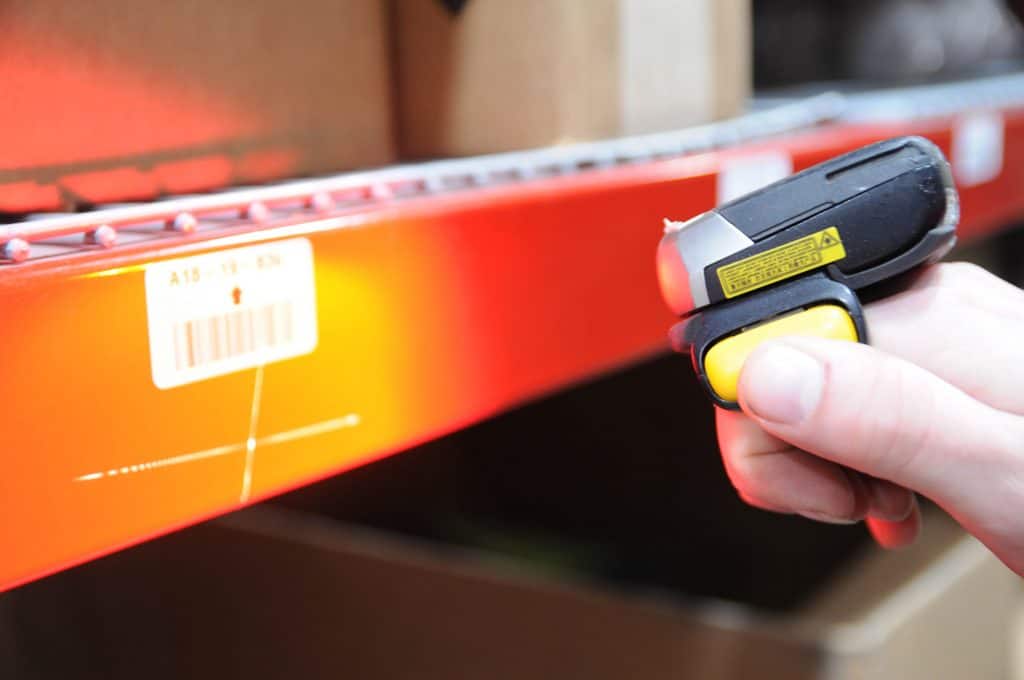 Holiday inventory shrinkage
The magic number is zero. That is the number of products your fulfillment center should lose, misplace, damage, or otherwise prevent from being shipped onward to paying customers. Sadly, most order fulfillment center contracts allow for inventory shrinkage. As it is, you probably have little margin for error. Those lost products can hurt your bottom line even more.
Shrinkage can turn away customers. hWoo wants to do repeat business with a company that sends you damaged goods? To make your holidays happy, look for a 3PL provider that guarantees every item you send to the fulfillment center will make its way from the warehouse into customers' hands. (Hint: Red Stag has just such a guarantee for its order fulfillment center clients.)
Holiday fulfillment service accountability
During your busy season, mistakes can be costly. Customer expectations are so high as it is (thanks Amazon!) and their expectations are rightfully higher around the holidays, since no one wants Christmas gifts to show up a day late. Each error means extra resources devoted to customer service, refunds, return shipments, lost future sales, bad PR. All of this translates to less revenue for your business.
A fulfillment center that compensates you for every late shipment, mis-pick, or incorrectly labeled package is probably going to be more incentivized to get it right every time. That's why Red Stag rewards our team members for perfectly-fulfilled orders: because at the end of the day, we want to take your orders as seriously as you do.
You'll never find absolute perfection. But that doesn't mean you should settle for a fulfillment center that doesn't take issues such as shrinkage, accuracy, and delays as seriously as you do.
Measure Your Holiday Fulfillment Performance
Holiday fulfillment can make or break your eCommerce business. The weeks between Thanksgiving and Christmas account for 20% of all retail sales, on average. If your products make good gifts, the holidays may be even more important to your annual revenue. Great holiday fulfillment is the key to great holiday sales.
If your holiday fulfillment gets backed up or there's a major snafu in your supply chain, that's easy to spot. However, glitches in 3PL fulfillment company performance can be subtle. A series of small issues can pile up. By the end of the season, these small errors can take a big bite out of your bottom line. But these financial hits can fly under the radar. That's why it pays to take the time to evaluate your holiday fulfillment operations.
To understand how your 3PL fulfillment company performance affects your bottom line, you need measuring tools. KPIs are a great way to assess your fulfillment operations. KPI stands for key performance indicator. KPIs track your progress toward your business goals. Relevant KPIs offer a good way to measure holiday fulfillment operations.

Here are seven KPIs for measuring holiday fulfillment.
Customer service response time
There are always going to be a few glitches in order fulfillment, especially during the holiday rush. What you should measure when a support ticket comes up is how long it takes for a resolution. A holiday fulfillment molehill doesn't have to become mountains as long as it's resolved quickly.
Track how long it takes your 3PL company to respond when you have a question or issue. Some 3PLs handle customer-facing support queries; how long is acceptable for you to imagine your customers waiting for an answer about a returned purchase? At Red Stag Fulfillment, we make sure we respond to every query from a client in three hours or less. Our current average response time is less than 40 minutes.
Time from dock to stock
ESellers tend to focus on the pick, pack, and ship part of fulfillment operations. Arguably the most unheralded process is the time it takes to move products between the loading dock to warehouse shelves.
This dock to stock time is even more important during the holidays. When products are getting snapped up online as fast as they're being restocked in your warehouse, any delay in moving them from the loading bay to warehouse shelves will cost you. We know we sound like a broken record, but that translates to lost sales and maybe even lost customers because of an out of stock notice.
Red Stag offers a 48-hour dock-to-stock guarantee to give you peace of mind that all incoming product shipments are logged into your inventory management system ASAP. To see how your holiday fulfillment company performs, measure how quickly they log in your inventory.
Same-day shipping
A crucial KPI for you to consider is the delay rate. How many of your orders were shipped on time? What happened with the ones that were late? Your holiday 3PL partner should keep clear data on how many of your packages go out late. Knowing this sort of data will make it easier to measure the impact of interrupted service, which is more important than usual in the runup to Black Friday and beyond.
If your order fulfillment center offers aggressive same-day order cutoffs, this is doubtless a major selling point to customers. Imagine the pain that comes from letting them down when they expect their supposedly expedited order doesn't show up! Well, you probably don't need to imagine it because it's probably happened before to you. . Measure actual service against the promise and ensure that same-day shipping doesn't become next-day shipping over the holidays.
Pick, pack, and ship accuracy
Pick, pack and ship errors cost a lot of money because they frequently involve having to deal with the additional cost of reverse logistics (ie, returns). Use customer service inquiries and returns data to verify your holiday fulfillment center's mishandling percentage. Human error is unavoidable, but the percentage of mis-packs and mis-ships should be at or below 3% — that's above the industry standard. If you're going to pay for someone else to do this, shouldn't you expect the best?
Red Stag Fulfillment already has one of the lowest error rates in the fulfillment industry. To incentivize our hard working team to be as perfect as possible, we pay out bonuses for every thousand perfectly picked and packed orders. And if we do make a mistake, we pay $50 for every order we pack or ship incorrectly. Is that a lot of pressure to do it right? Yes — but we're the diamonds of our industry, and diamonds only happen under intense pressure. We're proud to live up to it.
Return rate
When you look at return rate, it's important to note that there are different types of returns. Returns caused by products that failed to meet customers' expectations are a question of product design. . Returns due to delayed shipments, damaged product, or simply a case of the wrong SKU being sent are solely to blame on your holiday fulfillment partner. Track this KPI to get a clear picture of how much you're paying because of returns.
Inventory loss
Lost or damaged inventory must be tracked in order to measure how much you're spending on products that ultimately don't contribute to your revenue. The cost of shrinkage is fundamental to quantifying the success of your holiday fulfillment partner.
Holiday fulfillment cost
What is your average cost to ship an order during the holidays? Having an at-a-glance idea of how much you're spending per oder is useful for understanding fulfillment charges that you pay. Factored in with the shipping charges you pass on to customers, this is the perfect KPI for setting prices to help cover your real fulfillment costs.
When you look at your holiday fulfillment costs, consider this KPI in the context of several others. For example, if your 3PL services company has very low inventory shrinkage and error rates, you may pay more up front in monthly costs to the 3PL, but save more in the long run by avoiding the sort of customer service nightmares that can come from partnering up with a cheaper but ultimately less reliable fulfillment center Pennywise, pound foolish: this is no less true for holiday fulfillment.
What to Look for In a Holiday Fulfillment Service
Now you know the basics of holiday fulfillment. When you're ready to find the best holiday fulfillment service for you, here are some features to look for.

Verified error rates
Most 3PL companies advertise "accurate" pick, pack and ship services. Look for a company with data on error rates to back up their claims.
Inventory policies
If your outsourced fulfillment warehouse has a high shrinkage allowance, find out why. This might be a sign that the warehouse has a chronic problem with damage or theft. You need a holiday fulfillment company that treats your inventory with care. Look for a 3PL company with a low or no shrinkage allowance. Red Stag Fulfillment's shrinkage allowance is zero — we pay for everything we break or lose (it's not much).
Order fulfillment turnaround
Consider customers expectations when you choose a holiday fulfillment warehouse. If fast shipping is important to your customers, choose a fulfillment company that offers same-day order fulfillment. In addition, ask how often they get backlogged and ship orders late. A 3PL company that often misses shipping deadlines won't be able to give you the service your promise your customers.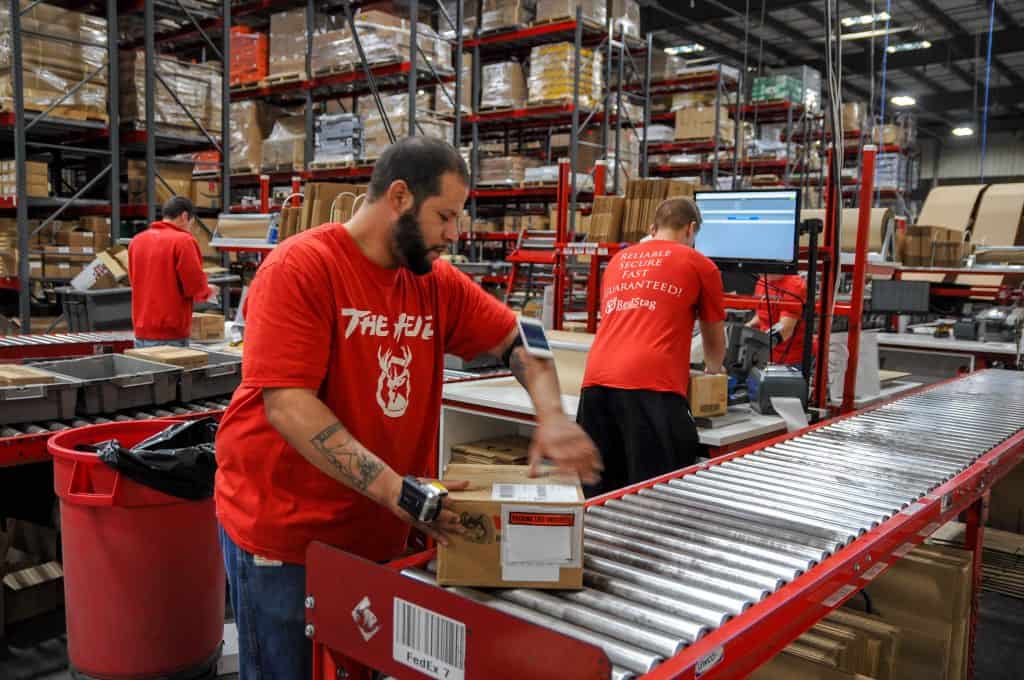 Delivery time
How close your fulfillment warehouse is to your customers will determine how many shipping zones your packages travel through. Zones affect your shipping costs and delivery time.
If your sales are purely regional, a fulfillment center in the middle of your sales region will work best. If you sell to online shoppers across the US, a more central warehouse or warehouses will save you money and shipping time. Consider a holiday fulfillment company that has more than one location to get faster delivery.
Red Stag Fulfillment has two fulfillment warehouse locations, one in Knoxville, TN, and one in Salt Lake City, UT. From these two warehouses, we can get orders to 97% of US addresses in two days or less.
Capacity
Your holiday fulfillment operations shouldn't become a bottleneck during your busiest season. Make sure the 3PL company you work with can handle increased capacity during the holidays. Will they have enough floor workers to meet the demand? Do they have ample shelf space to accommodate your holiday inventory?
Specialization
Some fulfillment companies are pros at shipping small and light products; others are experts in shipping large or fragile items. Many order fulfillment services handle a range of different items. Make sure that the 3PL company you choose knows the best way to ship the products your business sells. Red Stag Fulfillment specializes in shipping heavier items (10 pounds or more). We are also experts at handling large and fragile products.
Tips to Keep You Sane During the Holiday Fulfillment Rush
If you've been an eCommerce seller for more than one season, you know what the weeks ahead will bring: long workdays troubleshooting customer and vendor issues, putting out fires, and trying to keep your holiday fulfillment warehouse stocked so you don't miss a single order. You probably won't get enough sleep until January. Plus, you'll be biting your nails until you see the final numbers for sales and profits.
Let this be the year you make it through your busy season with a little less caffeine and a little more rest. Here are some tips to help you survive holiday fulfillment and still be smiling in January.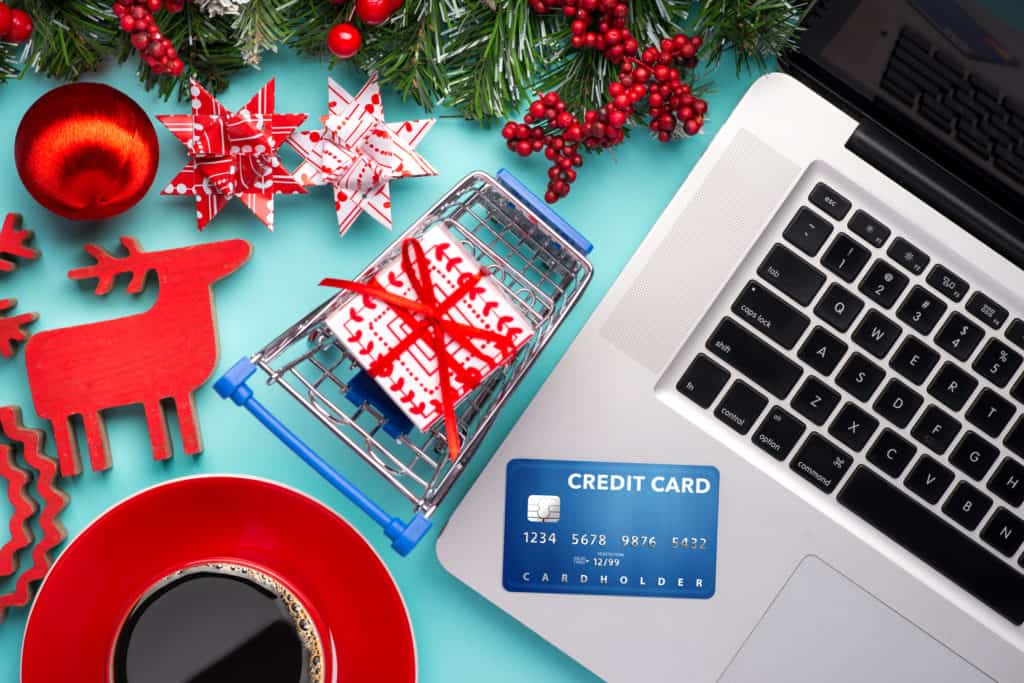 Don't be a Grinch to your customers
Here's the secret of great customer service: With a positive attitude and a few empathetic and understanding words, you can turn your fiercest critic into your biggest fan. Be kind to your customers – especially the worst ones – and you might find your heart will grow three sizes this holiday season.
Take a lesson from Santa and talk to your reindeer
Santa Claus runs perhaps the largest and most sophisticated fulfillment service on the planet. You can learn something from him about keeping things running smoothly through the holiday delivery season. Santa is always saying something to his reindeer, whether it's "On Dasher!" or a kind word for Rudolf.
Take a page from Santa's book and talk to your fulfillment warehouse representative. Regular communications will ensure that you're both on the same page. You can review any issues that may come up and head off holiday fulfillment issues or deal with them quickly.
Remember who's naughty and nice
Santa keeps track of who's naughty and nice, and you should do the same. Did a vendor fail to deliver on time and put you in a jam? Did your holiday fulfillment center come through for you at a crucial point with a heroic effort to get a big order out on time? Adjust your holiday fulfillment strategy as needed. Take a moment to make a note anytime you say to yourself, "I'll never do that again," or "That worked really well!" This is the path to better holiday seasons, year after year.
At the same time, like Santa, keep an open mind. That vendor who delivered late might move from naughty to nice if she offers you a discount on your next order and ships it early.
Appreciate your favorite people
There's a rule of thumb that 80% of your business will come from 20% of your customers. Cherish those customers – they will make your holidays merry and bright. Send them extra emails and promotions and make sure to thank them for their loyalty.
The same goes for employees and vendors. The holidays are the perfect time to show your gratitude for all the people who make your business hum all year long.
Stop and have a hot toddy
You may be up early every morning, working as hard as one of Santa's elves, but don't forget to take time to recharge your batteries. Take an afternoon off and go to the movies. Have a nice dinner with friends. Take a nap. Turn off your phone for a bit. Share some eggnog under the mistletoe. The internet won't break if you walk away for an hour. Plus, you'll be more productive when you do turn your attention back to your bustling holiday sales.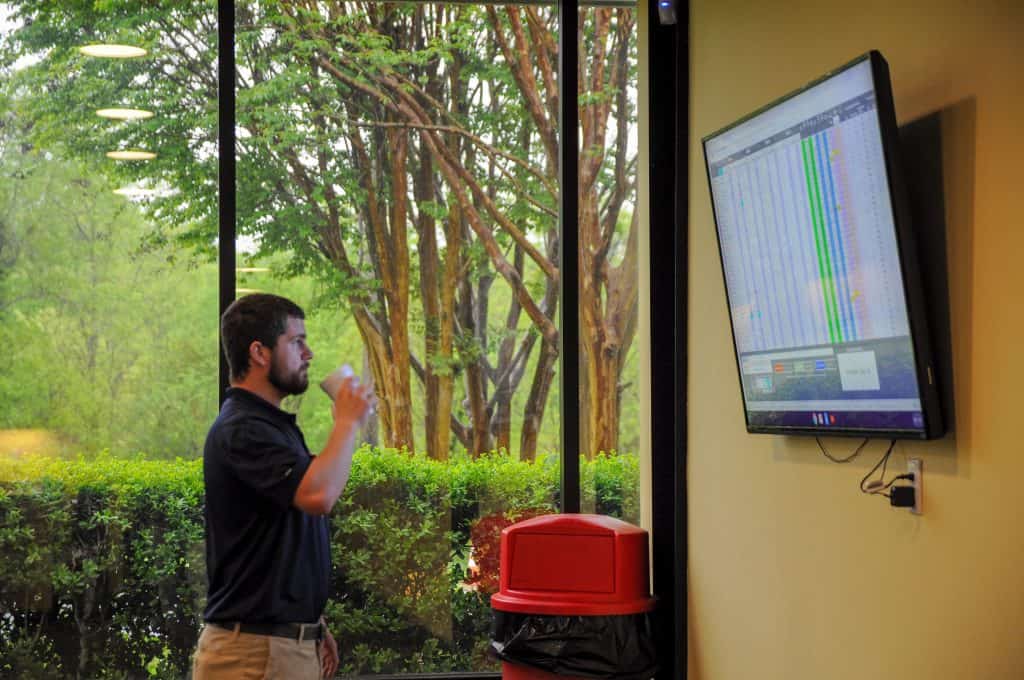 We wish you a holiday season of many clicks in your eCommerce store's buy box, of many on time and accurately fulfilled orders, and most importantly, of many happy customers who will come back to you again for many years to come. There are many ingredients to success, and a great holiday fulfillment center is one of the most important ones.