Whether you're building a site, leasing a location, or outsourcing to a third party, your warehouse locations will have substantial impacts on the effectiveness of your operations. Choosing a poor location for your products can quickly drive up expenses, make it hard to find staff, or cause you to break delivery-speed promises to customers. That means you need to take the location of your warehouse as seriously as any other promise or product in your lineup.
Take your time and consider what's mission-critical to your success. Ask for help and shop around at a variety of locations. Do your homework and compare all possible locations against your needs and business requirements. Selecting a warehouse location could be the best or worst decision your company makes all year. So, let's talk about how to get it right.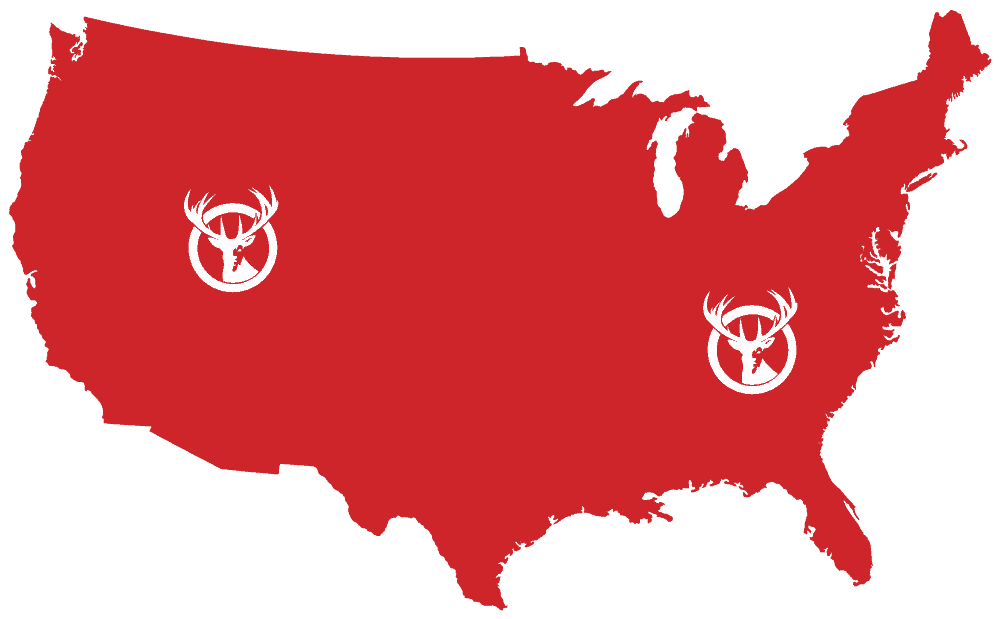 Why is the location of a warehouse so important?
Fulfillment warehouse locations and business speeds go hand in hand. And it seems to impact nearly every supply chain activity a business has. The position of your warehouse can impact:
How quickly goods get to you from your manufacturer
How quickly you can inbound and put away products
The ease and speed of picking products for orders
Space and speed of packing those orders
How effectively you can prep orders for carrier pickup
Your teams' ability to do all of that safely
And the costs associated with each step
Warehouse locations not only need to be large enough to handle your activities and inventory, but they should also be well-positioned to keep both suppliers and customers close. That's because you can fix just about everything else quickly. You can hire more or adjust the layout. Change carriers or add more equipment. Streamline tools and get the latest software. All are easy to adjust if your warehouses support a national fulfillment strategy.
But if you need to change locations, you've got to change everything. You're getting a new workforce, moving all products to a new location, reworking carrier relationships, and much more. If you're going to be moving to a new space, ensure you get everything you need or start considering an outsourced option.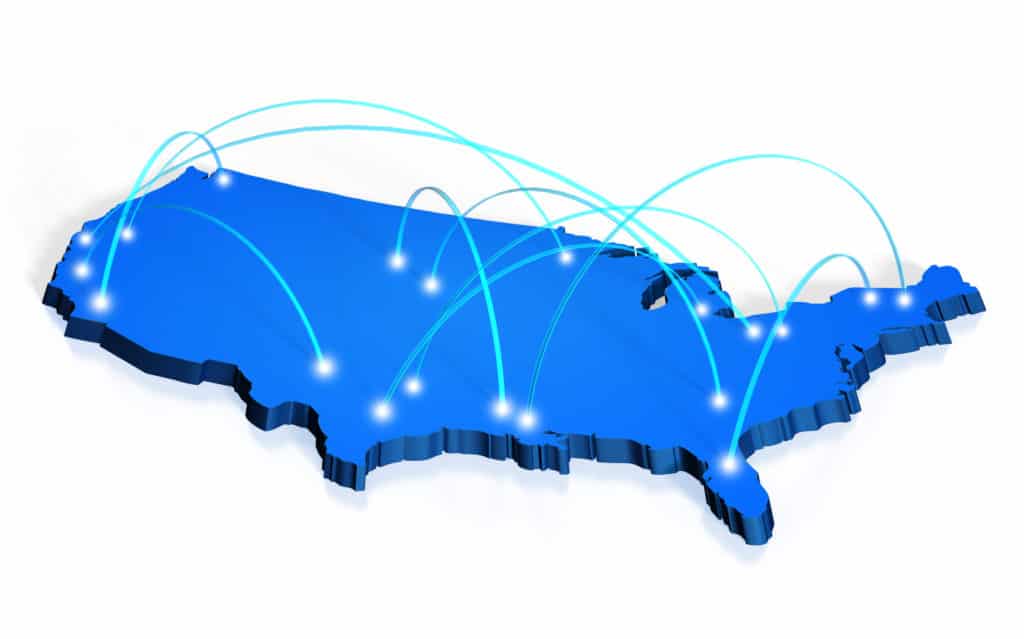 Do multiple warehouse locations make sense?
Multiple warehouses can cut costs by moving your inventory closer to customers. You can fill orders from the nearest location, minimizing cost while increasing the speed of delivery. That's one way to offer fast and free shipping affordably. You're also protecting operations against disruption due to a natural disaster, infrastructure problems, and other supply chain hiccups.
The key to understanding whether multiple locations are suitable for you is to look at how much you'll save each month by moving products closer to a core audience. Suppose you can open an East Coast fulfillment location and it serves thousands of customers every month, shipping across fewer shipping zones. In that case, there's a chance that you'll not only reduce headaches but increase your return per SKU. Here are a few factors that'll help you improve the returns you can find by choosing a better location.
7 factors to consider for warehouse locations
A lot goes into renting space or building your own warehouse. Many of those same considerations matter when you outsource to a 3PL like us, too. Let's take a quick look at some of the biggest factors impacting proper warehouse location selection. Your partner should be able to help you with each of these, whether they're a site owner, construction company, or fulfillment provider.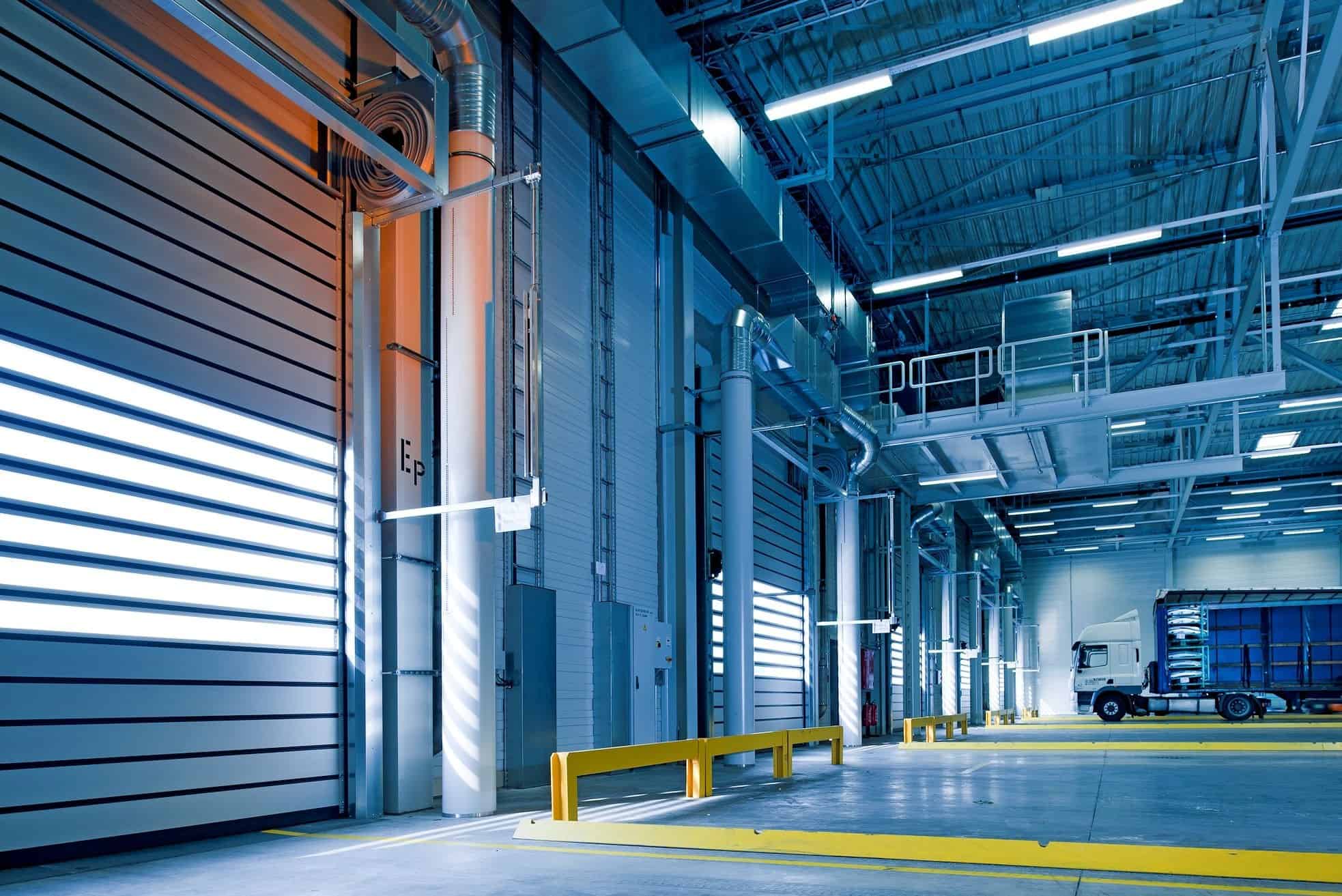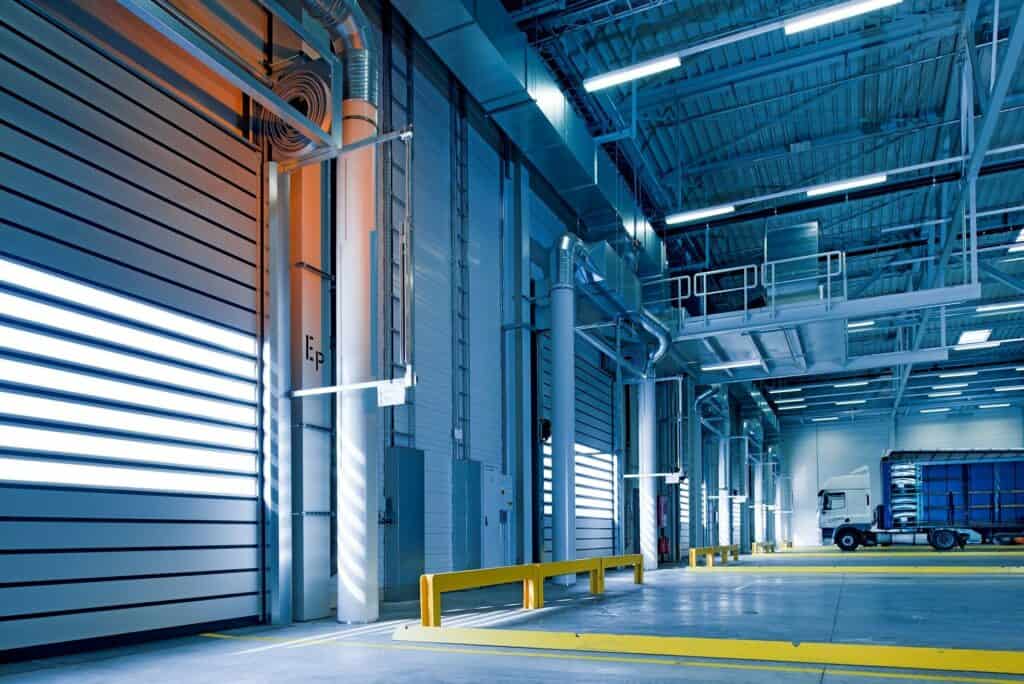 1. Current and planned availability at warehouse locations
In previous years, warehouse location considerations start with the size you need and planning for an optimal space. In 2021 and 2022, however, these conversations primarily begin with a hunt for warehouse space that's physically available.
Start your warehouse location hunt by contacting construction companies and warehouse space providers to see existing space and planned construction. You may need to get in line and wait a bit if you have many inflexible requirements.
2. Where your eCommerce customers live
Narrow down your scope and review what's available by looking at your customer base. Where are they right now, and how has that changed recently? Where do you need to be to reach them all?
Clustered groups may be serviceable by a single location in the biggest metro region. But large customer bases on each coast will often make multiple warehouses the intelligent course. Often, you'll save more by reducing shipping zones for last-mile fulfillment, even if your inbound freight travels farther. Combine that with moving to lower-cost locations, and you'll discover why Salt Lake City often offers a better warehouse environment than California for many eCommerce companies.
3. How much inventory you need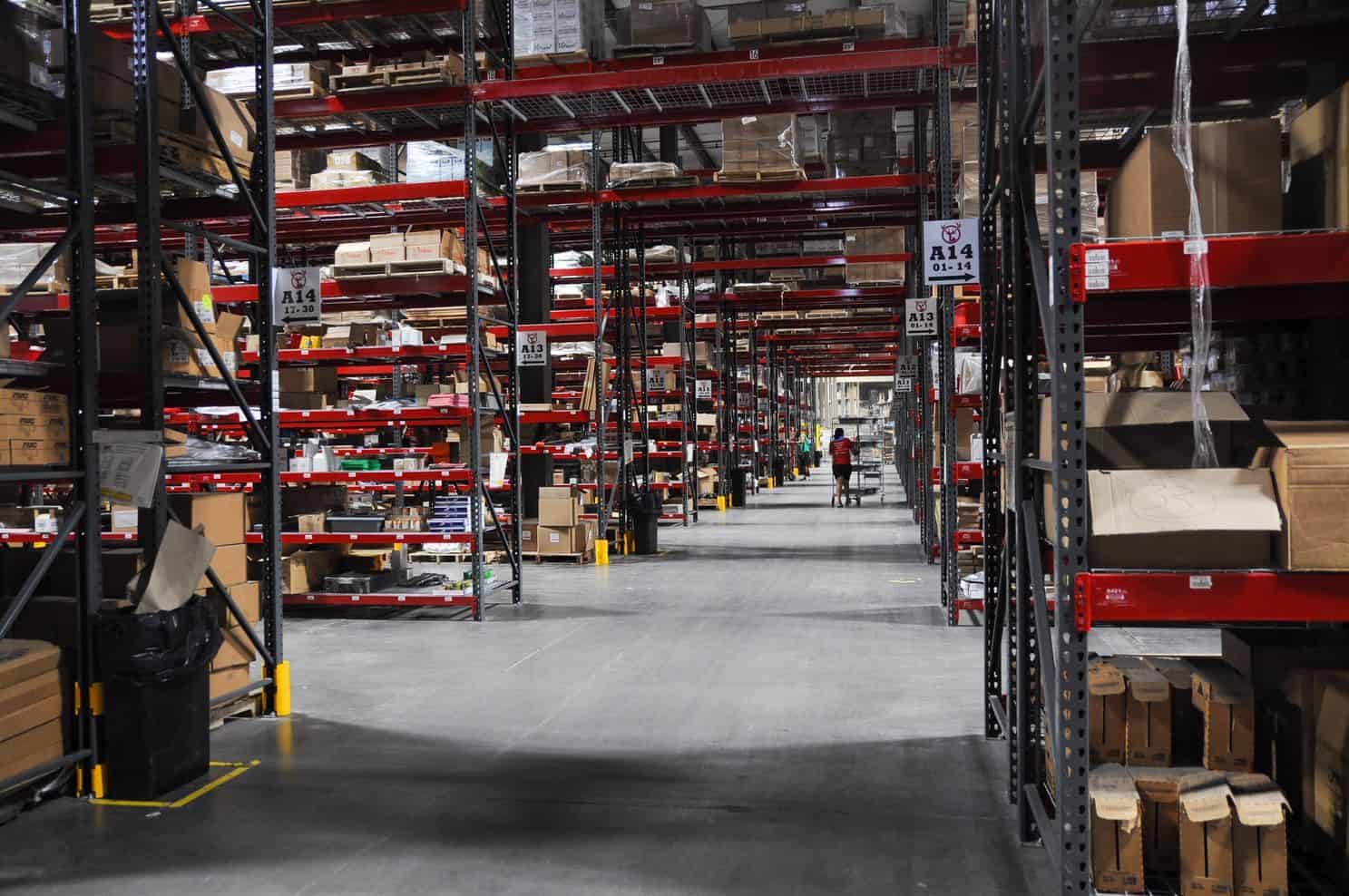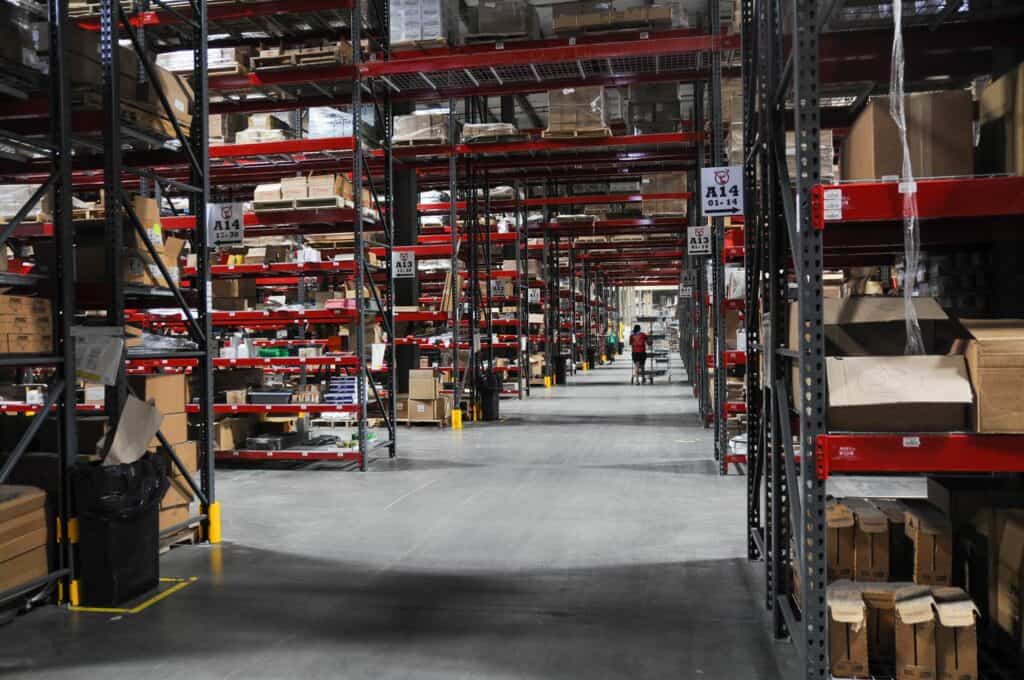 After looking at location and what's available, the next consideration to reduce your list of options is the amount of space you need to store your goods. Generally, this will take up 25% to 30% of your total warehouse square footage, with the rest used up by people, offices, equipment, break rooms, safety items, and space to get jobs like picking, packing, and shipping done.
Use sales forecasts to determine the amount you've sold throughout the past few years. You'll want enough storage space to hold the inventory you think you'll need for this year's peak season. That's the time you never want to run out or be forced to use the floor and improper techniques to store products because they can get lost easily. And don't forget to include the need to house safety stock in all warehouse locations.
There's good news though. Using multiple warehouse locations means you can spread inventory out. That way, you're working with slightly smaller locations – hopefully with lower rent – to meet demand.
Space is one of the big reasons companies start looking to outsource to a 3PL like Red Stag. We've got a significant amount of warehouse space and are continually expanding. This means you can grow your inventory as needed and only pay for the storage space you use at any given moment. We offer that by using a cubic storage model.
4. How goods get to your warehouse locations
Here's a consideration that's important but less risky than in the past. Think about how you get your products. Are they manufactured in the U.S. or overseas? Does inbound come through a port first? What's the total journey your products take?
Knowing how goods arrive can help you find locations that reduce the miles they travel. For example, an Atlanta distribution location can cause many unnecessary expenses if products travel through the Port of Los Angeles. Look for ways to minimize that distance traveled while keeping your warehouse locations close to the end consumer. Use these calculations to help you narrow down metro areas that make sense. Keep them on hand to support your broader inventory management practices.
5. Accessibility and traffic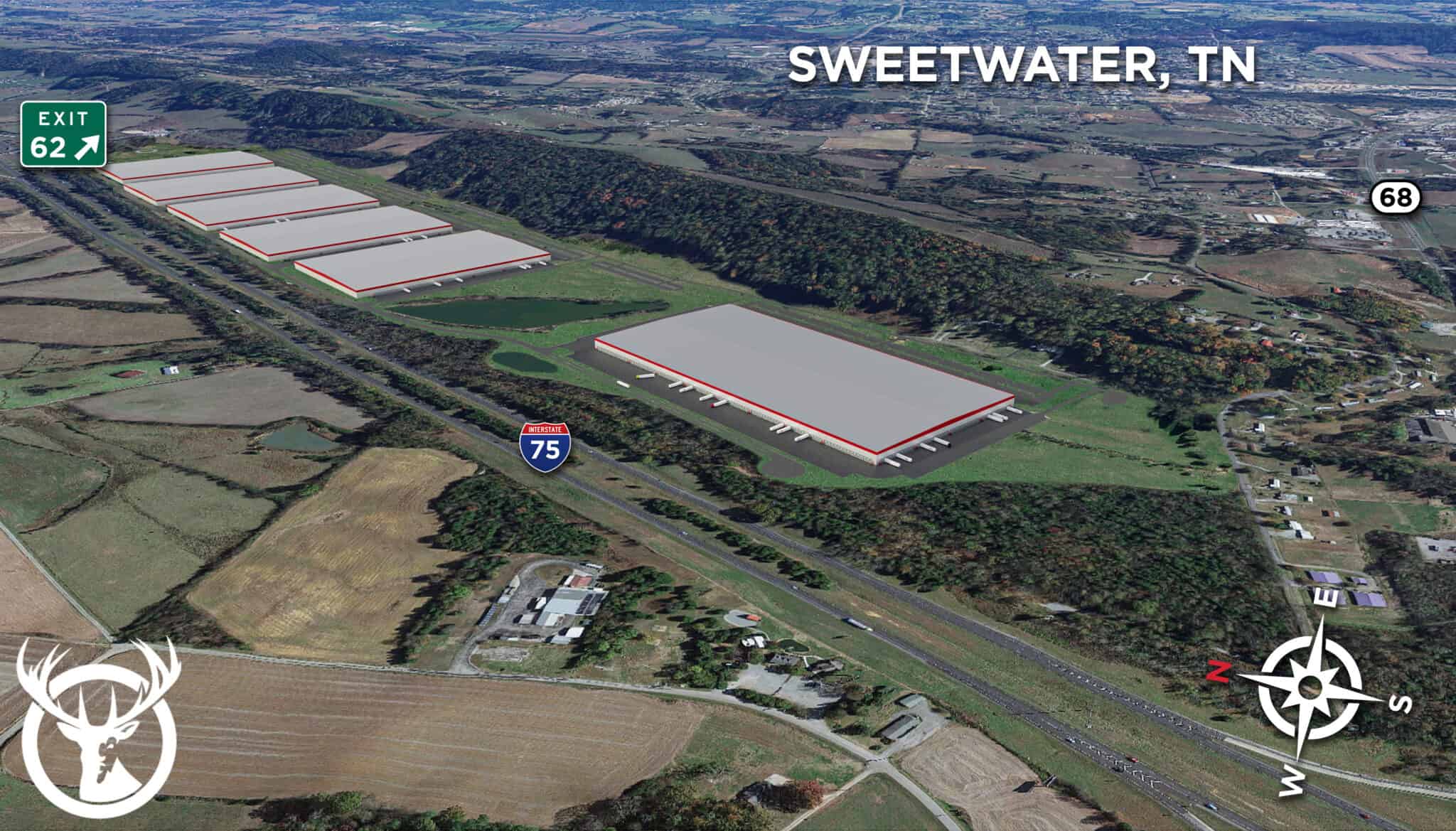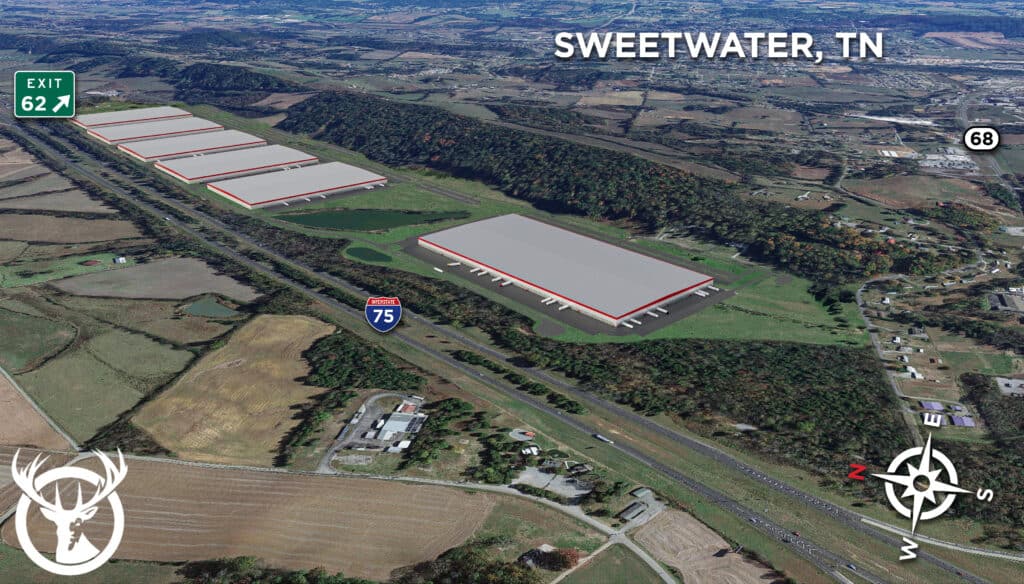 When you've some areas to consider, look at the infrastructure in the region. Typically, you want a facility close to major roadways, highways, and interstates to support inbound freight and outbound shipments. Quick access to exit ramps and a location on large roads make shipments easier and reduce the cost of transportation.
Knowing the traffic patterns and peak hours can also help you move goods affordably. The easier it is to get your products on the interstate, the later in the day you can process orders and get them ready for shipment. If trucks leaving your location are going to sit in a snarl of traffic no matter what, things slow down and grow costs due to fuel consumption or even accidents. Try to balance accessibility and traffic to reach large markets but avoid delays and higher costs.
6. Lease and labor costs
Narrowing down warehouse locations to a final set of options means taking another look at your budget. What kind of lease can you afford to get the space you need? That covers more than just the rate for the building. You'll want to think about the local labor market and your current team. Moving to a new region means hiring management teams and warehouse staff. Leadership should know the area to help ensure your company and people are an excellent cultural fit.
At the same time, you need access to a strong labor market. Look for businesses similar in size and scope to yours in the area already. The presence of competition is a good indicator that the market is large enough to give you access to the people you'll need to run your operations.
7. Current growth rates
The one element not to neglect is your projected growth rate. Finalize warehouse location selection with an eye toward the future. Ask if the spaces have room for you to expand, or will you be close to capacity when you arrive. A new warehouse is a significant endeavor. Ensure you've got a clear path to growth at this location and an understanding of what it entails. For instance, some spaces may have less immediate room but offer a lot to build a new facility on if you purchase the land. Leasing limits your ability to expand outside of existing walls, putting a precise limit on available volume.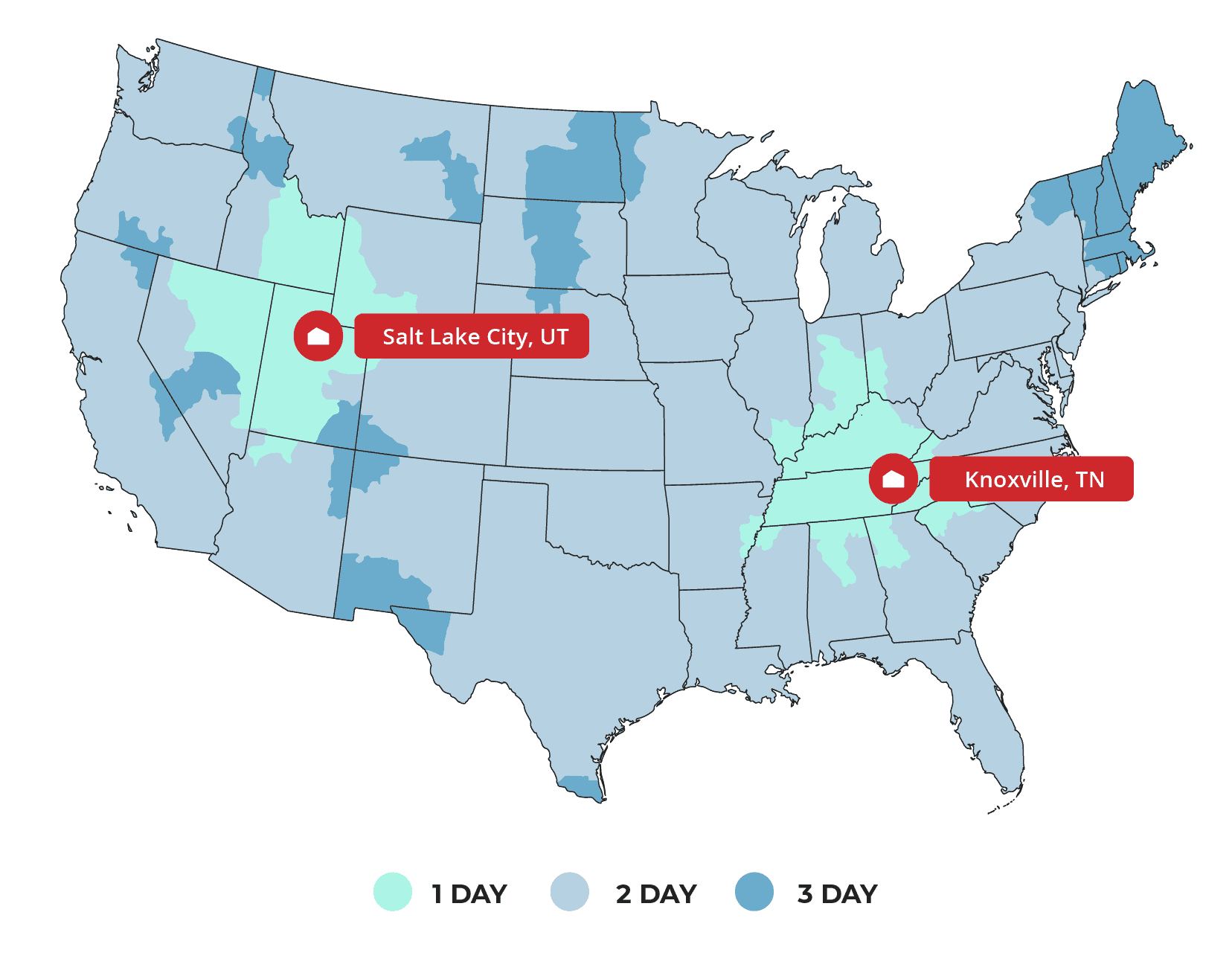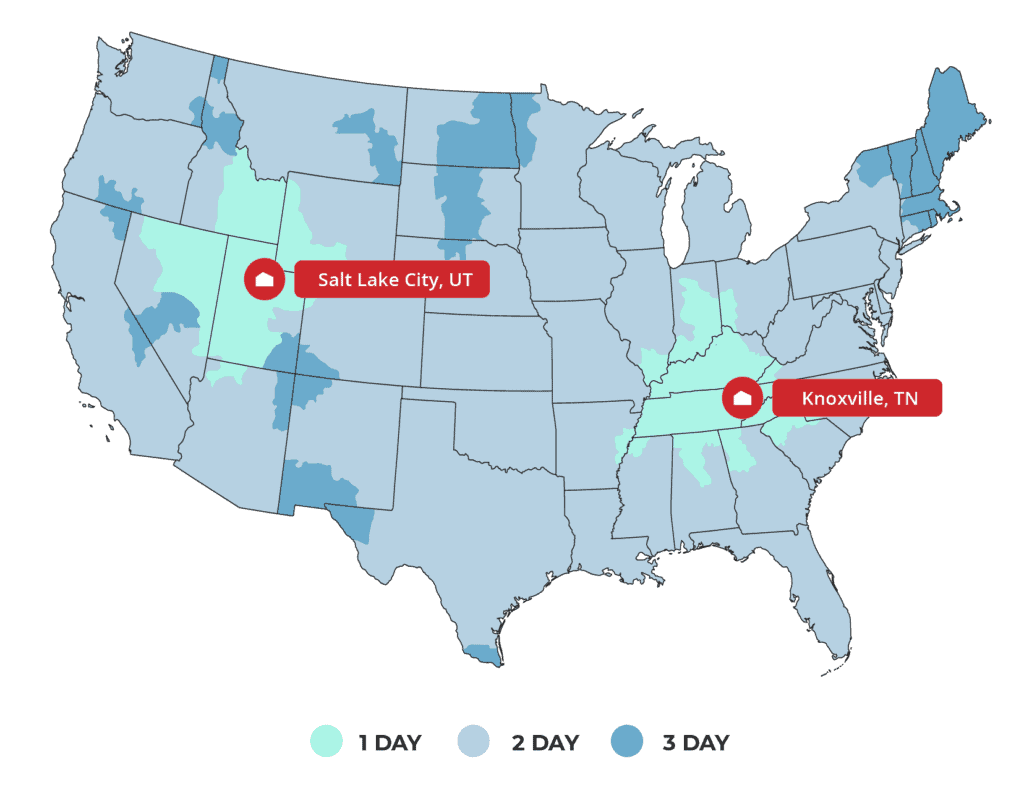 Red Stag's multi-warehouse strategy
Red Stag Fulfillment started with a warehouse location in Knoxville, Tennessee, and then expanded to include Salt Lake City. These two warehouse options available to our partners ensure that we can reach more than 96% of American homes within two business days.
As our fulfillment business expanded, our company knew the need for quick shipping within the United States would continue to grow too. So, we've broken ground and are in the process of expanding in Knoxville and Sweetwater, Tennessee. Each location is designed to reach the heart of major domestic markets to keep your products moving to customers at a low cost.
In plain terms, that means we're continually putting more space at our partners' fingertips while still meeting our accuracy, on-time, and zero shrinkage guarantees. If you're ready to expand your space while controlling costs and improving fulfillment, click below to let us know.