You might hear the following terms used interchangeably: fulfillment center, warehouse, distribution center, and third-party logistics (3PL). While there is some overlap, each of these terms has a distinct meaning. Here's what you need to know when comparing a fulfillment center vs. warehouse, distribution center, or 3PL.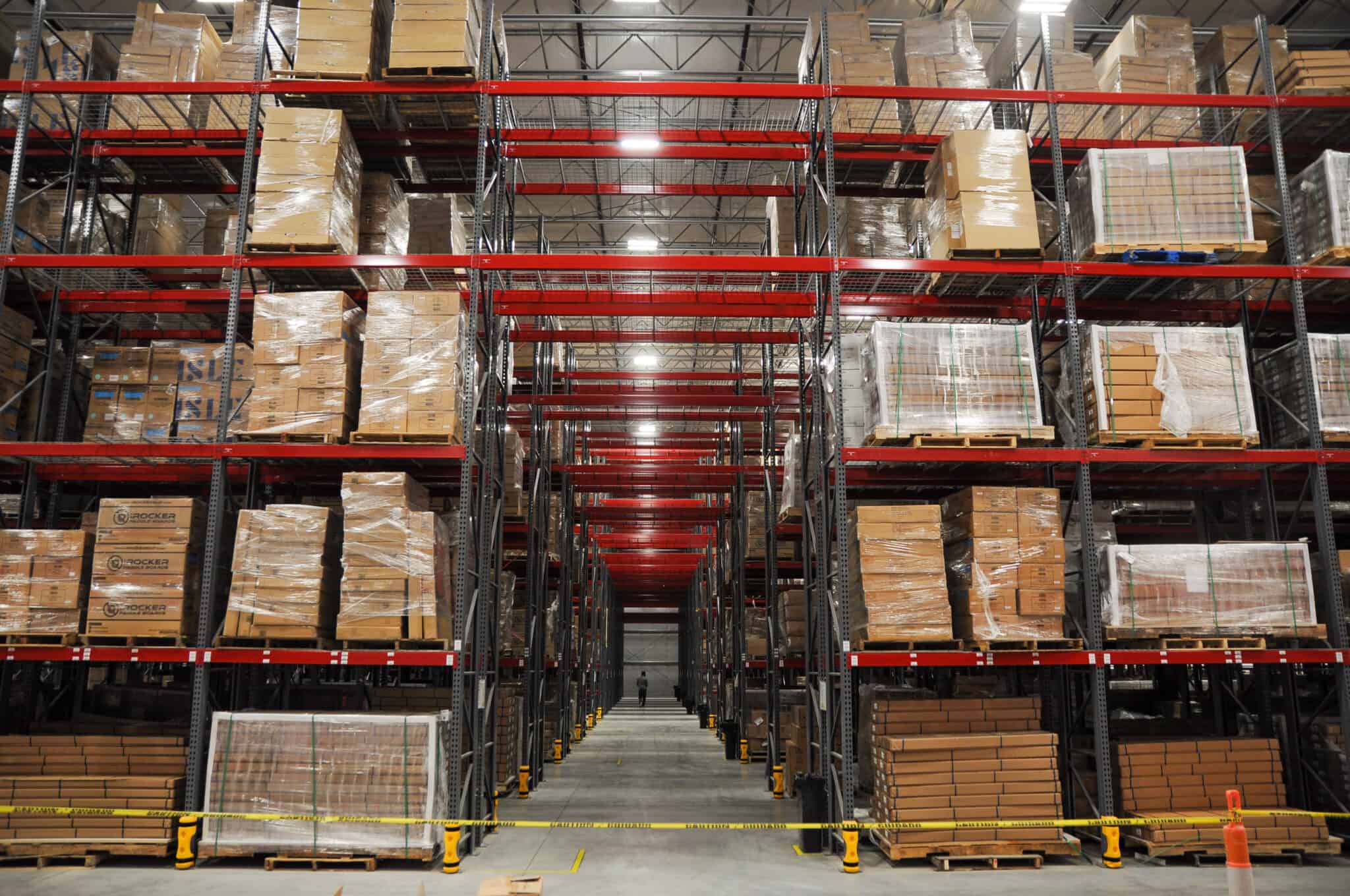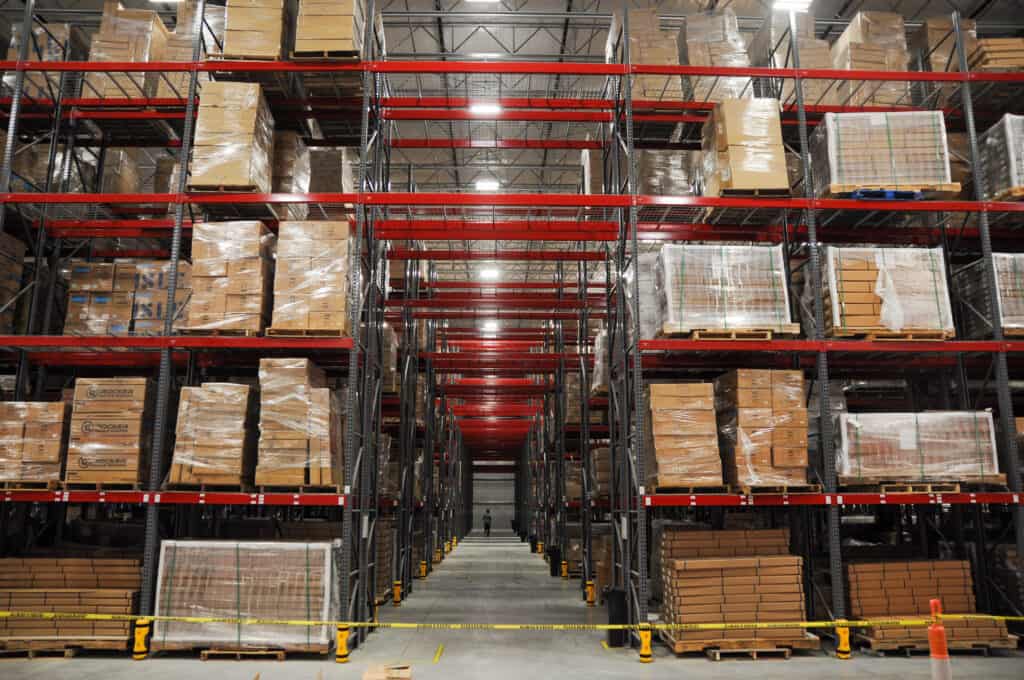 Fulfillment center vs. warehouse: What is the difference?
A warehouse, generically, is simply a large building used to store products. There are many types of warehouses, including eCommerce fulfillment warehouses, storage warehouses, and distribution centers. However, the term warehouse usually refers to a building with a very different function than a fulfillment center. Here's the difference between a fulfillment center vs. warehouse.
What is a fulfillment center?
Fulfillment centers move products. A fulfillment center is a place of high activity; while it does have shelves for storing goods, the purpose of a fulfillment center is shipping orders, not long-term storage. Fulfillment centers are bustling with workers who process inbound inventory, pick products to fill orders, pack and label packages, and ship orders to customers. They serve as a supply chain link between manufacturing and the end consumer.
Fulfillment centers are also referred to as order fulfillment warehouses or 3PLs. Some eCommerce companies operate in-house fulfillment centers, but most use the services of a third-party logistics company and rely on its fulfillment centers for pick and pack fulfillment.
The goal of a fulfillment center is to move products quickly in and out. Items that sit on the shelves lose value and ultimately become a drag on your eCommerce enterprise. The business model of a fulfillment center focuses on providing fulfillment services.
The crucial difference between fulfillment centers and warehouses is in how they earn profits. Fulfillment centers are profitable only when clients' inventory moves through the doors, off the shelves, and to end customers. However, warehouses profit from the exact opposite: fees for storing goods that sit on the shelves.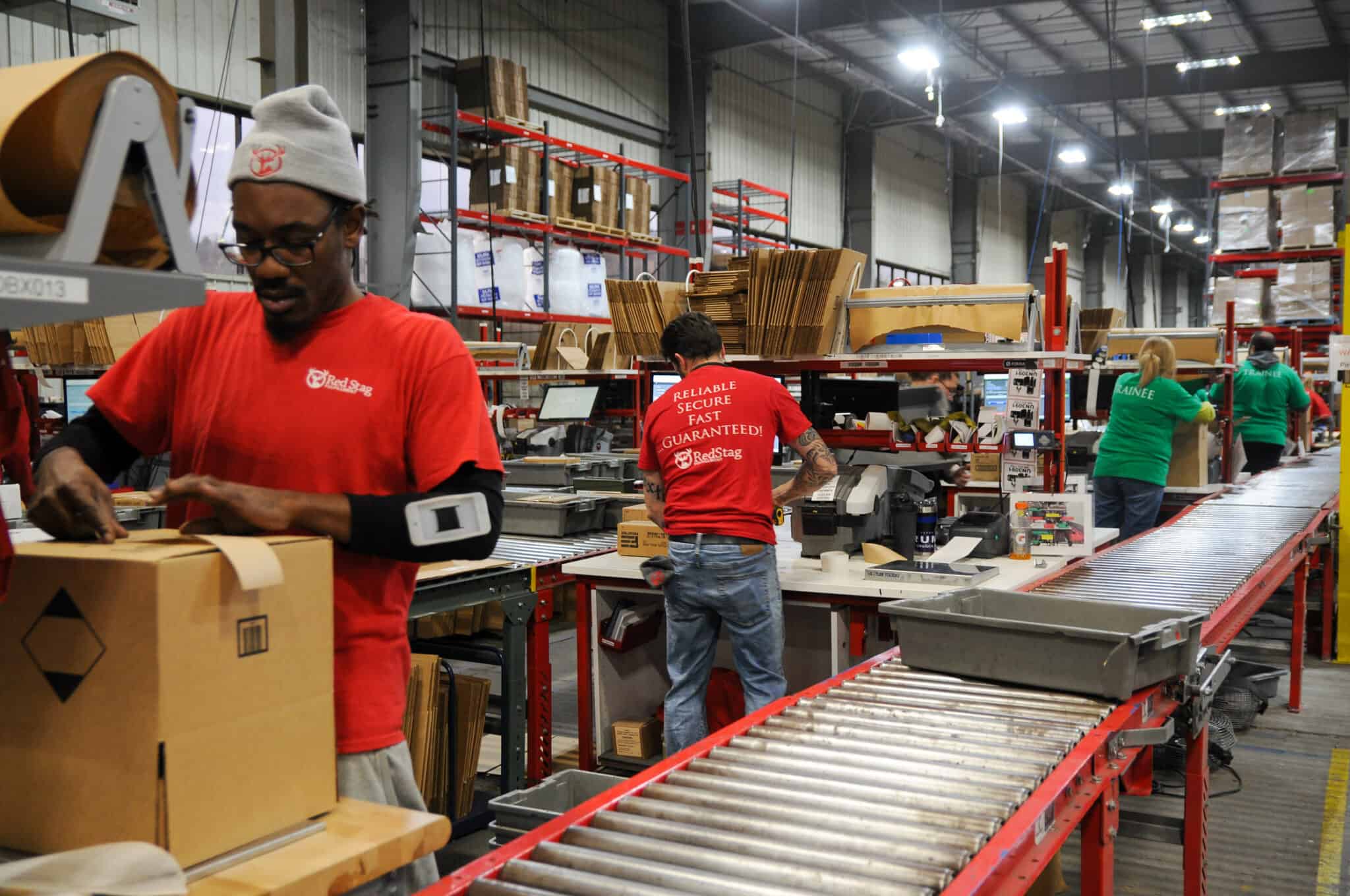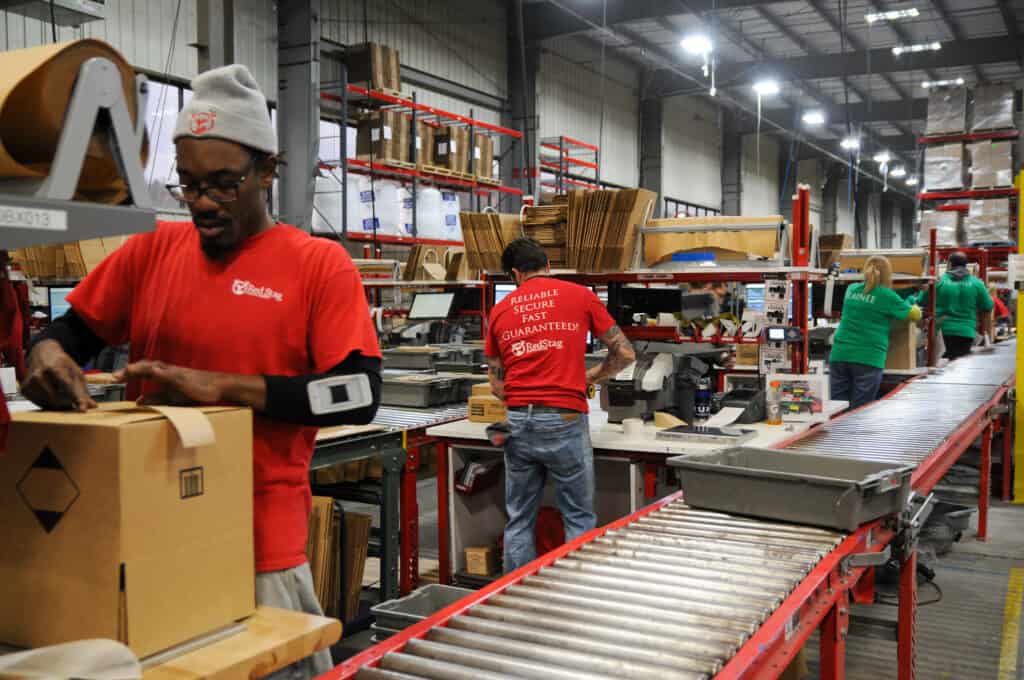 What difference can a world-class fulfillment center make for your business?
Not all fulfillment centers or fulfillment warehouses are the same. For example, a fulfillment company might specialize in handling certain products (i.e. food products, hazardous materials, clothing, small and light, etc.).
Another critical difference between fulfillment centers is the quality of 3PL services. Losing 2-3% of your inventory to shrinkage or seeing your returns rate tick up because of fulfillment errors can cost your company profits and customers.
While we support products of all kinds, Red Stag Fulfillment is known as an industry-leading fulfillment center operator for heavy, oversized, and high-value fulfillment because of our successes:
What is a warehouse?
Warehouses store products. They can be used for long-term storage or as short-term places to hold inventory. Some companies own and operate private warehouses; companies and the general public can rent space in a public warehouse. Bonded warehouses store imported goods before the importer pays the duty.
Warehouses are often static spaces, with few employees and minimal movement of goods in and out on most days. The exceptions are warehouses that provide other services, such as fulfillment or distribution (which we'll dive into below).
Fulfillment center vs. distribution center
A distribution center is a large warehouse that moves goods in and out like a fulfillment center. Both a fulfillment center and a distribution center might be part of your eCommerce supply chain. However, the distribution center has a different place in the supply chain and another purpose entirely.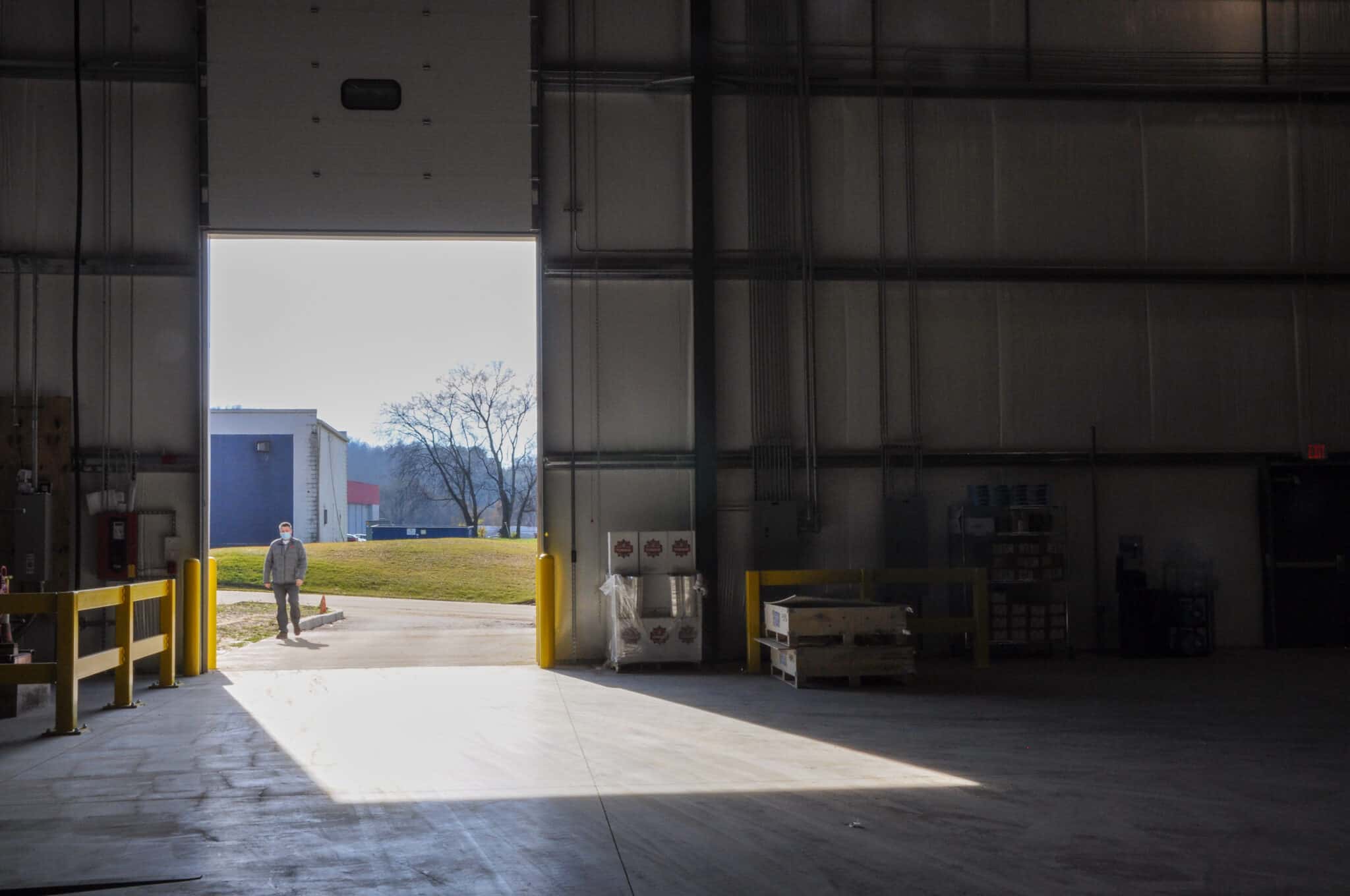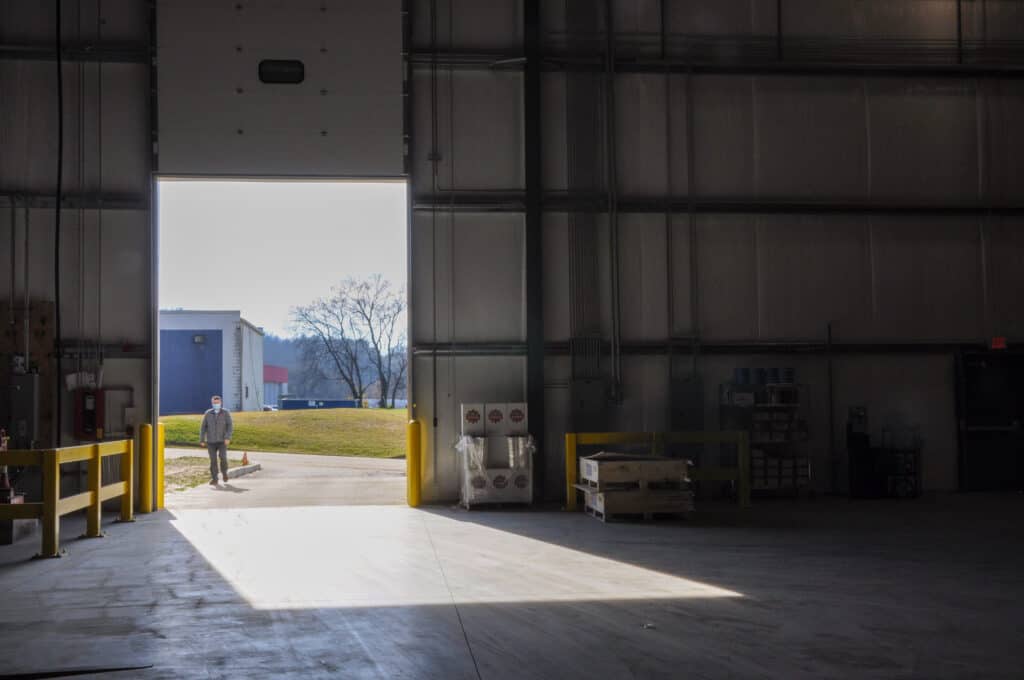 What is a distribution center?
Distribution centers are waystations where products are stored and later redistributed. Products are shifted from one transport mode to another at these transfer points and often go on to fulfillment centers or large retailers.
While a fulfillment center processes and ships orders directly to consumers, a distribution center is a waystation within the wholesale portion of the supply chain where manufacturers deliver products to be distributed to retail outlets.
For example, many grocery chains use distribution centers to stock their stores. A truckload of bread, eggs, or tomatoes arrives at the distribution center, and then a different truck is loaded to take goods to a grocery store. The distribution center workers might pack that truck with bread, eggs, tomatoes, and other products.
Items that come into distribution centers often spend even less time in the warehouse than inventory in a fulfillment center. Since these products already have another destination, most stock leaves distribution centers soon after it arrives.
What is a fulfillment warehouse?
A fulfillment warehouse is another term for a fulfillment center. Third-party logistics companies, or fulfillment companies, operate fulfillment warehouses. Not all warehouses are fulfillment centers, but all fulfillment centers can also be called fulfillment warehouses.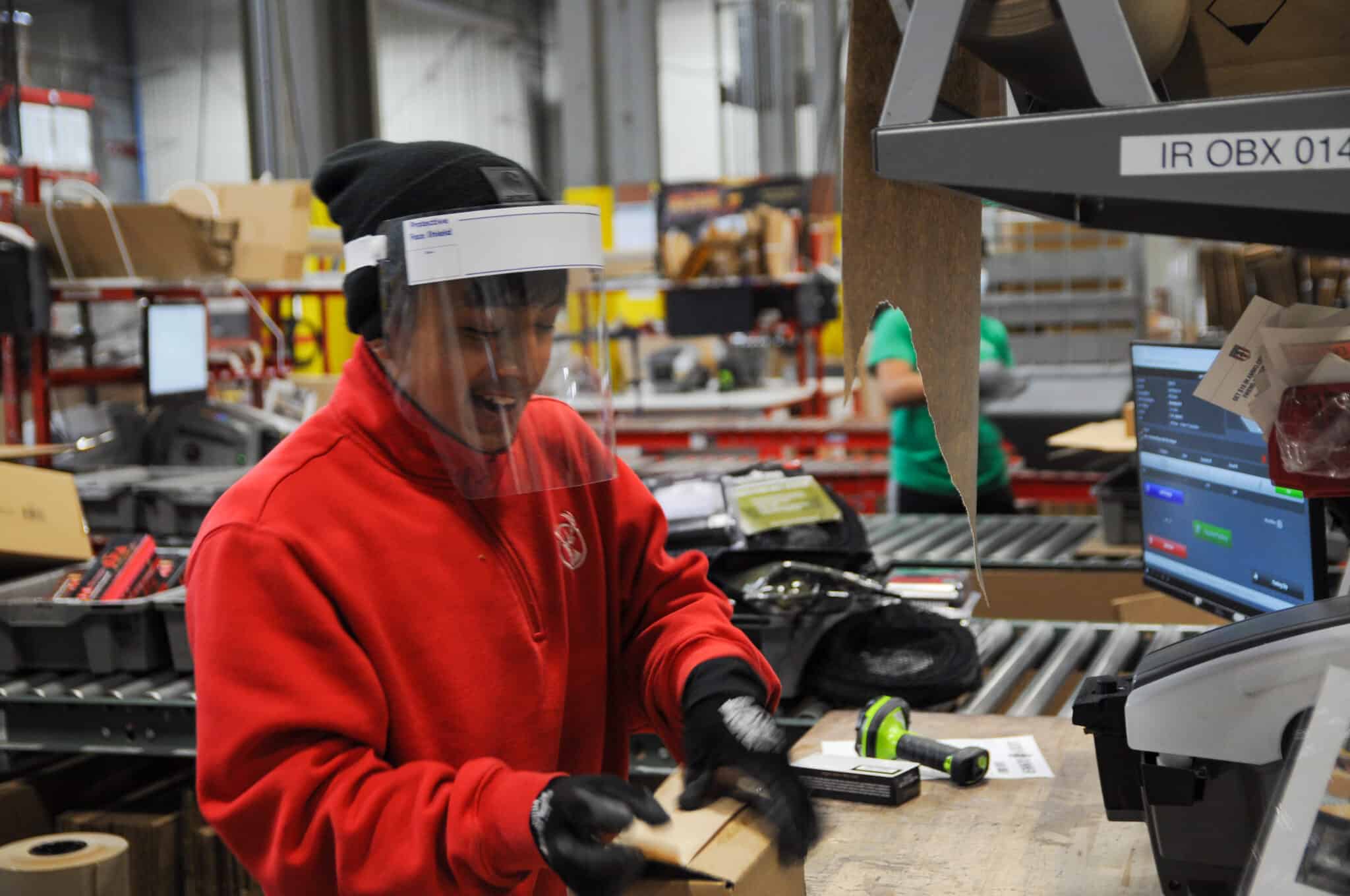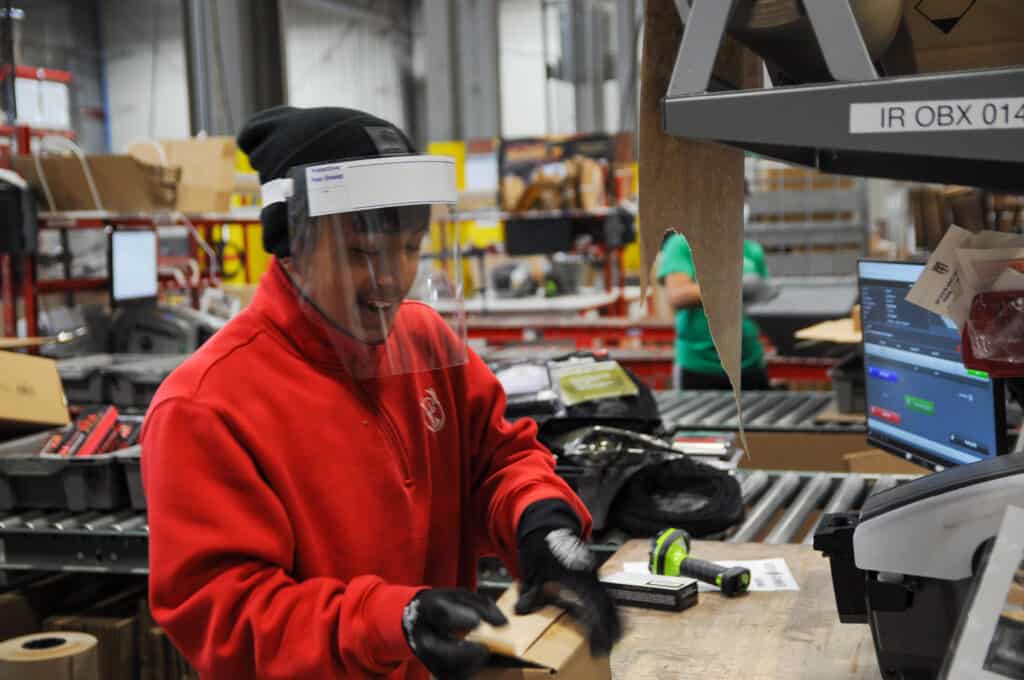 How is a third-party logistics company (3PL) different from a fulfillment center?
A fulfillment center is a subset of a 3PL. Fulfillment centers are individual warehouses that ship orders to consumers. A 3PL may operate one fulfillment center or a network of many fulfillment warehouses across the U.S. or even the globe.
Fulfillment center services
Fulfillment centers can provide a wide range of services. Some fulfillment centers handle specific products such as clothing, food products requiring cold storage, hazardous materials, or bulky items.
A fulfillment company can provide extra services that add value. Here are some of the services top 3PLs like Red Stag Fulfillment offer to clients.
Pick and pack fulfillment services
Pick and pack fulfillment services are the core benefit that all fulfillment centers provide. When a customer places an order on one of your eCommerce platforms, the 3PL generates a pick list for that order. A picker takes the list and collects the items for the order from the warehouse shelves. Pickers rarely pull one order at a time; for efficiency, most warehouse management software will generate a set of pick lists centered in one zone of the fulfillment warehouse. The picker will pull several orders at the same time.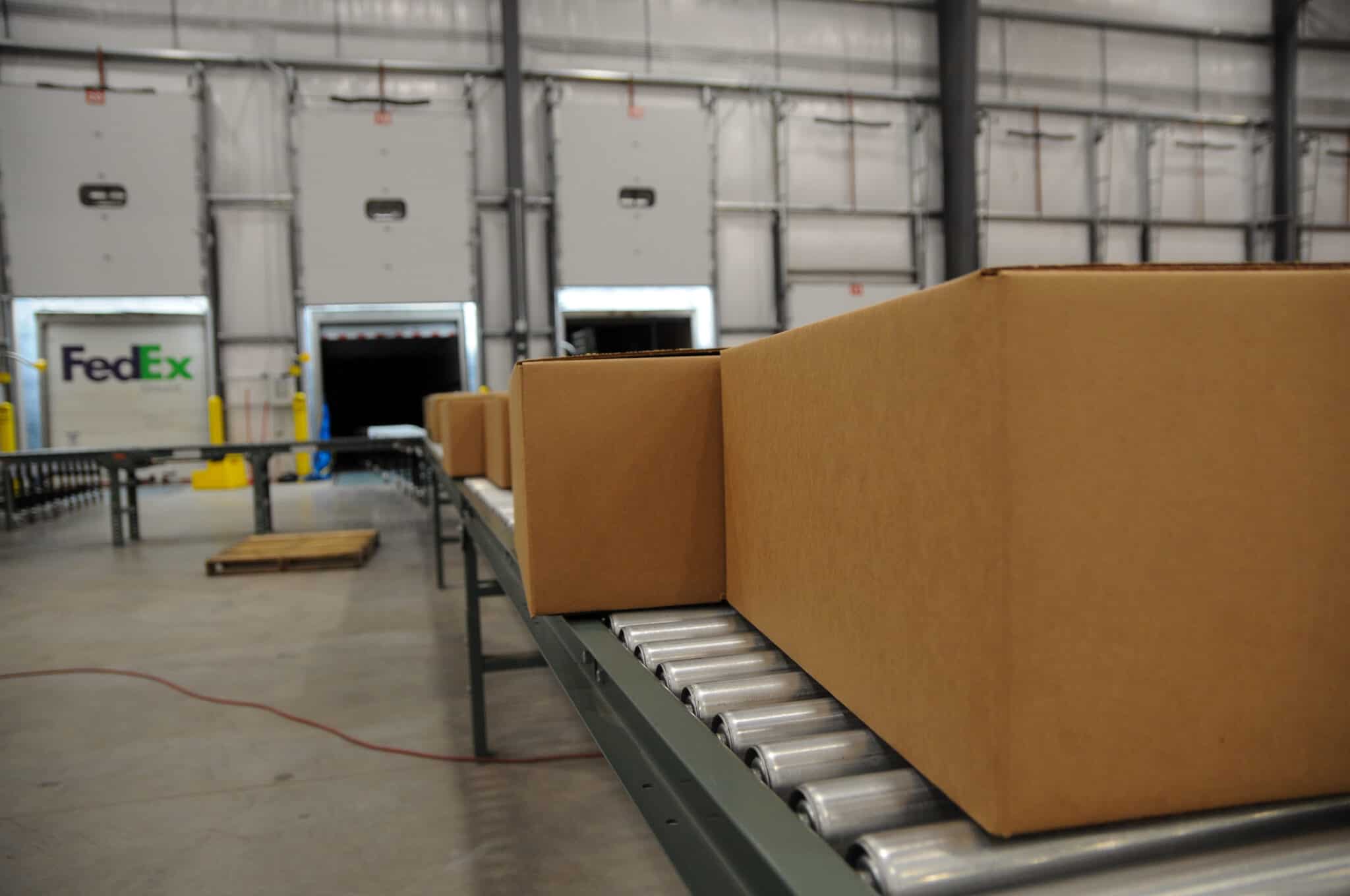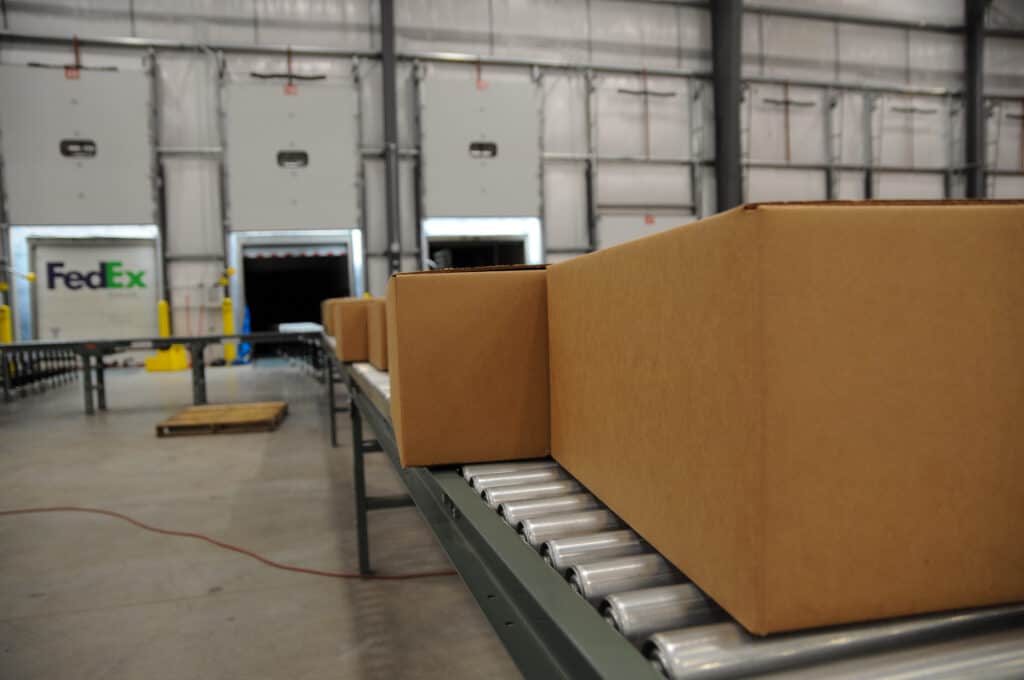 The next step is the packing station. A packer double-checks the order before putting it into a perfectly sized box, adds infill to keep the order safe during shipping, tapes the box, and places a label on top.
Packed boxes go to the shipping station. Most fulfillment centers have daily pickups by major carriers like FedEx, UPS, and USPS so that they can ship orders on a predictable schedule. The carrier delivers the order from the fulfillment center to the end customer.
Freight shipping
Some fulfillment centers can ship large orders for you via freight. Less than truckload (LTL) freight is a great way to send large B2B or wholesale orders. LTL freight services are also useful for oversized shipping for items such as bikes, furniture, or even a car. Freight delivery can save you money when you ship large items or large quantities.
Cross-docking
Cross-docking is a technique that gets backorders out quickly. At Red Stag Fulfillment, when we receive a container of backordered products, we label those orders right on the receiving dock and boxes go directly to the shipping dock without the extra steps of shelving and picking. Cross-docking can save a day or more in customer order cycle time — precious time when filling backorders.
Kitting and assembly
Kitting services allow you to provide just-in-time customization while still outsourcing your fulfillment. Kits are collections of items that your customers order together, and some 3PLs (including Red Stag Fulfillment) can pre-package kits, giving each group of products a new SKU. Kitting is a particularly vital service for subscription box businesses, but it provides benefits in a variety of situations, including package consolidation to reduce shipping costs.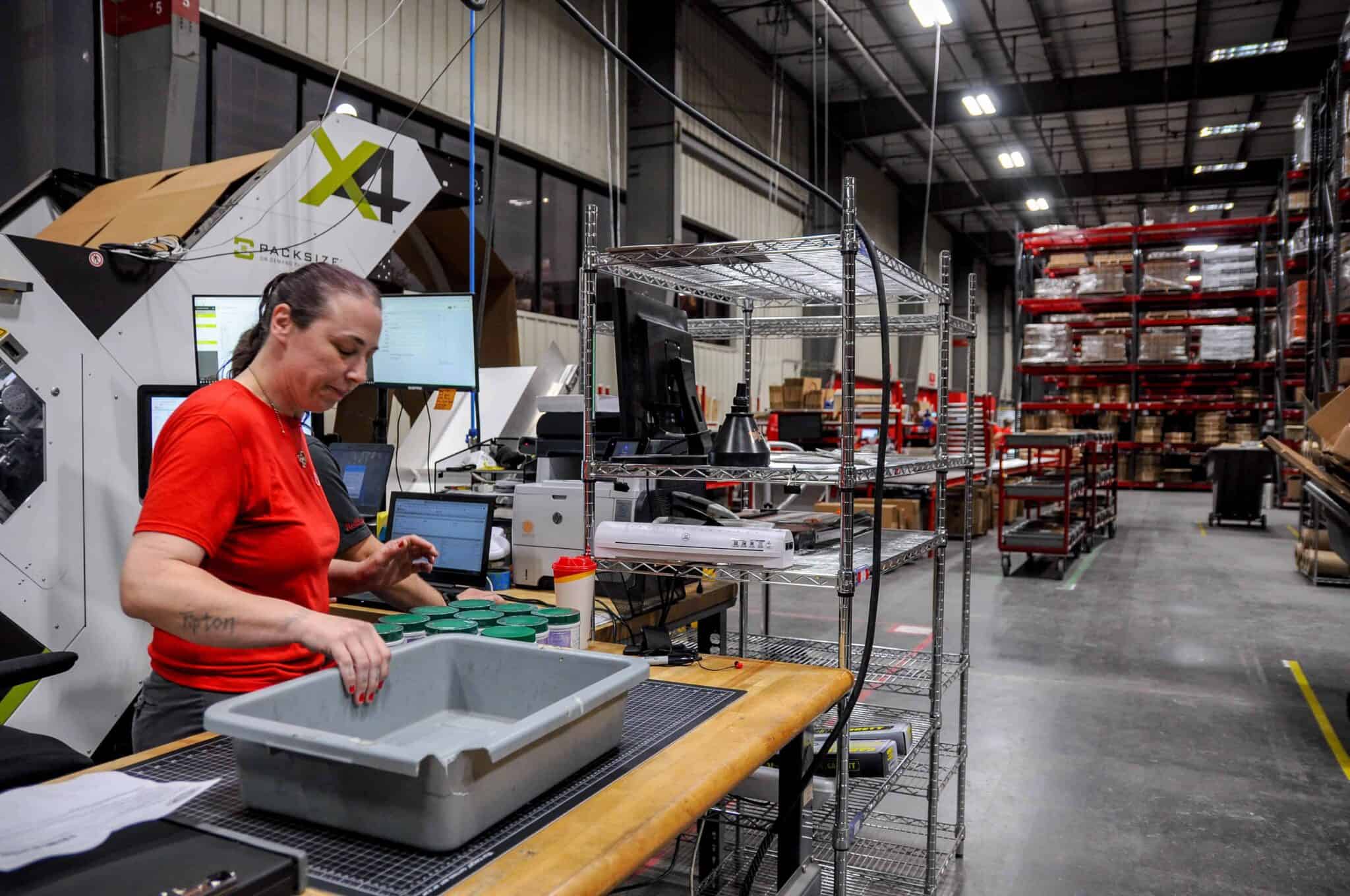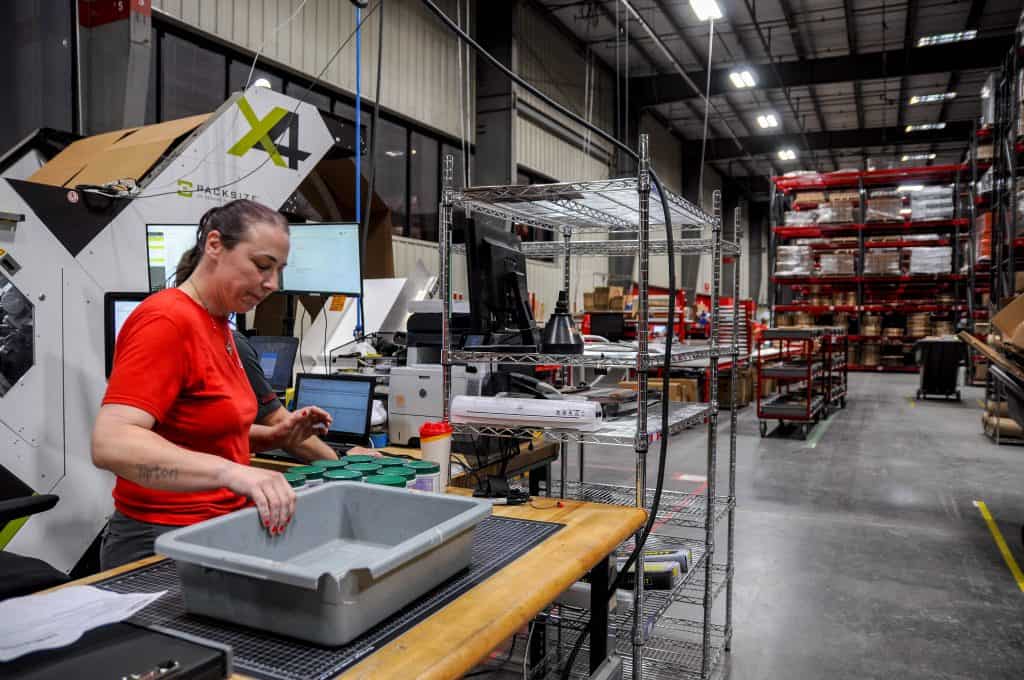 Inventory management
Careful inventory management is essential to eCommerce profitability, ensuring that you have enough of each SKU to meet demand without over-ordering stock. Your 3PL has broad knowledge from helping many clients and can help you develop a winning inventory strategy.
Advantages of outsourcing your fulfillment to a 3PL
Many eCommerce companies start with self-fulfillment and outsource when the operation gets too big to manage in-house. Working with a 3PL gives you significantly more logistics capacity, but that's just the beginning of the benefits of working with a fulfillment center. Here are some additional advantages of outsourcing your logistics.
Volume shipping discounts
Fulfillment centers send thousands of packages with the major carriers, so they can get volume shipping discounts that your company might not qualify for on its own. At Red Stag Fulfillment, we pass those discounts on to our clients, so you save on shipping when you use our fulfillment services.
Location, location, location
Fulfillment centers are often located in spots that can reach a wide geographic area quickly; your business headquarters probably is not. You might want to work with one fulfillment warehouse or place your products in fulfillment centers around the country. In either case, outsourcing allows you to place your products in optimal warehouse locations to reach your customers quickly. For example, Red Stag Fulfillment's warehouses in Knoxville, TN, and Salt Lake City, UT, can ship to 96% of U.S. addresses in two days or less.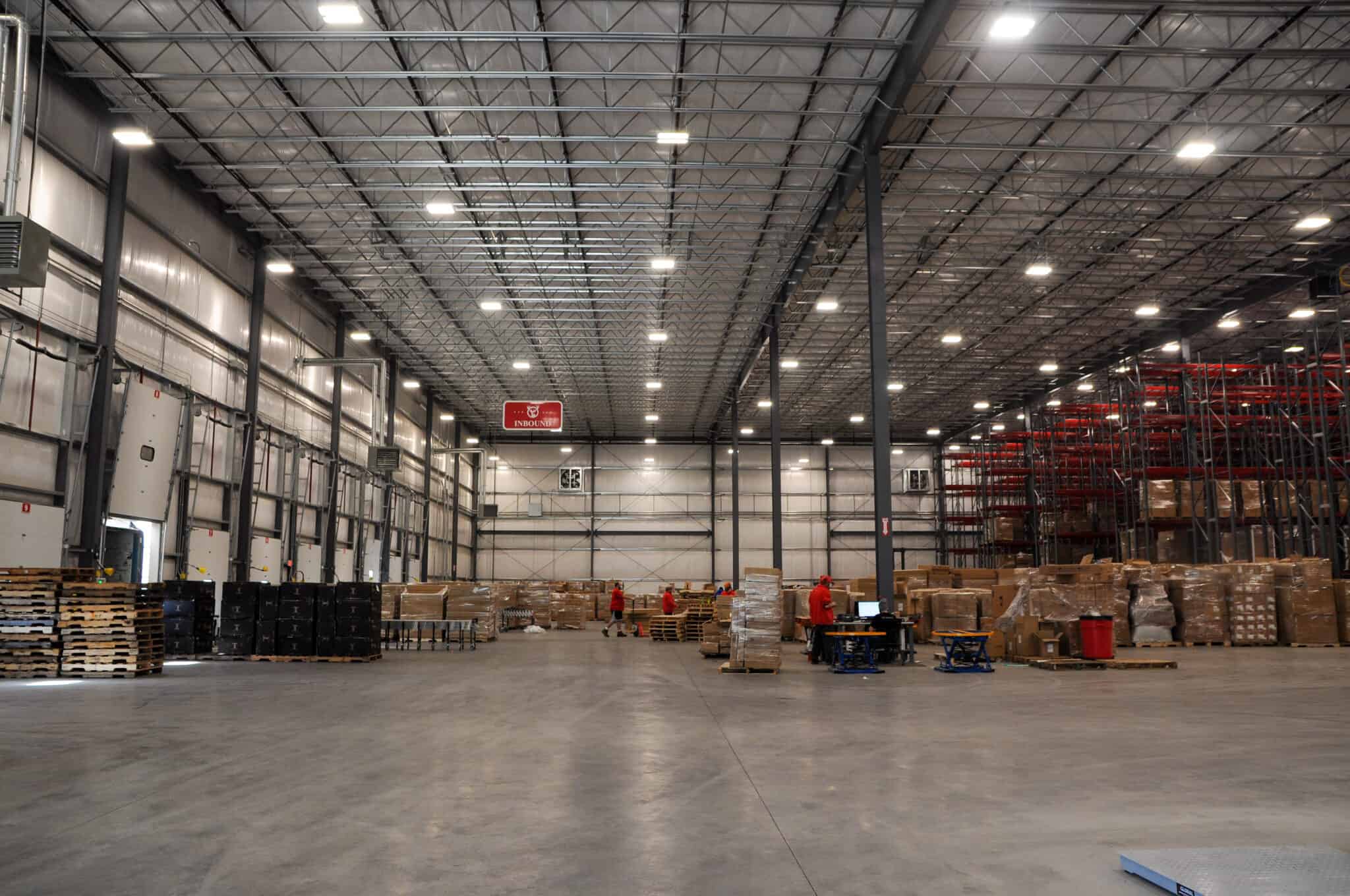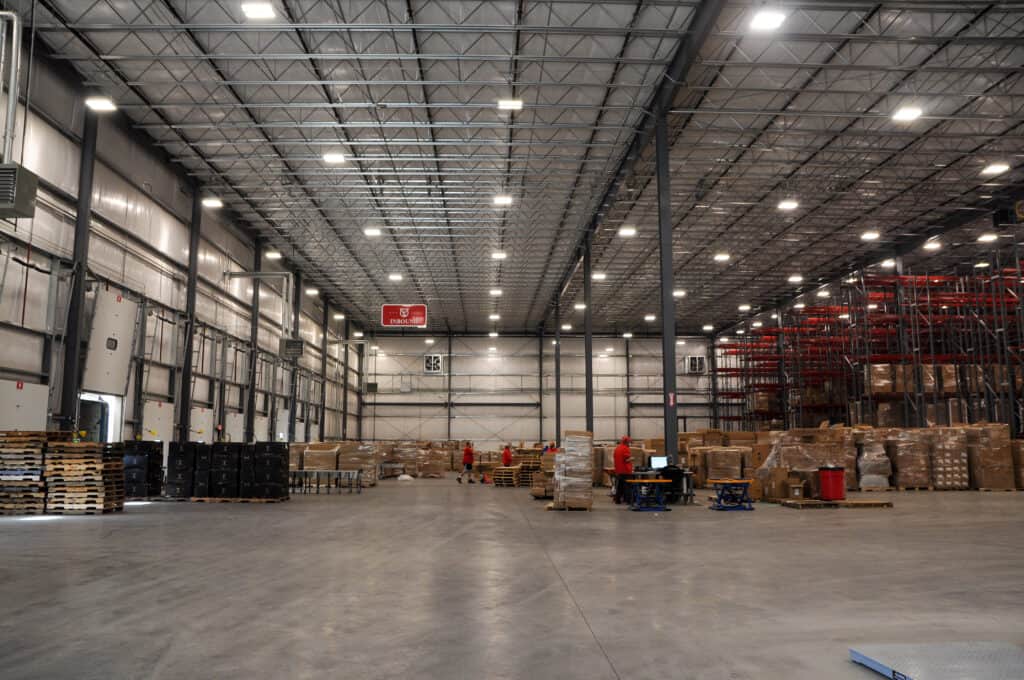 Flexible storage space
When you rent your own warehouse, the overhead is a fixed cost. However, when you work with a 3PL, you can vary the amount of shelf space you use from month to month. If your sales volume spikes, you can quickly expand; during a slow season, you might have fewer items on the shelves, and you only pay for the warehouse space you use. With a 3PL, you get exactly the amount of warehouse space you need, large or small.
Add expertise to your business without adding employees
When you onboard with a new logistics company, it's like adding a whole new team of fulfillment pros. You don't have to deal with the administrative headaches and overhead of hiring and managing personnel — that's a service your 3PL takes care of. And you benefit from professional fulfillment services from a trained staff that picks and packs orders all day long.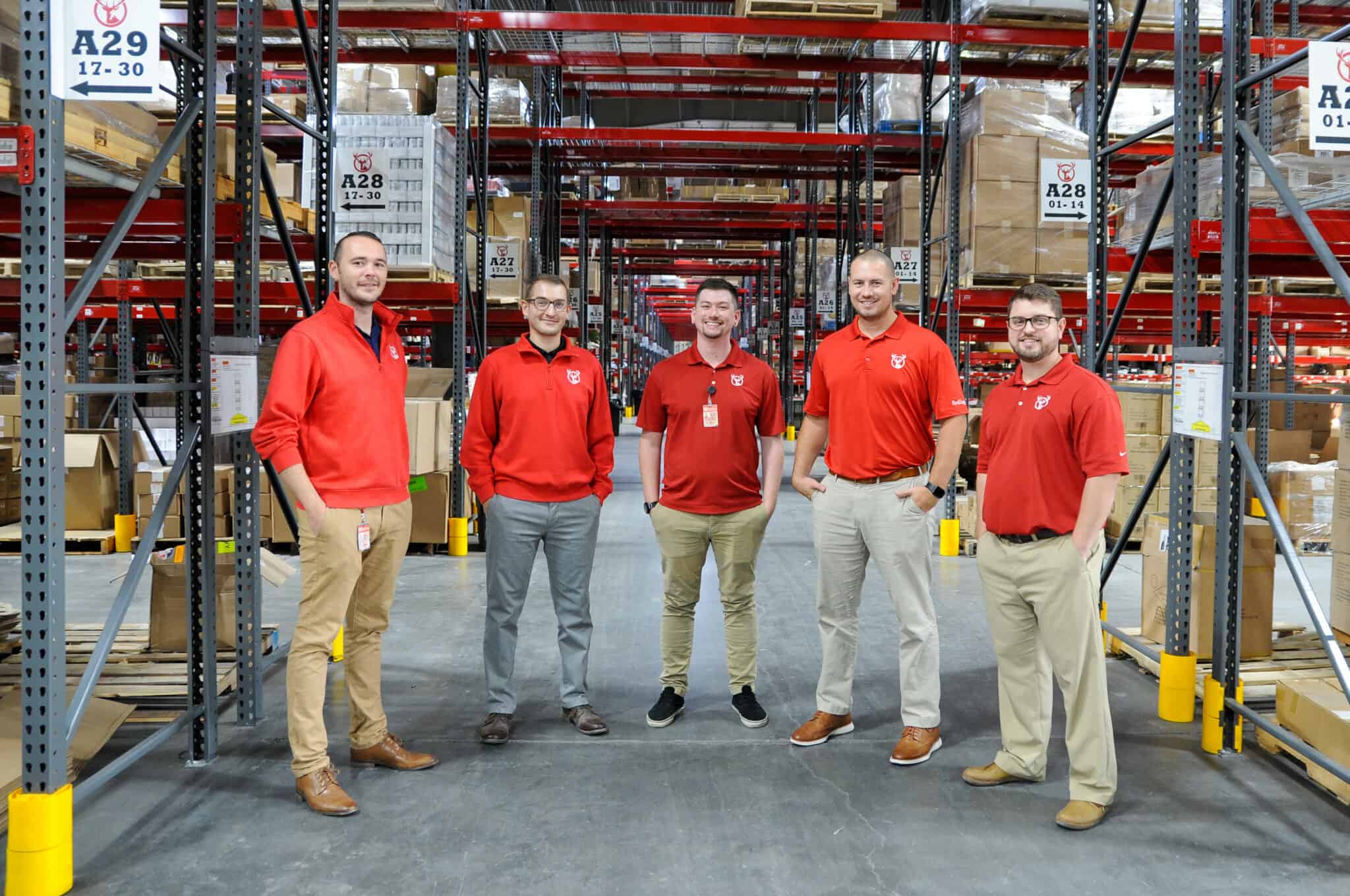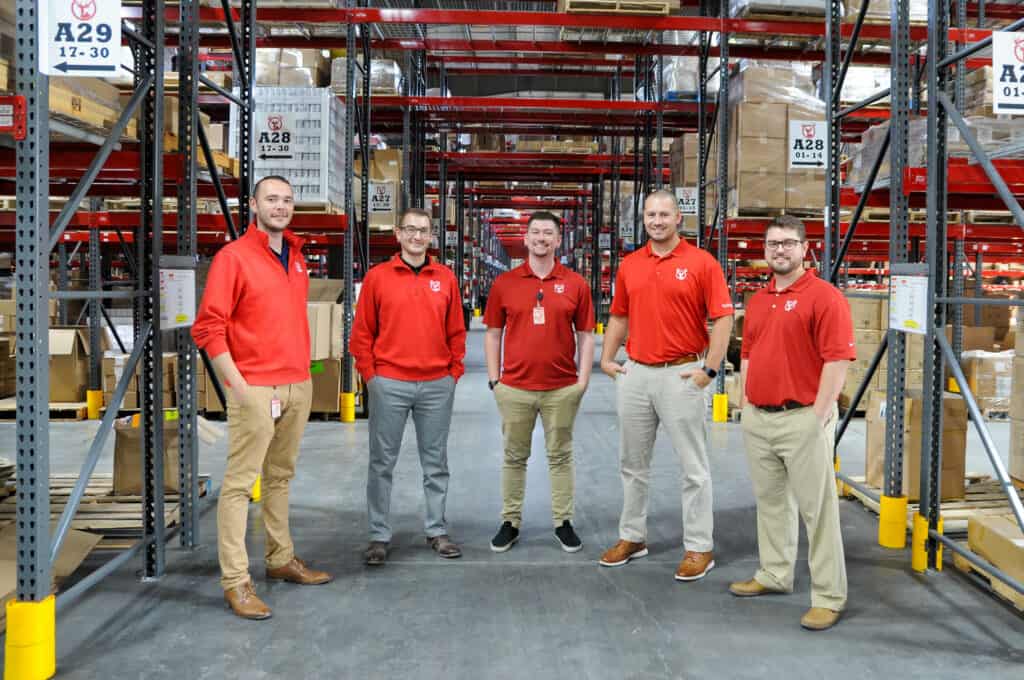 How can a fulfillment center help you grow your business?
What's holding back your eCommerce business? If it's fulfillment, working with a professional fulfillment center could be the answer. Excellent order fulfillment is a crucial driver of customer satisfaction for every eCommerce store.
Professional order fulfillment can reduce errors and shrinkage, give customers an omnichannel brand experience, and relieve you of the burden of managing order processing. When you work with a top 3PL like Red Stag Fulfillment, you don't have to waste time dealing with crises in the warehouse or chasing down customer issues. Our accurate fulfillment services allow you to focus on business development while your logistics operations hum along efficiently.
When you're ready for excellence, give Red Stag Fulfillment a call.
---
---
More about fulfillment centers: