Not every gift is going to be a winner. Even the most thoughtful family members and friends can end up gifting something that will be returned. According to Optoro, each year consumers return about $380 billion worth of goods—$90 billion of which are processed during the holidays.
Most retailers are aware that returns, whether through shipping or in-store, are a necessary part of the holiday season. In the not-so-distant past, returns were viewed in a negative light. However, more and more companies are beginning to see that they can have positive impacts as well.
Having a generous and smooth return process can not only win you repeat business but develop long-term positive relationships with customers. Companies like Zappos, Nordstrom, and Gap have recognized the need for a seamless return process and have successfully used it as a differentiator.
So, we set out to see how many people returned a holiday gift this year. We conducted a survey that asked over 1,000 participants how many gifts they received and returned. Our goal was to determine how large the returns market really is.
Holiday Gifts Returned in 2017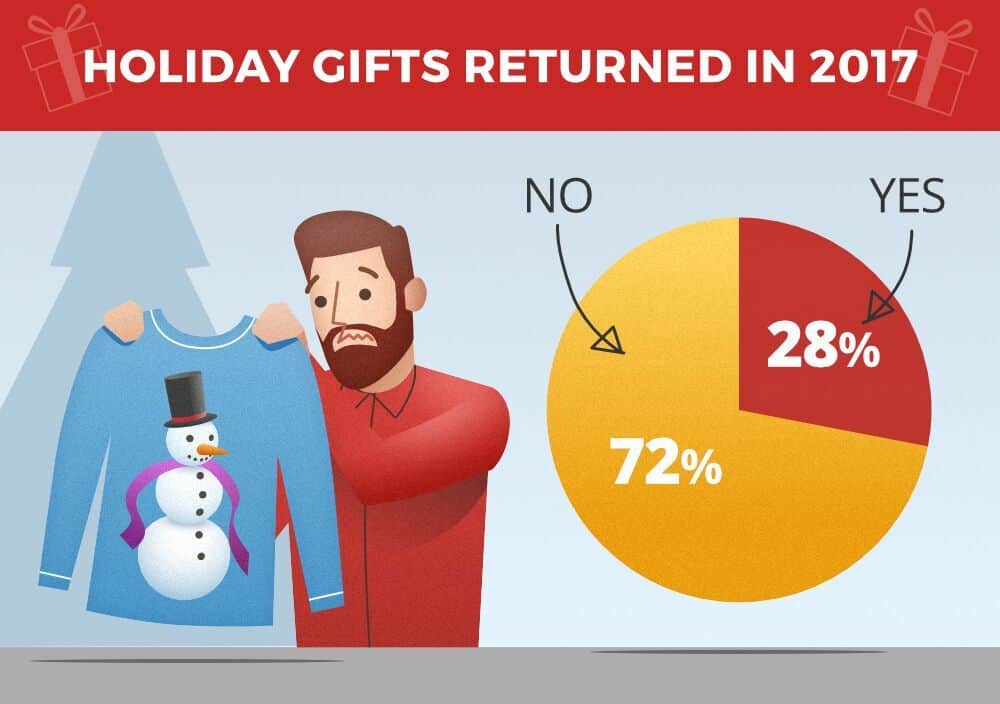 In the study, the majority of people surveyed reported getting more than six gifts. 28% of people said they returned at least one gift this year. The large majority, 72%, were either happy with their gift or didn't think returning the gift was worth the trouble.
Number of Gifts Returned This Year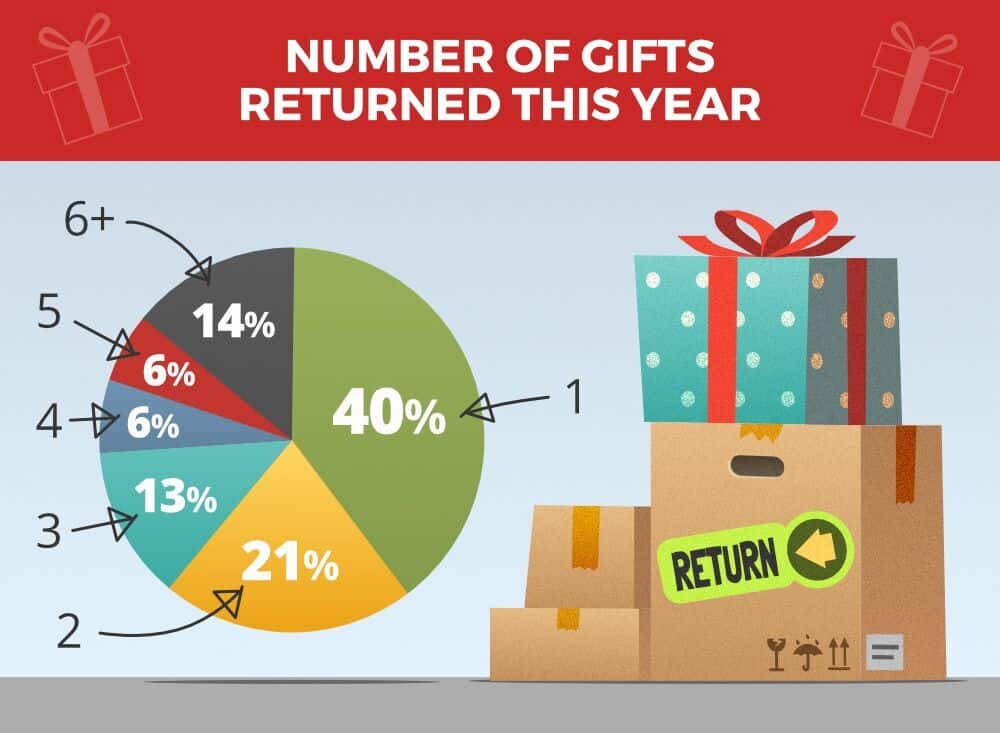 The largest number of those surveyed (40%) returned only one gift, while the second highest percentage of consumers (21%) returned two gifts. The majority of those who did go through the return process did so with either one or two gifts, indicating either a high level of satisfaction with their gifts or a high level of dissatisfaction with the return process.
Gender Breakdown of Those Returning Gifts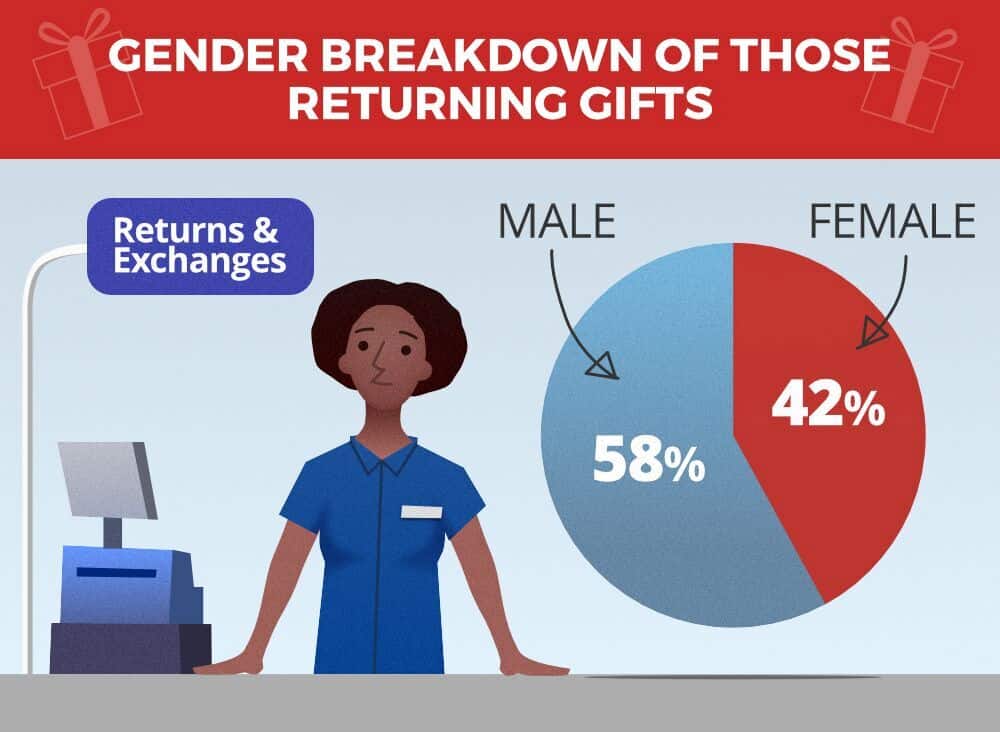 Men returned more gifts than women in the 2017 holiday season, which may indicate that men are more willing to go the distance when it comes to returns. In fact, BI Intelligence reports that men aged 18 to 34 seem to be more active online shoppers, with 40% of 18 to 34-year-old reporting that they would"ideally buy everything online" compared to 31% of women the same age.
Looking a bit deeper at the gender split, Ecommerce Platforms reported that men prefer to research products ahead of time and tend to think logically when making purchase decisions. If something is given to them, they may return it because it's not something they would have picked out for themselves.
Holiday Retail Sales Increased 5.5% in 2017
According to the National Retail Federation, sales during November and December 2017 increased 5.5% as compared to the same period in 2016. Holiday sales came in at almost $692 billion as stronger employment and growing wages led to higher purchasing confidence, and therefore, more spending.
The holiday sales number, which excludes restaurants, automobile dealers, and gasoline stations, includes $138.4 billion in online and other non-store sales, which were up 11.5% over the year before.
Most Returned Items This Season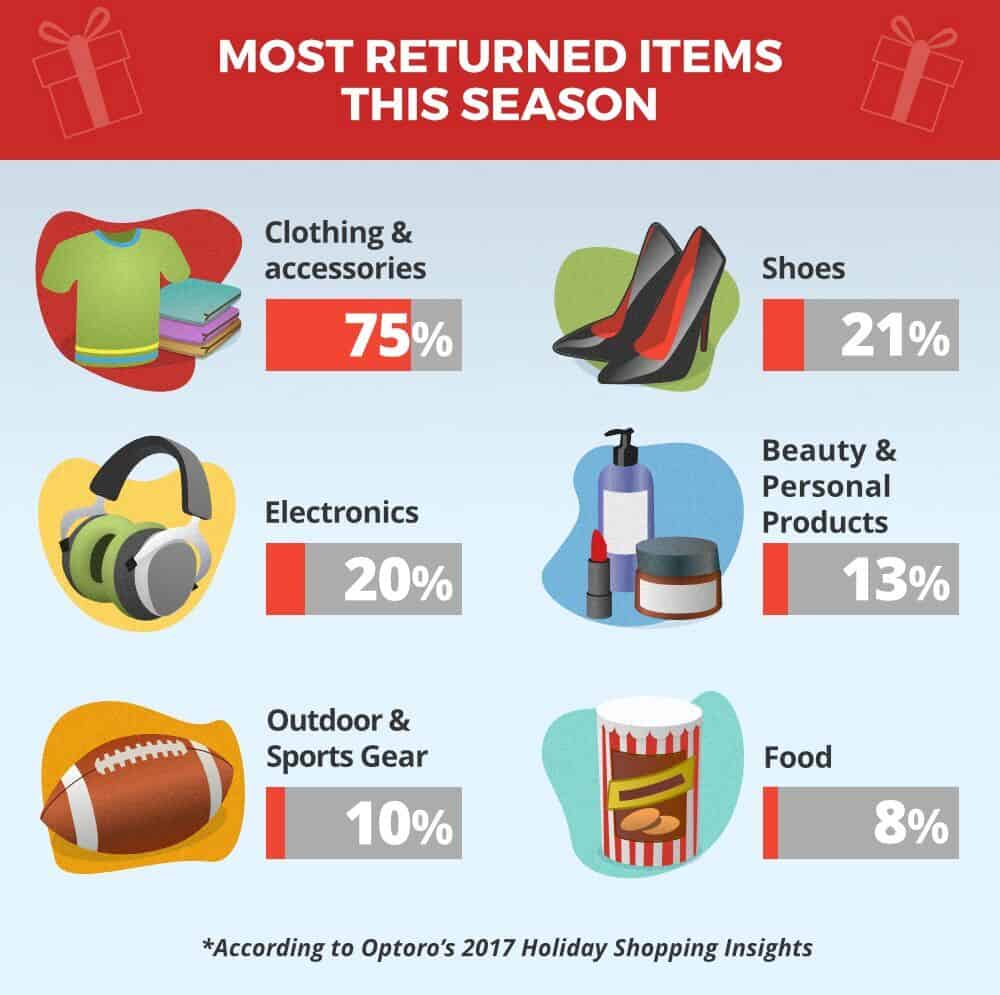 According to Optoro, 75% of returned items were clothing and accessories. In second place came shoes, and following close behind was electronics. People are particular about their clothes and sizing can be difficult to measure, so it makes sense that clothes and shoes came in on top.
Consumers and Free Returns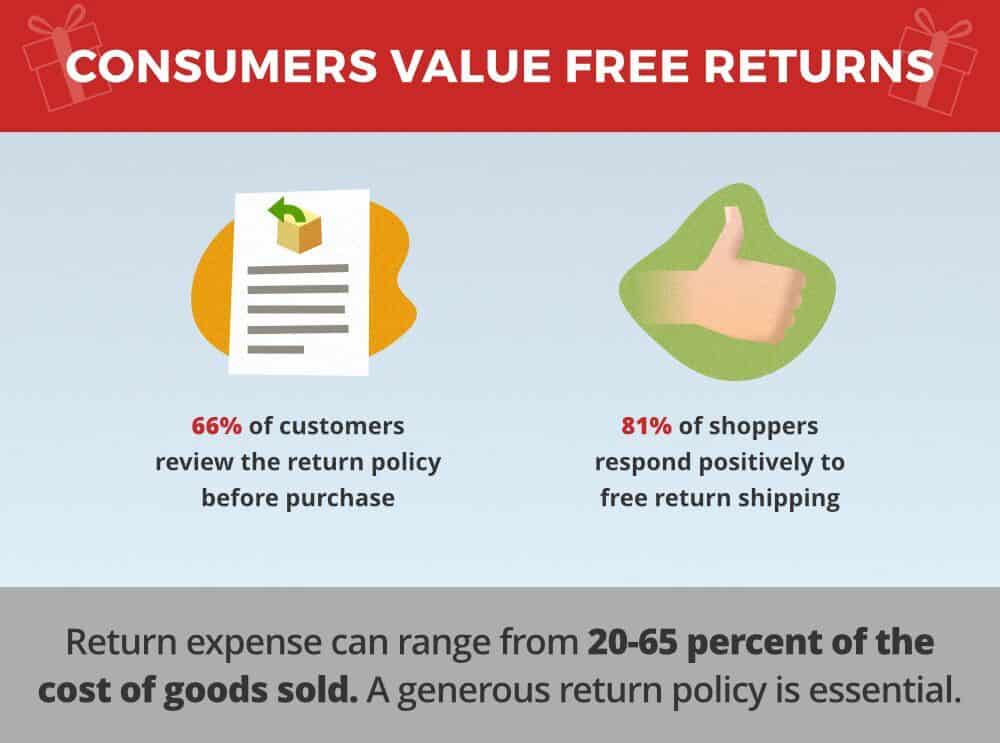 Studies on the impact of returns processes show that the return expense for an organization can range from 20-65% of the cost of goods sold.
Poor execution and policies can create additional pressure. Return rates run three times higher online, with apparel returns as high as 30% of items purchased.
UPS recently did a study to find out if companies were meeting their customer's expectations about the return process by comparing customer expectations to existing return policies. They found that a free or easy return process is incredibly important to consumers.
Holiday Returns Lead to Post-Holiday Sales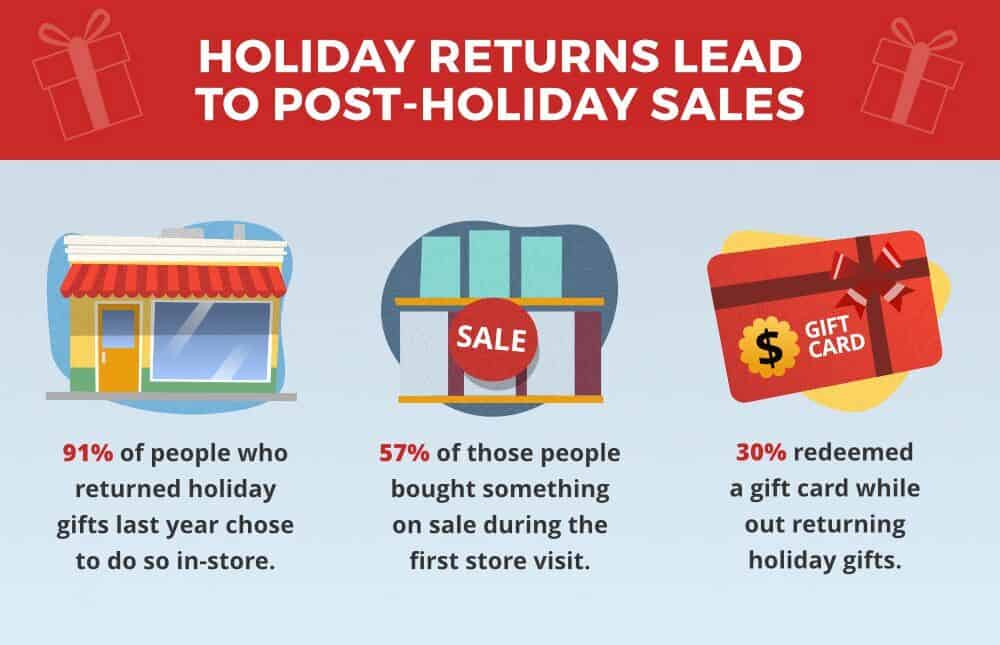 It pays to have a simple and generous return policy, even if it might not seem like it. Optoro found that the vast majority of those who returned holiday gifts last year chose to do so in-store. When they did so, the majority also made a purchase. Additionally, 30% redeemed a gift card while they were out making holiday returns.
Returns are not only a part of the holiday season but an important part of your company's relationship with its customers. These days, consumers want better service but are not willing to pay more for it.
With at least 28% of people returning one or more gifts, it's important to make sure they have the best possible customer experience. A great way to do this is through free or easy returns. While the ROI may not be evident at first, you will see the difference when it comes to customer loyalty, repeat business and maybe even an after-season purchase or two.
Sources
Optoro | Business Insider | Ecommerce Platforms | National Retail Federation | UPS