60% of US customers have abandoned an intended purchase due to a poor customer service experience. This finding, from Business Insider Intelligence's Customer Service Report, highlights why customer service is vitally important.
Customer service actually adds to the value of your product. Business Insider also found that 66% of US customers are willing to spend more money with a company that offers them excellent customer service.
As consumers migrate online for the bulk of their purchases, purchasing errors and buyer's remorse become ever more common. You need good customer service to fix their problems.
Providing quality customer is a constant challenge. Fortunately, there are a plethora of customer service software packages that can make your job a lot easier.
What customer service software can do for you
A well-designed customer service software solution should offer the following benefits:
Increased accountability: Every contact is documented, allowing management to monitor each agent's performance.
Improved coordination: Integration with sales force automation systems allow better coordination between sales and customer service department.
Better integration: Integration with service dispatch as well as asset management allows agents to track stock at all times.
Improved infrastructure: Simple queries can be dealt with via customer self-help systems. More complex problems can be directed to agents.
Reduced times to resolve issues: This gives provides better customer satisfaction while increasing the number of issues each agent can handle.
Multi-channel service: Customers want to interact using a variety channels: email, social media, live chat, helpdesk, phone support.
A WOW experience: All these benefits mean nothing if you can't offer your customer an experience that makes them go, "WOW!"
To cover all your bases, you'll probably need a combination of software packages. These are the 5 main categories you need to consider:
1. Email support software

Offering email support to your customers is a must. You can allow customers to contact you either via a contact form on your website or a public email address.
This poses multiple challenges for your agents:
They have to deal with a potentially large volume of requests per day.
They must respond to each customer's questions quickly.
They must not forget to reply to any one customer's query.
Managing multiple threaded conversations can be tricky.
It's a good idea to have a separate email account for support requests.
Email support software can help you with:
Managing different brands, products or departments from a single account.
Reports that help you track key support metrics, agent performance and customer satisfaction.
Categorizing conversations.
Triggering automations.
You know you're getting it right if you can make every customer interaction a personalized one.
Leading email support software providers include:
"Absolutely you should talk to your customers through social channels and chat, but there's no better place to tie all of those conversations together than email. It's the most accessible, most flexible and well understood medium, and by integrating your other channels into something like Help Scout you can start to really build great long term relationships one to one."
— Tim Thyne, Head of Sales & Success at Help Scout
2. Live chat software

According to the Zendesk Customer Service Benchmark report, live chat provides a customer satisfaction rate of 92%, beating all other channels.
Live chat's power is that it allows you to speak to your customers precisely when they need help. They don't have to make a phone call. And they don't have to wait.
A study by econsultancy showed that customers preferred live chat over other channels because they got their answers quickly and efficiently.
Live chat software can allow you to implement:
Reactive handling of pre-sales enquiries.
Proactive selling to hesitant buyers.
Post-sales support.
To make the most of live chat, take time to study your chat transcripts. Are there issues raised through customer feedback that could be addressed?
Recommended live chat software providers include:
Every eCommerce business should offer live chat. Consumers just expect it now. And if you're not offering live chat, there's a pretty strong chance you're losing out on sales and new customers, and increasing the likelihood of churn. We believe live chat should be immediate (synchronous) and human. When a customer has a question, they shouldn't have to wait in a queue for an answer, and they should expect to talk to a real human."
— Karl Pawlewicz, Voice of Olark
"Pure Chat has more than 100,000 small business customers who love how simple our live chat software is to use. We made our tool with small business in mind and created mobile apps right off the bat, so business owners who are on the go and strapped for time can offer amazing customer service from anywhere."
— Arielle Hurst, Marketing Lead at Pure Chat
3. Social media management software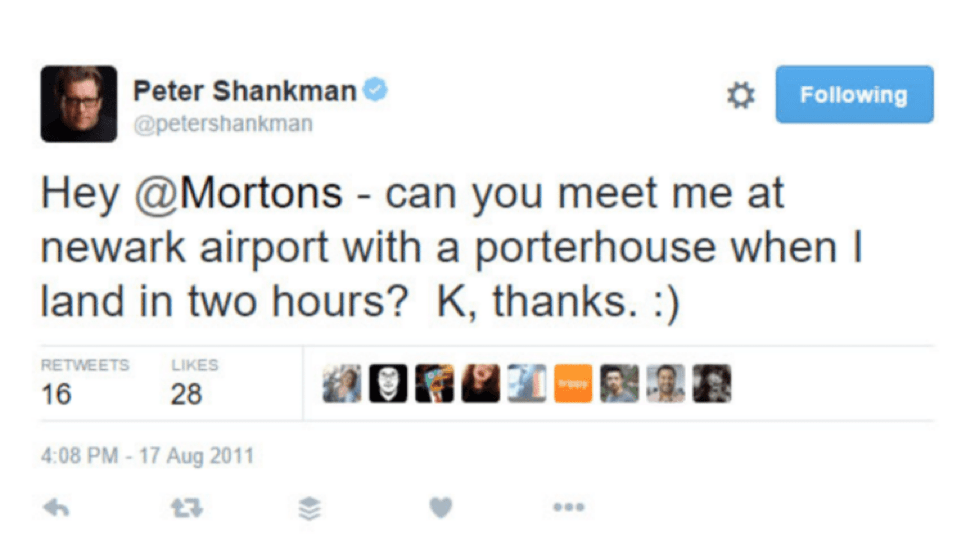 Customers who have positive social customer care experiences are nearly 3 times more likely to recommend a brand, according to a study by NM Incite.
These days customers expect brands to offer customer service on social media. They don't particularly care if you only use your Twitter for PR. Customers will often skip across multiple social media channels to resolve their issue.
The problem with many organizations is that they have different channels each run by different people, often with different agendas and different priorities. If a customer skips across channels, they could have a vastly different experience each time. This causes confusion, damaging your brand image.
Social media management software can provide the following:
Integration of all your social channels.
Faster response times, through greater efficiency.
Consistency of service across channels.
Enhanced social listening.
If you can respond to and resolve a complaint quickly, you'll certainly make a positive impact on your audience. The key is to be responsive and active on all your accounts. 42% of customers sending queries on Twitter expect a response within the hour.
Recommended social media management software providers include:
"Forget phone, email and live chat: Facebook, Twitter and other networks are the new front lines for customer service questions."
— Andrew Caravella, Vice President of Marketing at Sprout Social
4. Inbound phone support software

Providing quality phone support can be expensive, but it offers important advantages:
Better understanding: You're going to learn more from your customers during a phone conversation than via email.
Building rapport: Talking directly with a prospect can build rapport that could turn them into a long-term customer.
Building trust: Customers may want to talk to you before they buy, particularly for expensive items. They want to know they can trust you.
Inbound phone support software can help you in the following ways:
Automatic Call Distribution (ACD): This allows you to create rules to distribute incoming calls. The rules could relate to the time of day, custom percentages, or agent skills.
Interactive Voice Response (IVR): Pre-recorded messages can provide self-service information for queries that can be dealt with without an agent.
Live Call Monitoring: This allows managers to listen to calls in real time. It typically enables manager to "whisper" advice to their agent in mid-call. Managers can also "call barge" to take over a call if it needs special attention.
Leading inbound phone support software providers include:
5. Helpdesk software

Helpdesk software allows for management of customer service activity. Helpdesks use a support ticket system that can track customer conversations across email, social media, live chat and phone calls.
Helpdesk software has 3 main components:
Ticket management: Customer support queries are gathered and assigned tickets. All tickets can be managed centrally. This also allows each ticket to be tracked and monitored in real time.
Automation suite: Help desk coordinators can automatically direct questions from customers to agents best able to answer them. The coordinator will be sent notifications when an agent hasn't responded to a ticket, or if a ticket is taking too long to resolve.
Reporting & Optimization: Data about critical aspects including workload, turnaround time and resolution time can be gathered and recorded. These metrics give a quick perspective to managers and can be analyzed to optimize future performance.
Leading helpdesk software providers include:
"Kayako focuses on technology-enabled retailers, and where we really shine is providing digital-first retailers a support software that allows them to put great service and customer experience at their core."
— Adam Rogers, Content Marketing Manager at Kayako
"Our target niche/niche which can get the most value of the software is eCommerce SMB (Online stores, SaaS vendors, Phone companies). We think of customer service as our competitive advantage – this is what we do best."
— David Cacik, Head of Marketing at LiveAgent
It's the human touch that makes the difference
There are some great software solutions recommended here. They're all powerful tools to enhance the efficiency and effectiveness of your customer service. But whatever software you choose, never forget that it's the human touch that makes the difference.
Treat every customer as an individual. Every customer is looking for an experience that's personalized and meaningful. Offer them the human touch, and they'll be happy, engaged and coming back for more.