Imagine this scene: You're boarding an airplane, shuffling your way through the aisles, dodging people's elbows as they stuff their luggage in the overhead compartment, hoping that you're not seated next to the family with the crying baby. You reach your seat and buckle your seatbelt, providing a brief sense of relief after a long morning of playing "hurry up and wait." A small sense of excitement begins as the captain announces that the door is being sealed and the gate retracts. You feel the plane awaken from its resting position at the gate and begin to roll back away from the terminal, when suddenly the massive aircraft stops and sits. A few minutes turns into five, five turns into 10, and your frustration grows as the seconds tick by.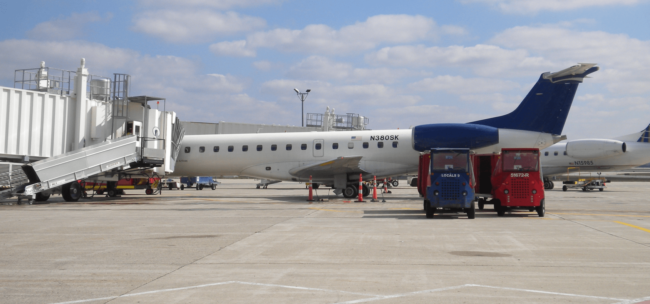 We've all been in this situation before: sitting aboard a plane that has backed away from the gate in order to achieve an "On Time" departure status. It's incredibly frustrating when you're sitting there as the "package", calculating how much less time you'll have to make it to your connecting flight or wondering how long you should estimate the delay of your scheduled pickup at the destination's airport.
In reality, what should actually be measured is the "On-Time Delivery Rate" of your plane landing and being docked at your destination terminal. But that wouldn't likely make for very appealing statistics for the airline industry. Unfortunately, the same inaccurate measurements that plague the airline industry are very likely taking place at your fulfillment center (FC). Even worse, your customers are the ones left frustrated, sitting at the gate, mocking the claimed on-time delivery rates posted on your website. So if you're serious about meeting and exceeding your customer's needs, it's worth taking a look at your FC's measuring standards.
Most  3PL (Third Party Logistics) firms attempt to provide performance standards they claim to operate under and offer some sort of guarantee or SLA (Service Level Agreement) that must be achieved contractually. (We get into a whole separate series on the effects of these SLAs here.) Unfortunately, what you may perceive to mean a 100 percent success rate usually does not mean the same thing to your 3PL. Here are a few questions worth asking your current fulfillment partner:
How do you measure cut-off times/Order Processing Guarantee?
This seems straightforward, but ensuring that a package is actually delivered to a FedEx, UPS or USPS distribution center on time is the true measure of meeting an Order Processing Guarantee, not having the parcel just picked or packed by a specified time. If your fulfillment partner has ever claimed or notified you that a package has been picked and packed, but the delivery to the end customer was still late, there's a chance that the package backed away from the gate, but didn't make it to the runway on time.
When this happens, does your fulfillment partner still make you pay for that parcel's fulfillment fees? If they do, we think that's unacceptable. In this case, Red Stag goes a step further and actually PAYS YOU a $50 penalty, no questions asked.
Is there a Receiving Guarantee, and if so, how is it measured
In the same way a departing flight shouldn't be considered "on time" based on when it backs away from the gate, a plane that sits for an extra 30 minutes after landing, waiting to taxi to a gate, isn't really on time picking up the next flight either. The same is true for product receiving measures. Your forecasting team can spend months developing the most accurate sales forecasts and integrating these forecasts with your manufacturers and suppliers, but these efforts are in vain if your product isn't received and offered for sale. Too often, pallets of products are "received" at the dock by a fulfillment partner, yet sit in the warehouse for days or weeks waiting to be physically and virtually loaded as existing inventory. This causes more than just a loss of sales; it may also redirect your customers to buying from your competitors. If your competitor is able to provide a better buying experience, you've not only lost out on a short-term sale, but probably also a long-term customer.
Ensure that your fulfillment partner's Receiving Guarantee includes a clause that new inventory must be stocked and uploaded as "For Sale" within a specified time period. This is especially important if your website integrates a live inventory availability feature.