The modern warehouse is equipped to handle the challenges of 21st century eCommerce. That means integrated operations and the ability to change quickly in response to changing business needs. Today's warehouses also employ cutting-edge technology to make it all work.
Some of the innovations that make today's warehouses so dynamic were first developed in mega-factories. In this post, we look at how the designs pioneered by 10 of the most influential factories shaped the evolution of warehousing and fulfillment.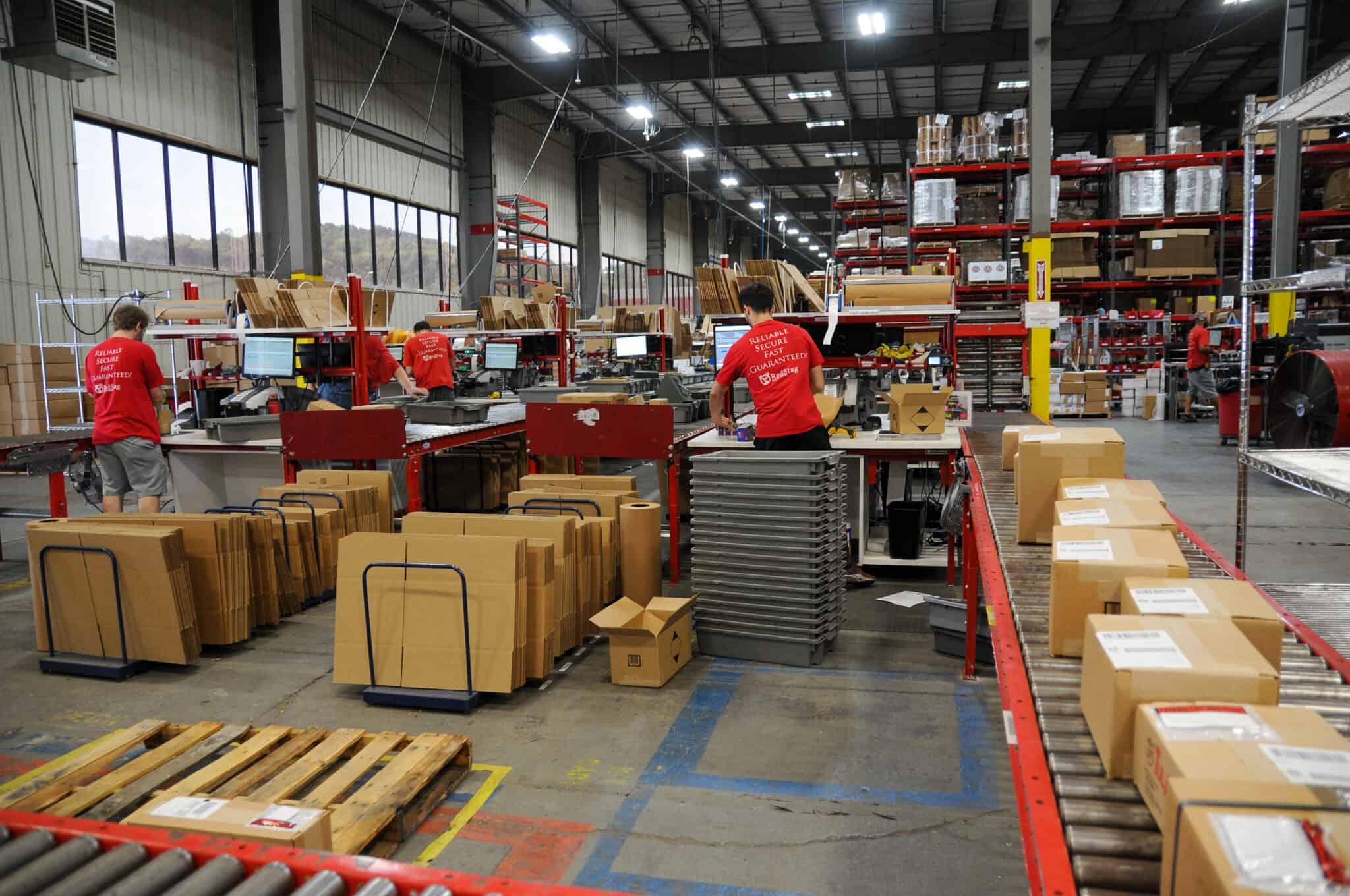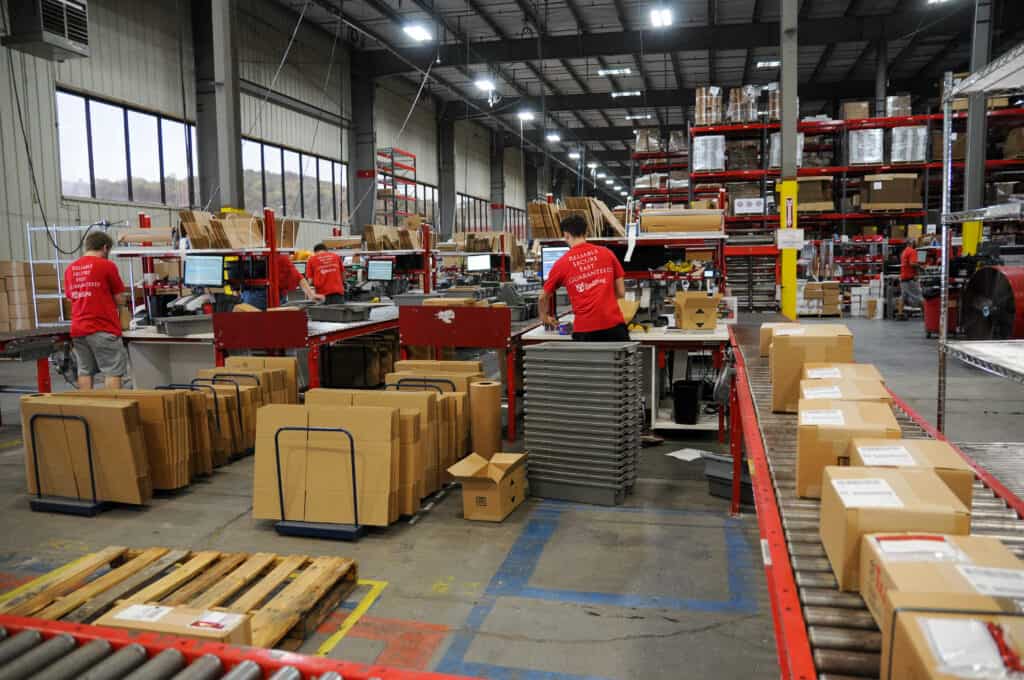 The modern warehouse isn't a dusty realm of shelves and forklifts. It's a bright and bustling space, where workers pick orders accurately and confidently. A modern warehouse is a dynamic place where storage space can flex to meet seasonal and shifting demands. This eCommerce warehouse is driven by technology, with connections to other elements of the supply chain.
Hallmarks of a modern warehouse
Here are some of the systems, technologies, and practices you can expect to find in a modern warehouse.
Technology and automation run the modern warehouse
Modern warehouses are technology companies as much as they are warehousing providers. Your eCommerce fulfillment warehouse should provide an online dashboard. That will give you real-time insights into all aspects of the fulfillment process. Your warehouse should use data and automation to connect to the rest of your supply chain. Technology seamlessly integrates warehousing with logistics and manufacturing.
Many modern warehouses incorporate AI and other technologies into their systems. This saves time in shipping and receiving. Data analysis from your 3PL company facilitates accurate demand forecasting.
Customization
The modern warehouse isn't a one size fits all, take it or leave it business. Kitting and product customization services are a growing part of fulfillment operations. Customization includes space and capacity within the warehouse. The modern warehouse also has the flexibility to add storage capacity during times of peak demand.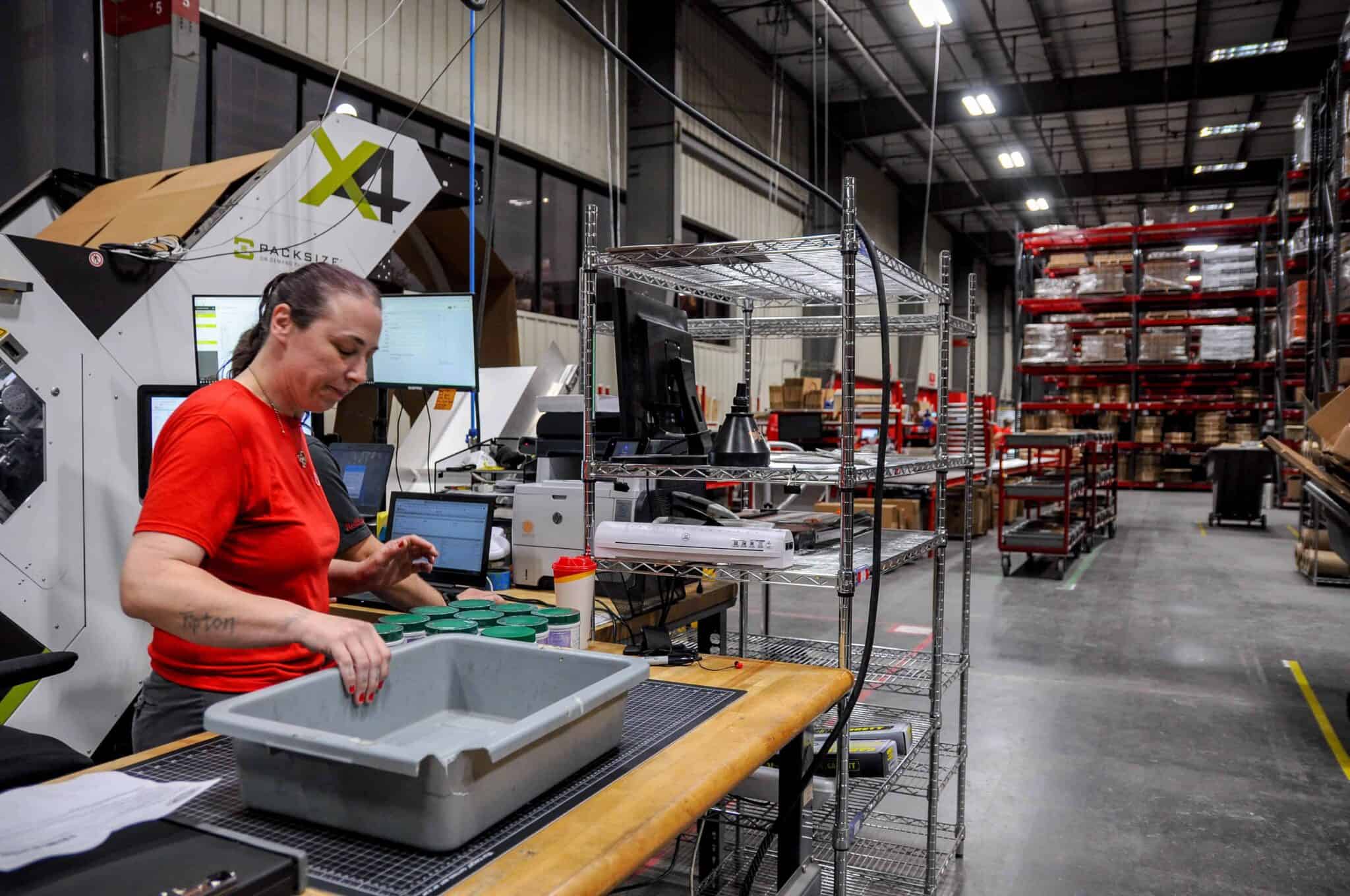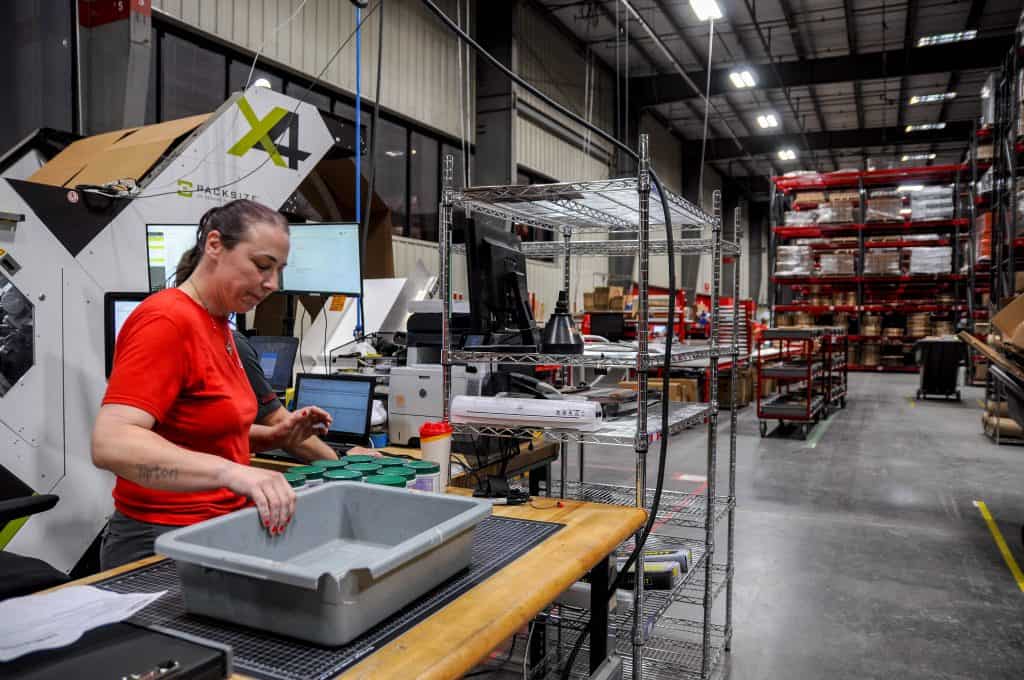 The modern warehouse runs on sustainability
As eCommerce companies have increased in prominence, sustainability has become ever more critical. Sustainability has two meanings, both vital to efficient warehouse operations. It refers to eco-friendliness and the economical use of money and resources.
Consumers don't want to dispose of mounds of non-recyclable packaging every time they place an order online. Today's fulfillment companies respond to this consumer demand. They use the minimum amount of packaging and infill needed for safe order delivery. They also choose recycled and recyclable materials to show the customer that you have a commitment to the environment.
Sustainability is a value for your business, as well. Price competition and the imperative to provide free or low-cost shipping put a burden on your bottom line. Therefore, saving money in your logistics operations is vital. By reducing packaging, you save money on packing materials and shipping costs. Sustainability supports your company to survive and thrive in a competitive online marketplace.
Scalability
Scalable warehouse operations are essential to meet the increase in online shopping. Tech can help solve thorny space-management problems. That enables the modern warehouse to flex with changing demand for capacity.
Large item fulfillment in the modern warehouse
The Sears and Roebuck catalog provided home delivery for everything from socks to kitchen appliances. Most of today's eCommerce orders weigh under one pound. However, online sales have expanded to routinely shipping larger and larger products. Consumers routinely order mattresses, paddleboards, and furniture for delivery.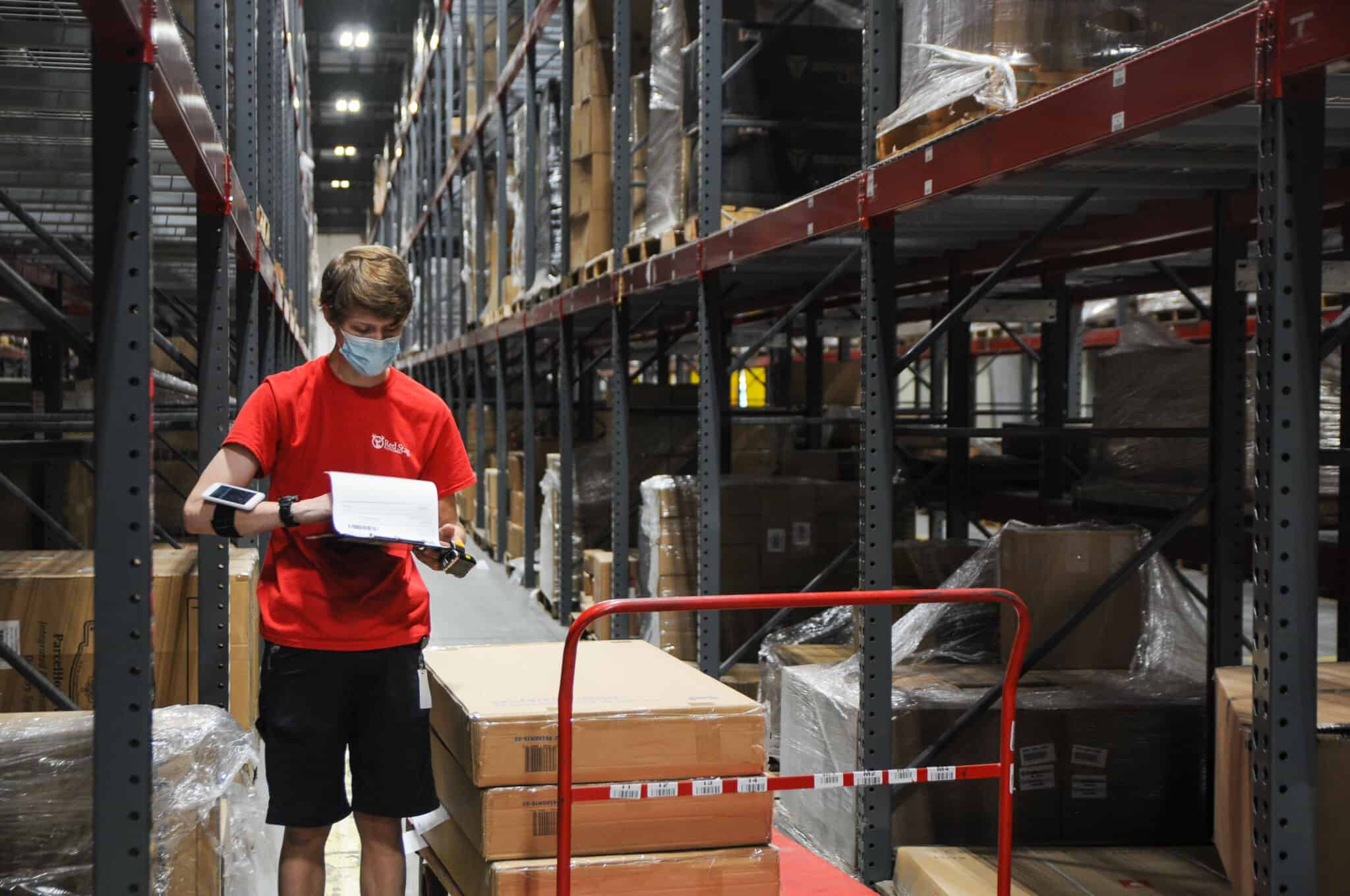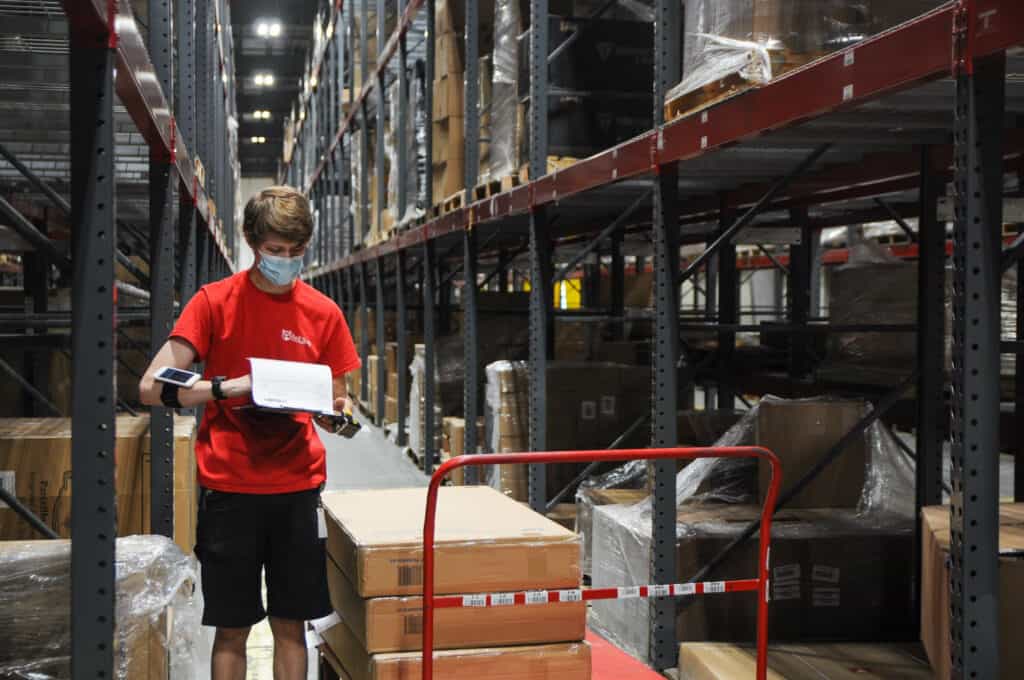 Fulfillment companies like Red Stag Fulfillment have stepped up to the challenge. Our fulfillment operations can safely and efficiently ship heavy and bulky products, with extra-wide aisles to accommodate wide loads. Our packing stations are designed to be able to handle oversized and heavy boxes, and we use our volume pricing and institutional knowledge to help our clients who ship big items save on dimensional weight charges.
A super-sized fulfillment center
One trend in modern warehouse management is the growth of super fulfillment complexes. Technology and automation allow logistics companies to implement effective inventory management. Super-sized fulfillment centers may also sit on large plots of land. That allows ample room for containers to roll in and out.
Warehouse locations
A competing logistics trend is toward more and smaller warehouses close to urban centers. This facilitates fast and inexpensive delivery to consumers in dense metro areas. However, a proliferation of warehouse locations creates inventory management challenges. This innovation serves big businesses well. Smaller sellers may choose a different national fulfillment strategy. They can leverage a few central warehouse locations to minimize delivery time.
What is a digital warehouse?
A digital warehouse is one that leverages tech to increase capacity and efficiency. It uses AI to analyze big data to gain insights that improve supply chain management and demand management.
The digital warehouse uses smartphones to give floor workers updated order data in real-time. In turn, the worker transmits real-time data on order status. This gives you complete visibility into the fulfillment aspect of your supply chain.
Digital warehousing is starting to employ more advanced technologies, as well. Mobile shelving units that come to pickers create a more efficient workflow. Robots and drones can pick items day and night without the need for a break. The digital warehouse is the warehouse of the future.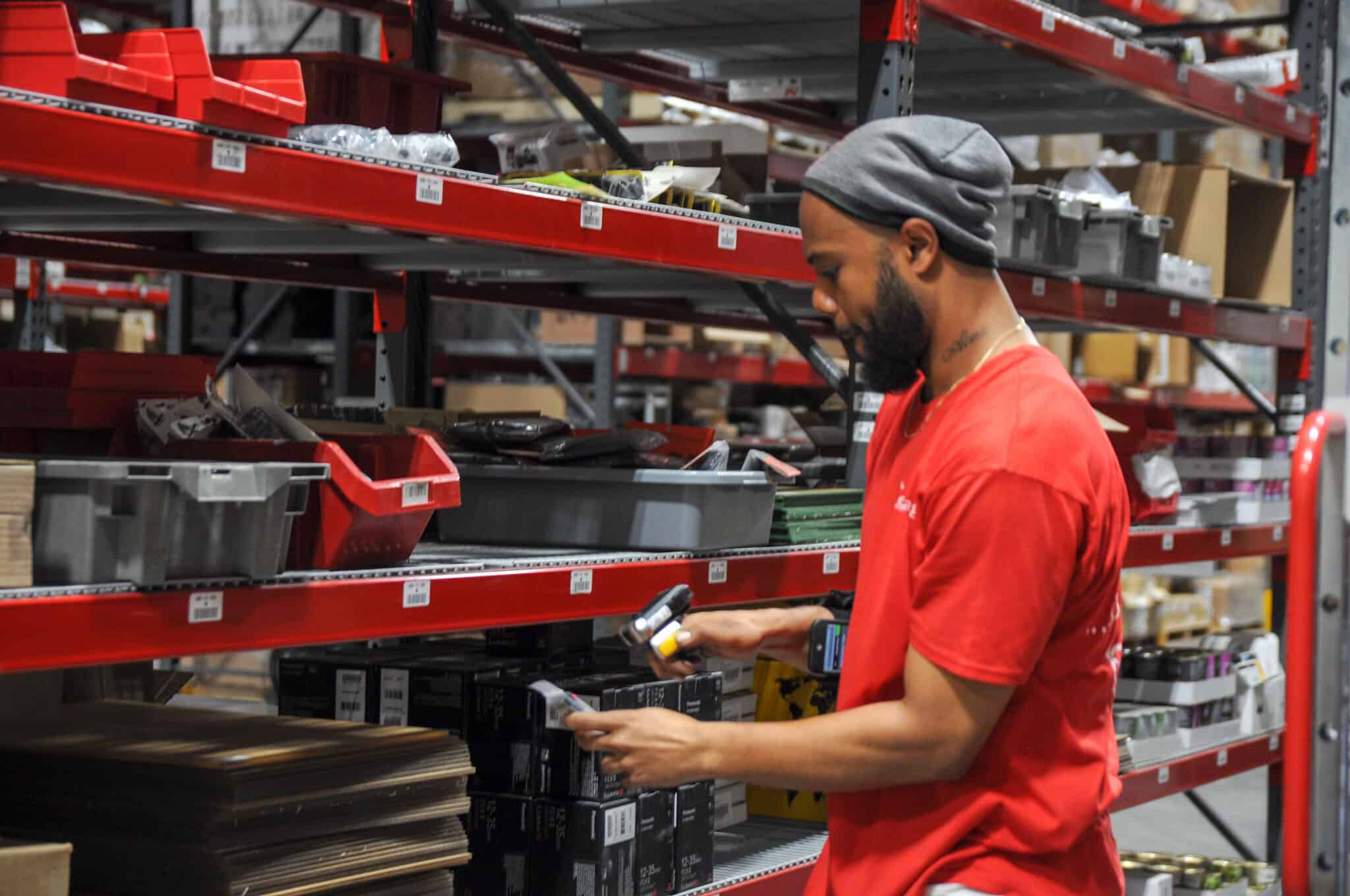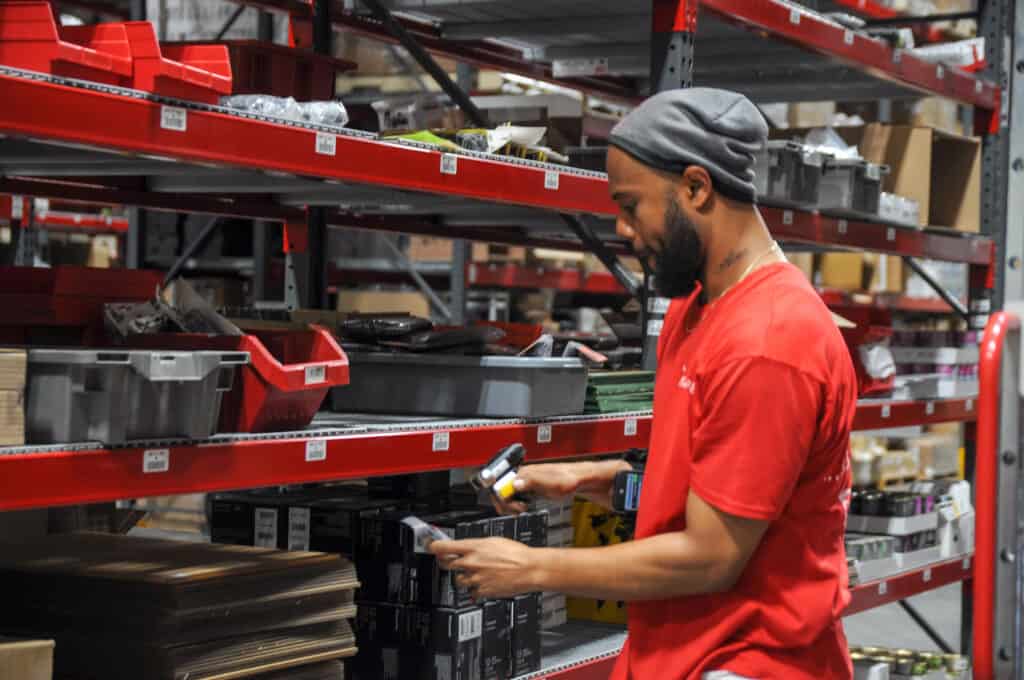 How 10 influential factories shaped the modern warehouse
Manufacturing is a vital link in your supply chain. Factories still perform the same essential functions that they have since the dawn of the industrial revolution. They produce finished goods and maximize efficiency. However, the technology and management systems used in factories have evolved. Other elements of the supply chain, including warehousing, have had to change and grow to meet the needs of today's factories. The most influential factories have influenced the modern warehouse's design to make it what it is today.
The designs of the greatest factories in history were very deliberate. They grew out of an intense focus on incremental process improvement by engineers. As Elon Musk says, "What really matters is the machine that builds the machine, the factory." It's no surprise that many of these factories serve the automotive industry. That is an industry where speeding up the assembly line is an end in itself.
The innovations of 10 of the most influential factories of the past 100 years help us understand the modern warehouse. These are some of the largest and most productive factories the world has ever seen. Some of the factories will stand out as feats of human construction for their sheer size. Most importantly, the levels of productivity that these factories have achieved is awe-inspiring.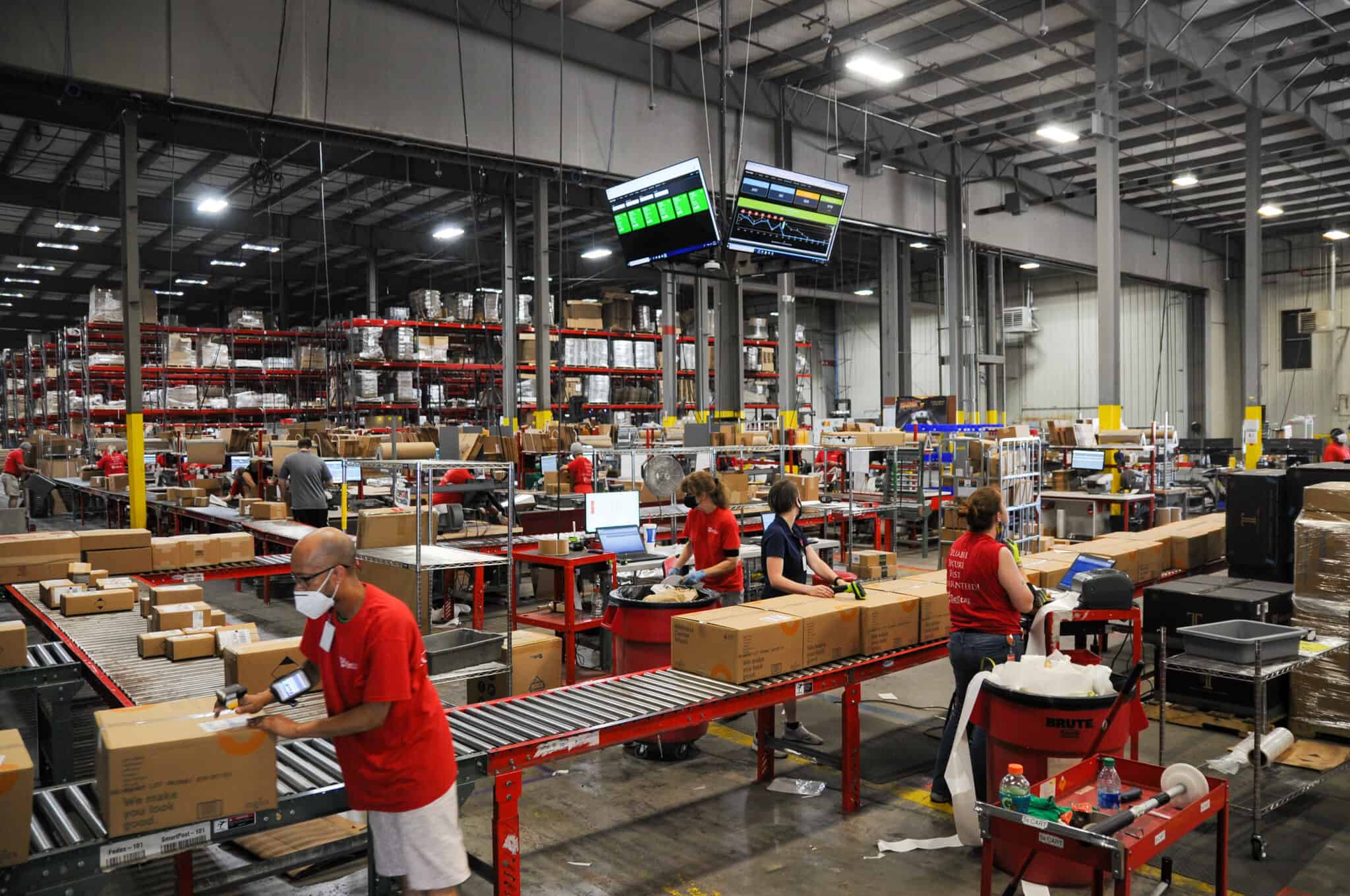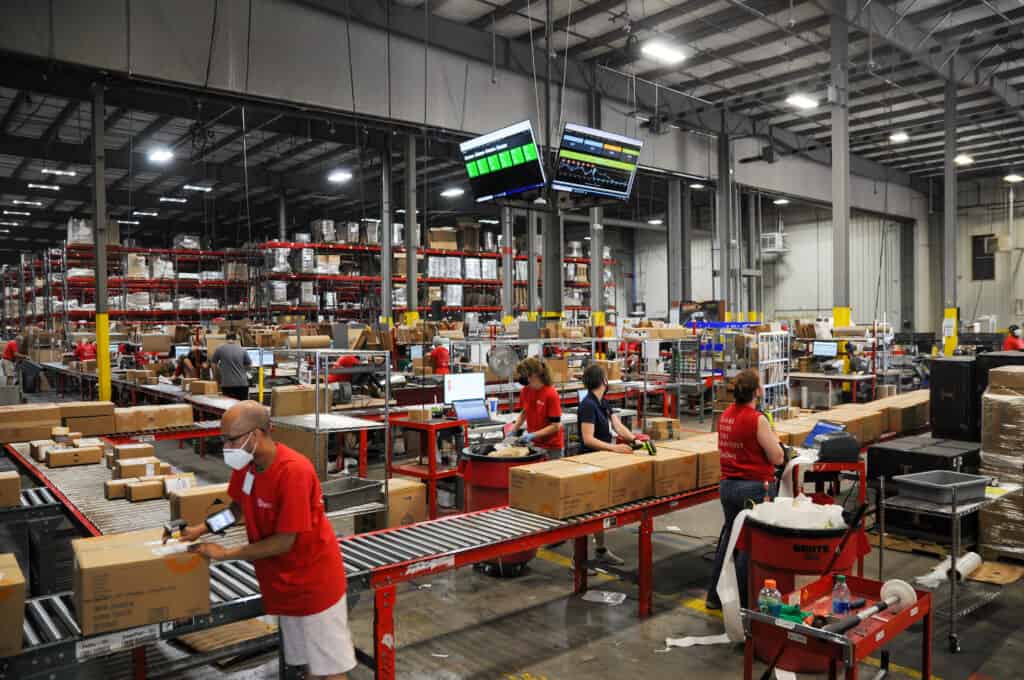 At Red Stag Fulfillment, we study and apply manufacturing efficiency principles to our award-winning fulfillment company. Our operations are influenced and improved by these great factories.
Fiat Factory, Lingotto, Italy
Finished in 1923, the Fiat Factory in Lingotto, Italy, is an architectural marvel. It was situated on the rail line, which delivered raw materials to the ground floor. The assembly line for Fiat cars moved upward through the complex. When they came off the line, cars arrived on the roof, which held a test track.
This factory closed in 1982. It has since been repurposed as a mall and entertainment complex, but it still houses Fiat headquarters. It remains an icon of functional industrial design. Some of the principles developed there are employed in warehousing today.
Ford River Rouge Complex, Dearborn, MI
In 1930, the Ford Motors River Rouge facility employed 100,000 people. The average automobile factory today has less than 5,000 employees. The factory remains a vital component of the global economy. It is linked to many countries by a supply chain for parts that spans the globe.
Fulfillment centers may soon follow the same path, replacing most human workers with automation. This factory shows us that automation can be done without sacrificing capacity or quality.
Toyota Honsha Plant, Aichi, Japan
Initially opened in 1938, the Honsha factory was the first Toyota manufacturing facility. It has become a model for continuous growth and adaptation in industrial operations. The plant initially made trucks and cars. It has evolved into a production center for parts that go into the manufacture of various car models. Current production includes the lithium batteries for the hybrid Prius.
Toyota's Honsha plant is part of the company's initiative toward carbon-neutral manufacturing by 2050. The facility has continued to innovate. It was the first factory in the world to get power from a stationary fuel cell generator.
Belvidere Assembly Plant, Belvidere, IL
This Chrysler factory was a pioneer in creating a body shop run solely by robots. The factory also includes a Simulation Room. There, new operations can be pre-tested and modeled for productivity.
The Belvidere factory won an award in 2005 for its efficiency in shifting production from one car model to another. The ability to model efficient systems and adapt quickly is a quality that this plant shares with top warehouses.
NASA Vehicle Assembly Plant, Brevard County, FL
NASA's Vehicle Assembly Building (VAB) was originally named the Vertical Assembly Building. It is the biggest single-story building on earth. It also contains four bays that are the tallest doorways on the planet, at 456 feet. The building is one of the world's largest buildings by square footage.
The VAB was designed for building NASA's rockets. The structure includes overhead cranes to facilitate this massive construction operation. This factory is an example of a purpose-built facility. It enables a high-value and unique task with maximum productivity.
Boeing Everett Factory, Everett, WA
The Boeing Everett Factory is the very largest building in the world by volume. Boeing's 747, 767, 777, and 787 jets have been built in this factory.
This factory is another example of a facility built to serve a specific manufacturing need. Similarly, the best 3PL companies tailor their warehouse layouts to meet the particular needs of their clients.
Mitsubishi Motors NA, Cypress, CA
In 1998, this Mitsubishi plant ranked last in productivity. However, in just five years, the factory turned this around and became the most efficient Mitsubishi factory. The plant did this, in part, by improving systems and adding automation (robots) to its production floor.
The most effective warehouses are the ones that try the hardest. Even being ranked number one doesn't mean a fulfillment center can rest on its laurels. That's why, at Red Stag Fulfillment, our motto is that we care so much it hurts. We are always striving for perfection.
Jean-Luc Lagardère Plant, Blagnac, France
This Airbus manufacturing facility is the second-largest building on earth (measuring just usable space). It needs to be big to house manufacturing operations for the Airbus A380, the largest passenger airplane manufactured today.
This facility has an unmatched commitment to providing fast turnaround times for the giant aircraft. Amazingly, the production line was up and running even before construction finished. That's the kind of dedication to output that distinguishes the best modern warehouses.
Tesla Factory, Fremont, CA
Tesla's factory in Fremont, CA, was originally built by General Motors. Tesla Motors has brought manufacturing innovations to the plant, including augmenting its workforce with 160 robots.
One of the innovations that makes this auto manufacturing operation unique is Tesla's control of its supply chain. Everything from raw materials to consumer sales is managed in-house. That kind of supply chain visibility is a model for modern warehousing.
Tesla Gigafactory 1, Storey County, NV
Tesla's Gigafactory 1 in Nevada is the first of several planned factories. The plant makes lithium-ion batteries for solar energy storage and components for Tesla vehicles. It is designed to draw all the energy it needs for manufacturing from on-site renewable energy sources.
Gigafactory 1 produces more electric car batteries than any other factory in the world. The building will be the largest in the world once it's completed. It is a model for the sustainable factory of the future. That's because, in the future, every link in the supply chain will need sustainable operations.

Your supply chain and the warehouse of the future
The warehouse of the future will be a fully-integrated part of your supply chain. Expect more robots doing more tasks that are now completed by humans. Drones will fly above shelves and find products using RFID technology to pinpoint locations. They can assist with inventory management and order fulfillment. Robots will pick orders on the floor. The internet of things (IoT) will provide systems that link every section of the warehouse. That data will enable AI to find efficiencies and correct errors.
Third-party logistics will use big data to improve operations continuously. So, the warehouse of the future will be even more flexible and scalable than today's fulfillment centers. Logistics companies will be prepared to operate smoothly during periods of both high and low demand.
Also, in the not so distant future, driverless delivery vehicles may become the newest element of the supply chain. These driverless trucks will bring goods to the dock and transport orders to distribution centers.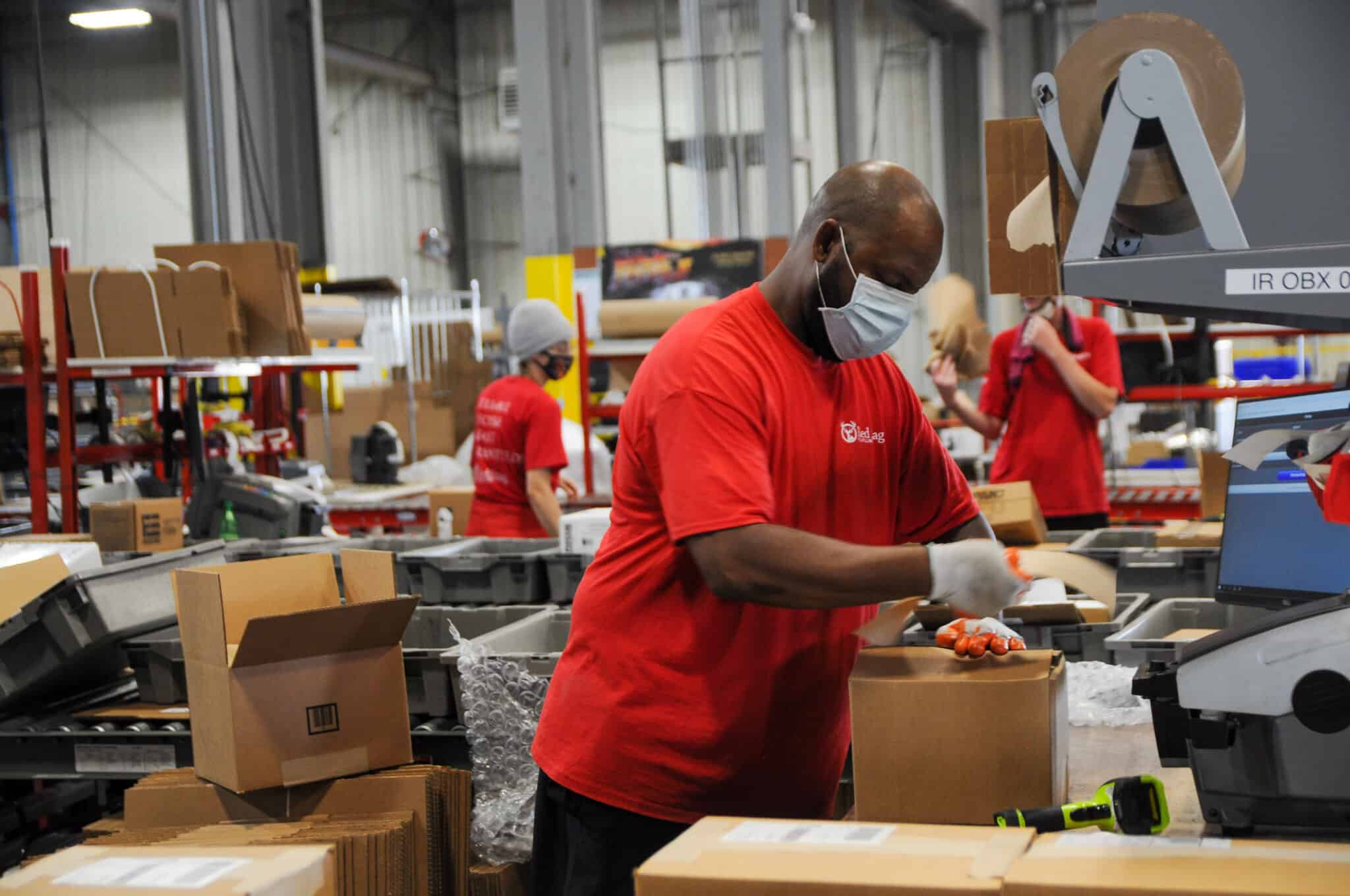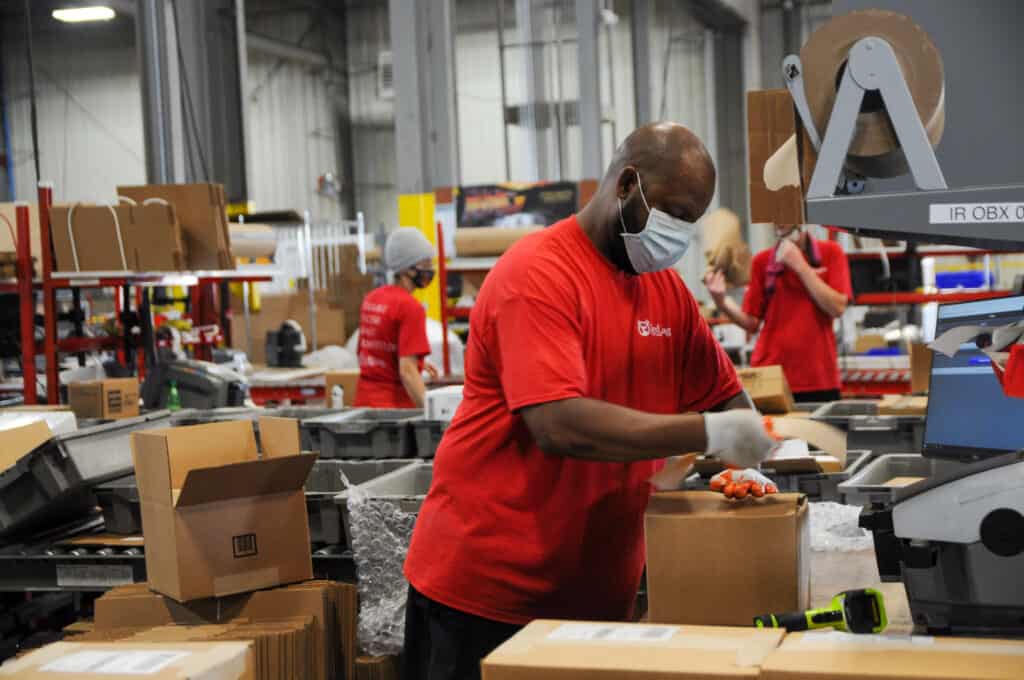 However, don't expect a futuristic fulfillment center populated only by robots any time soon. In the future, logistics and warehousing will still need human intelligence. Human floor workers to oversee and guide order fulfillment. The warehouse of the future will use the best of human and AI resources. It will be able to provide eCommerce fulfillment operations to meet the needs of our virtual shopping future.
The benefits of modern warehouse management
The bottom line is that modern warehouse systems boost efficiency. That will save you money, expand your reach, and lead to increased customer satisfaction. Technology can help get your orders shipped the same day for fast delivery. Failsafe technologies can reduce costly errors and inventory shrinkage.
When you are ready to choose a new order fulfillment partner, look for a top 3PL. Make sure it offers all the services you would expect in a modern warehouse. This will ensure that your fulfillment partner can meet your needs, now and into the future.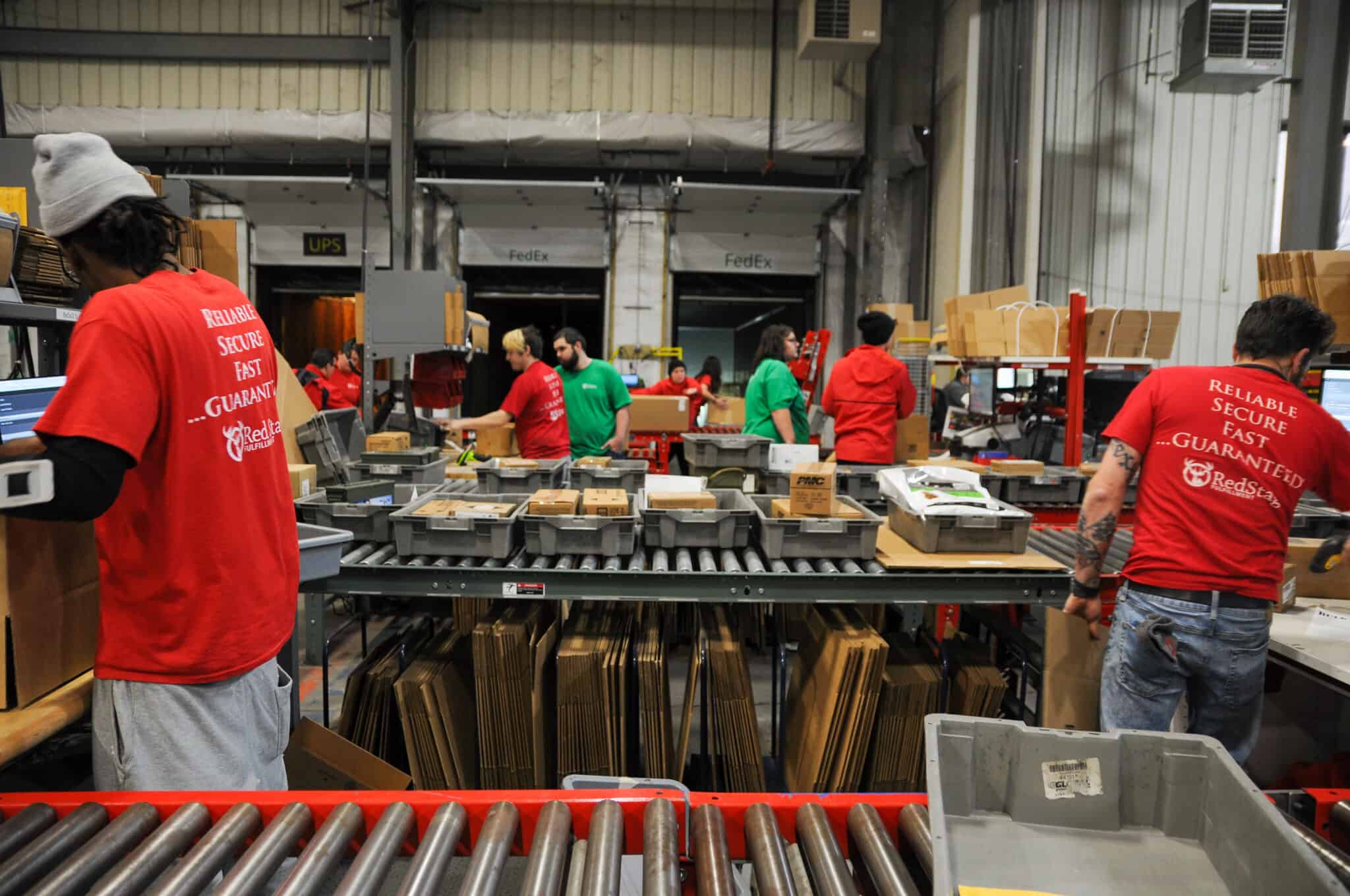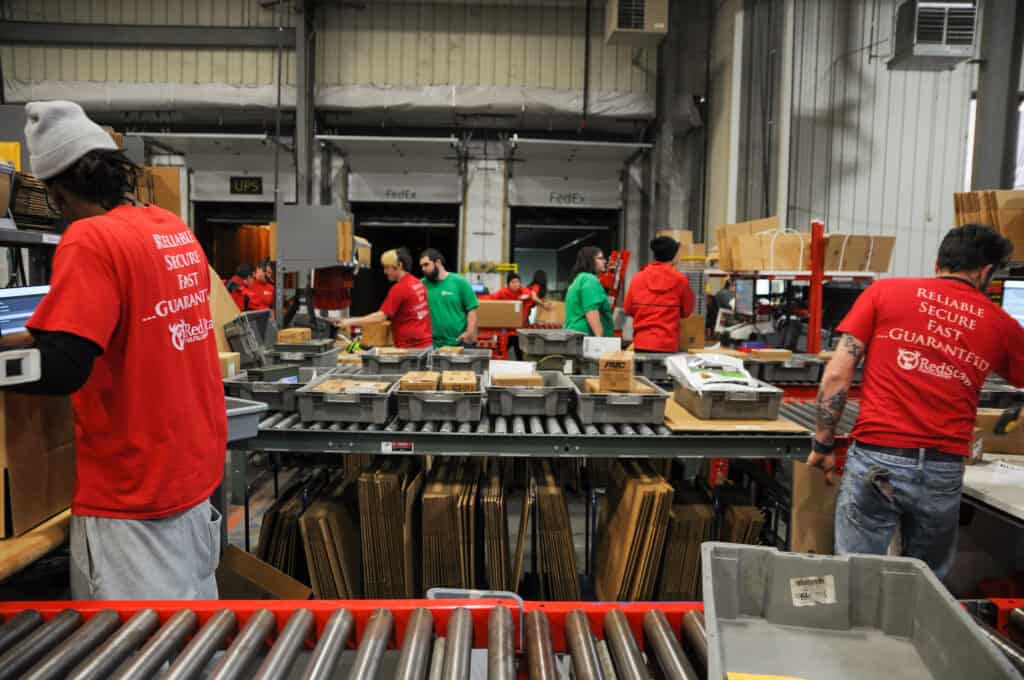 Share the Infographic On Your Site
Sources
Roadtrippers | BizJournals | Business Insider | AMBA France | Etihad Airways | Y Combinator | Electrek | Mitsubishi Media | Fiat Chrysler Automobiles | Tesla | NASA History | AutoLife | Toyota Global | Architectuul | GearHeads | NASA Archive