As ecommerce businesses grow, they often turn to 3PLs or Fulfilled by Amazon (FBA) to handle the orders, packing, shipping, and returns that occur as a natural part of operating. FBA is popular for Amazon sellers because it has the company manage much of your inventory and fulfill orders on your behalf. However, the FBA service comes with various fees that you'll want to understand before you make any move.
We've combed through Amazon's FBA pages and listened to sellers to determine the many fees that will apply to your business. Our list isn't exhaustive because some may or may not apply to you. Adding truly situational charges and their complicated explanations could further confuse some.
As you keep reading, you'll also discover that Amazon gives itself leeway to determine to charge you additional fulfillment fees if it deems necessary so that you might face additional costs. We'll break down our fee list below in terms of fulfillment and then selling on FBA because you're paying twice.
Please note: The fees and costs listed below are based on Amazon's posted fee schedule in September 2020. For the latest numbers and cost estimates, look at your seller agreement and use the company's revenue and fee calculator.
Red Stag's support for Amazon sellers
If you're already selling products on Amazon and doing your own fulfillment but need to outsource to grow, remember that FBA is just one of your options. FBA fees can be confusing and complicated, and most sellers tell us that FBA pricing changes, making it hard to plan.
Red Stag Fulfillment works with companies selling goods on Amazon right now. Our team knows the process and ensures customer satisfaction with fulfillment, helping you protect your seller account. You can avoid many of the fees you'll find on this page because we also don't take the 15% cut that Amazon does for your sales. With guaranteed order accuracy and the ability to reach 99% of Americans in three days or less, we've got your back.
Also, in the list below, we don't include Amazon's additional charges for multi-channel fulfillment services — typically ranging from $2.95 to $5.95 per product in each order. Unlike their policies, we charge you a flat rate regardless of how you make the sale as part of our omnichannel services. That's your business. Getting the order right and to customers on-time is ours.
FBA Pricing for Fulfillment
The FBA per-unit fee
One of the ecommerce fulfillment fees that Amazon's FBA charges is a per-unit fee. These are based on the weight and physical dimensions of your product.
Amazon splits its pick and pack fee structure into non-apparel and apparel items, so you'll want to check there for understanding your pricing. Items covered in the apparel fees include:
Wearable clothing items
Wearable accessories — belts, ties, socks, hats, scarfs, earmuffs, gloves, etc.
Adult and children's costumes and accessories —masks, ear coverings, Halloween costumes, and some accessories, etc.
Sports activewear — running socks, yoga pants, sports uniforms, etc.
Baby apparel
The "apparel fee" category does not include pet apparel, helmets, or what Amazon considers technical gear, such as wetsuits.




Remember that you're paying the weight of the package, not just your goods. So, if you are selling a set of plates that weighs 3 lbs. themselves, Amazon will charge you a shipping weight of 4 lbs. because of the packaging. (Amazon provides the Amazon-branded packaging for shipments, so it makes sense that this is covered in your fees.)
See the company's example: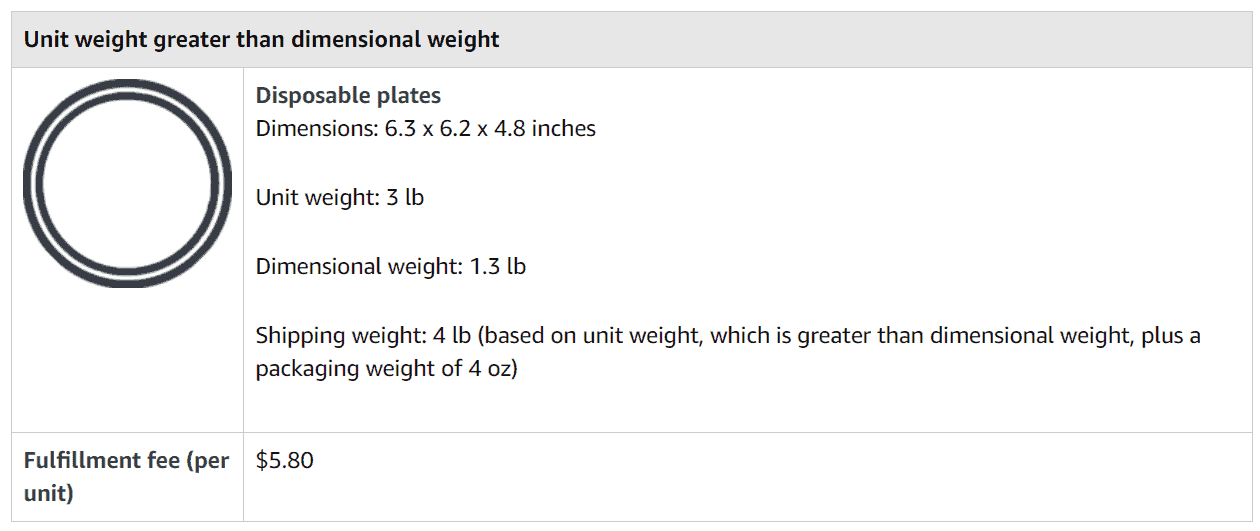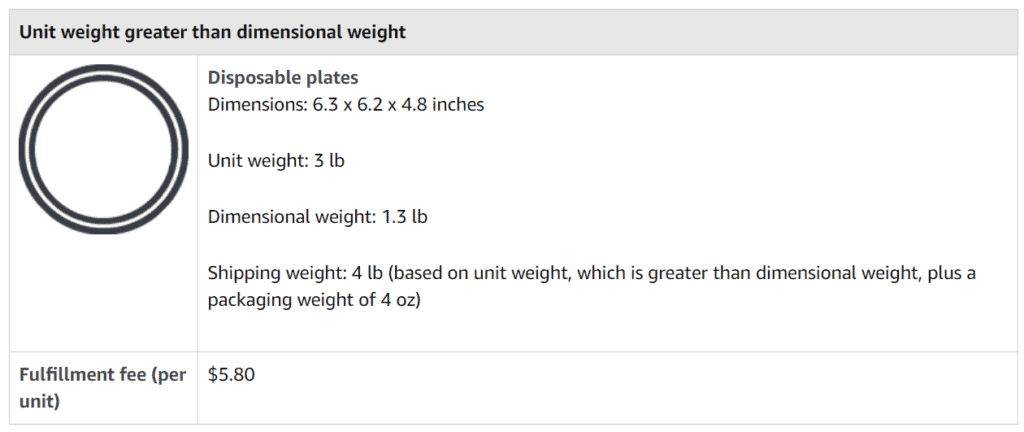 FBA Oversize product fees
You should know that Amazon distinguishes between standard and oversize products. Amazon FBA standard size products are any that weigh less than 20 pounds and are smaller than 18x14x8 inches. If your product dimensions are larger or the weight is heavier, Amazon will charge you different FBA fees on apparel and non-apparel items because it considers them oversized. These rates tend to be substantially higher, which is one reason companies turn to 3PLs like Red Stag Fulfillment for their oversized inventory and shipping needs.
Here are Amazon's rates for all oversize products.
FBA oversized fulfillment fees
Small oversize

71 lbs. or less

Longest side <60 inches
Medium oversize

151 lbs. or less

Longest side <108 inches
Large oversize

151 lbs. or less

Longest side <108 inches
Special oversize






Fulfillment fee
$8.26 + $0.38/lbs. above first 2 lbs.
$11.37 + $0.39/lbs. above first 2 lbs.
$75.78 + $0.79/lbs. above first 90 lbs.
$137.32 + $0.91/lbs. above first 90 lbs.
After reading that, you're probably wondering: "What on Earth is 'special oversized?'" Those are products that can meet one of a few different requirements. You get hit with the extra charge for a product when any of these four characteristics are true:
One dimension is greater than 108 inches
Unit weight or dimensional weight is more than 150 lbs.
Adding the length and girth of the product is greater than 165 inches
Or if Amazon says that your product "product requires special handling to ensure a good customer experience."
Dangerous products
If what you sell is under the FBA Dangerous Goods program, then you're going to face separate charges for the handling of these hazardous materials. (Not sure if that's you? Here's Amazon's guide to its classification system.)






Amazon's costs are notably different from many of the other pick and pack fees common in the industry.
Monthly inventory storage
Amazon charges you to store your goods in its FBA warehouses. These monthly fees are based on a daily average volume of the space you take up, measured in cubic feet. The volume is based on unit size when it's packaged and ready to ship.
Fees change based on the good's size and time of year. You'll also face higher costs if you're storing dangerous products. Here are the company's 2020 charges.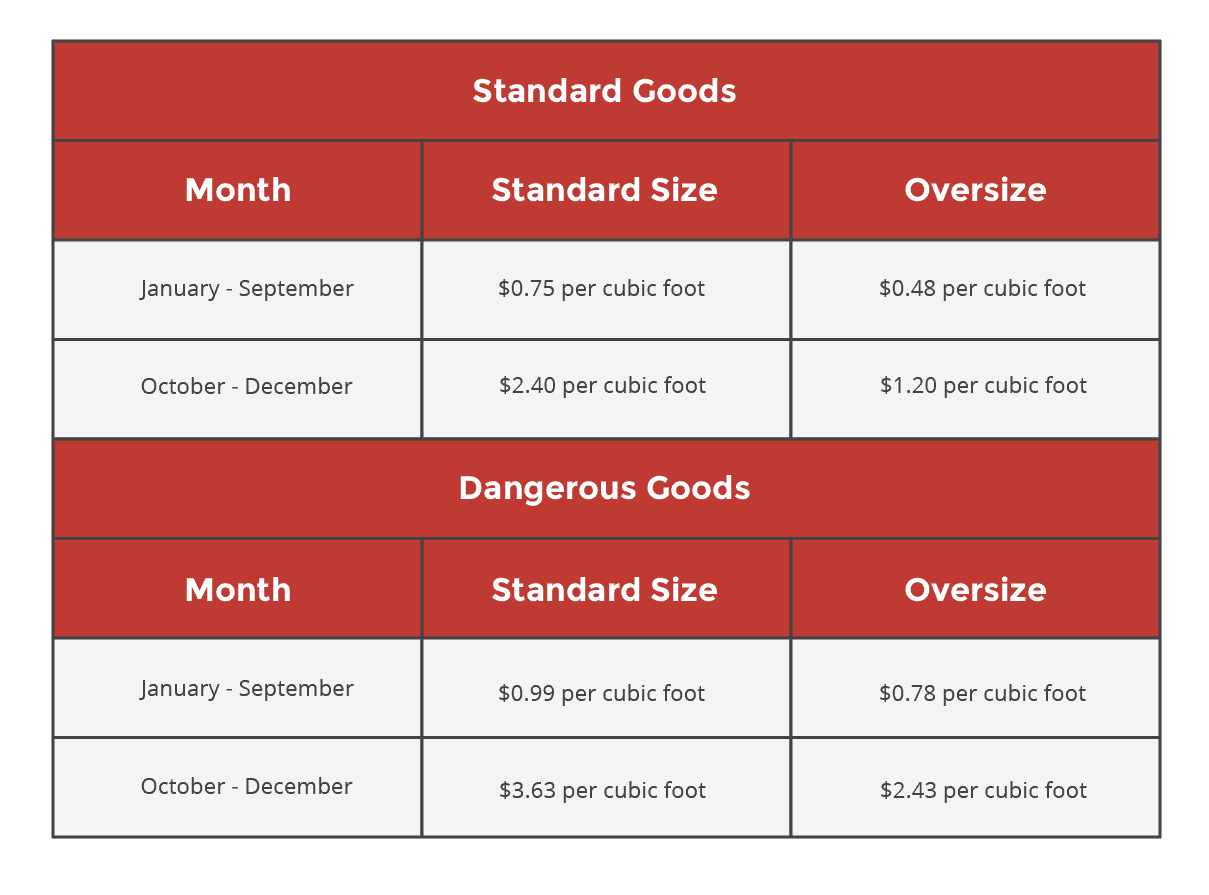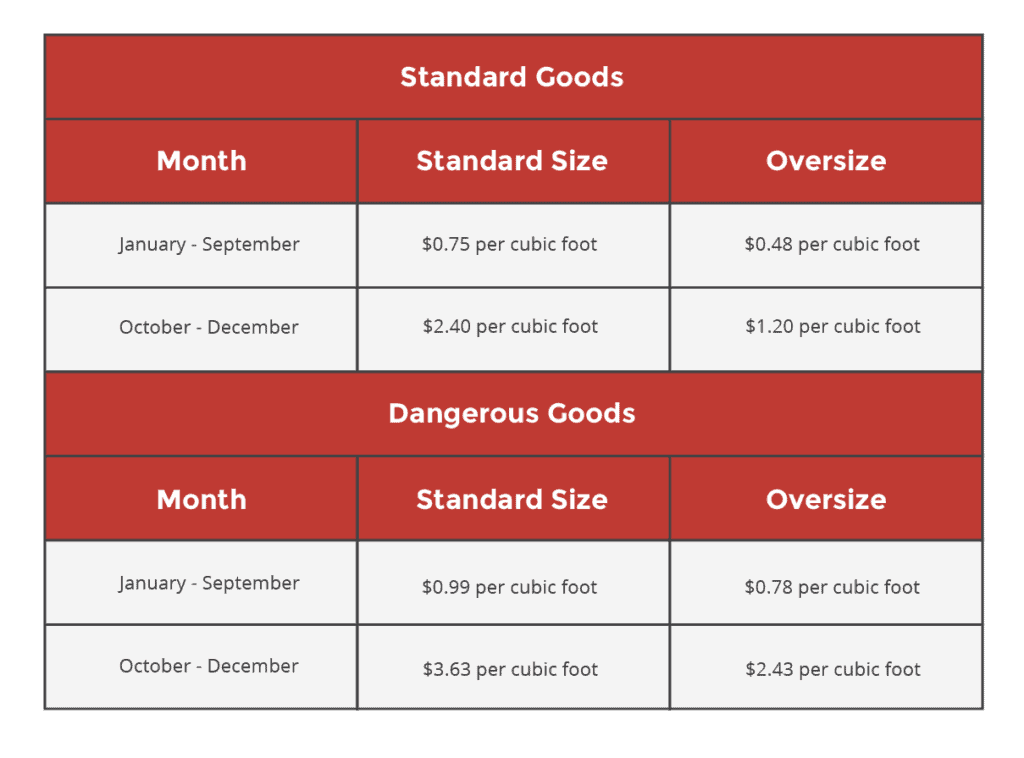 Extra fees
Amazon FBA comes with a few extra, specific fees that your business might face. Here are the ones the company has explicitly stated, but there may be others in your agreement:
Returns process fees. You'll pay a fee for returns of any product where Amazon offers customers free return shipping (common categories are clothes, jewelry, and shoes). Your processing fee is the same as the fulfillment fee for that product.
Removing inventory from FBA fulfillment centers will also cost you. According to their fee structure, you'll be paying between at least $0.25-per-item for standard products and at least $0.60-per-item for oversized goods or those requiring special handling. Having Amazon dispose of your goods instead starts at the cost of $0.15 per item.
Long-term storage. If your goods sit for more than a year, you'll be charged a storage fee of $6.90 per cubic foot or $0.15 per unit, whichever is greater. This is a monthly fee.
Inventory overage. If you're storing too many goods with Amazon, you'll also get charged. You're charged $10 per cubic foot of overage.
Lithium batteries and items that contain or sold with them face an additional $0.11 per-unit fulfillment fee.
Large plasma and projection screen TVs (42 inches or larger) have a $40 special handling fee.
Smaller TVs "incur the special handling fee because of other factors such as weight and fragility."
When you have a high volume of active, non-media listings that have not sold in 12 months, Amazon charges a monthly fee of $0.005 per eligible listing to cover cataloging costs
Amazon also has FBA pricing for receiving inventory when they don't plan for it or if there's an unexpected issue. These "unplanned services" also include times when you don't have the Amazon barcode on products or are missing other requirements.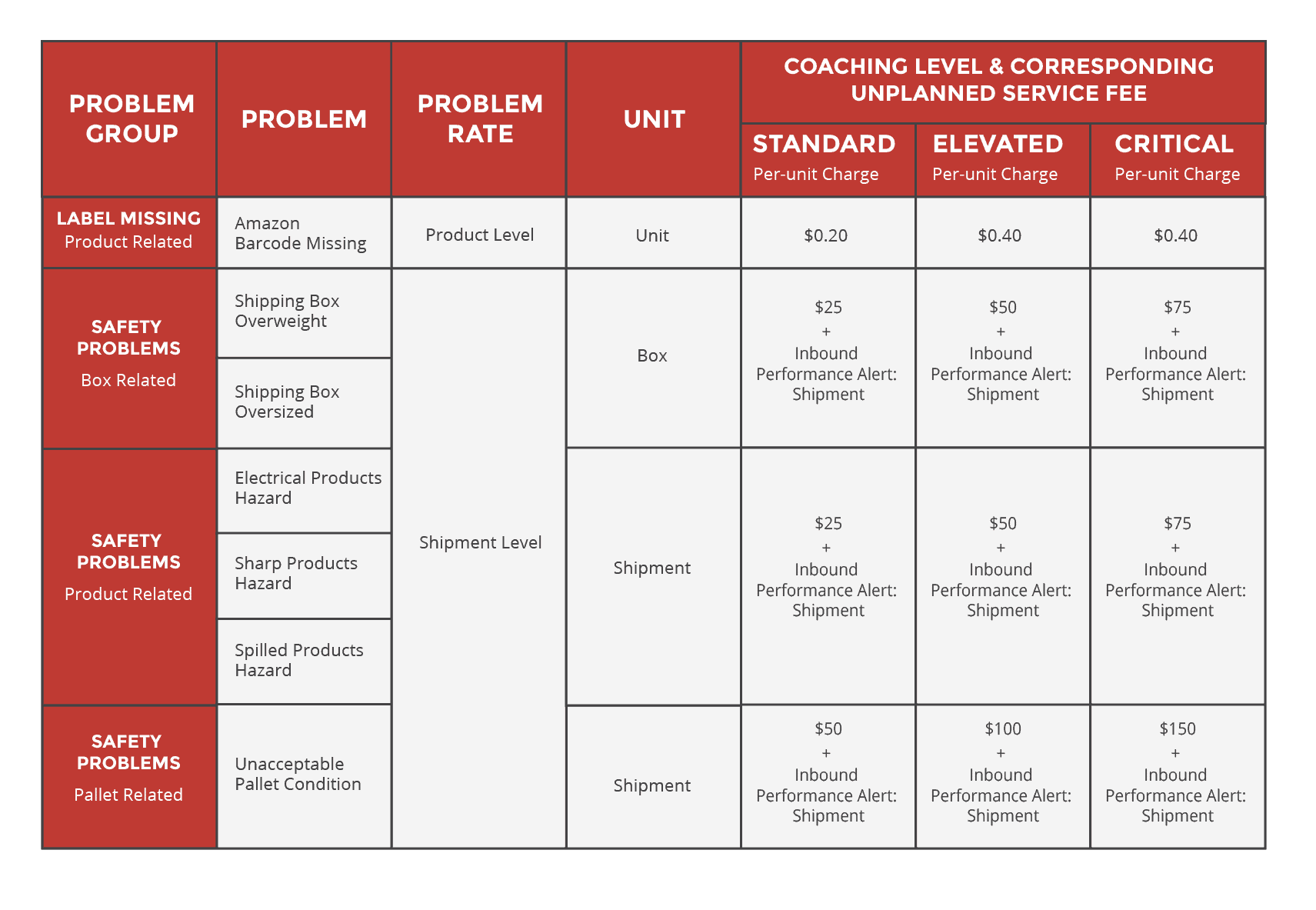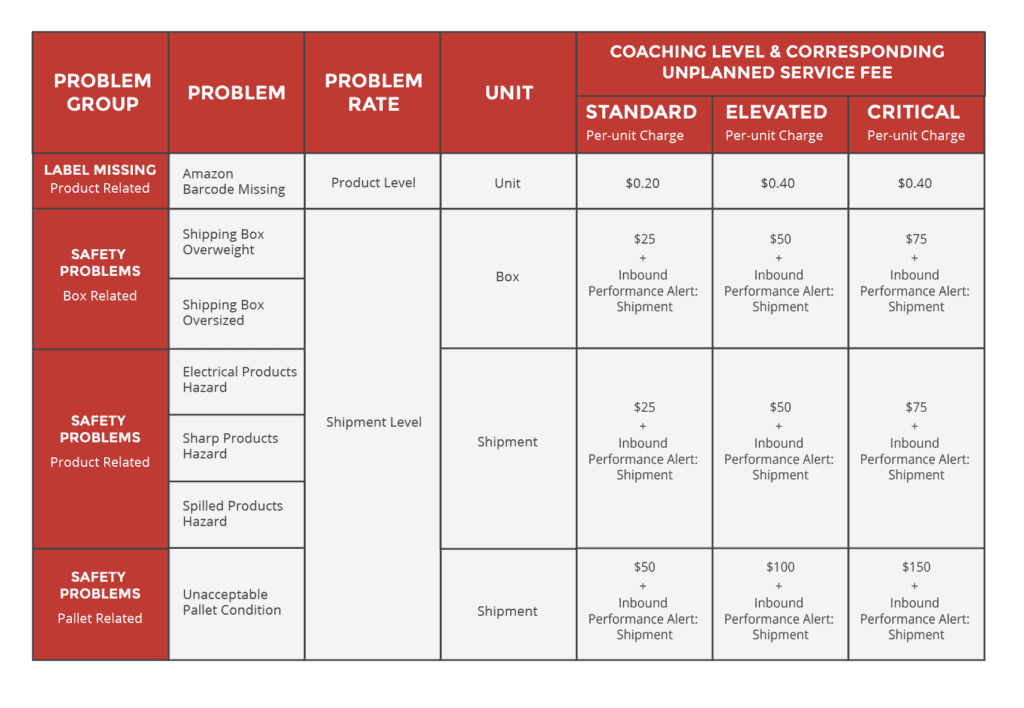 Beyond these, Amazon has many situational charges that could apply to your business depending on how you prepare and package goods, if you need Amazon to process items manually, want Amazon to apply barcodes to goods, and much more.
FBA pricing for selling goods
Amazon charges you to sell your products based on your business model and the account you have with them. All Amazon sellers face these costs, and there's no additional selling fee for FBA.
The current breakdown based on account types are:
Individual: $0.99 per item sold "+ additional selling fees"

Account with sales of fewer than 40 units per month
Post-sale fees can apply depending on category
Generally, you can't get FBA status at this level

Professional: $39.99 per month "+ additional selling fees"

Selling more than 40 units each month
Access to advanced tools
Must pay a referral fee for each item sold — varies by category
These are its standard fees, but you could face others depending on your product sales, listing sizes, overall activity, and the other sales features and tools you use.
If that all seems like too much to handle, it's time to simplify your fulfillment. Contact us, and we'll give you a clear set of costs that are easy to understand and predict, making it possible to for you to budget for your costs each month. We don't believe in seasonal surcharges or a lot of the other nonsense you'll see above. Find out how much you could save today.
An important note
Nothing in this article is meant to imply a legal relationship between Red Stag Fulfillment, LLC and and any company mentioned. Red Stag Fulfillment, LLC does not own any other company's trademarks referenced or included in this article. Information gathered for this article came from a mix of publicly available news and websites, websites of the companies mentioned, and direct communication with named companies.